Client Specific Keynotes
for a variety of IDEO clients
As a designer at IDEO, I developed presentations for external clients such as Ford, Michelin, Ferrero-Roche, Google, Apple, Arc'teryx, and Uber. While many of these are confidential or under NDA, the deck below showcases one of the templates I would frequently use and adapt for users of Creative Difference — an innovation assessment tool from IDEO.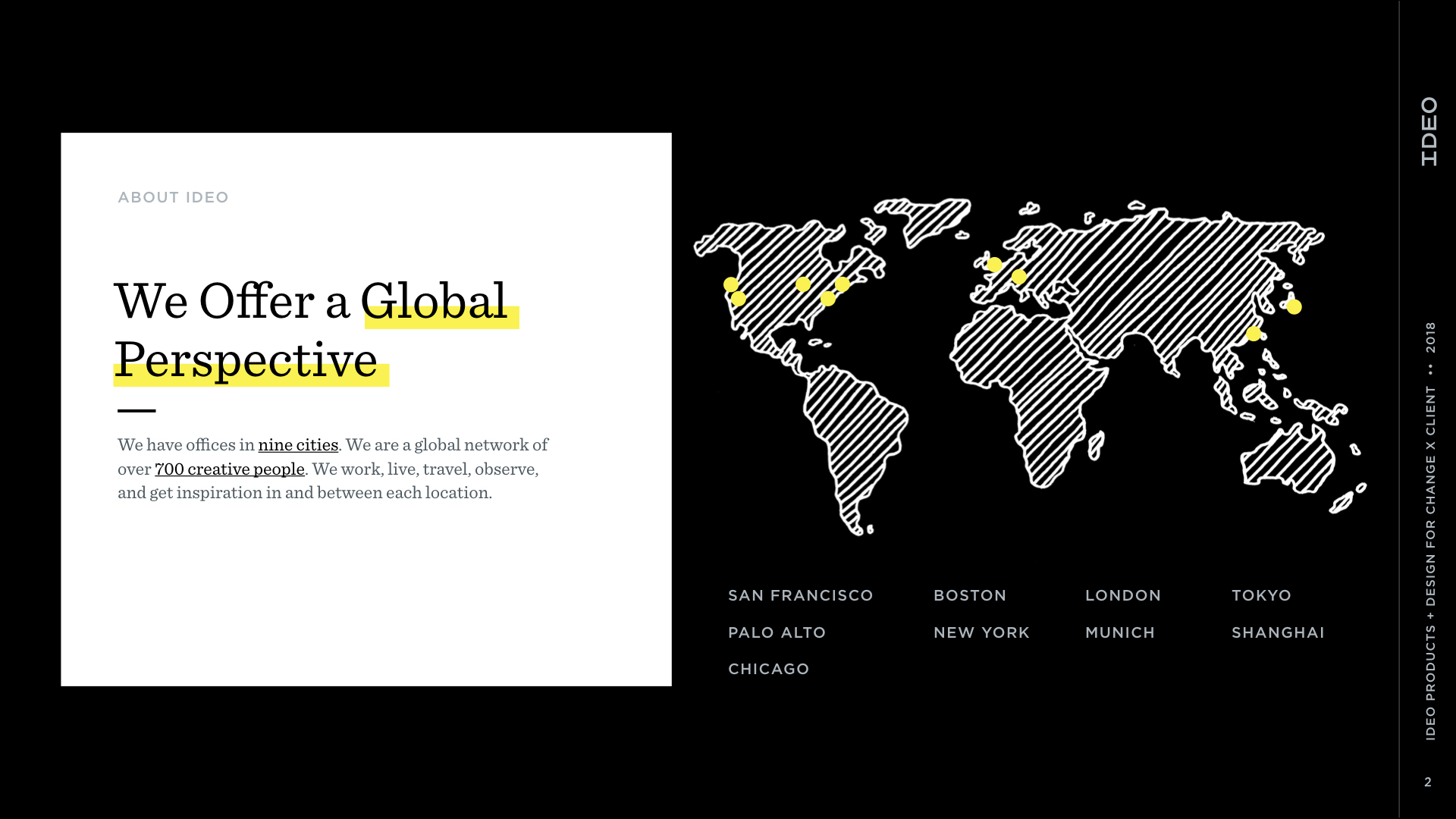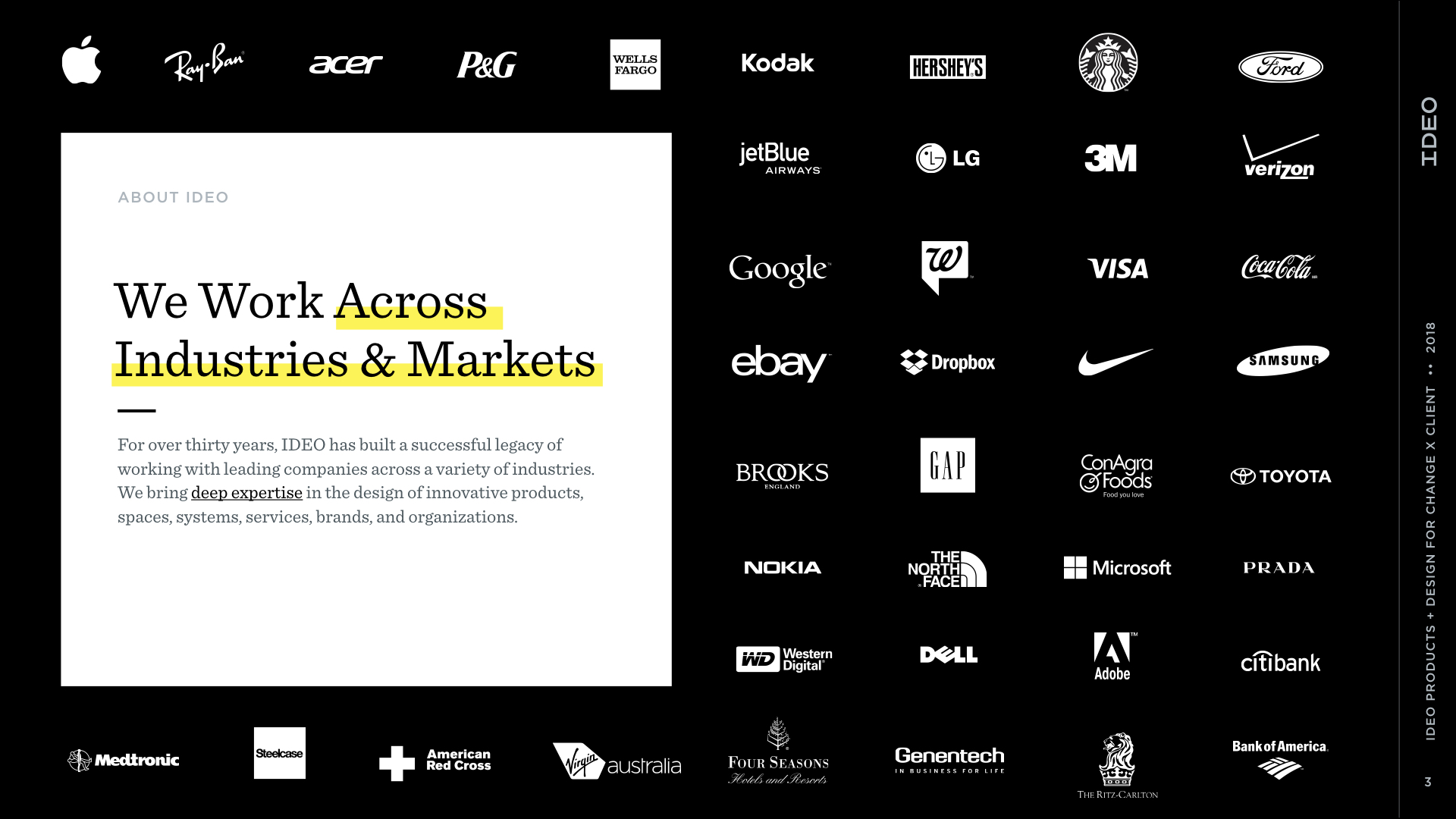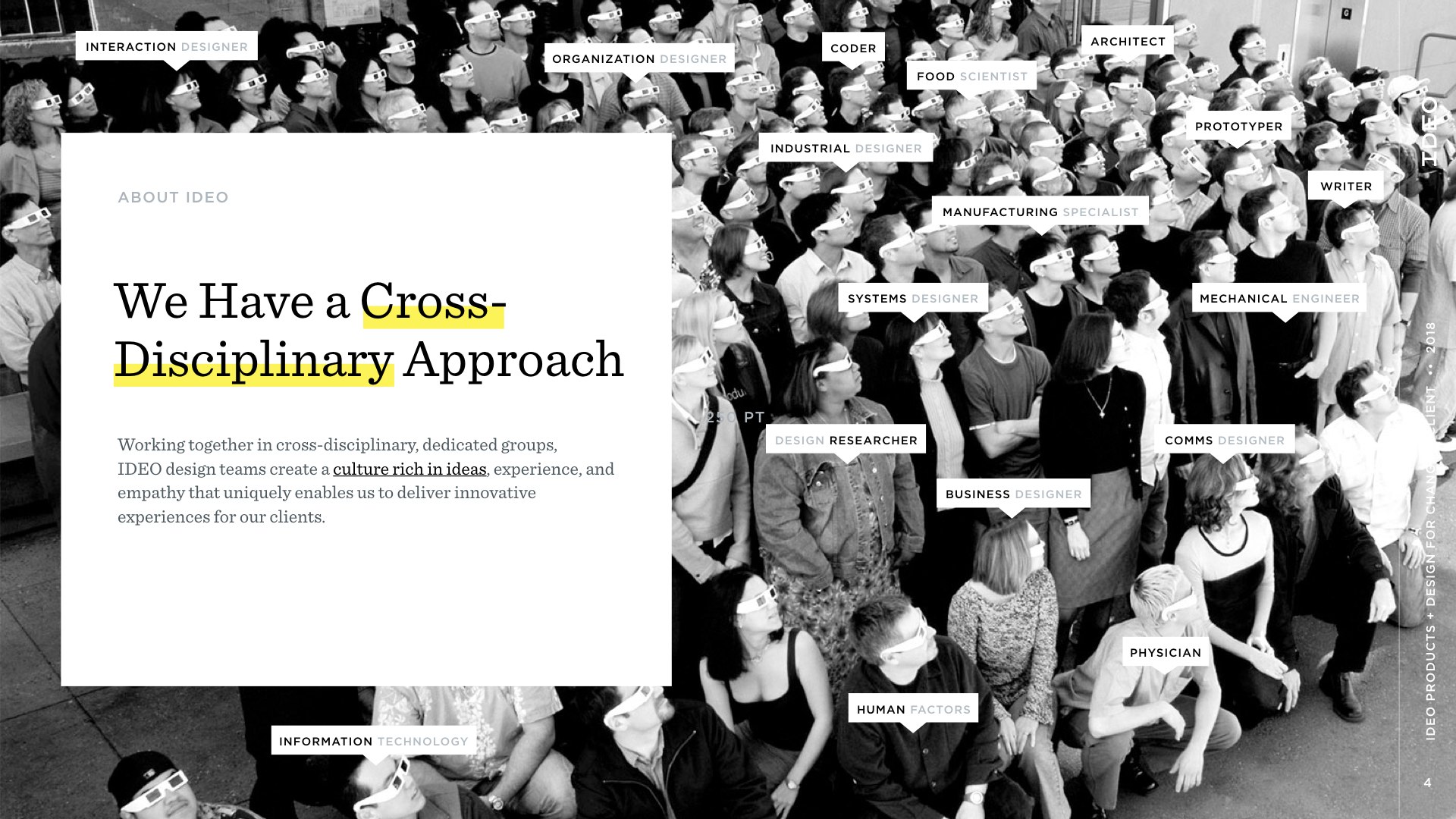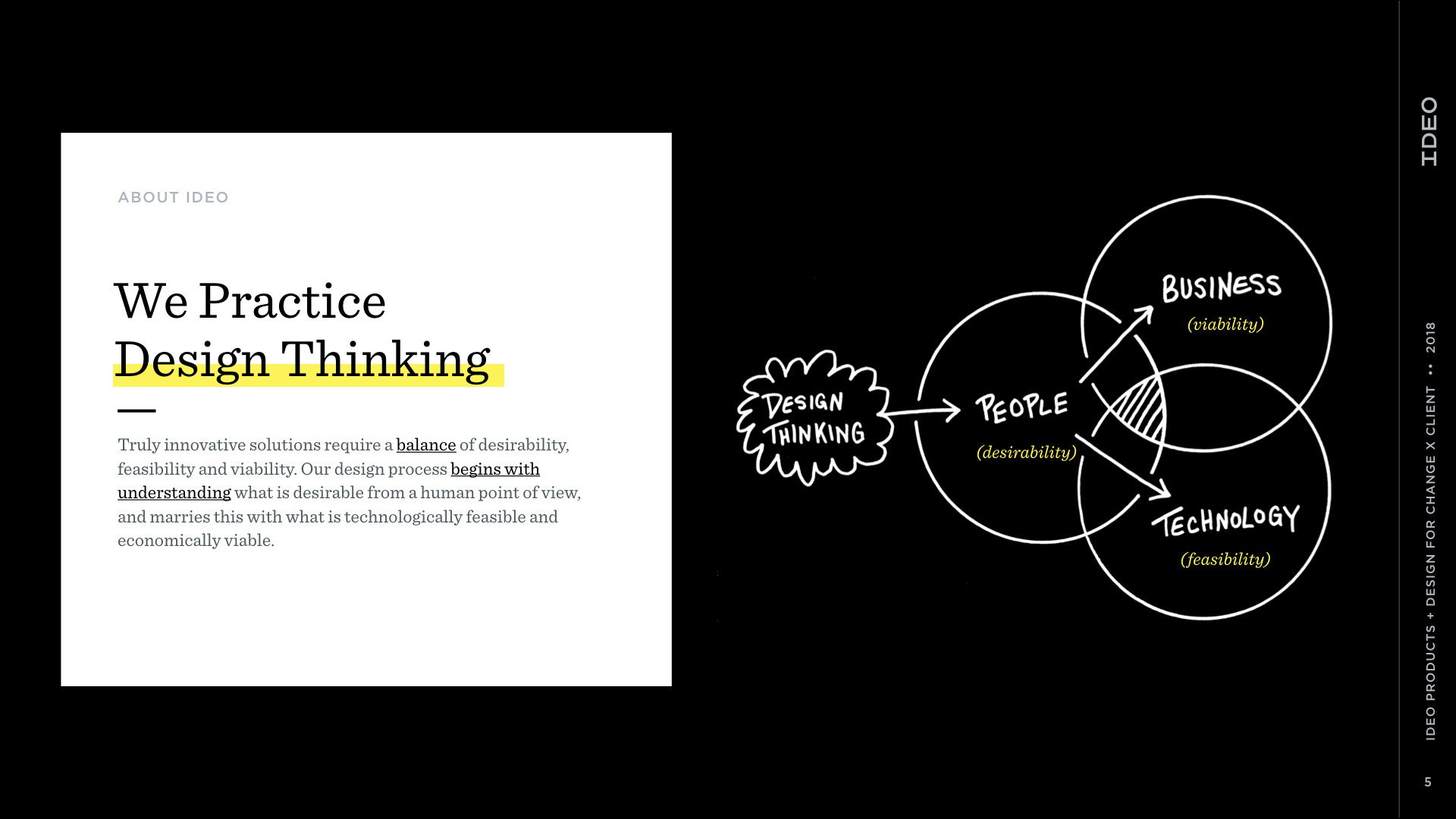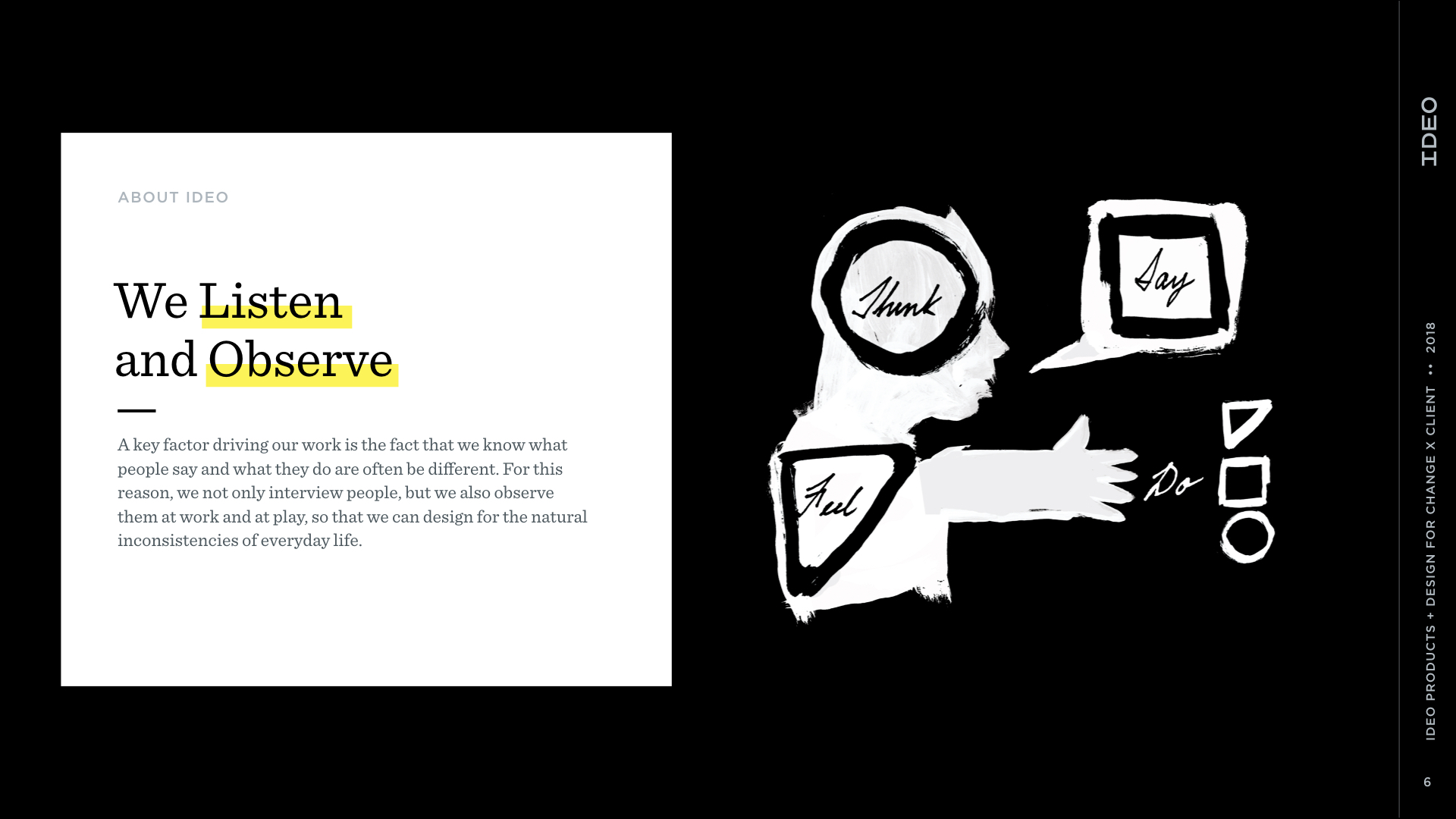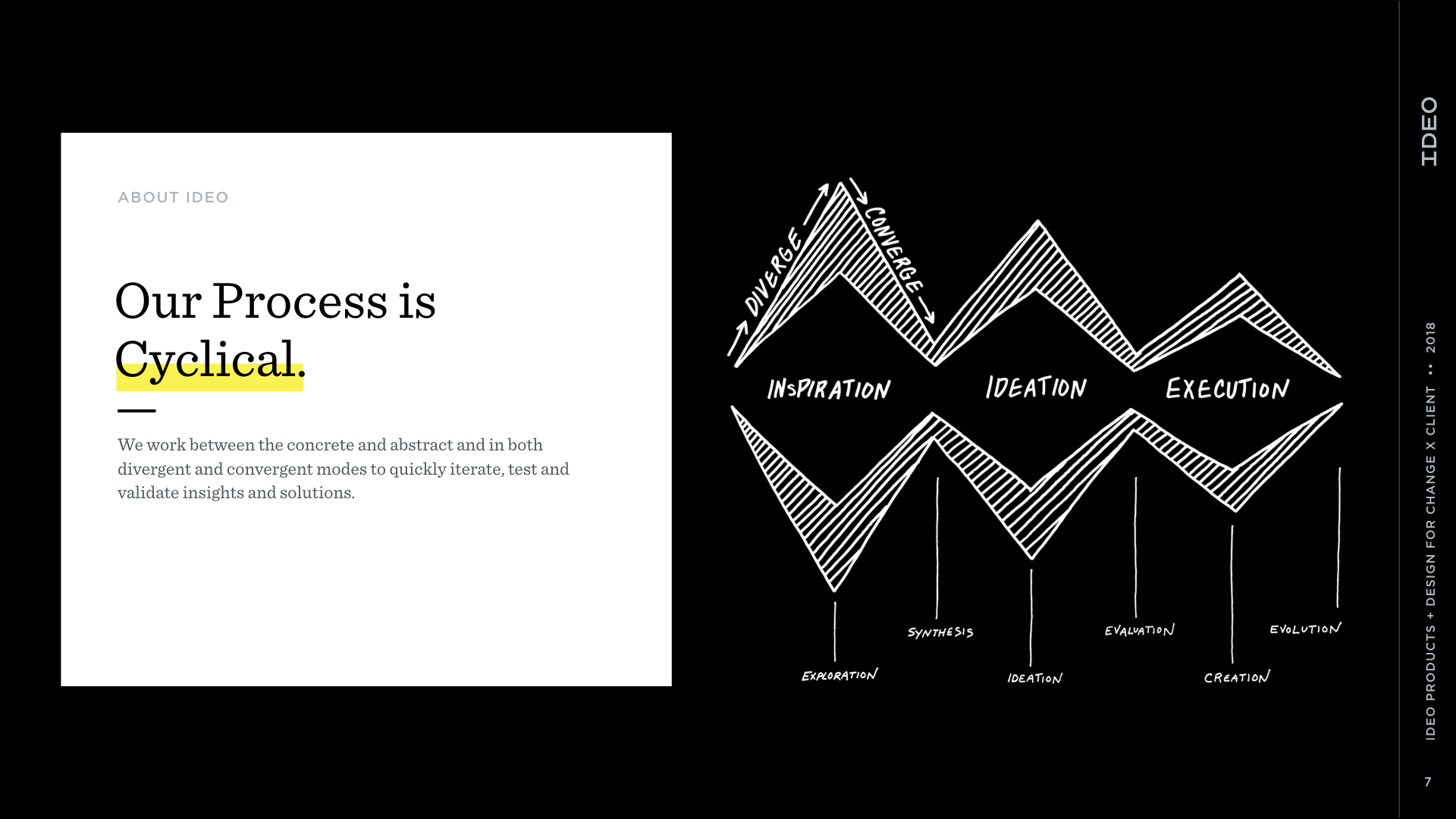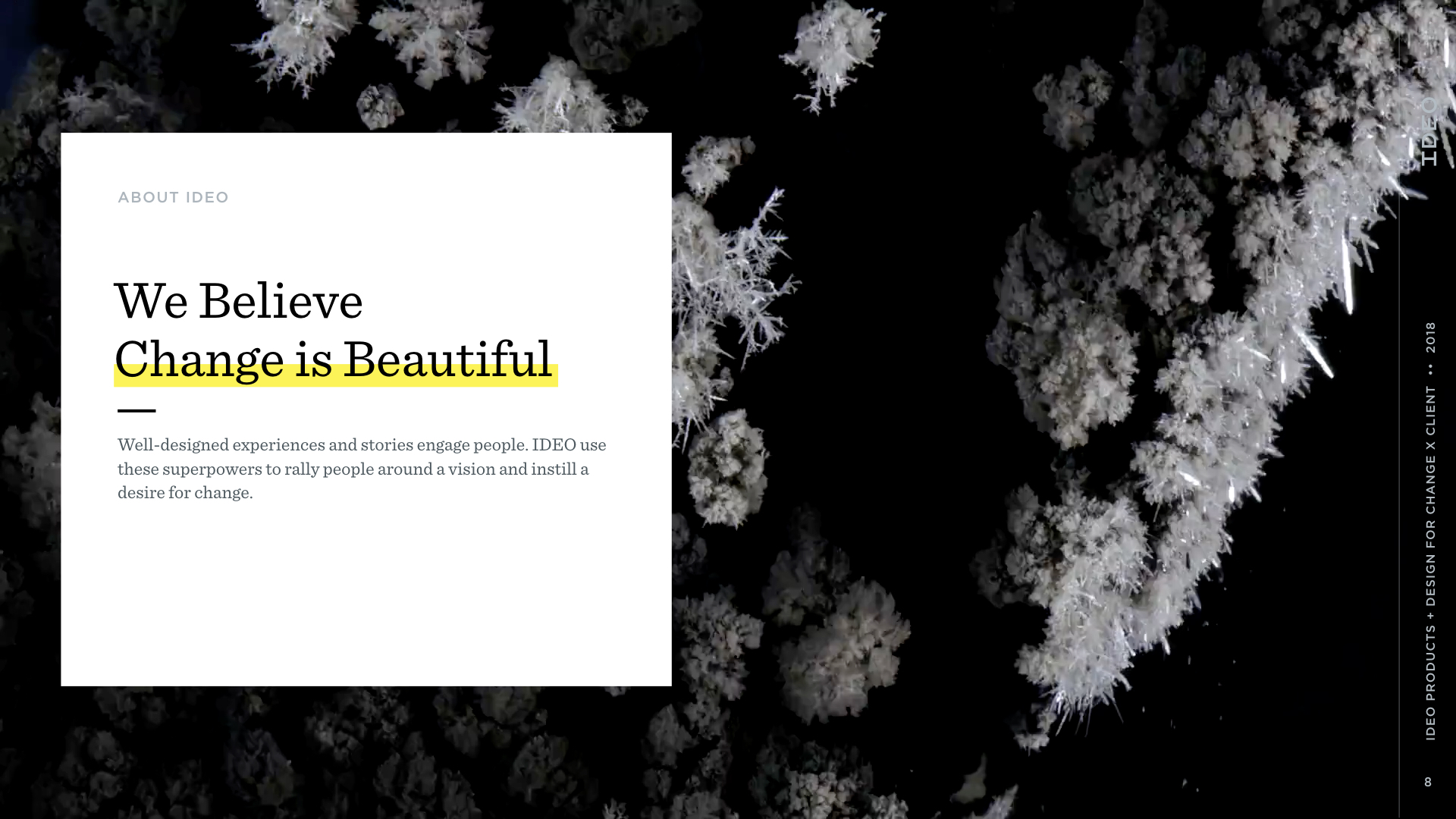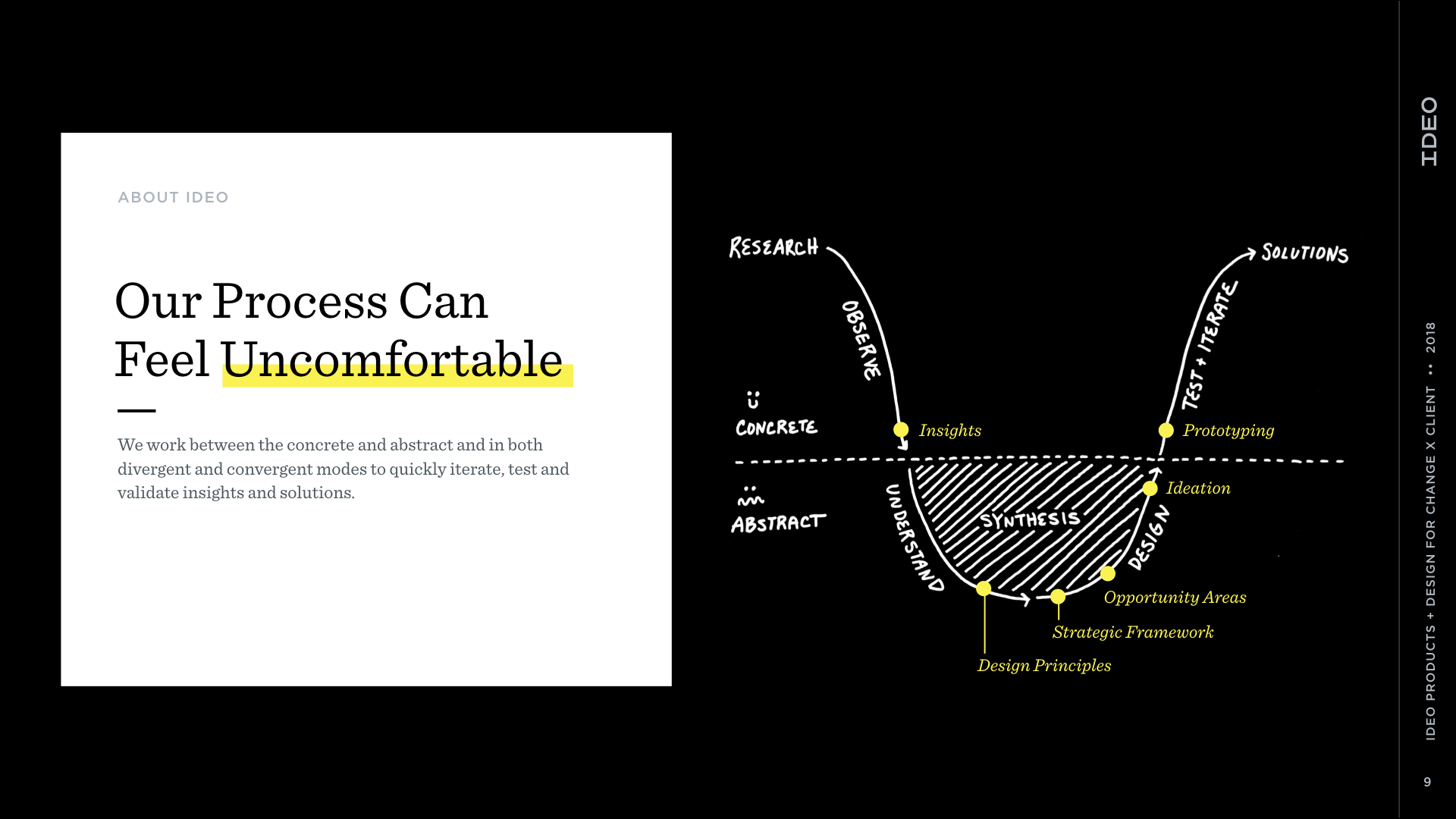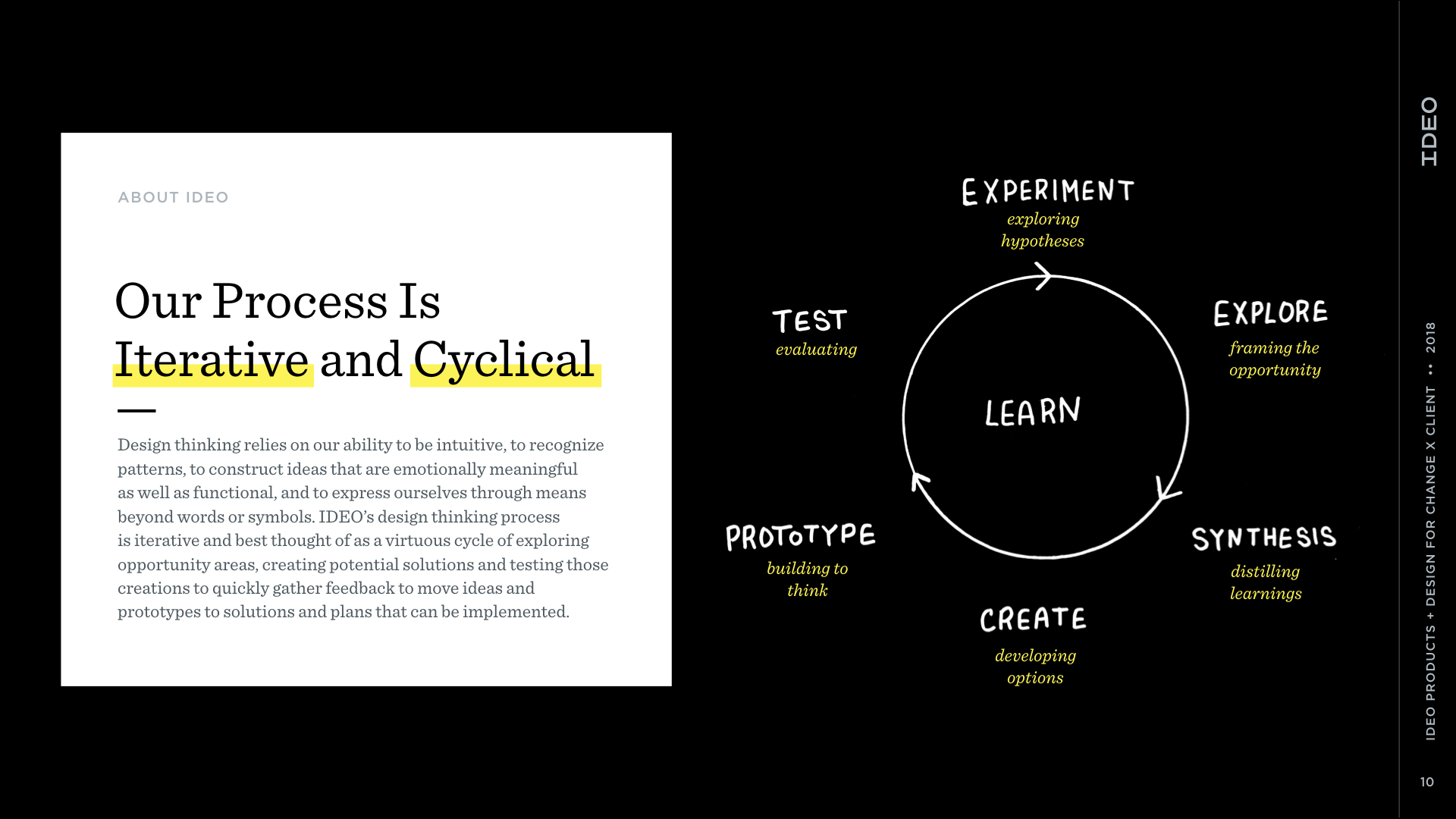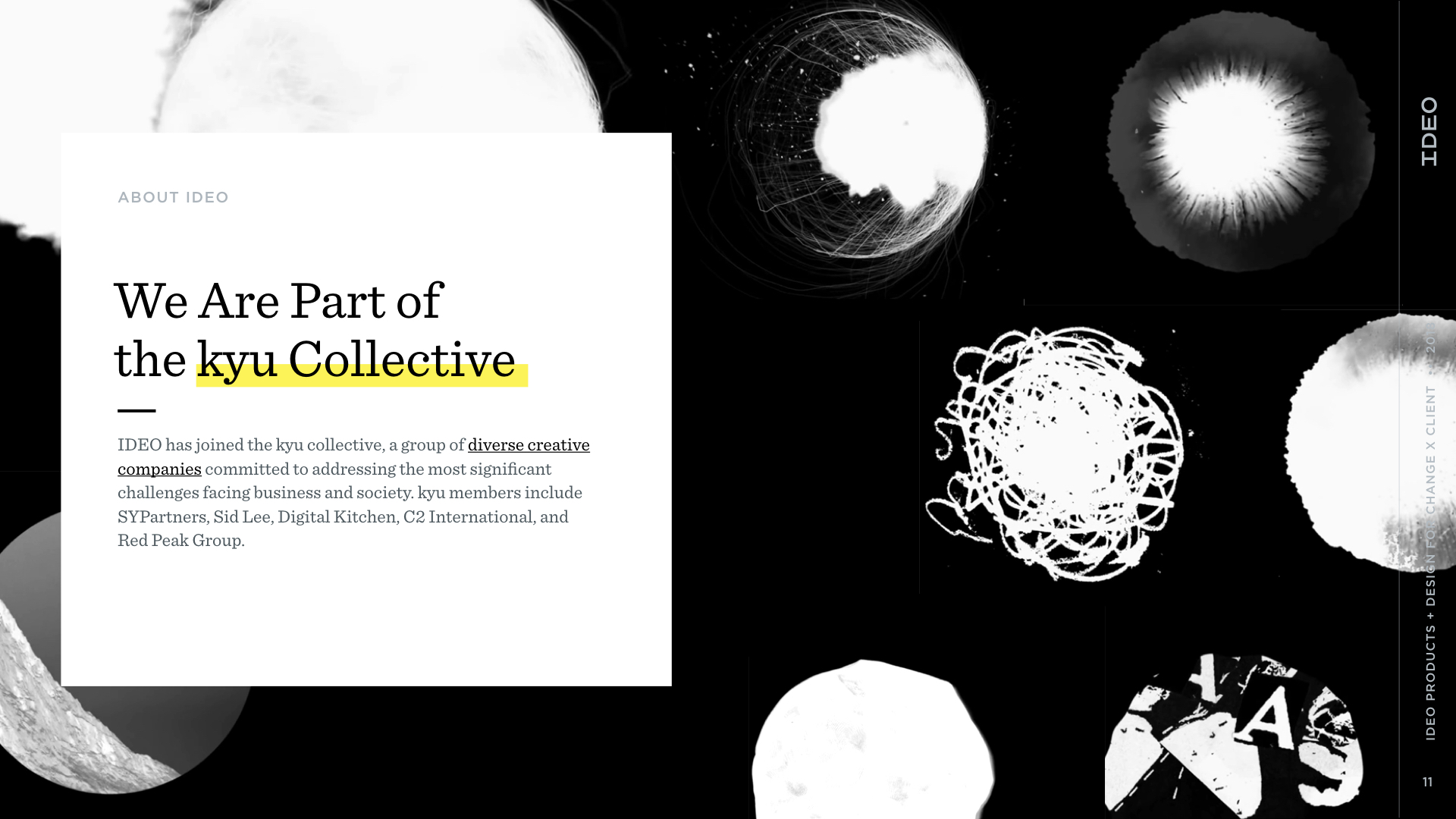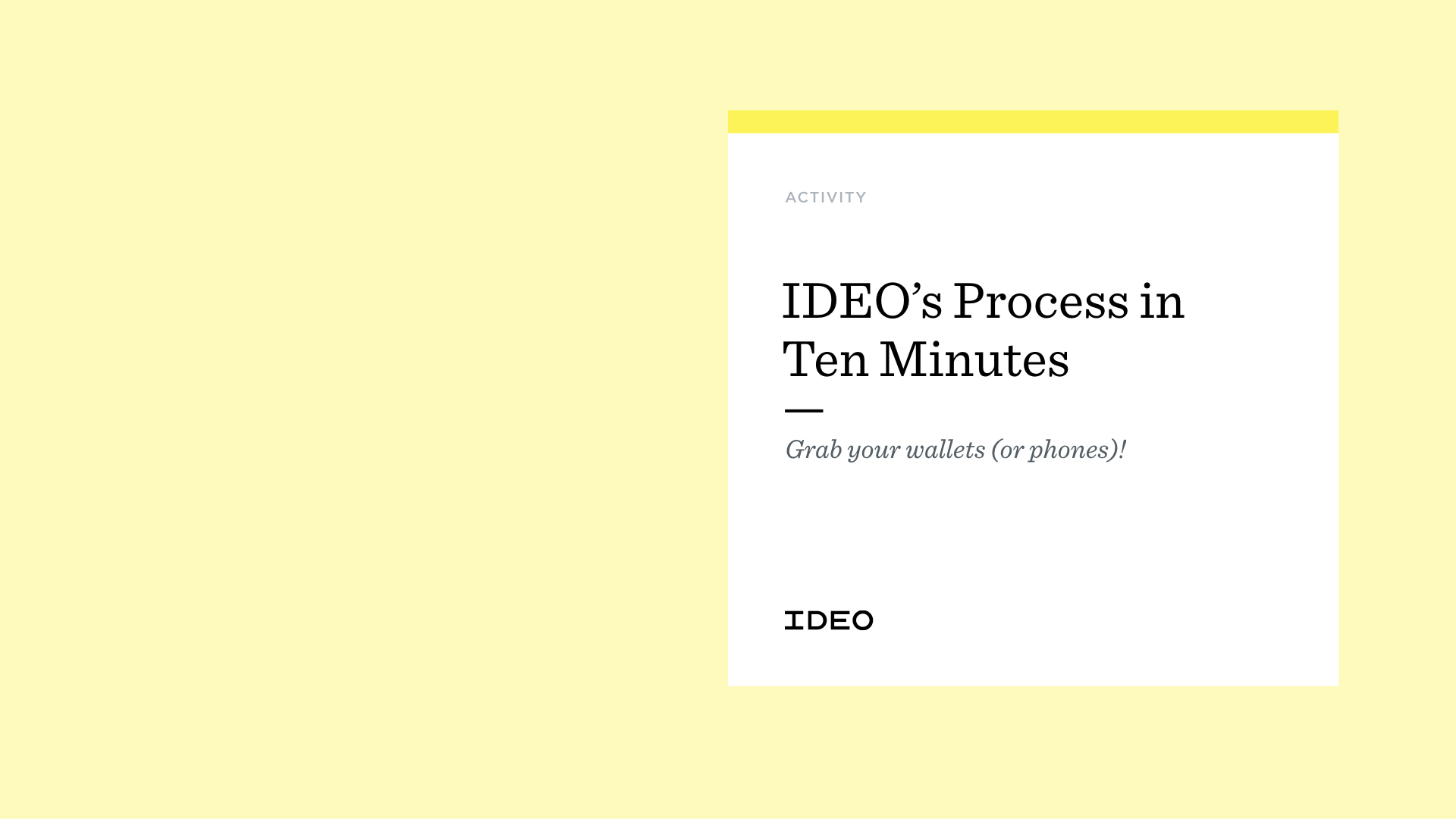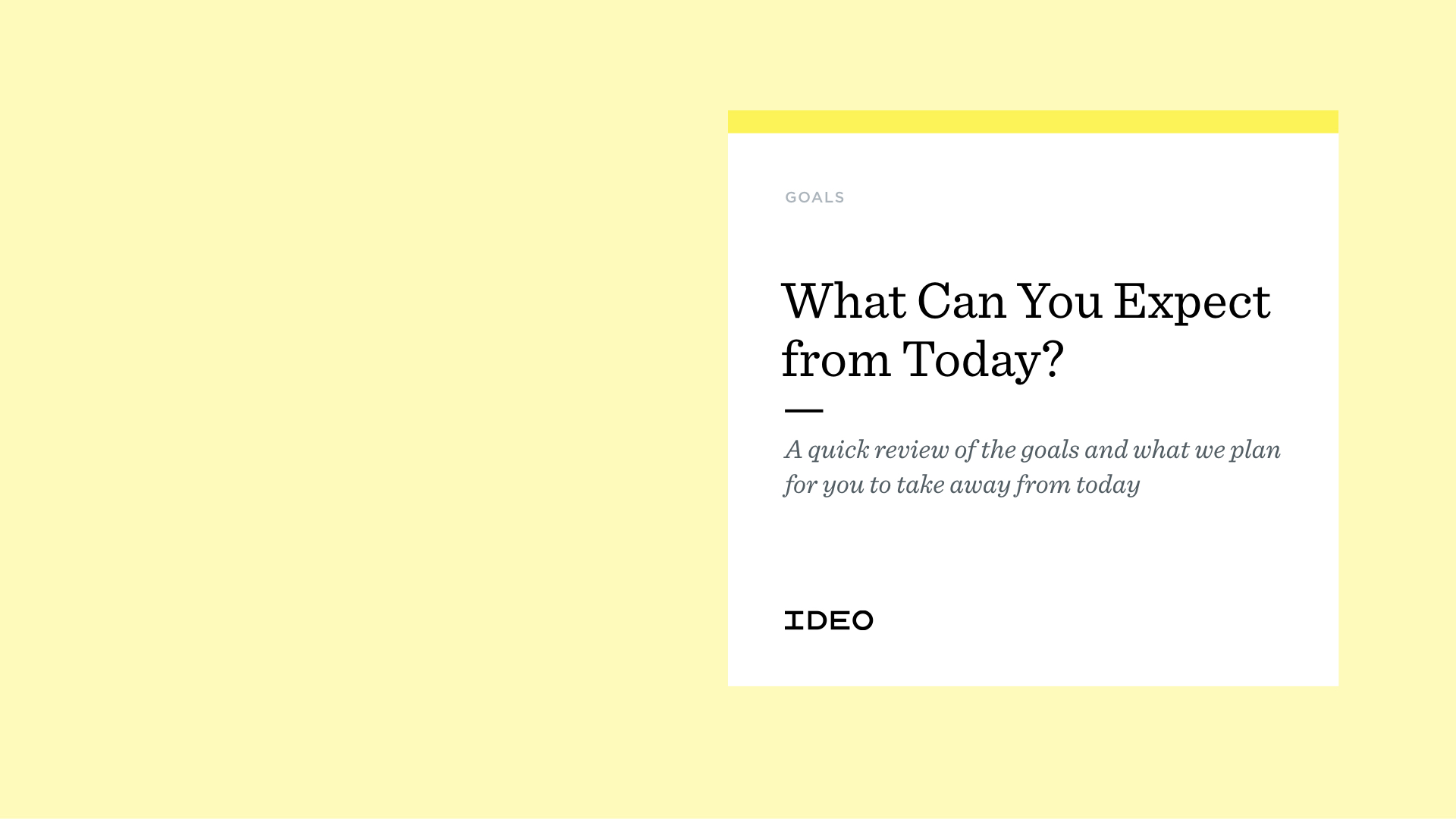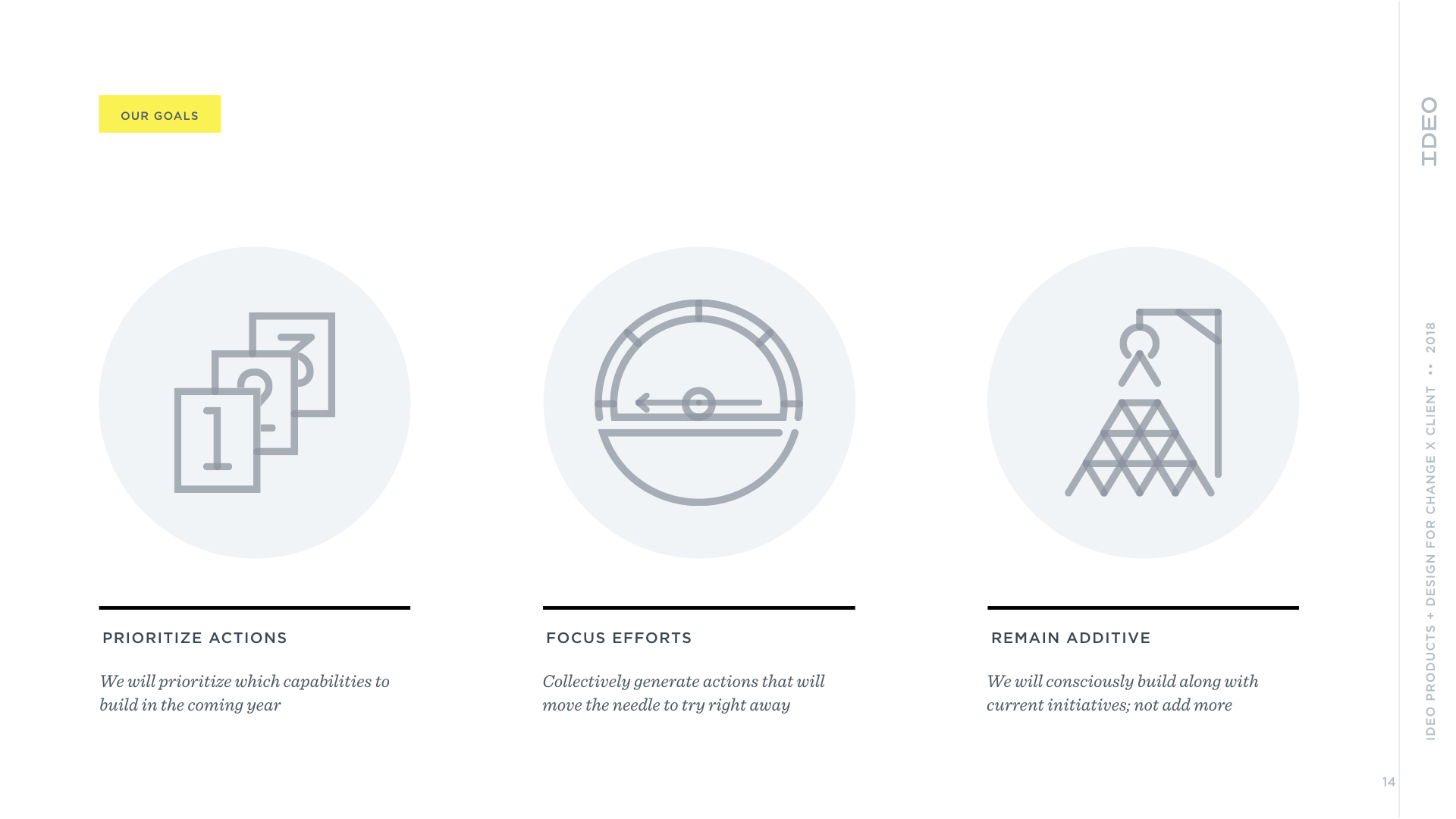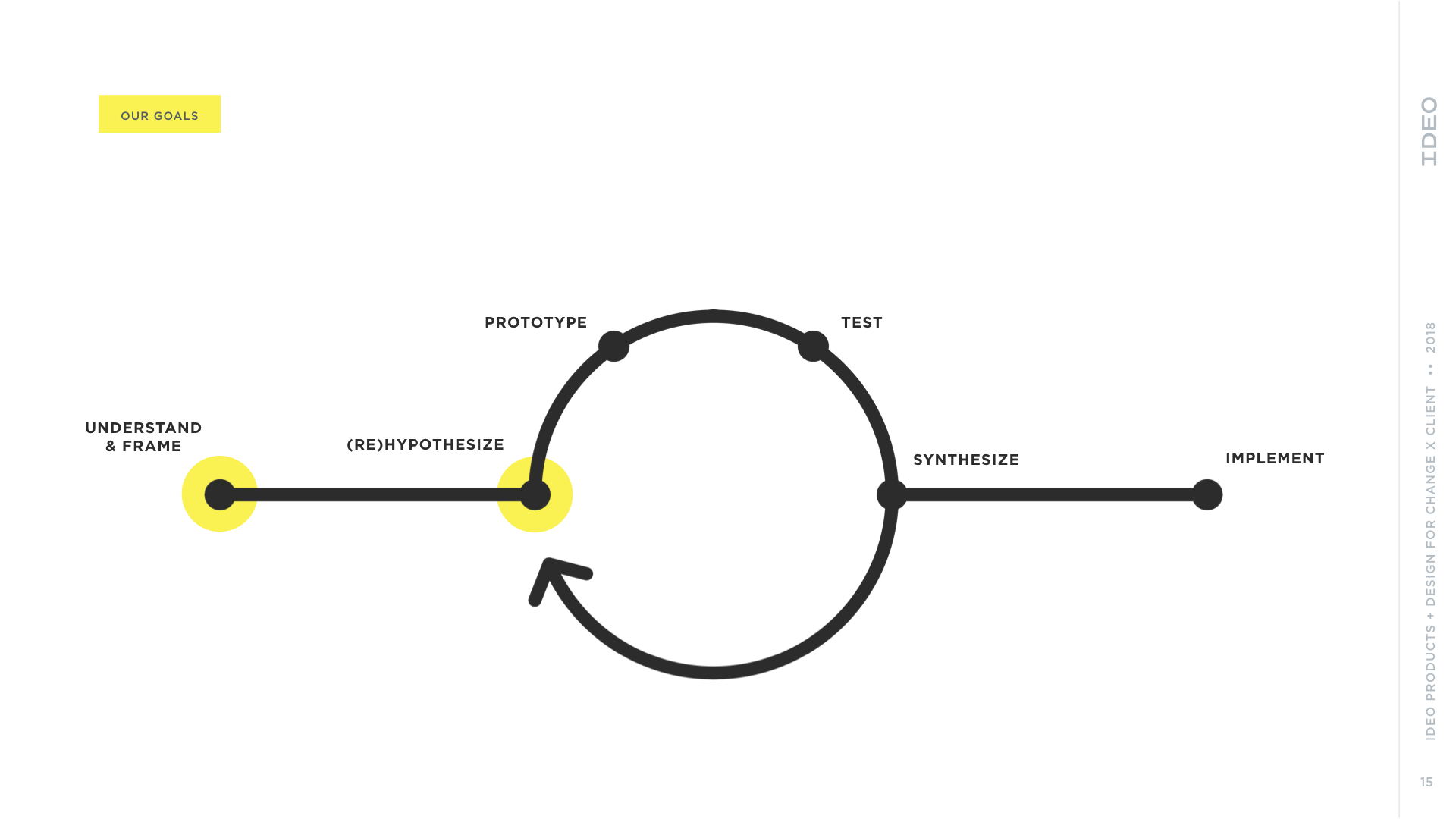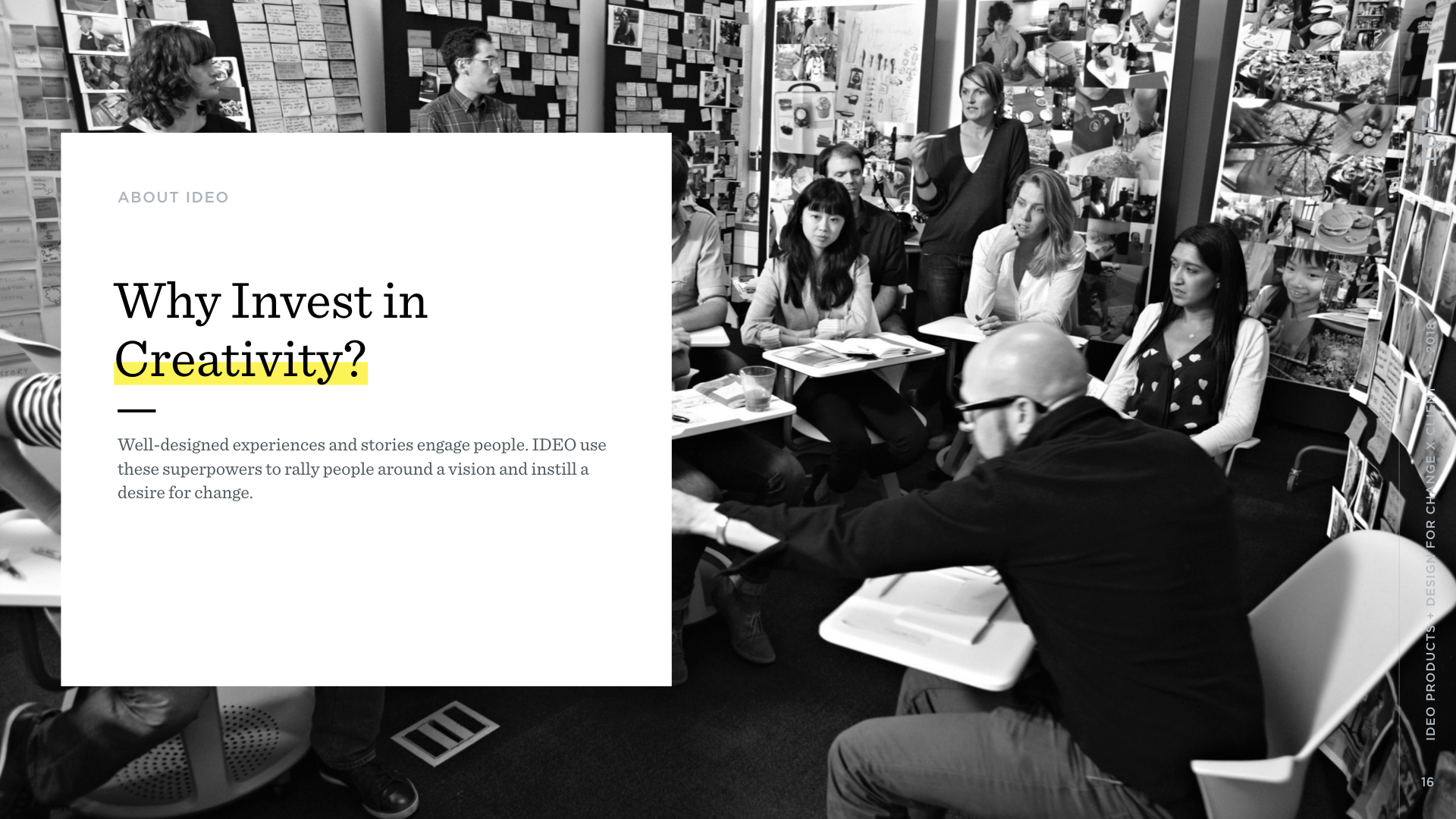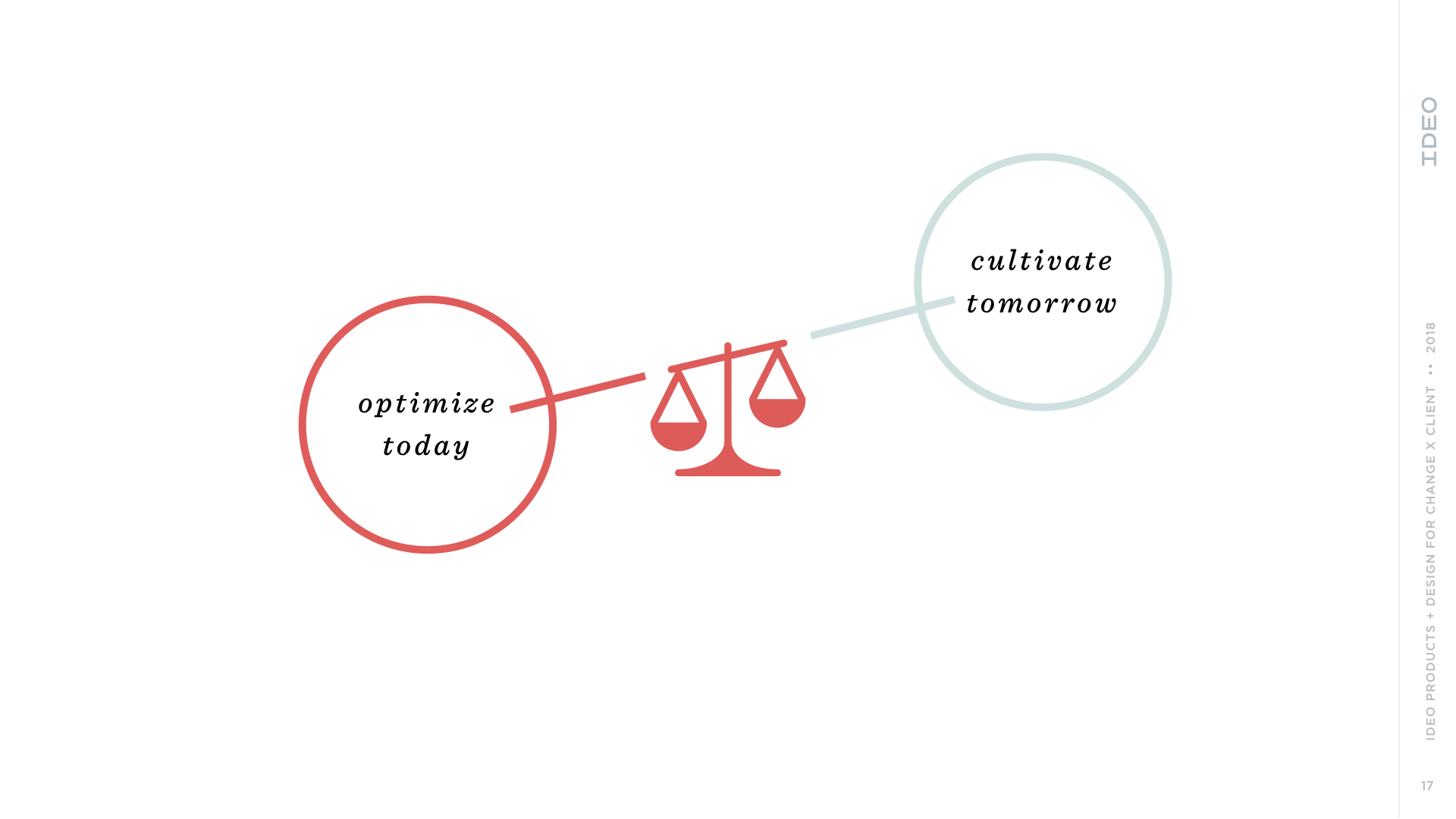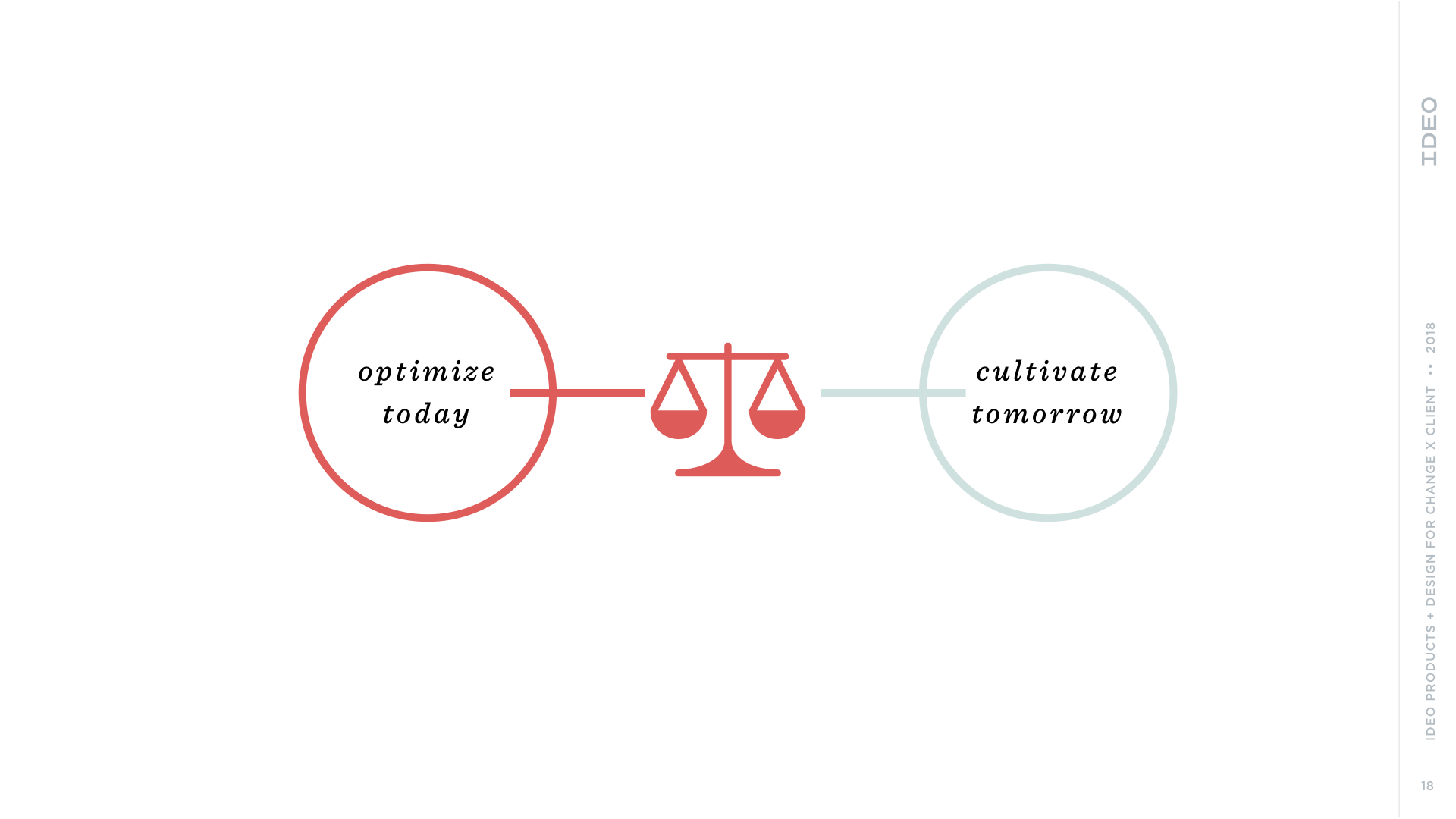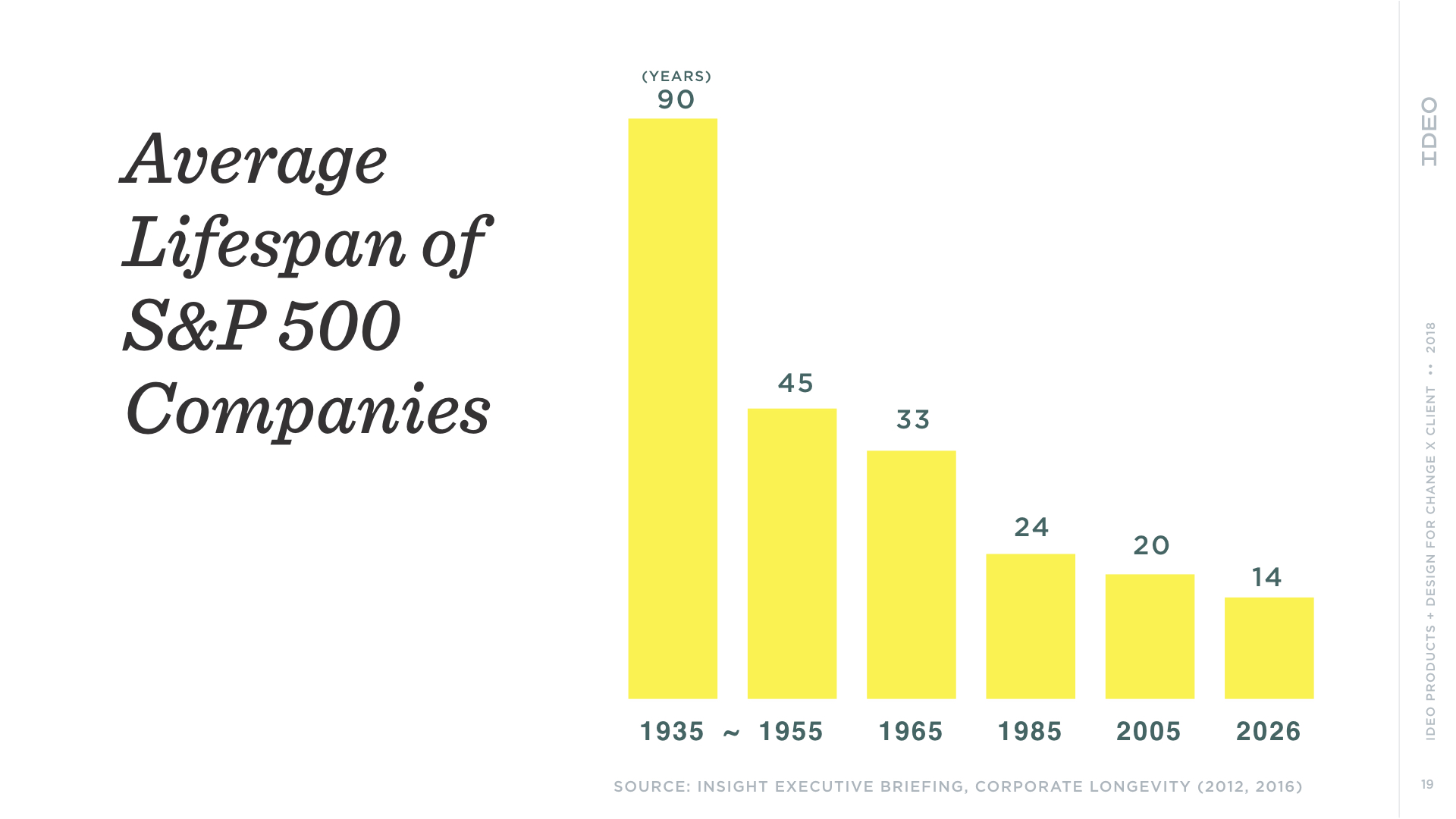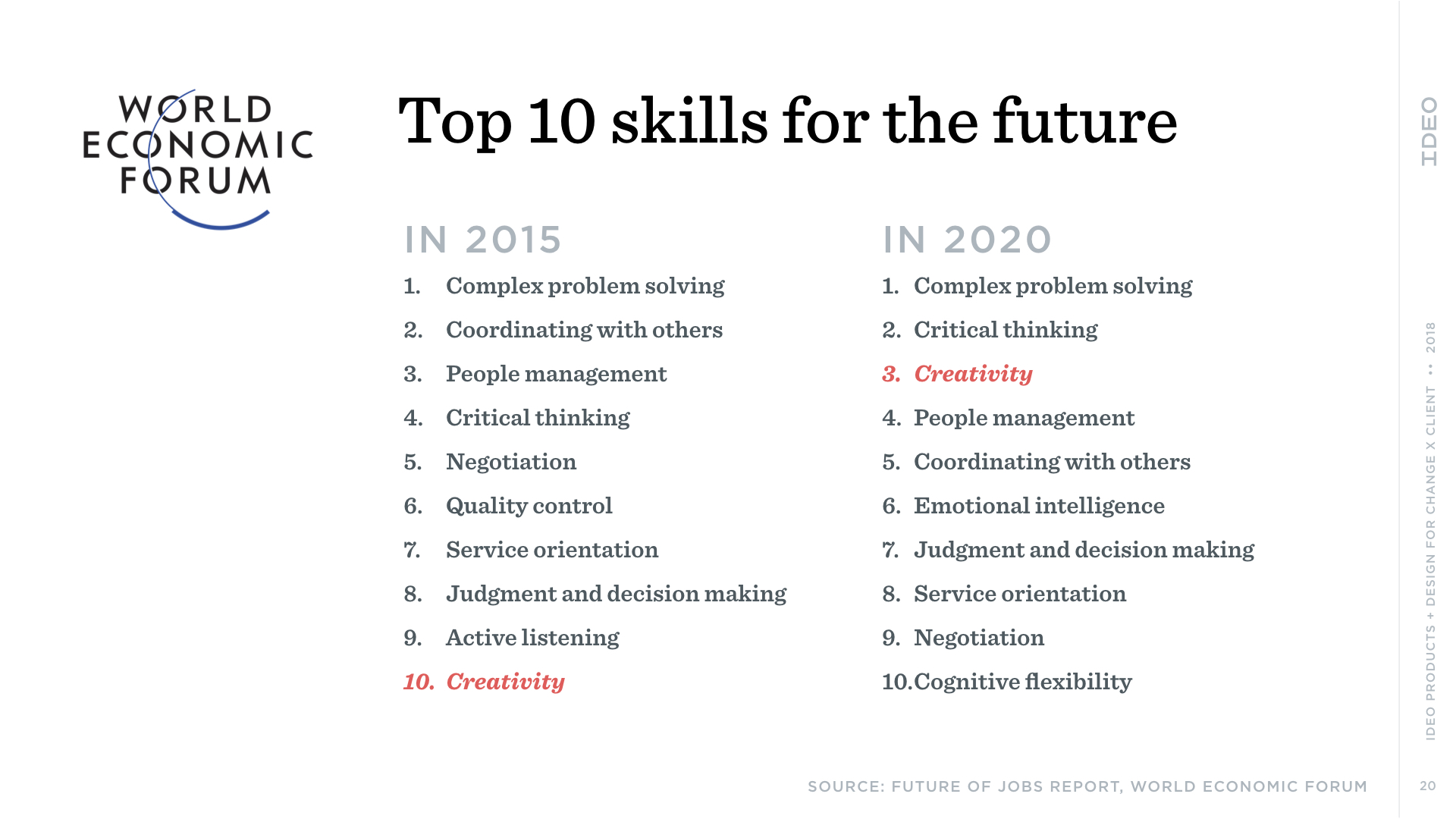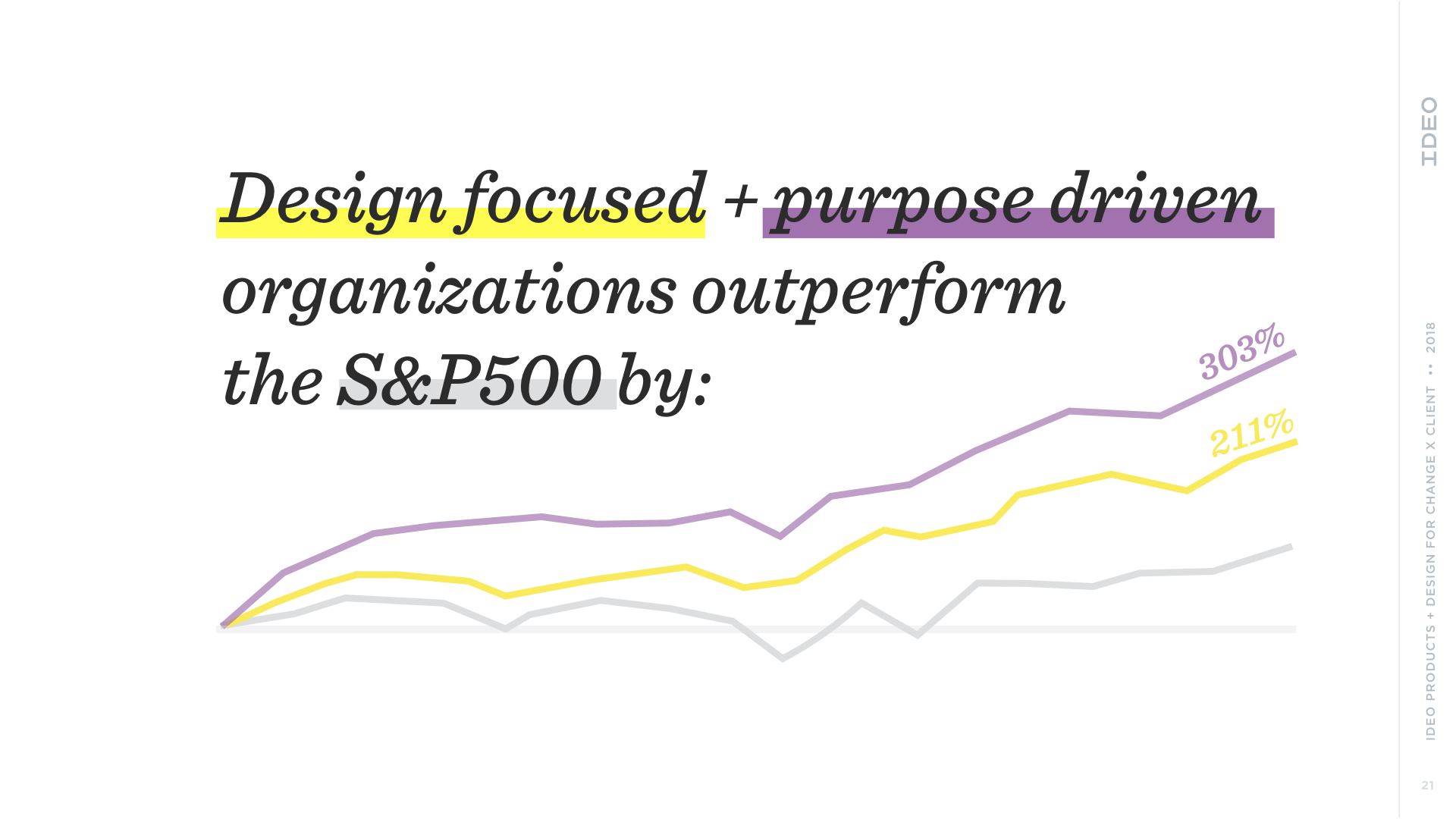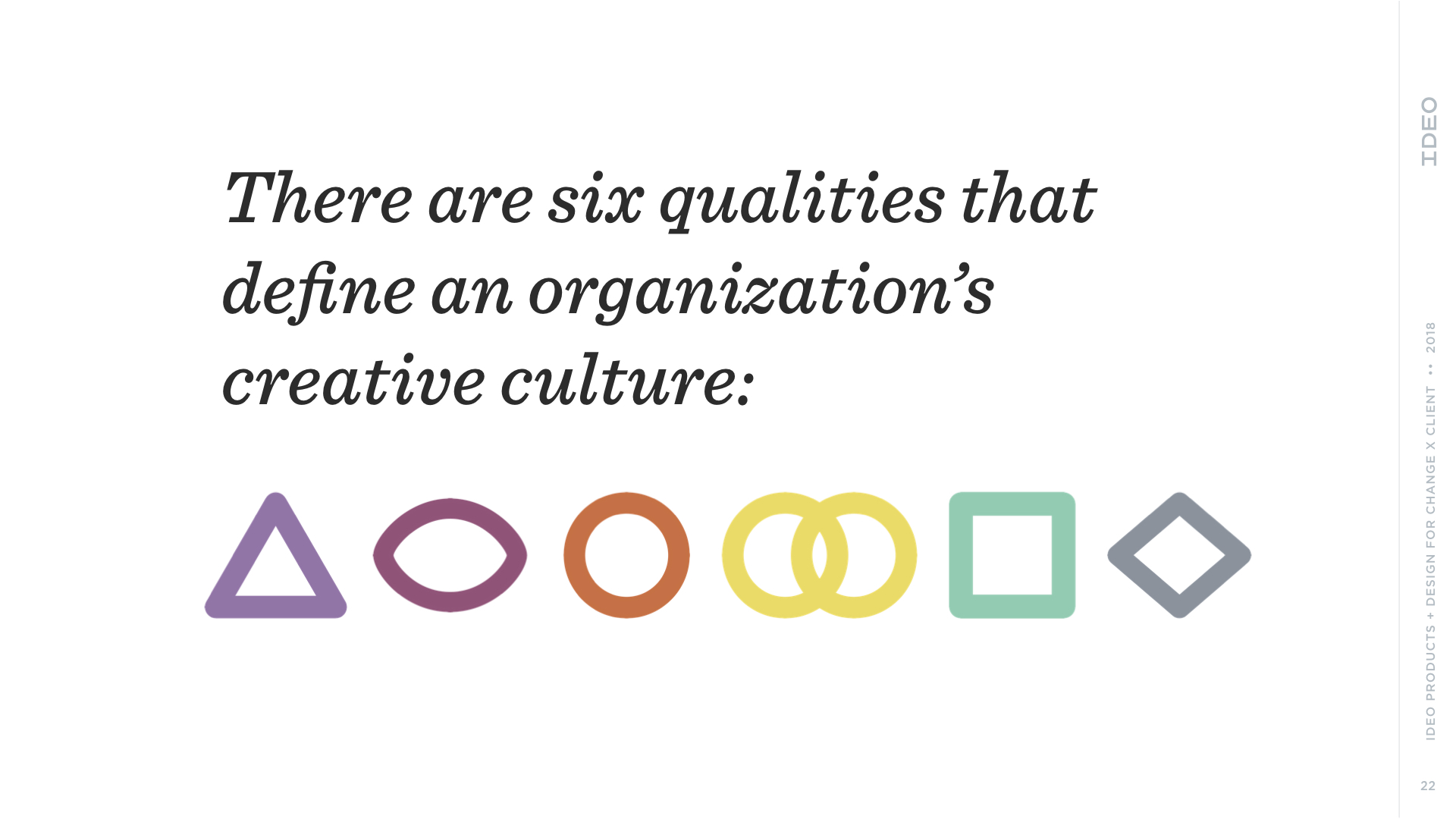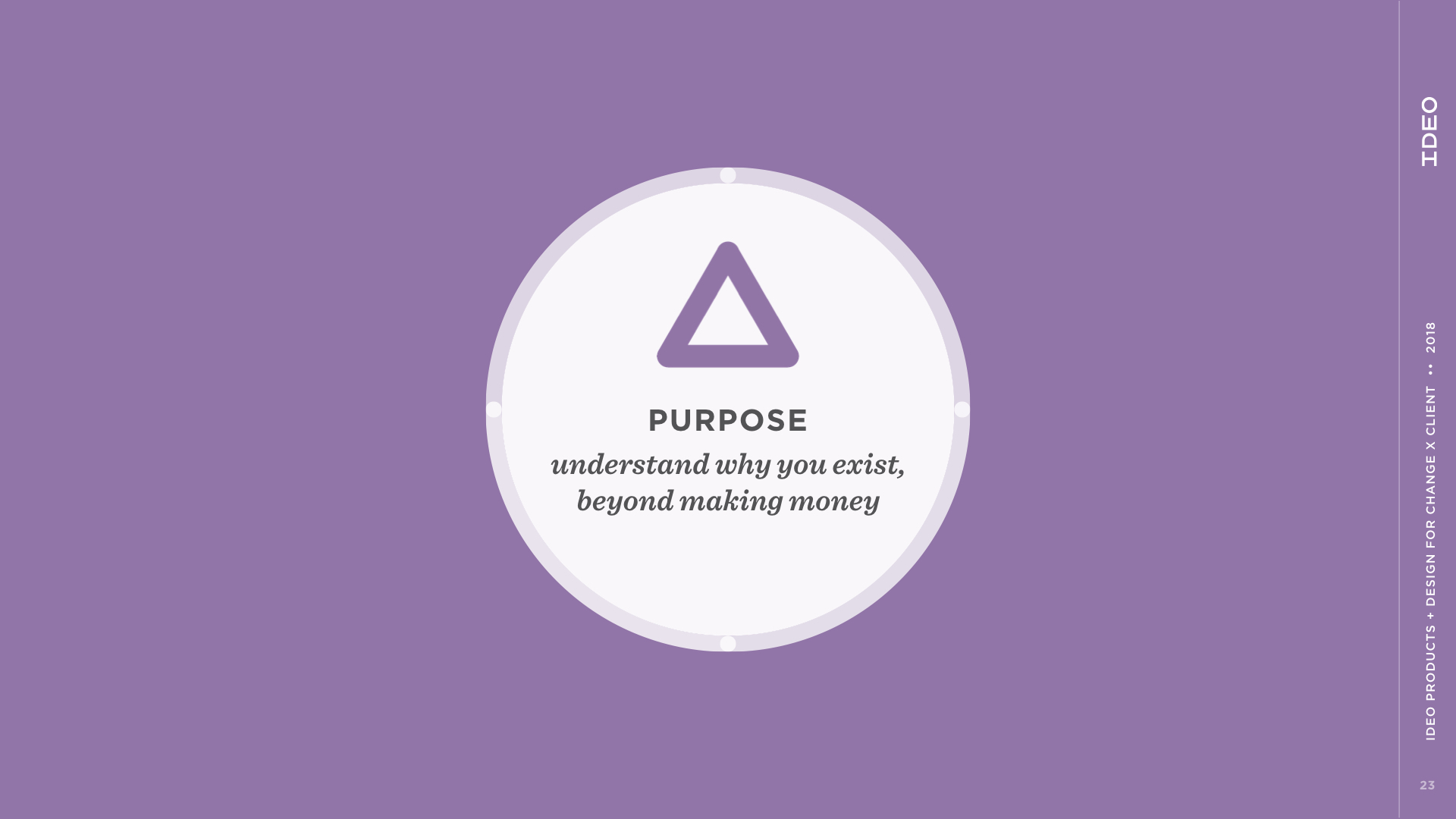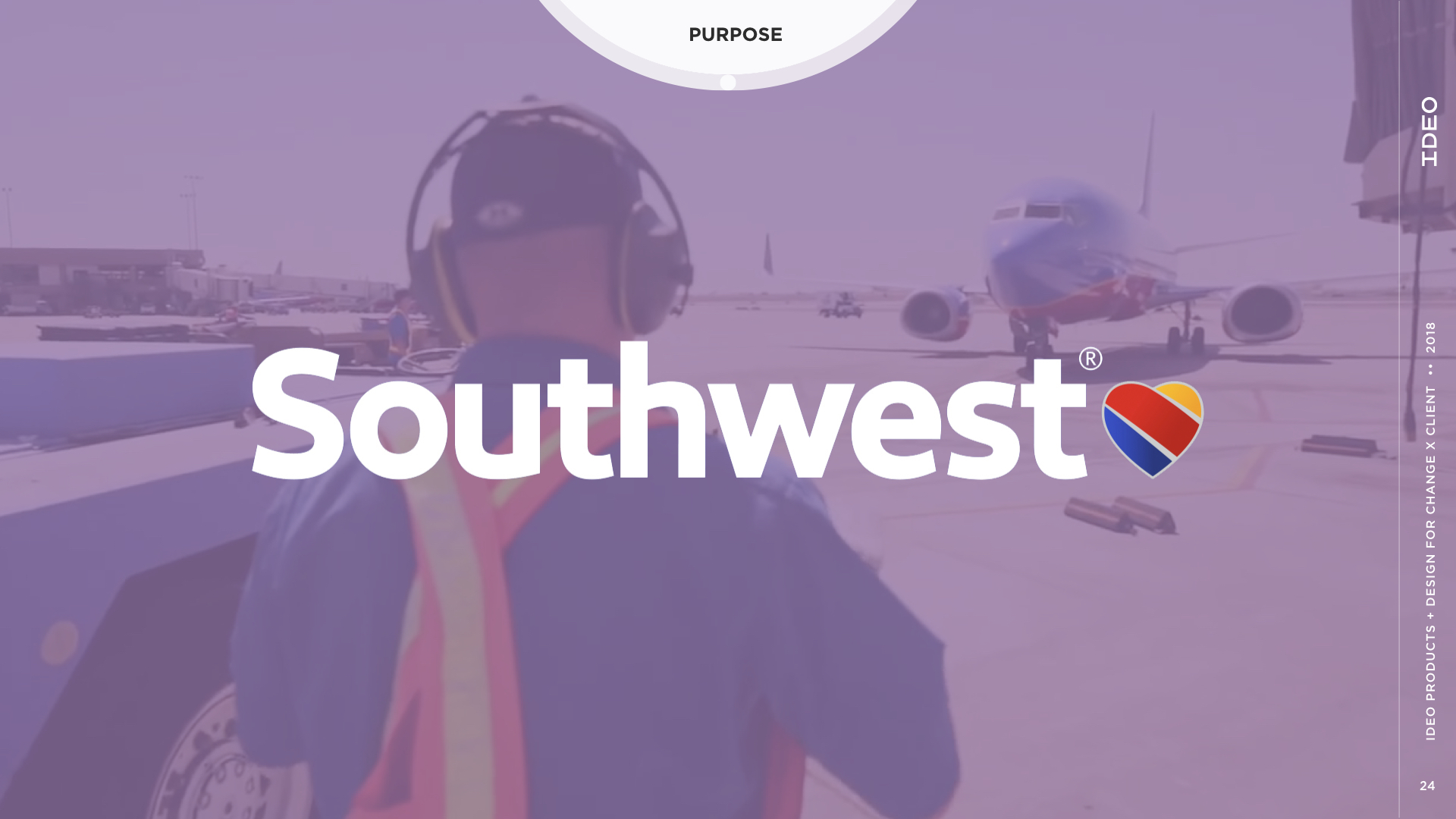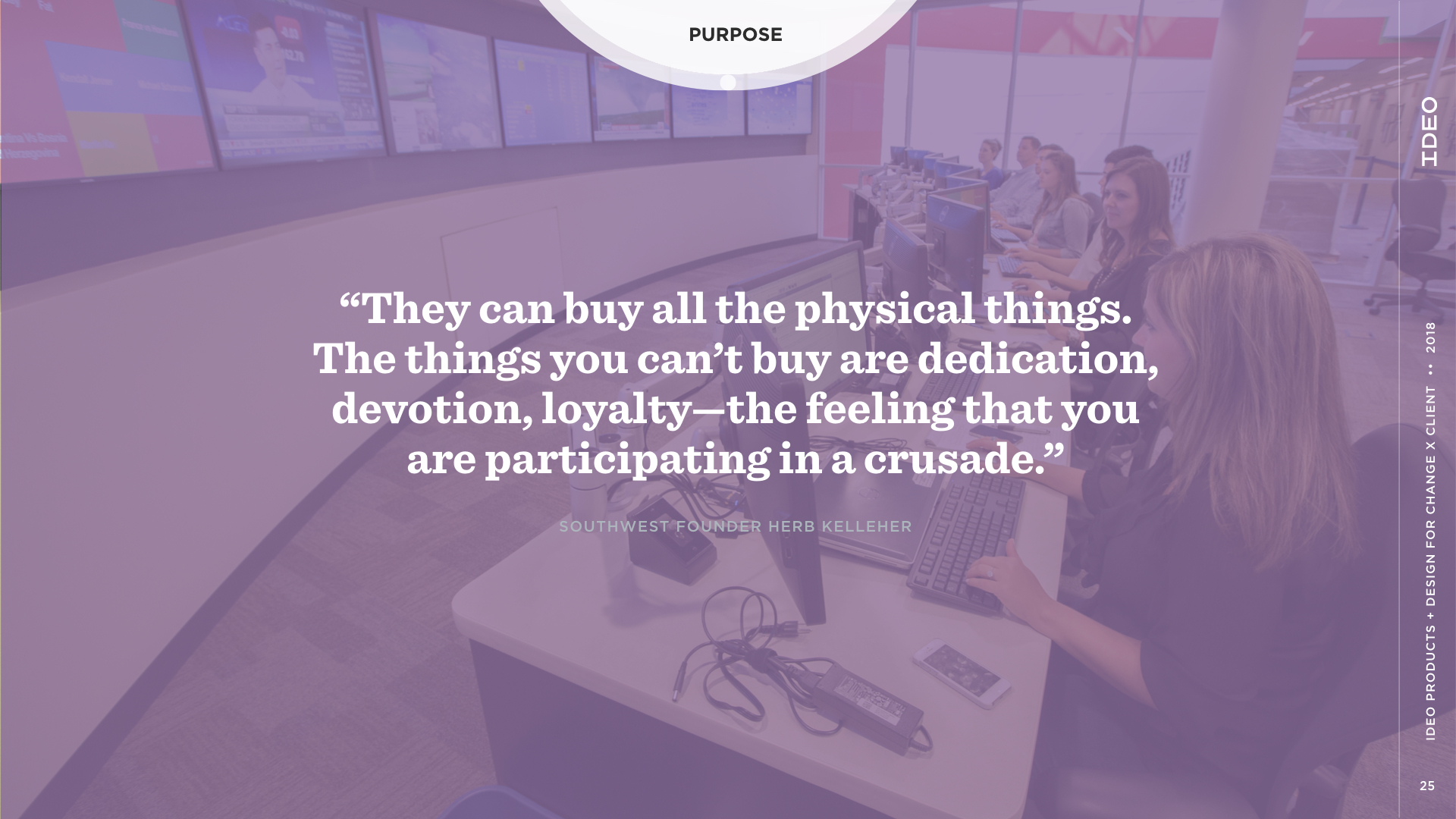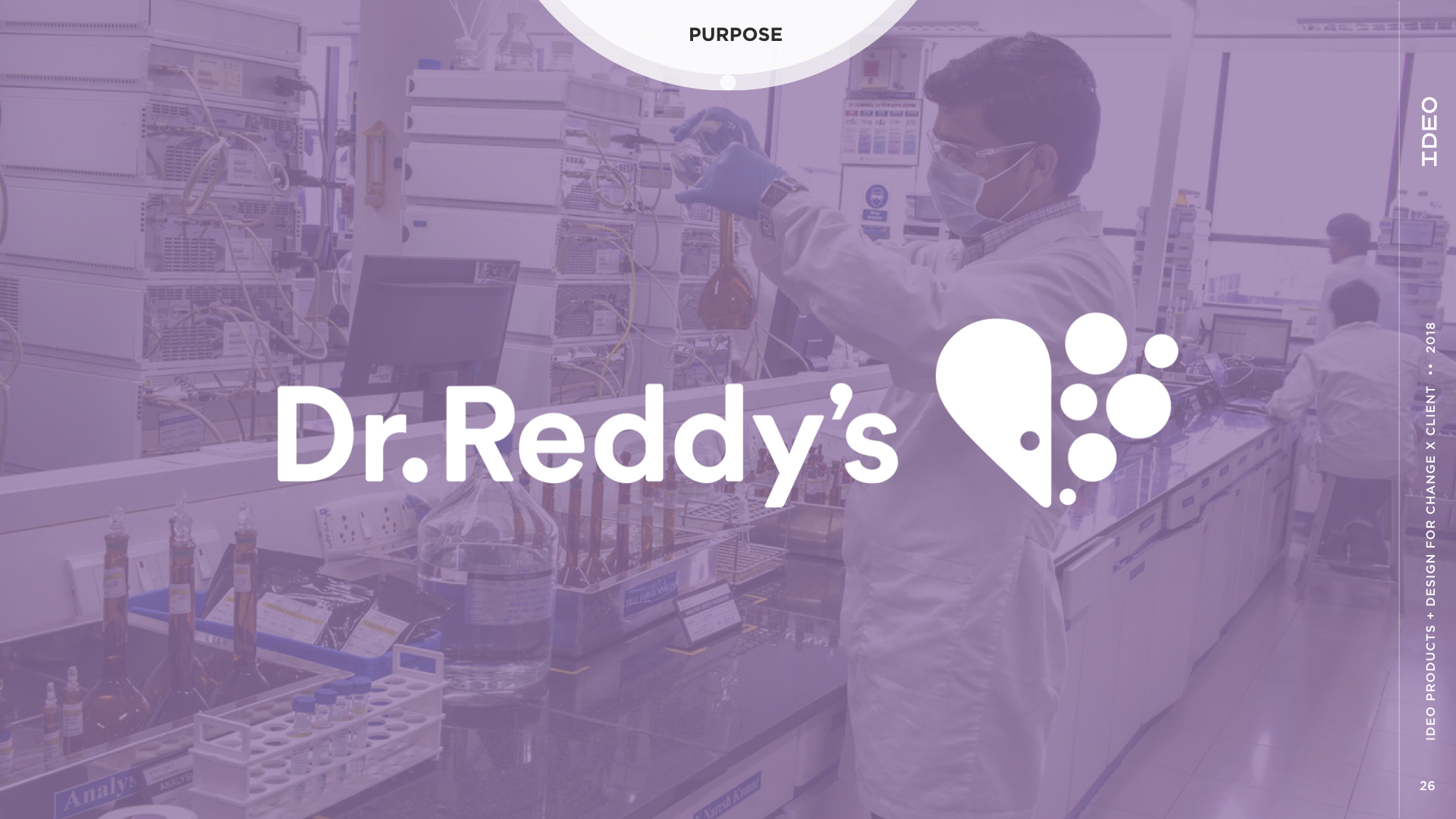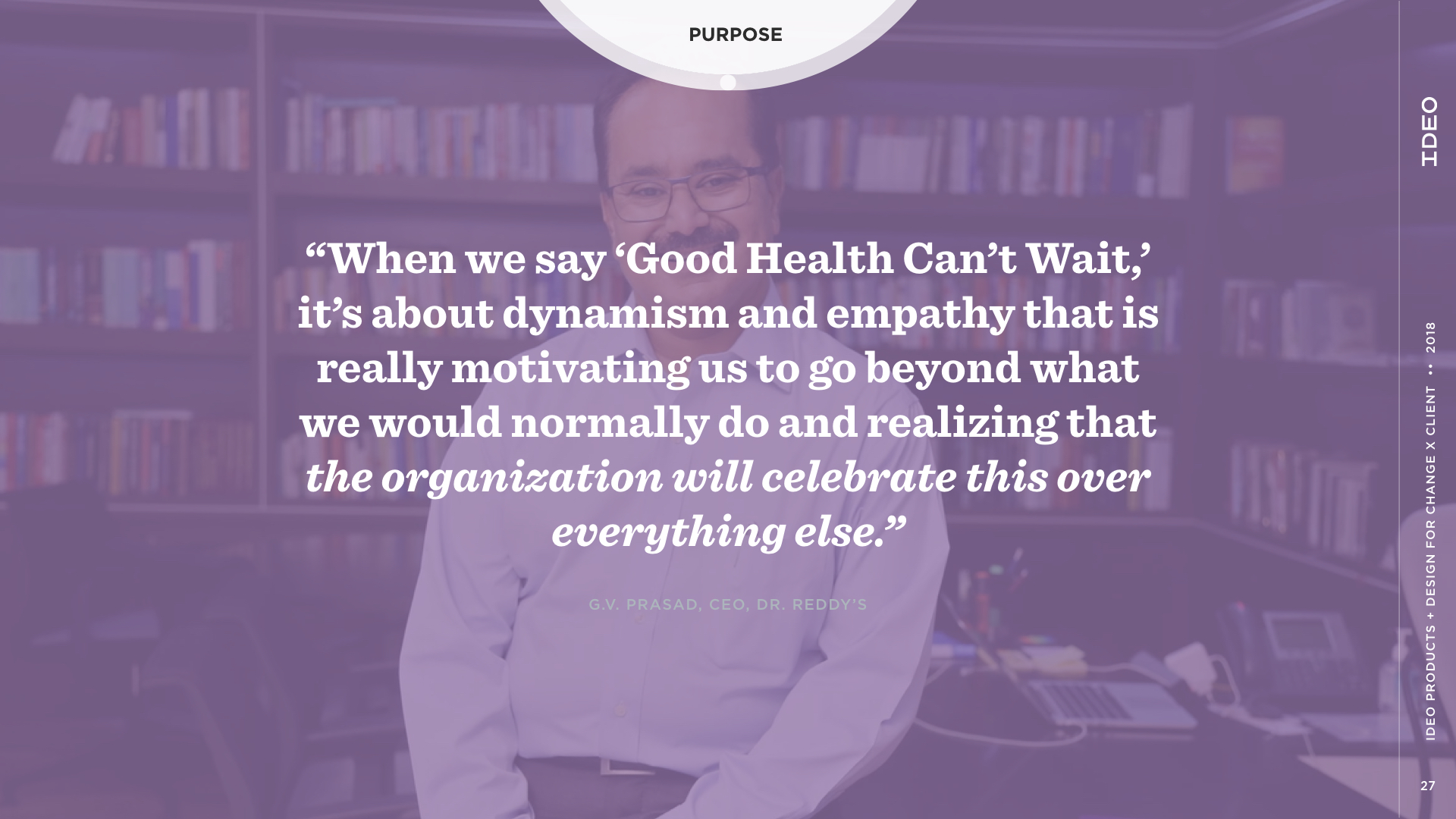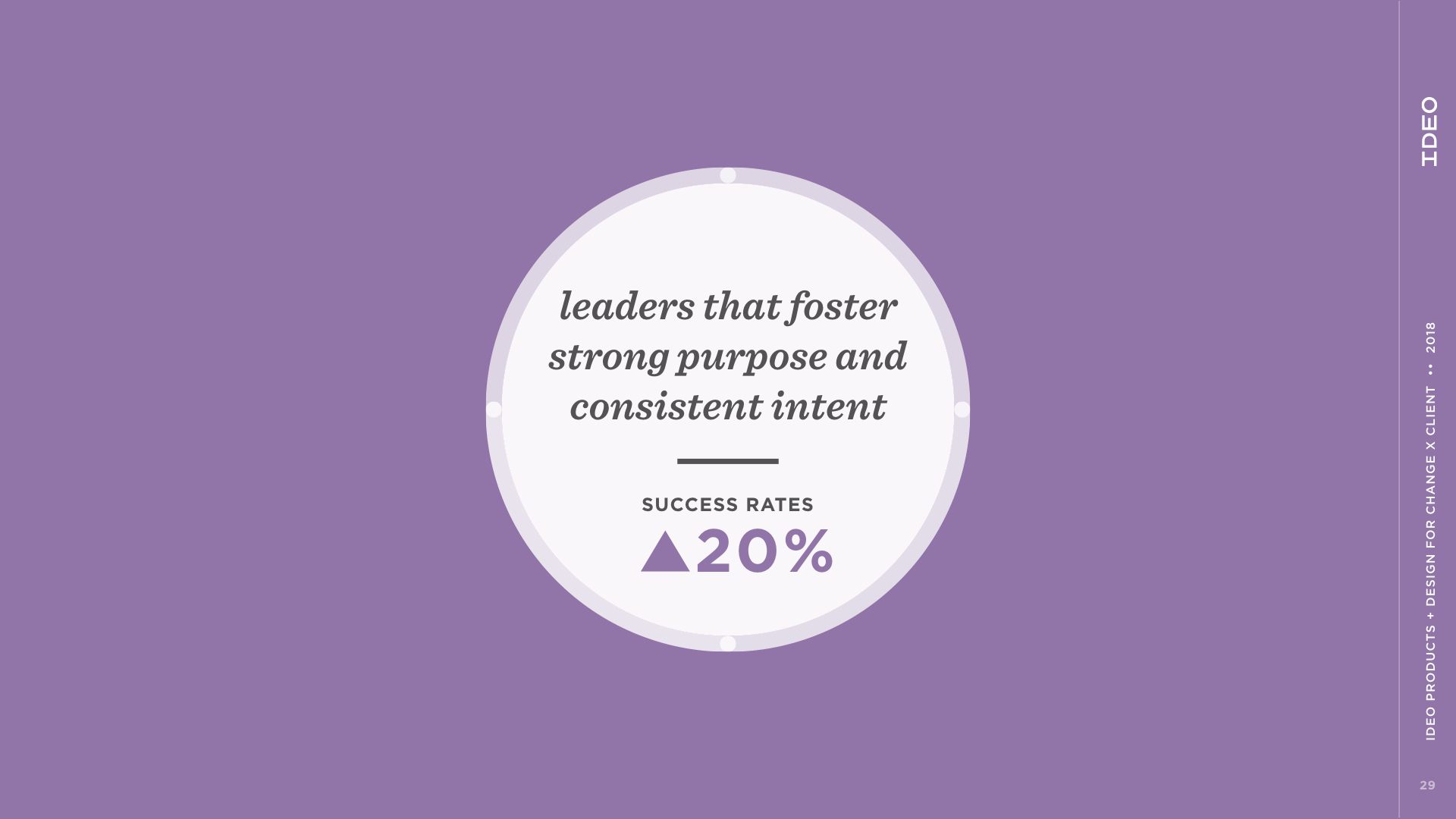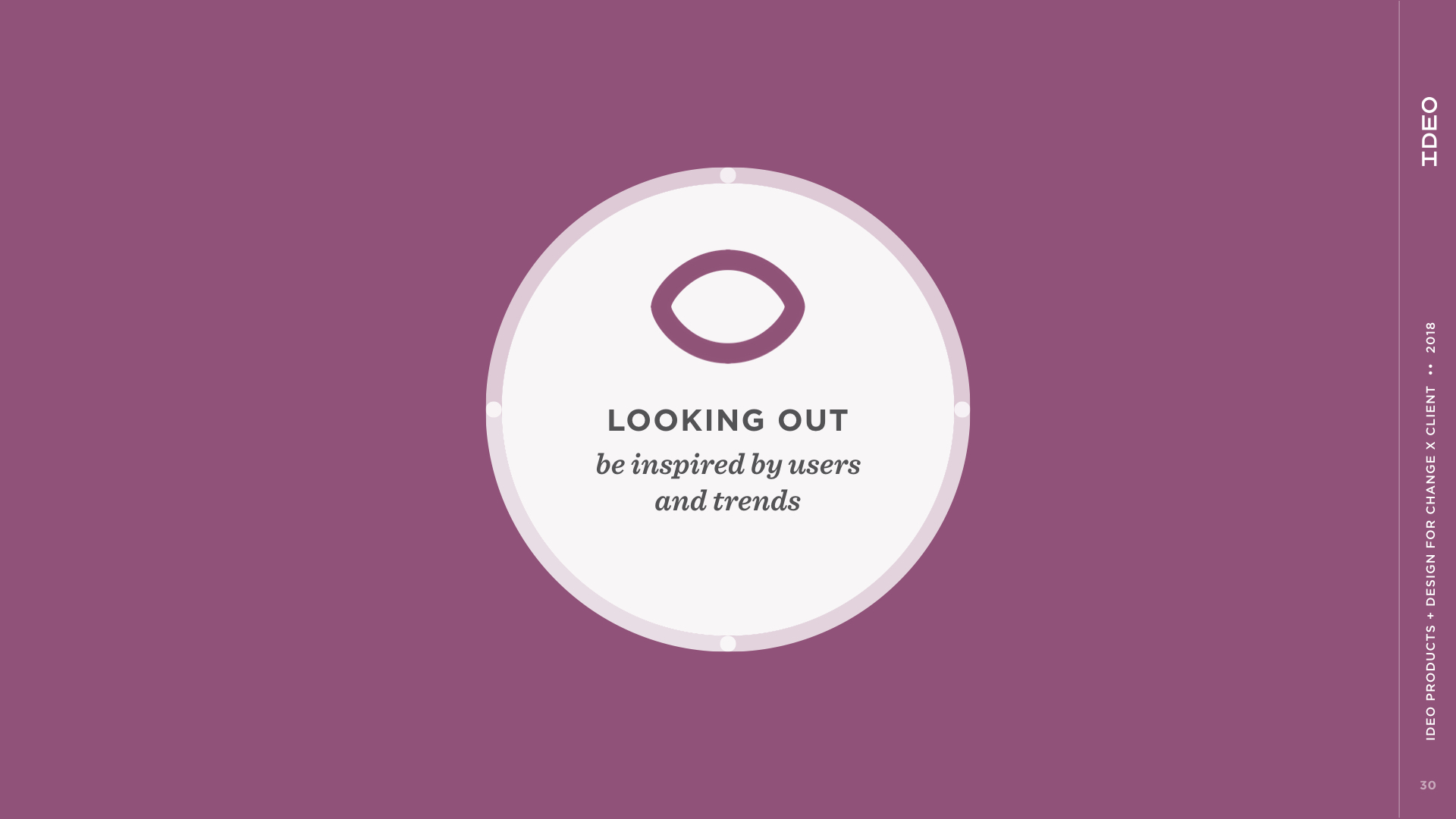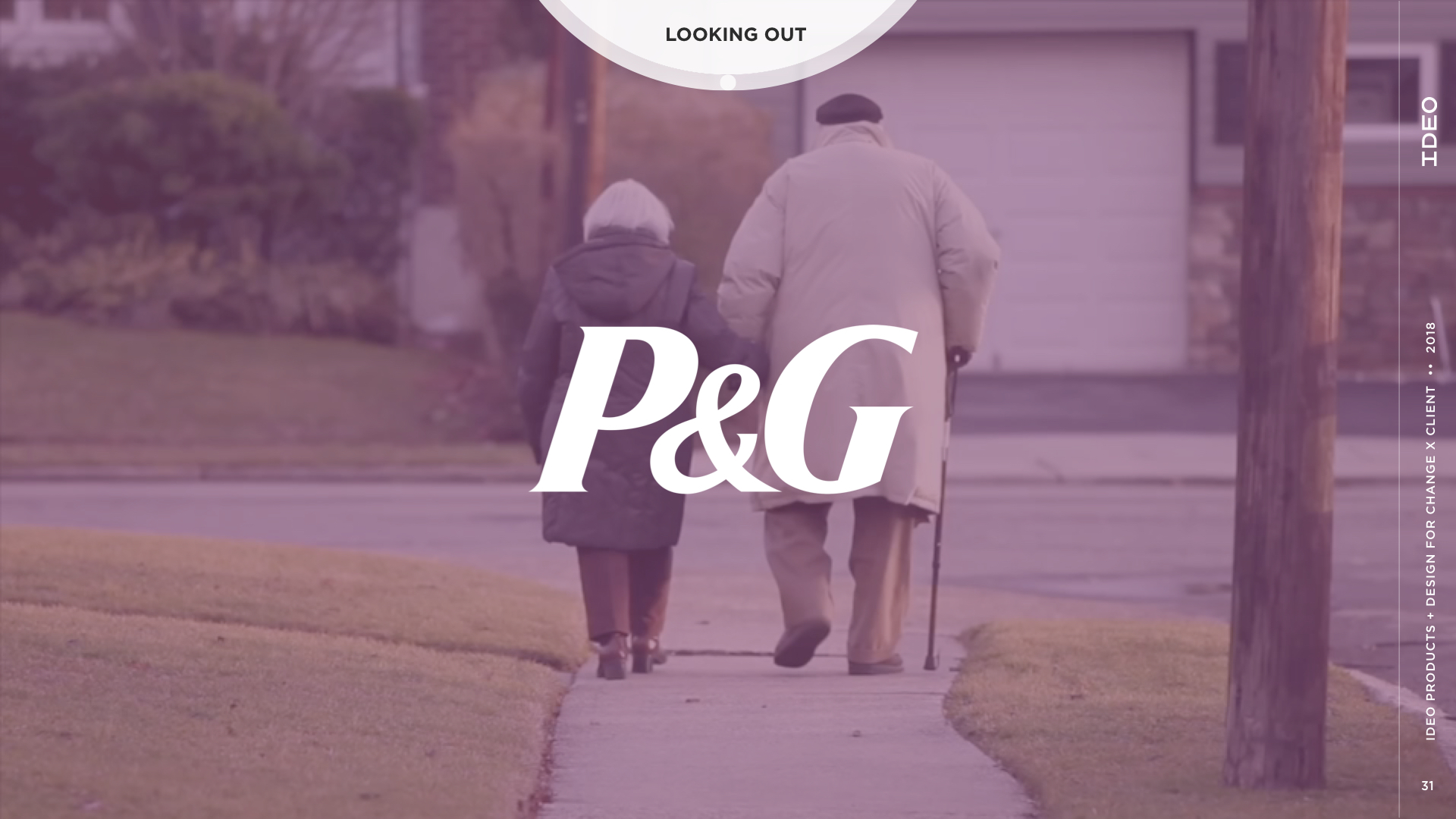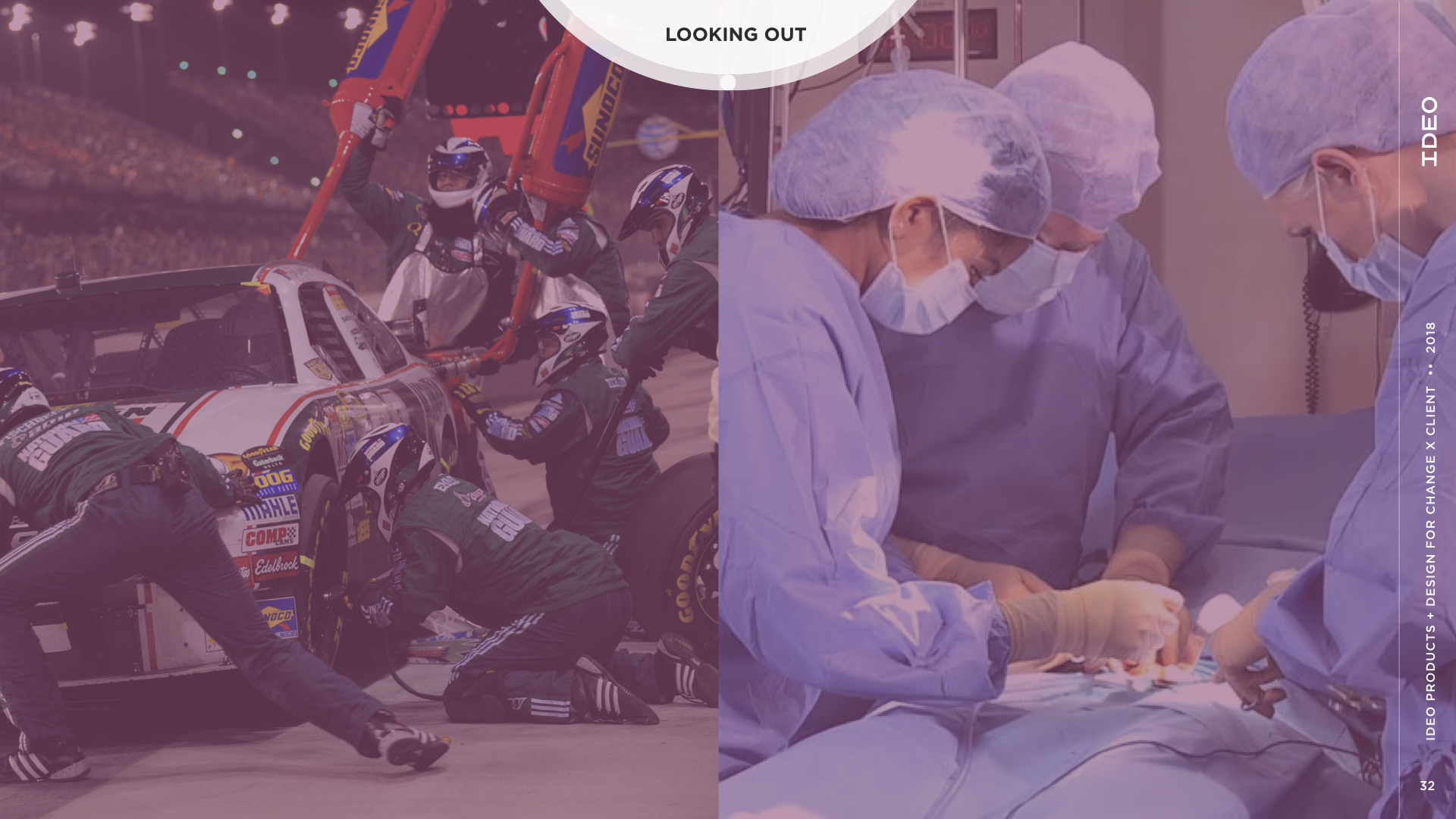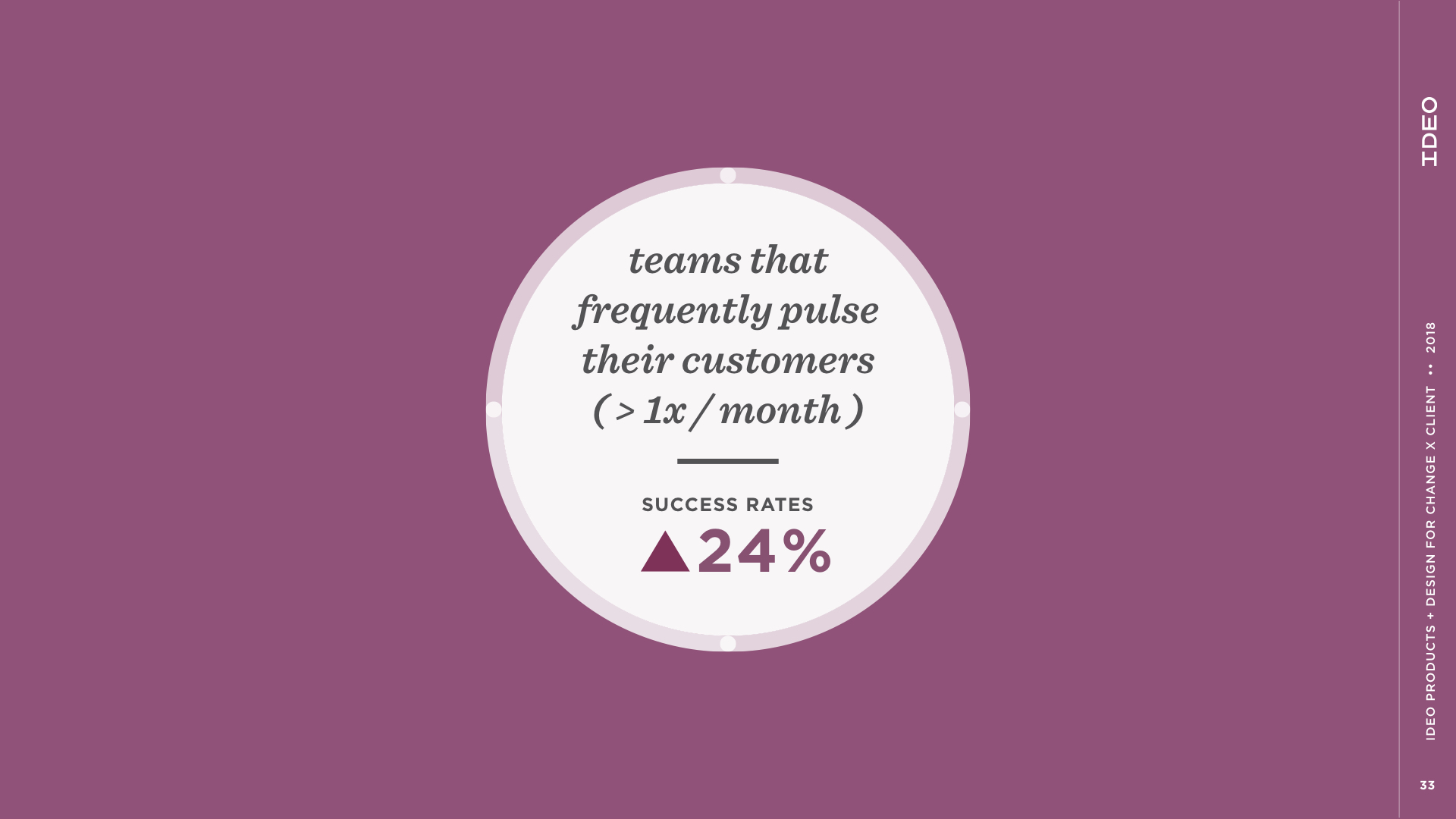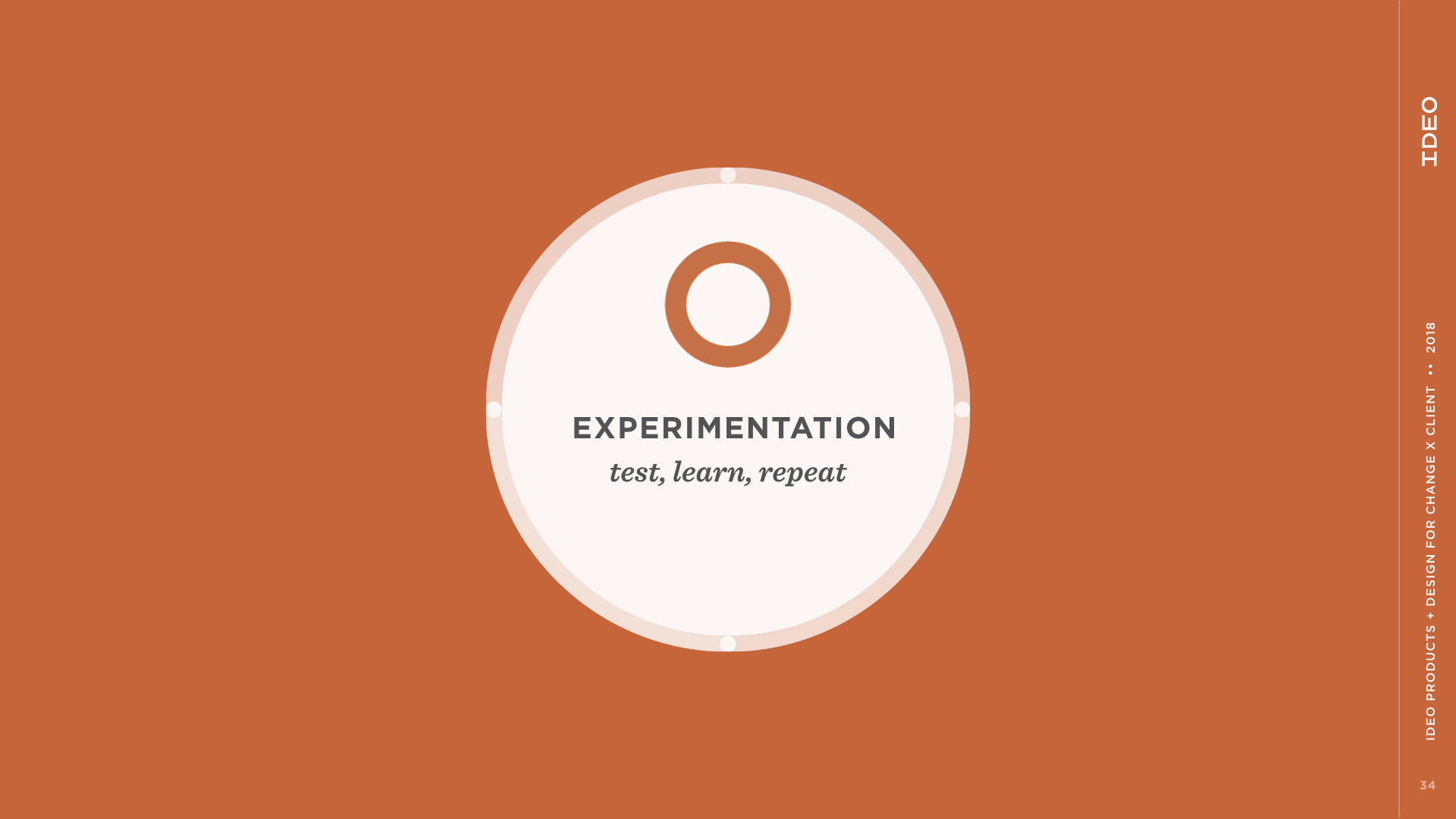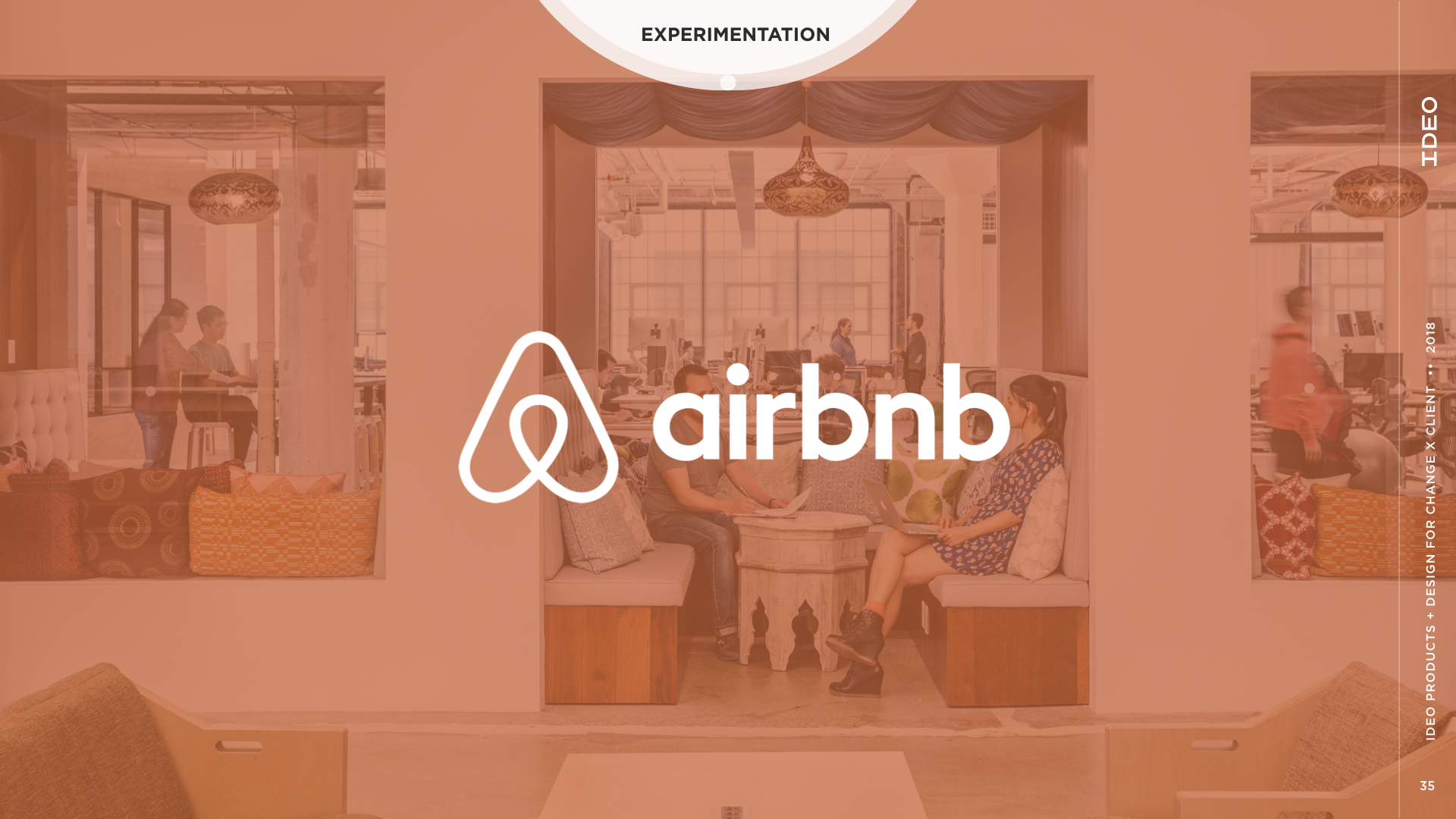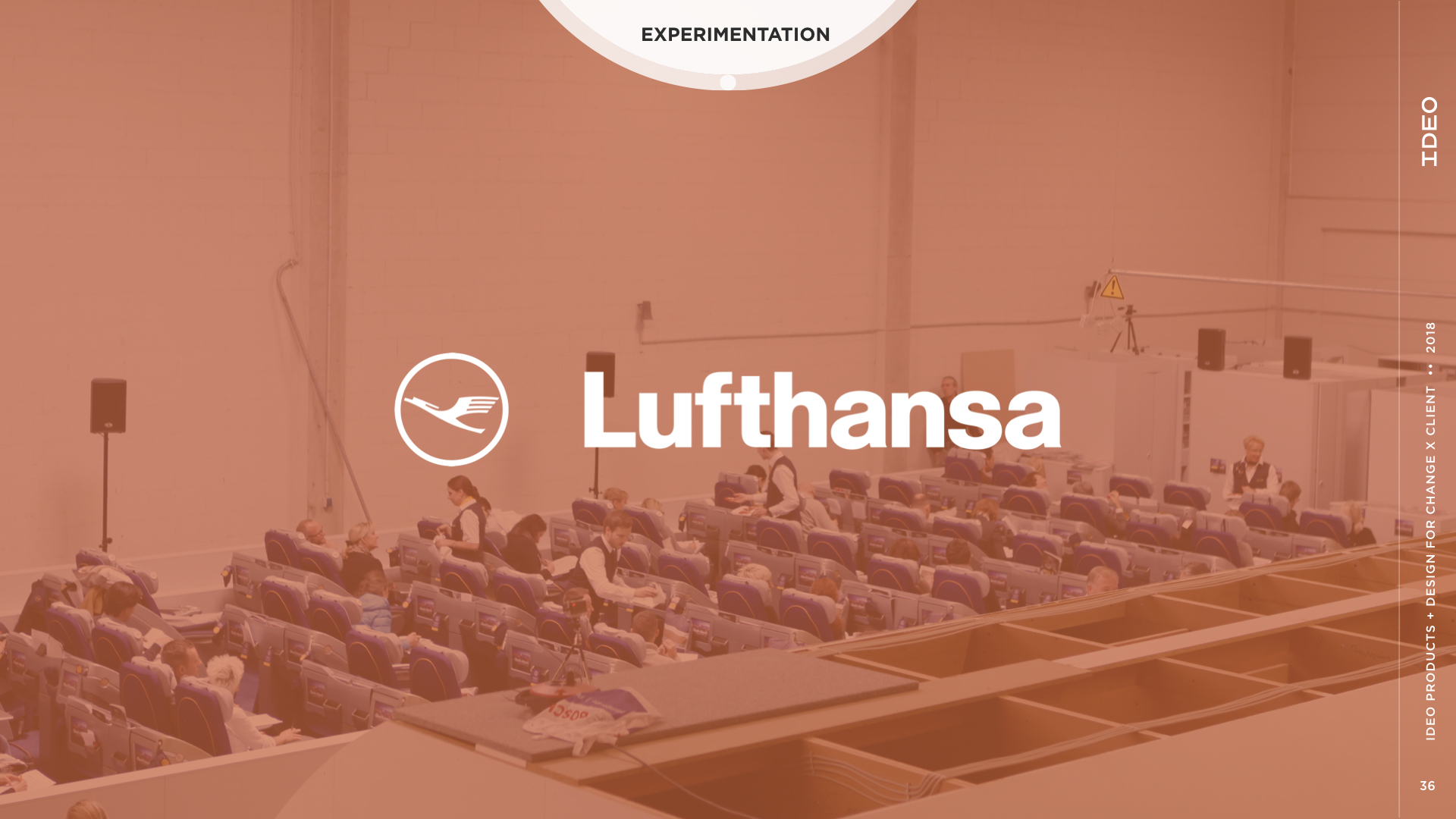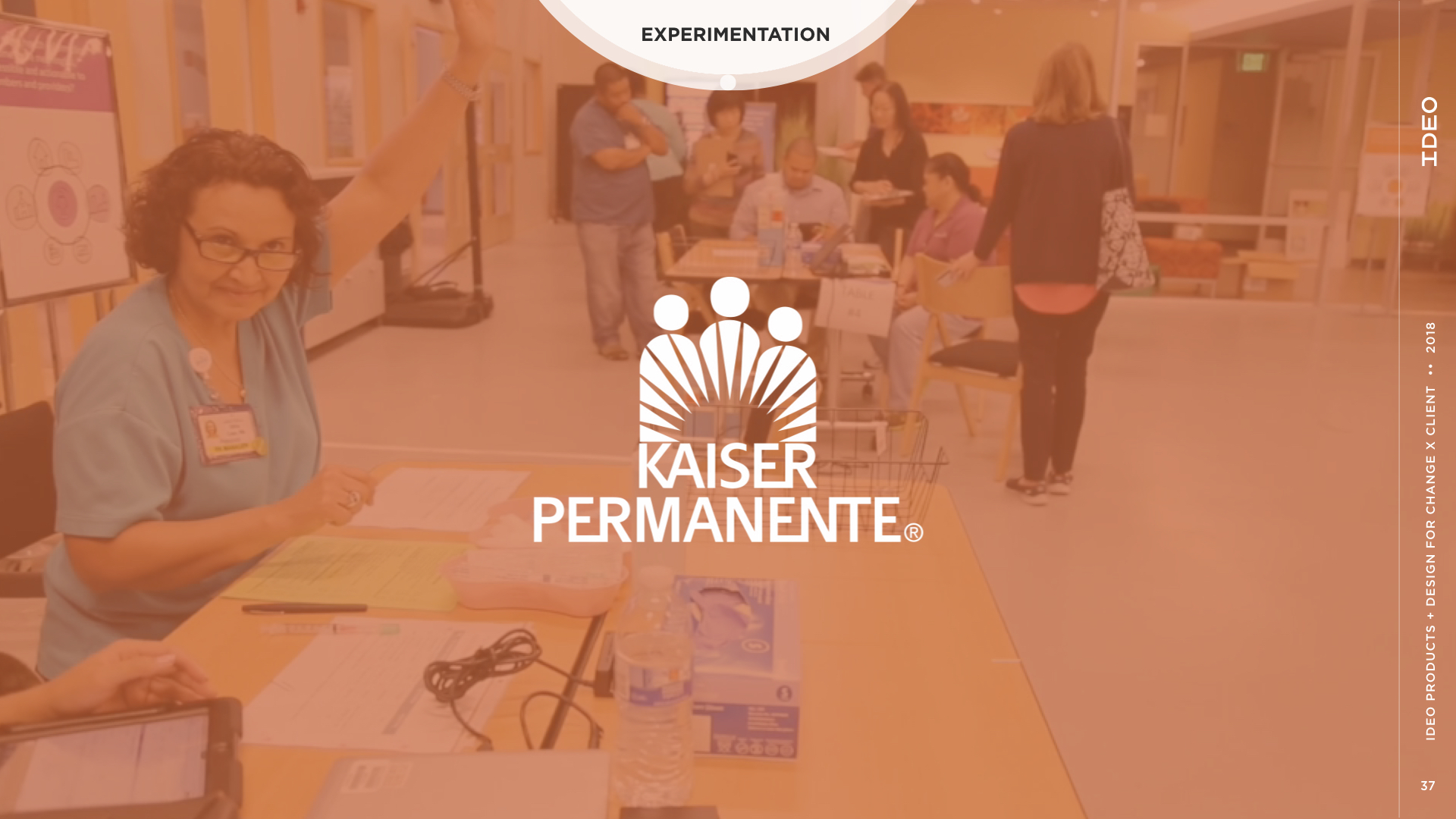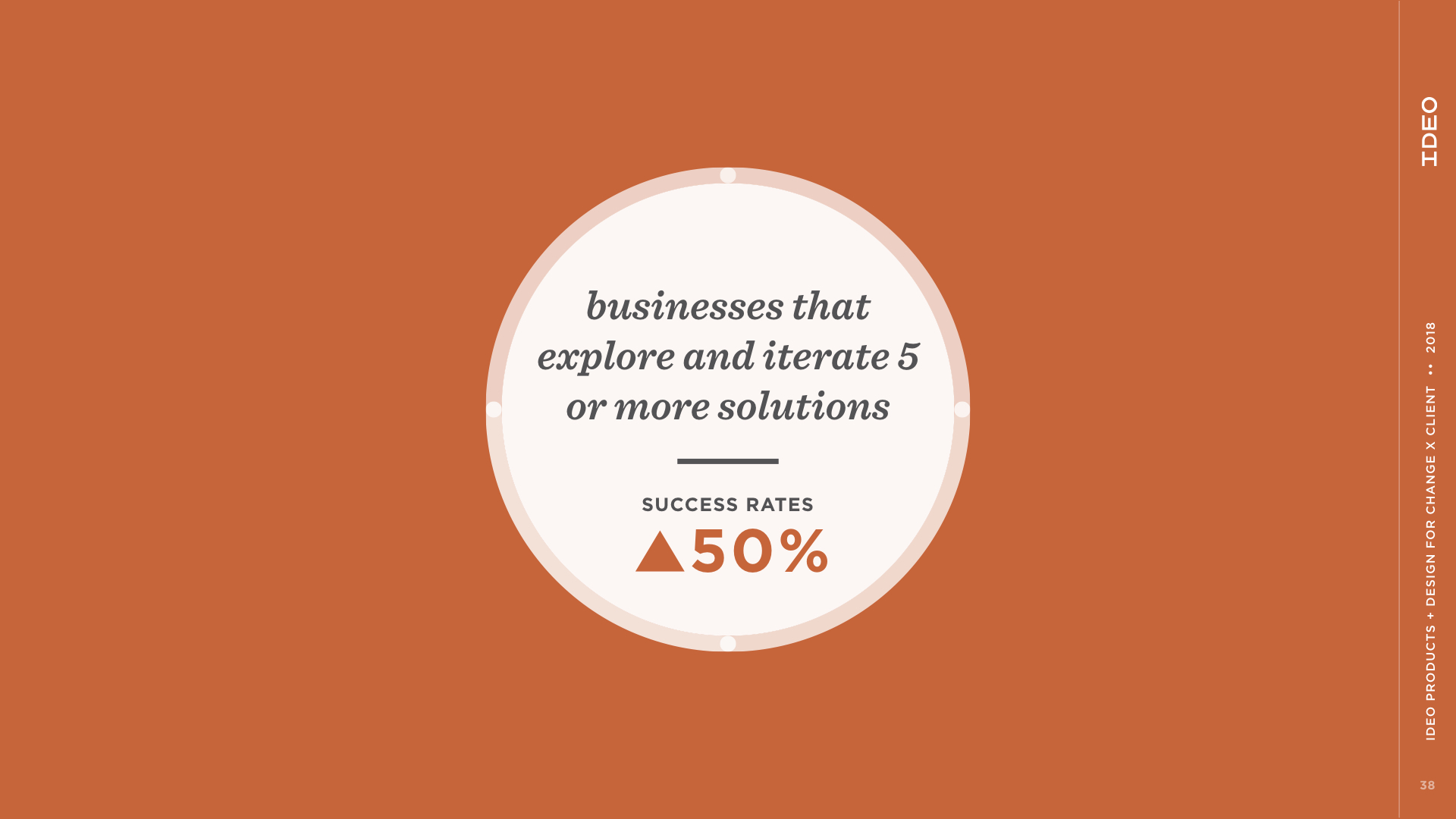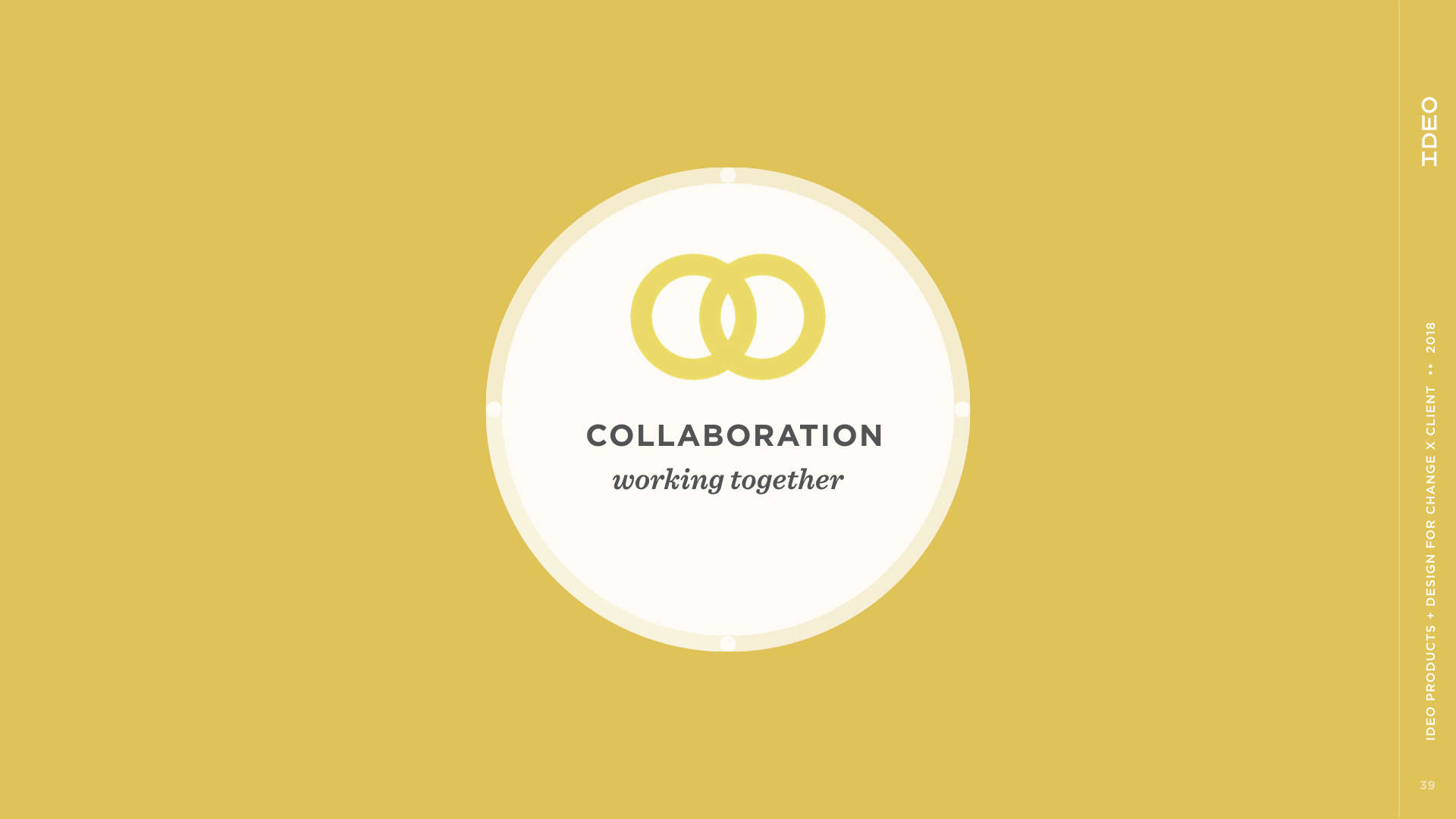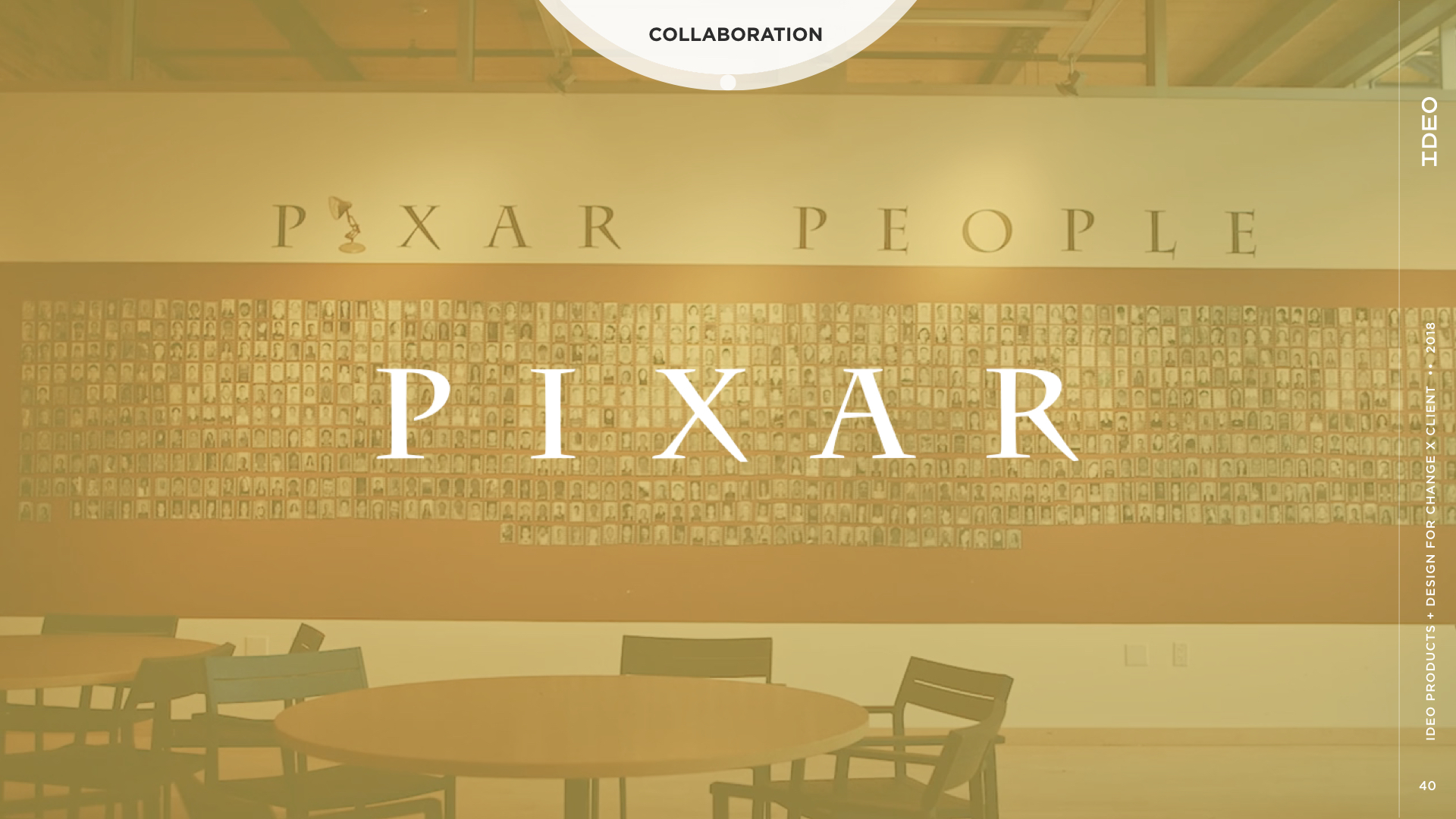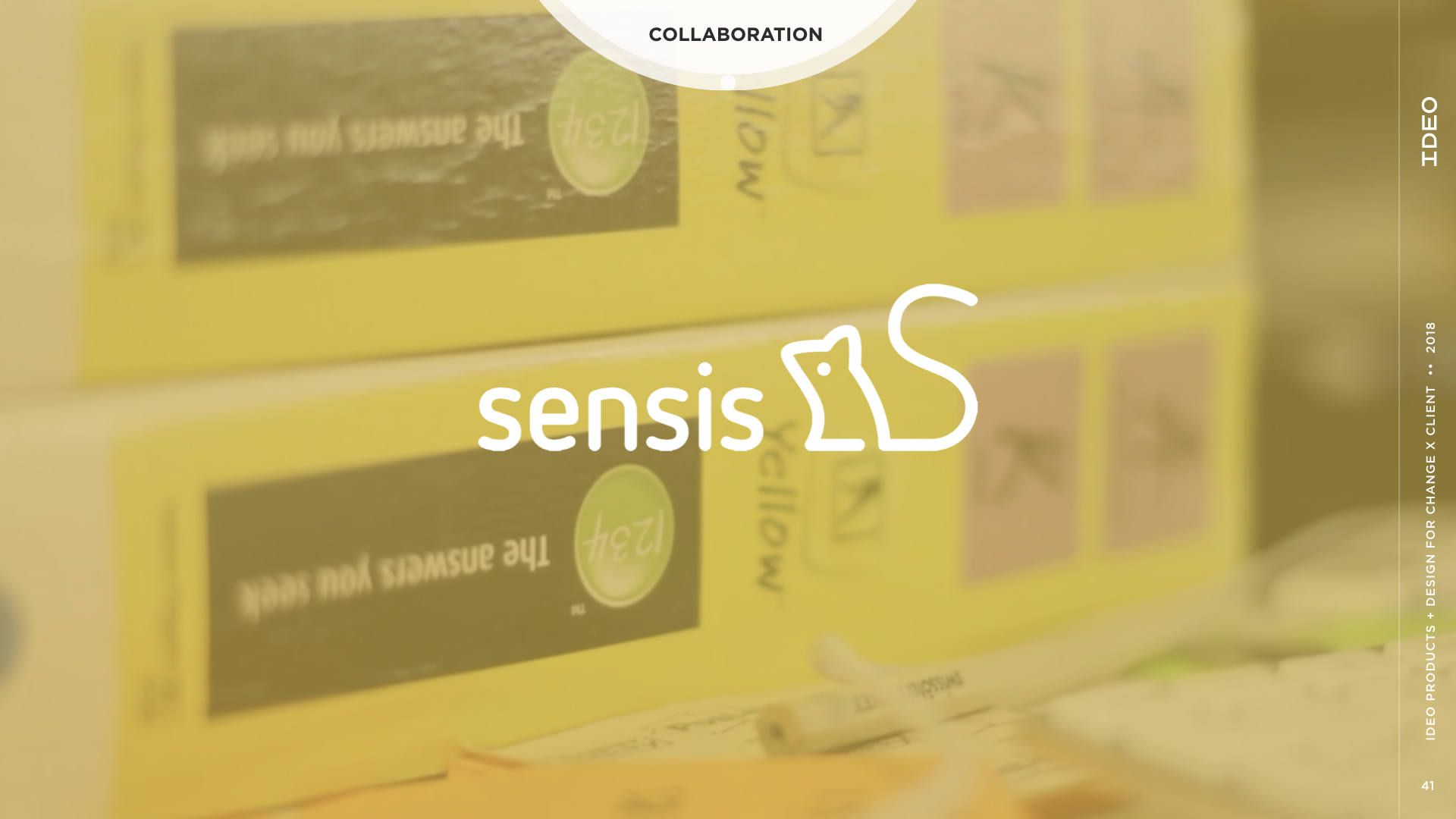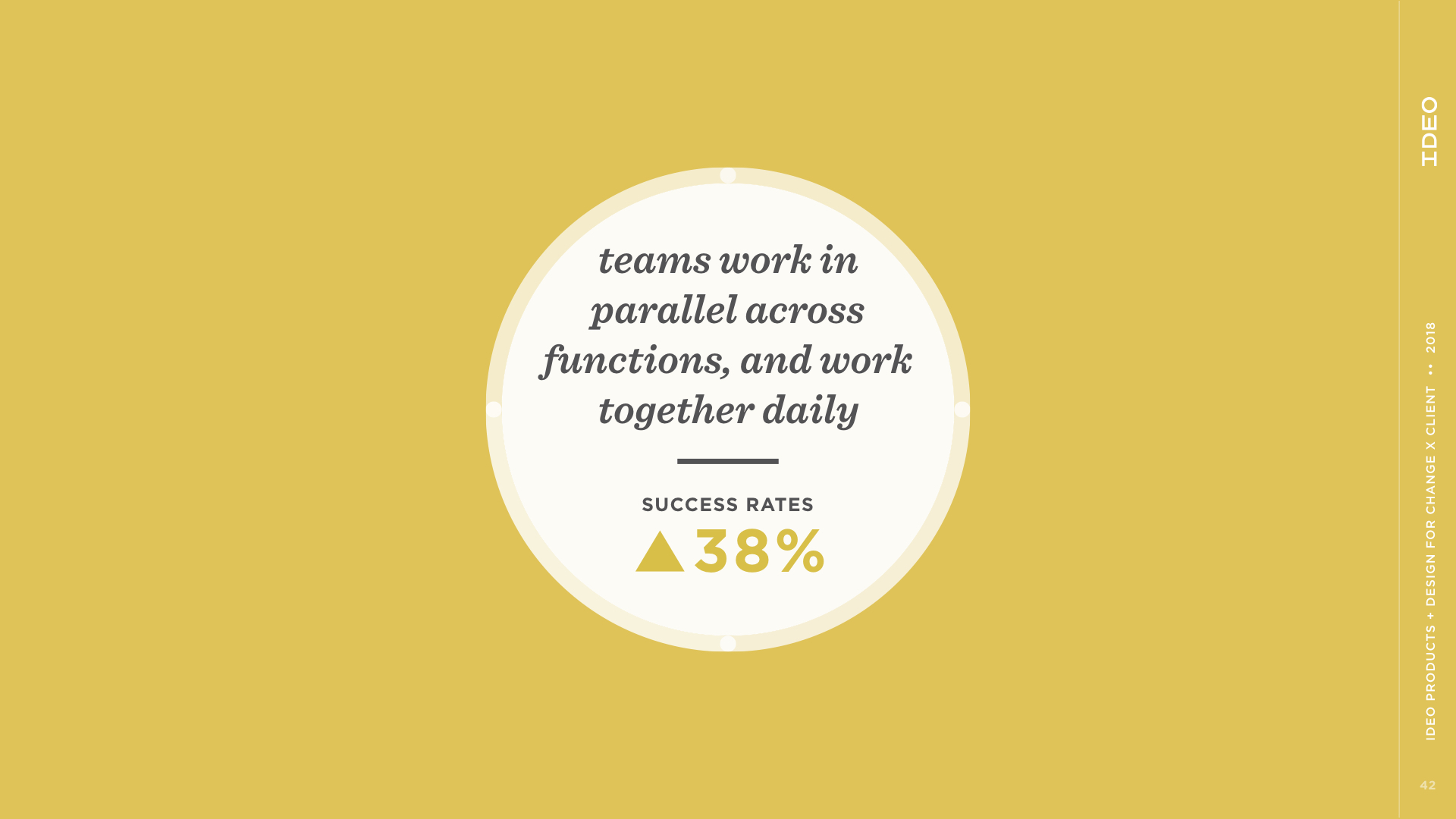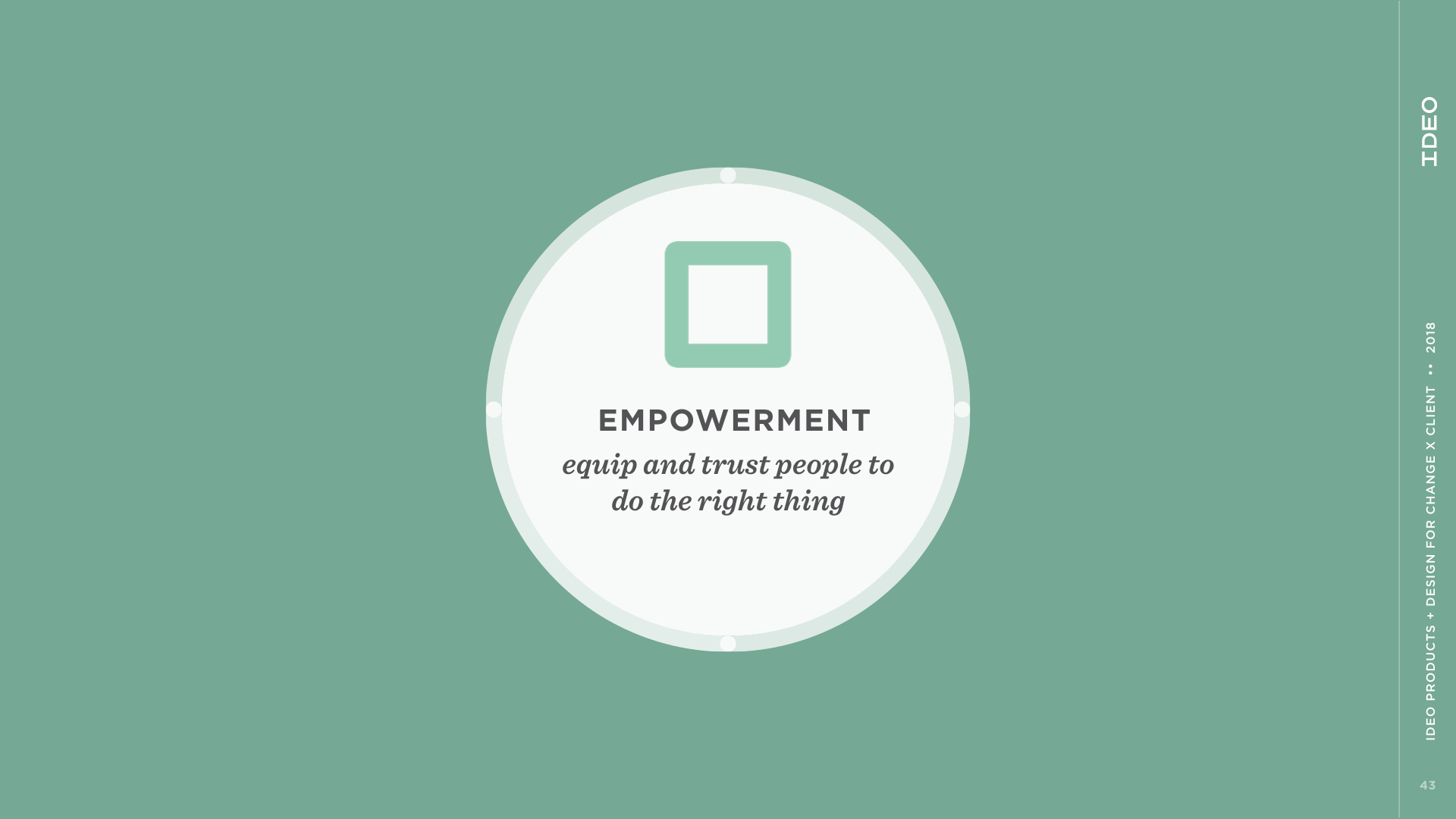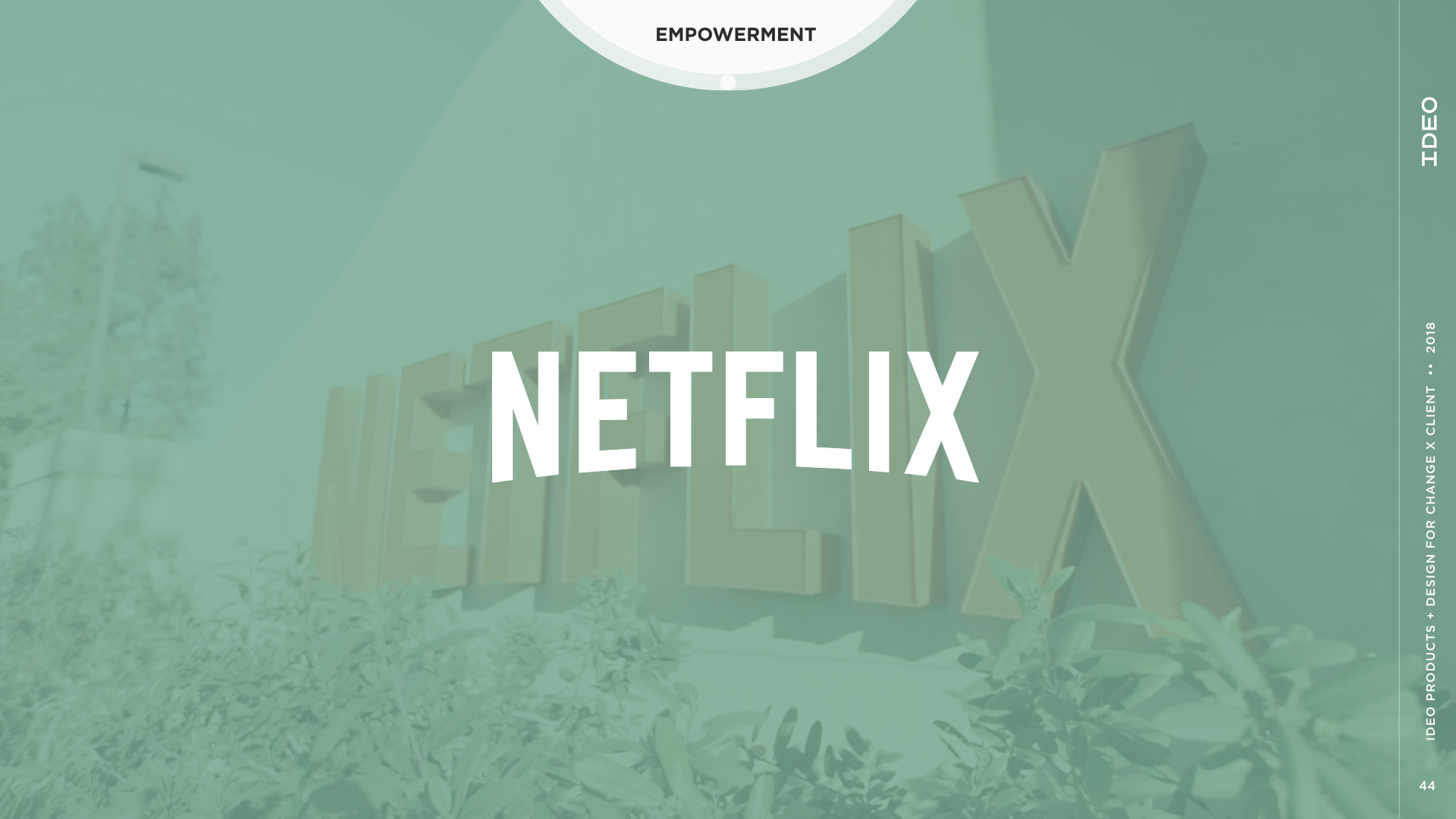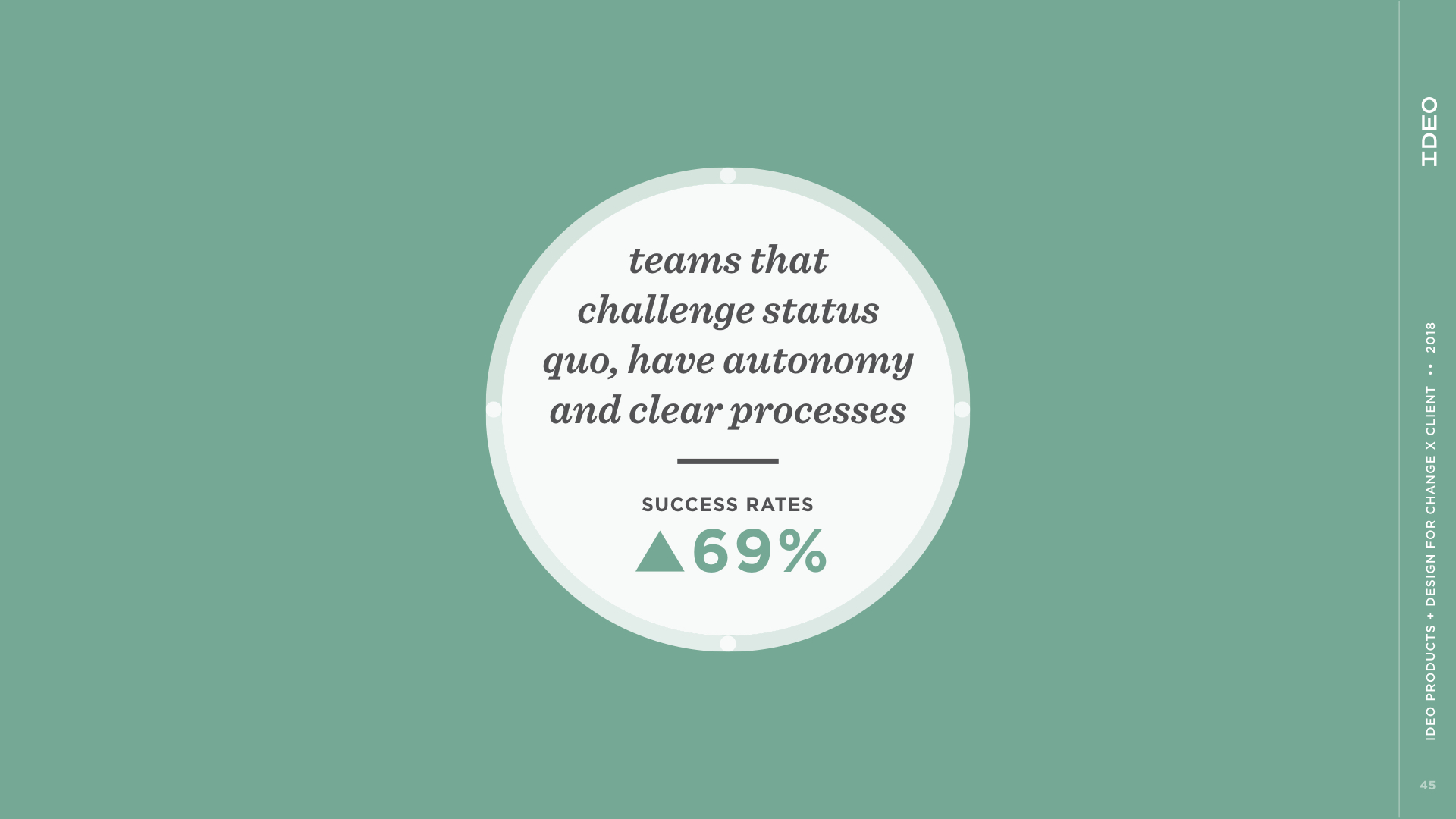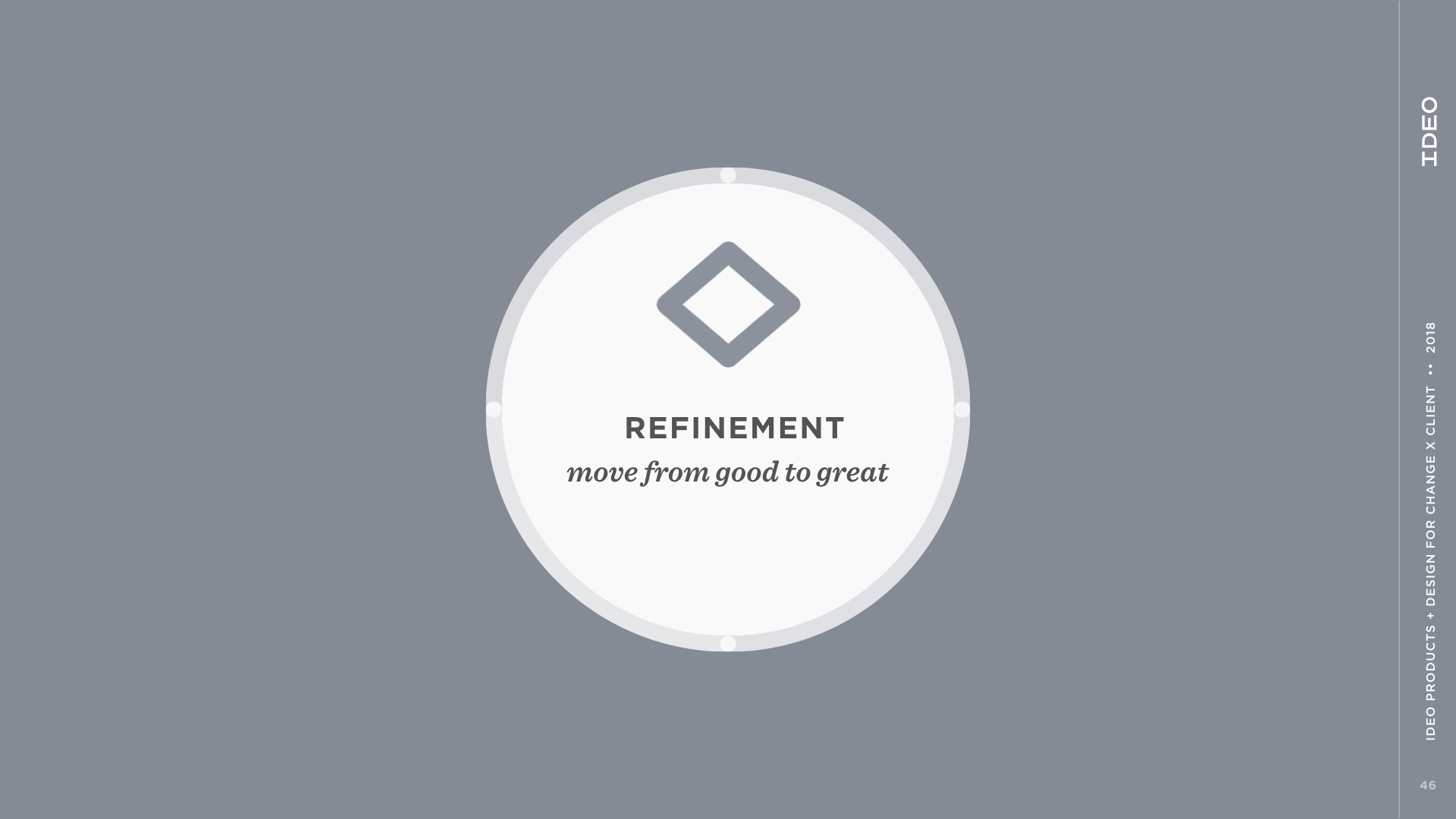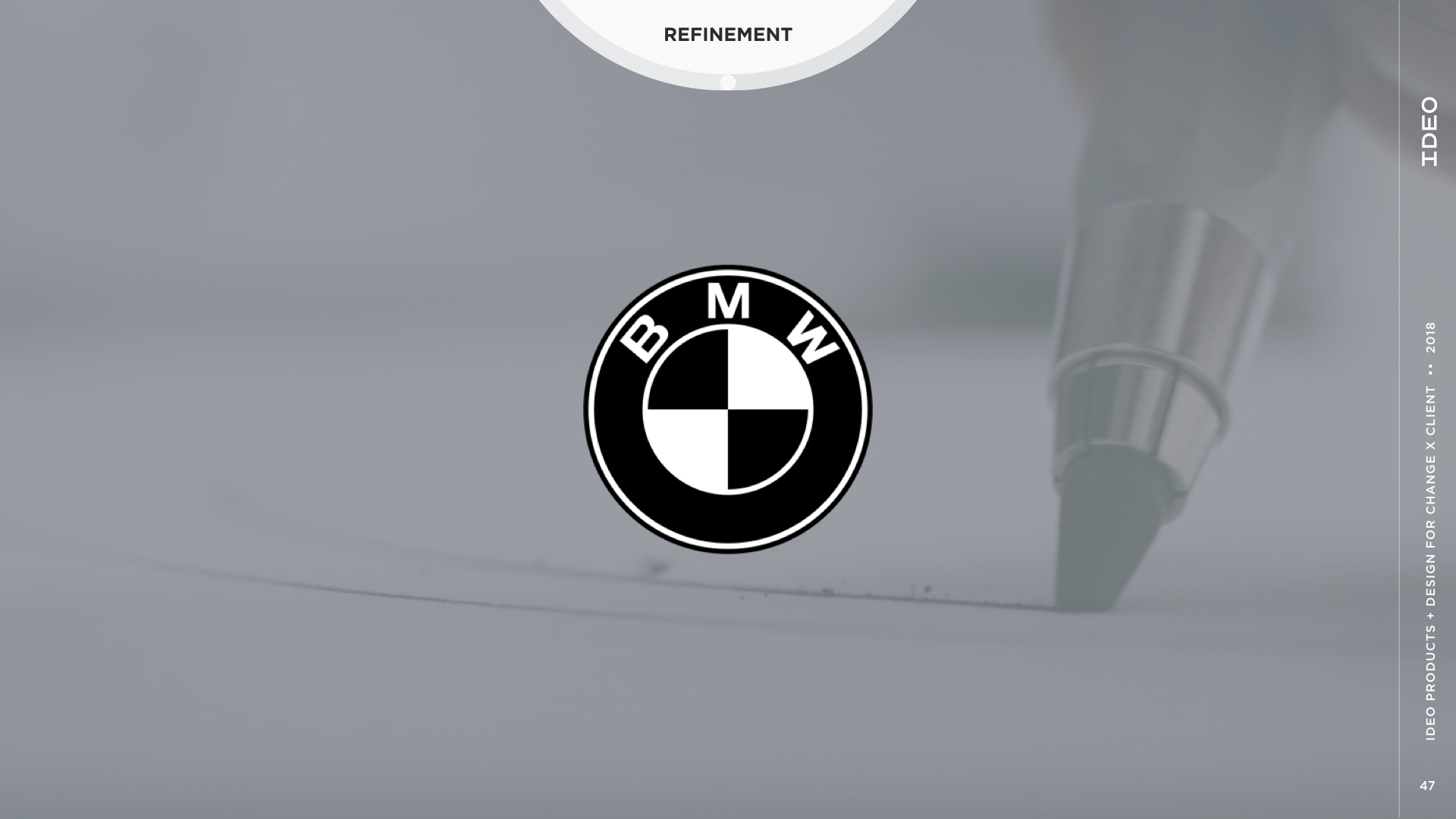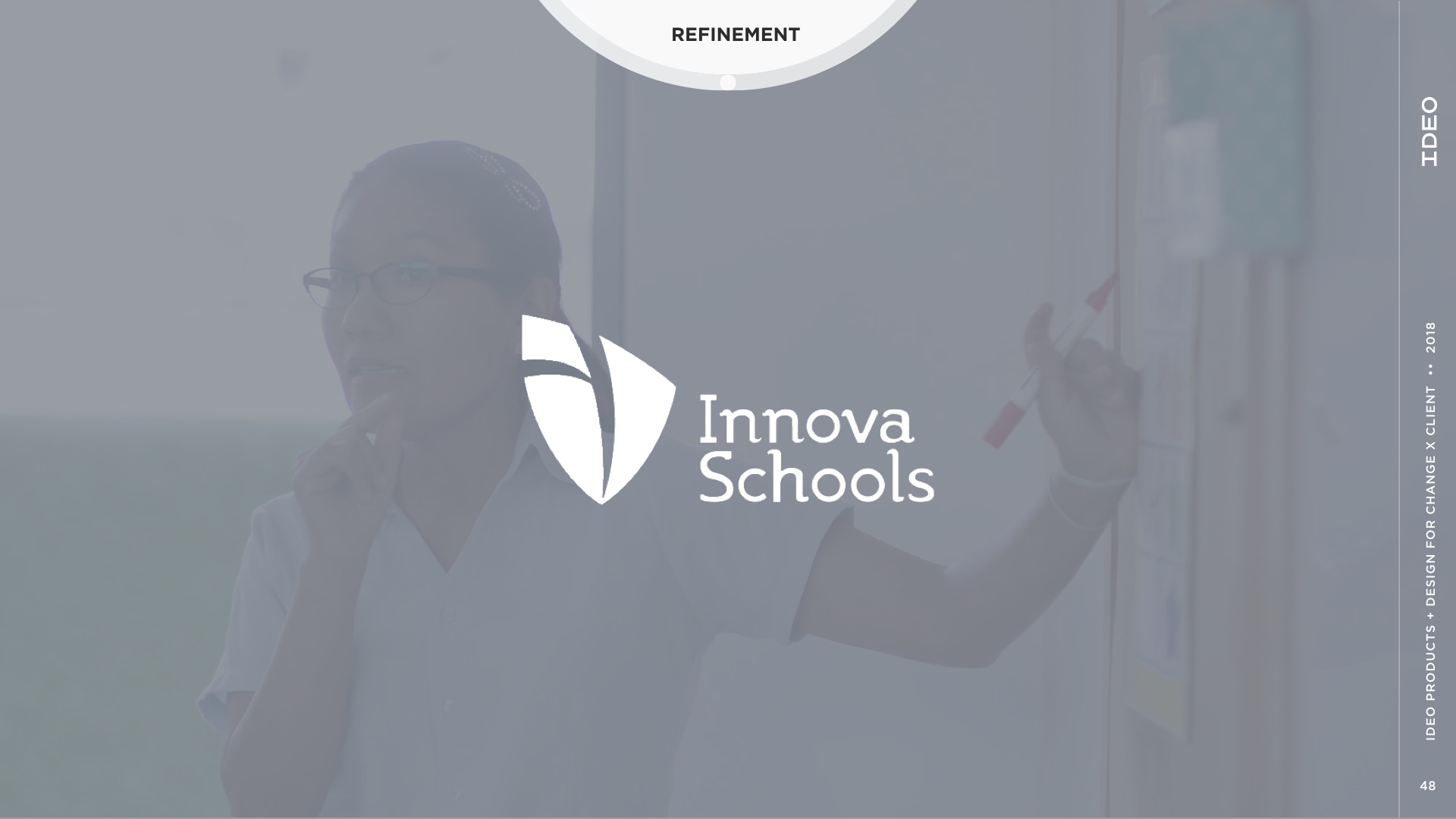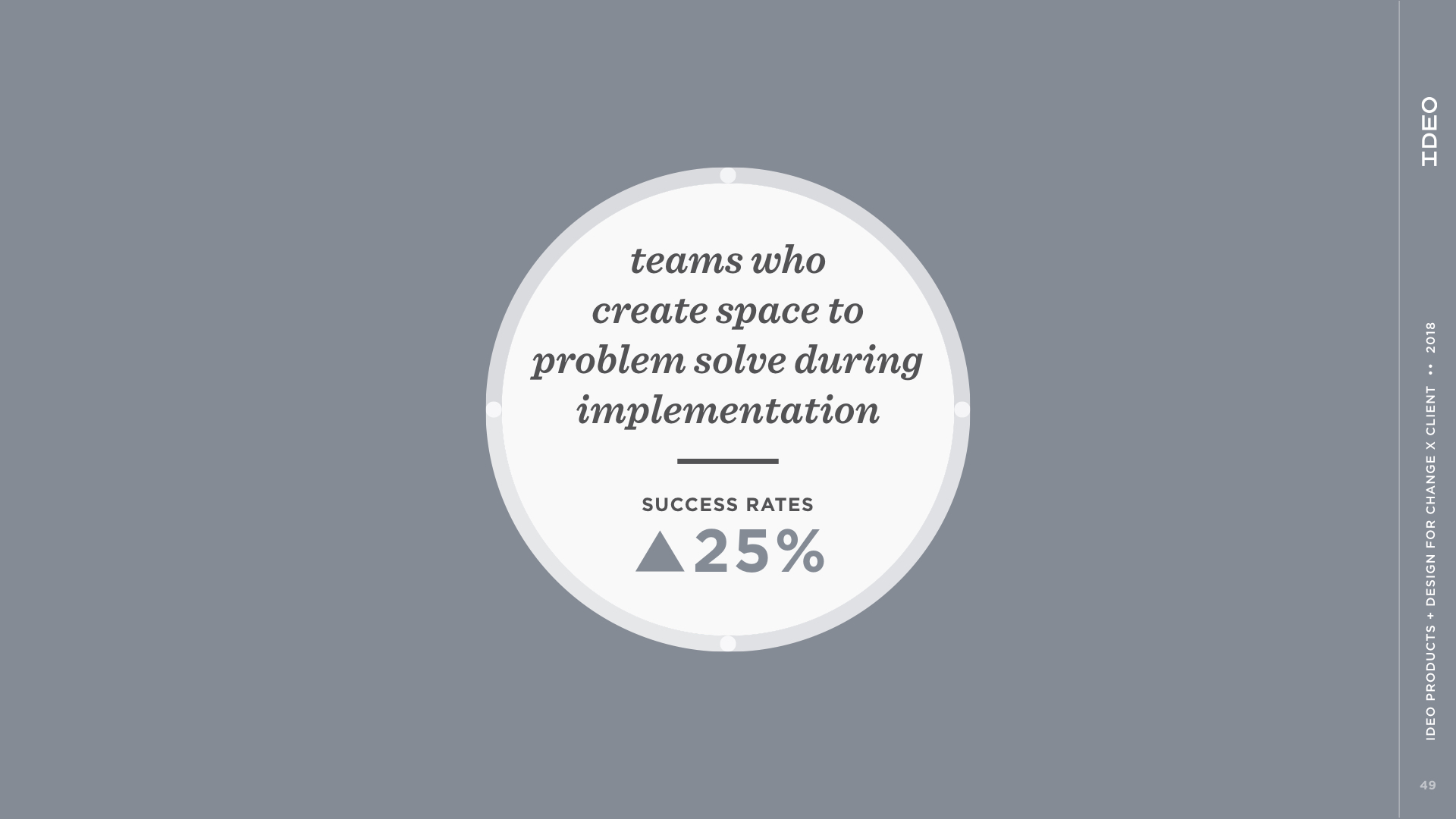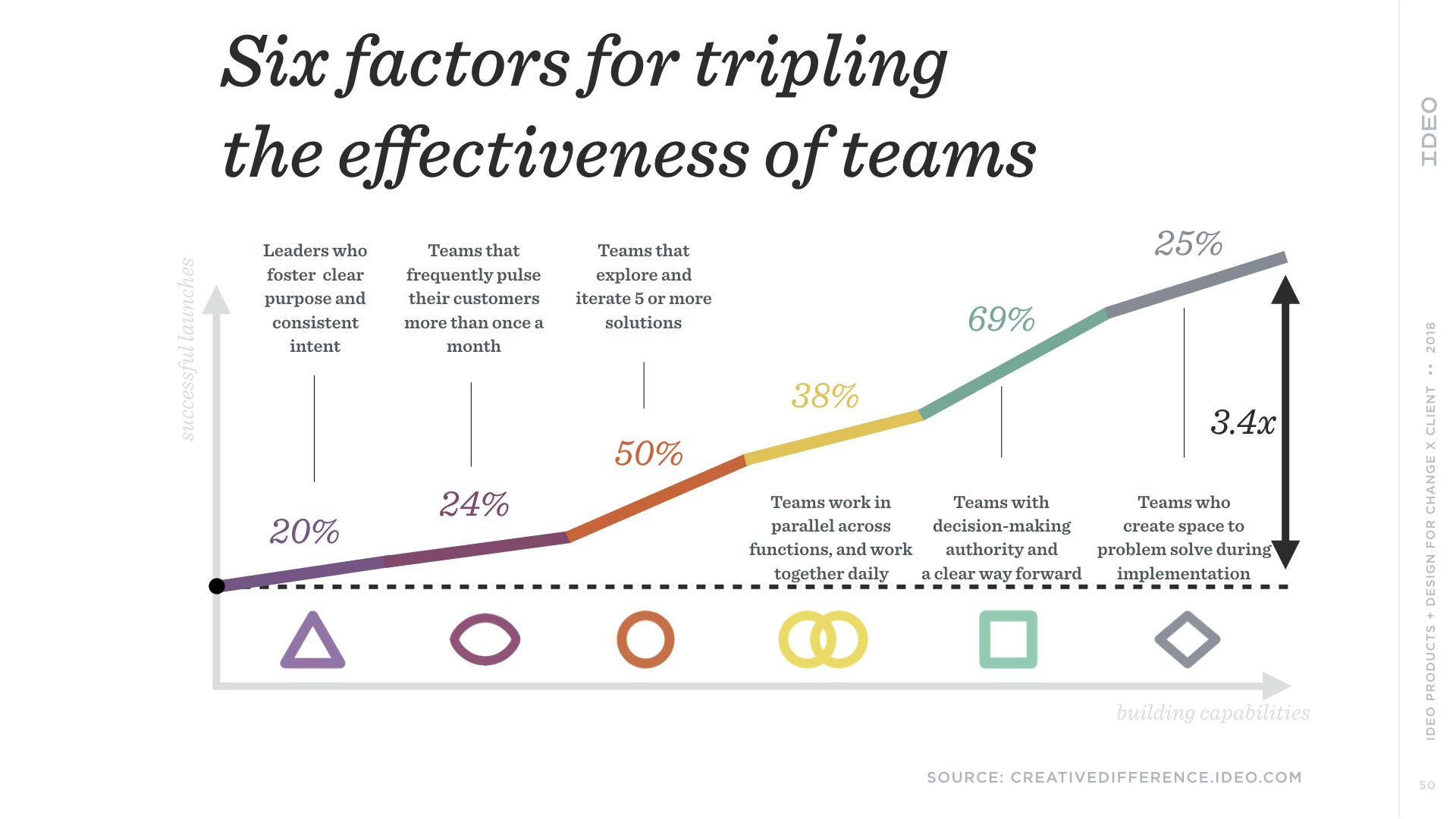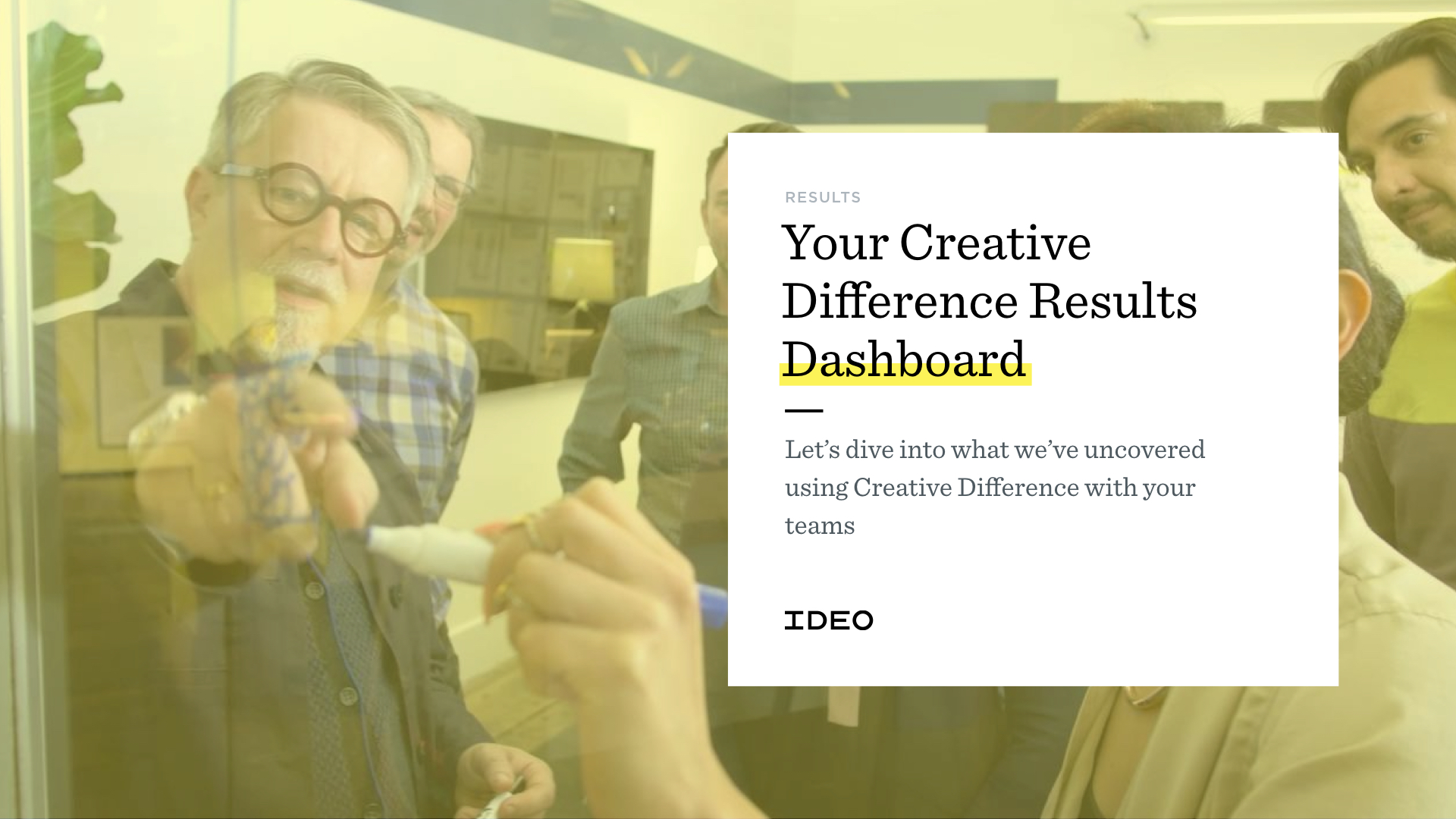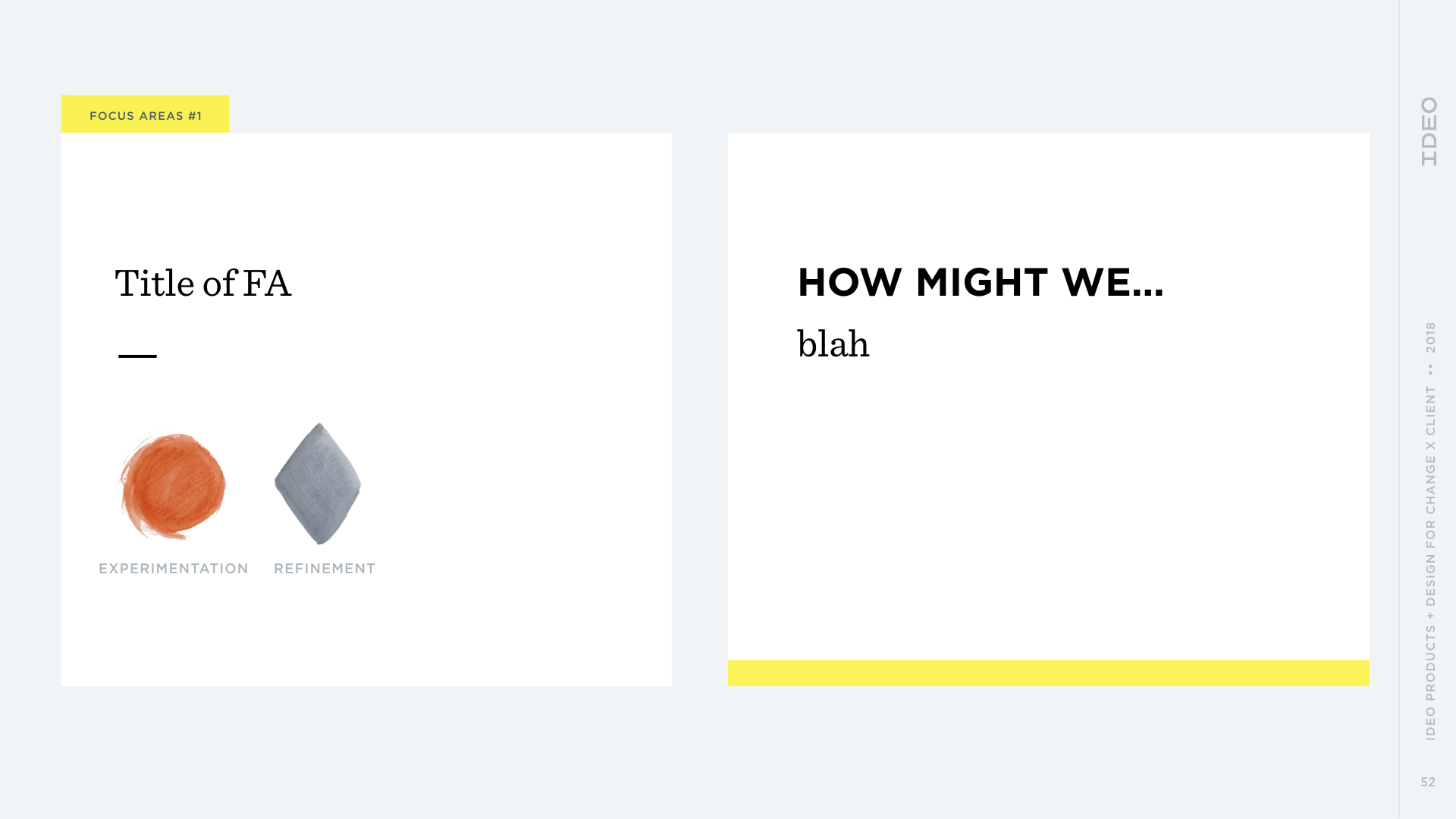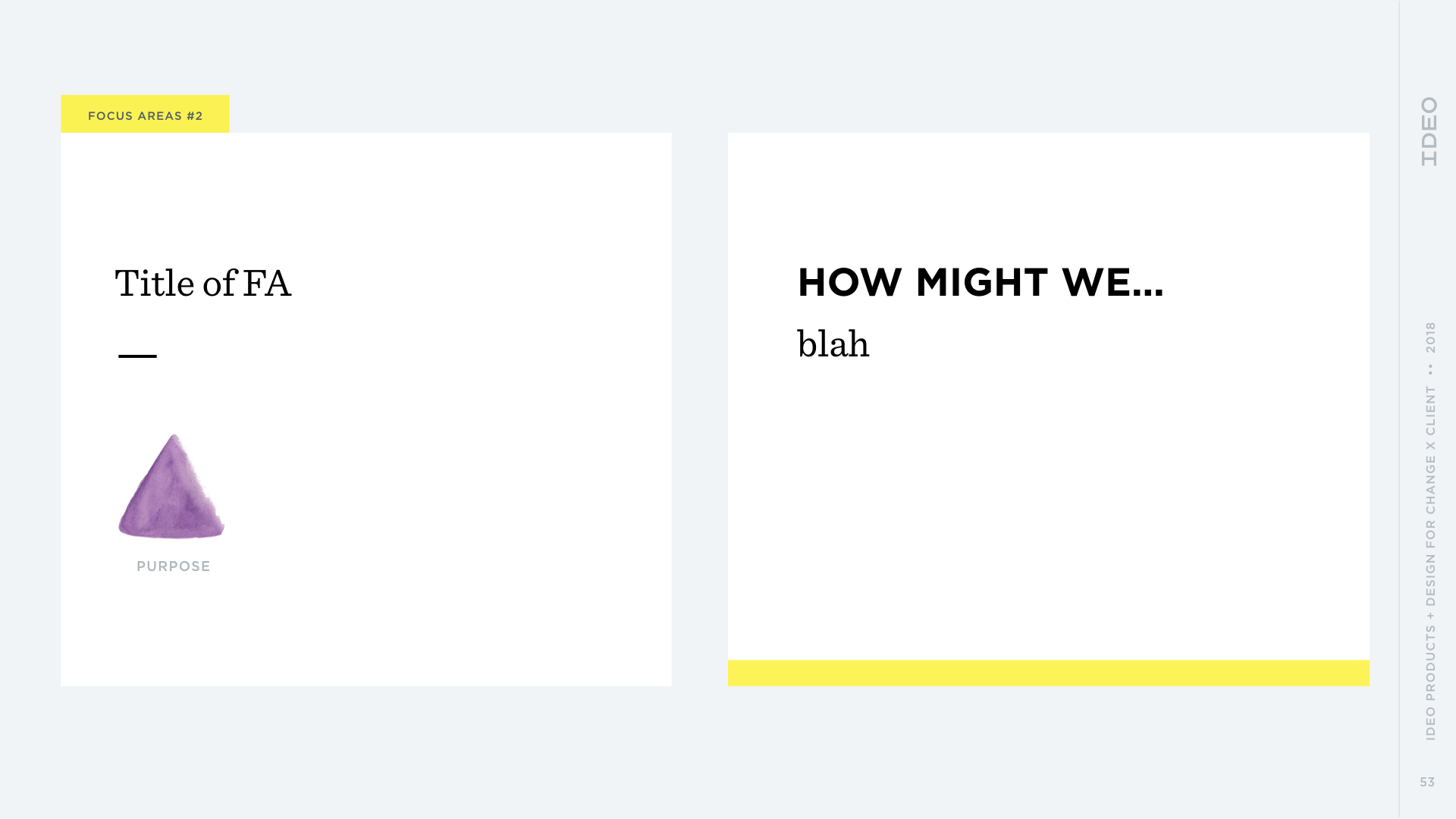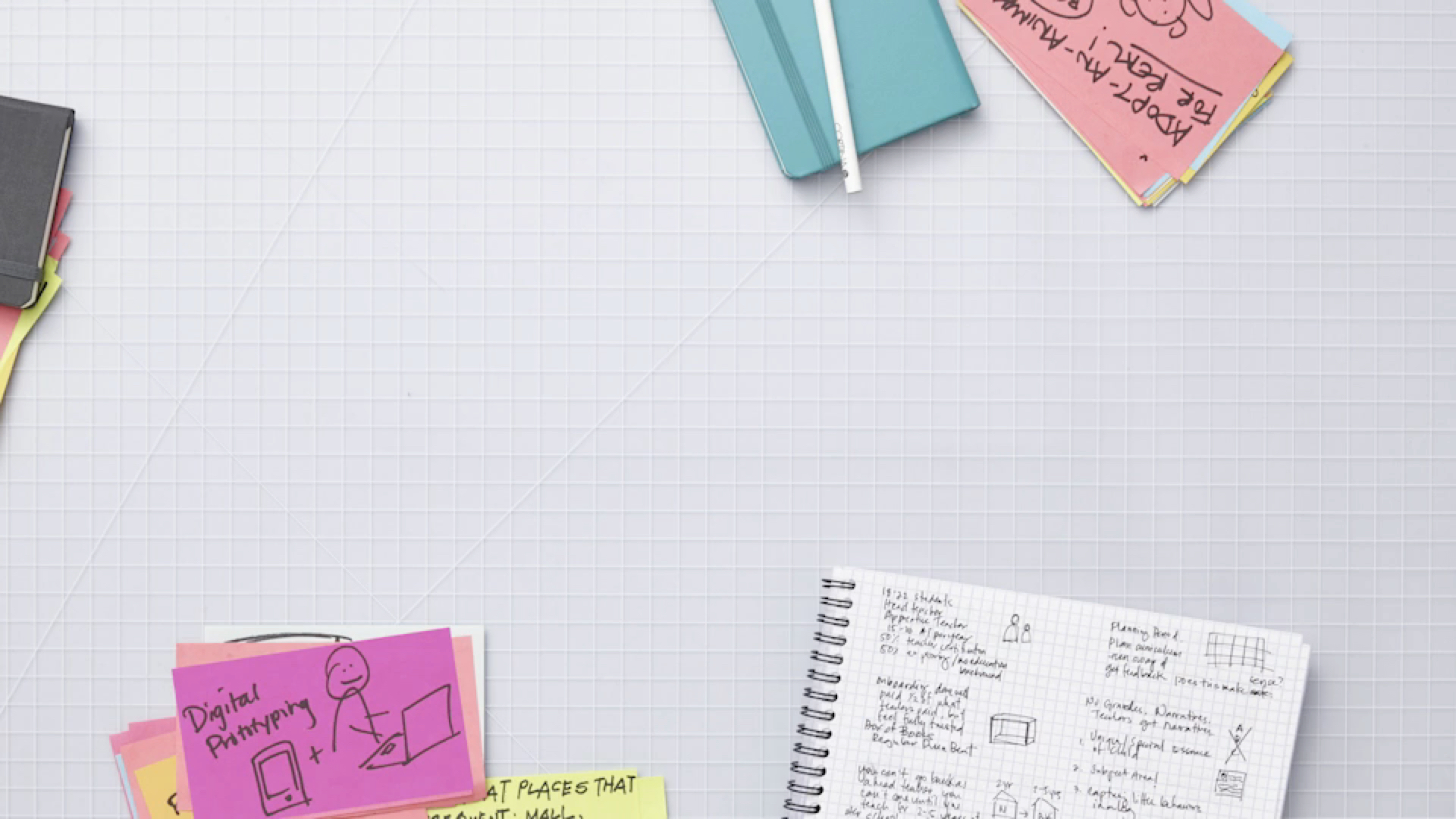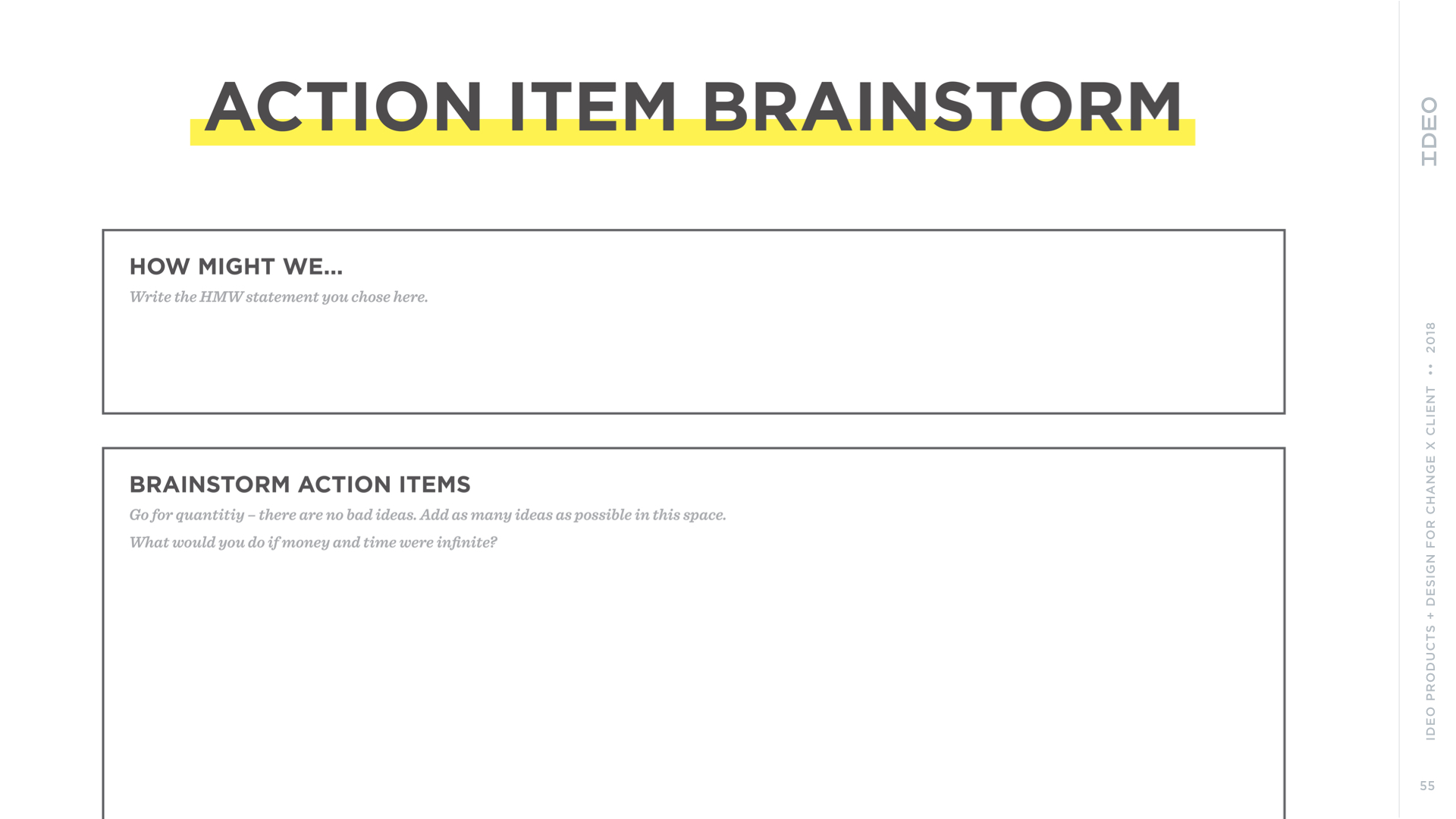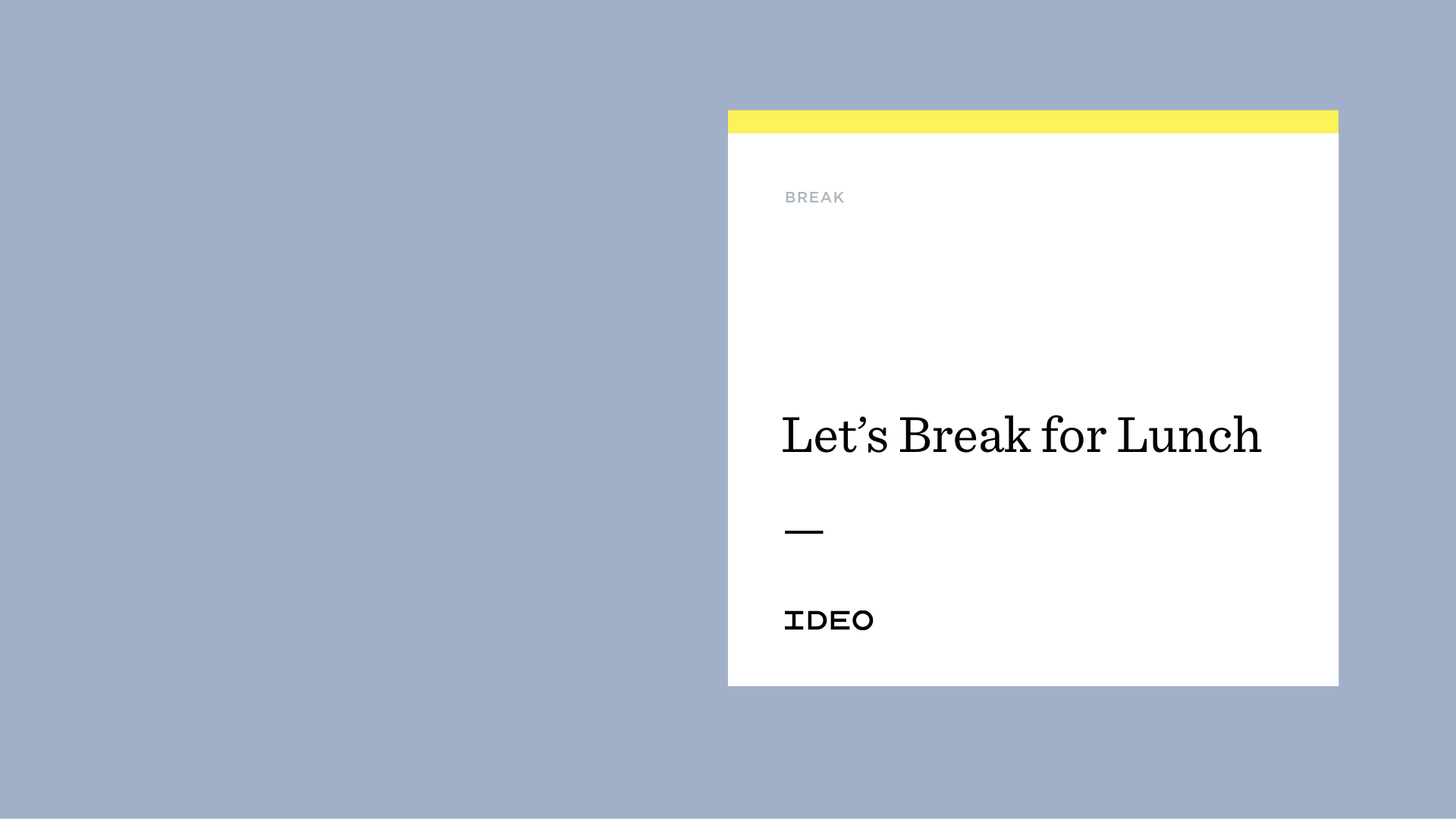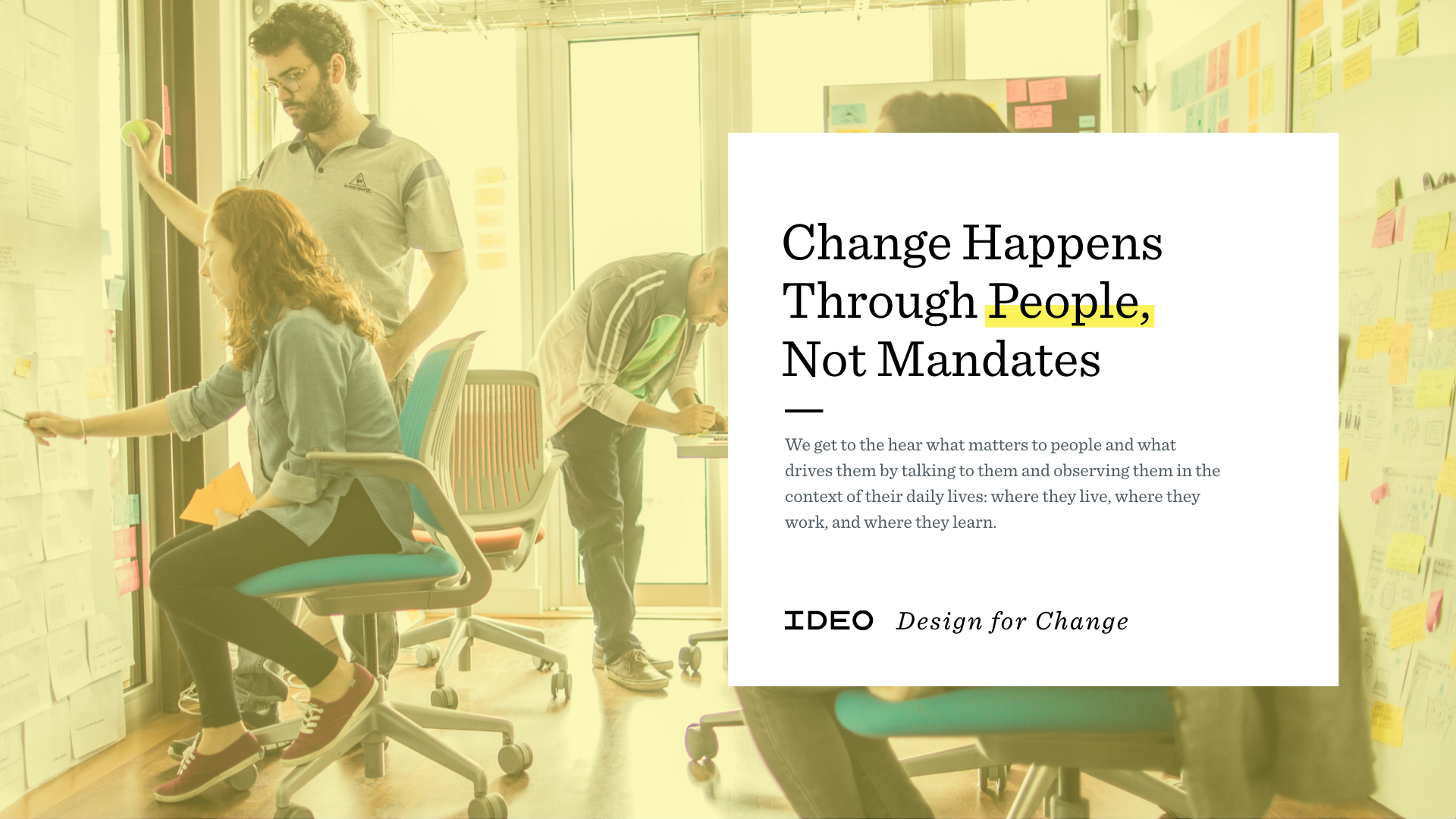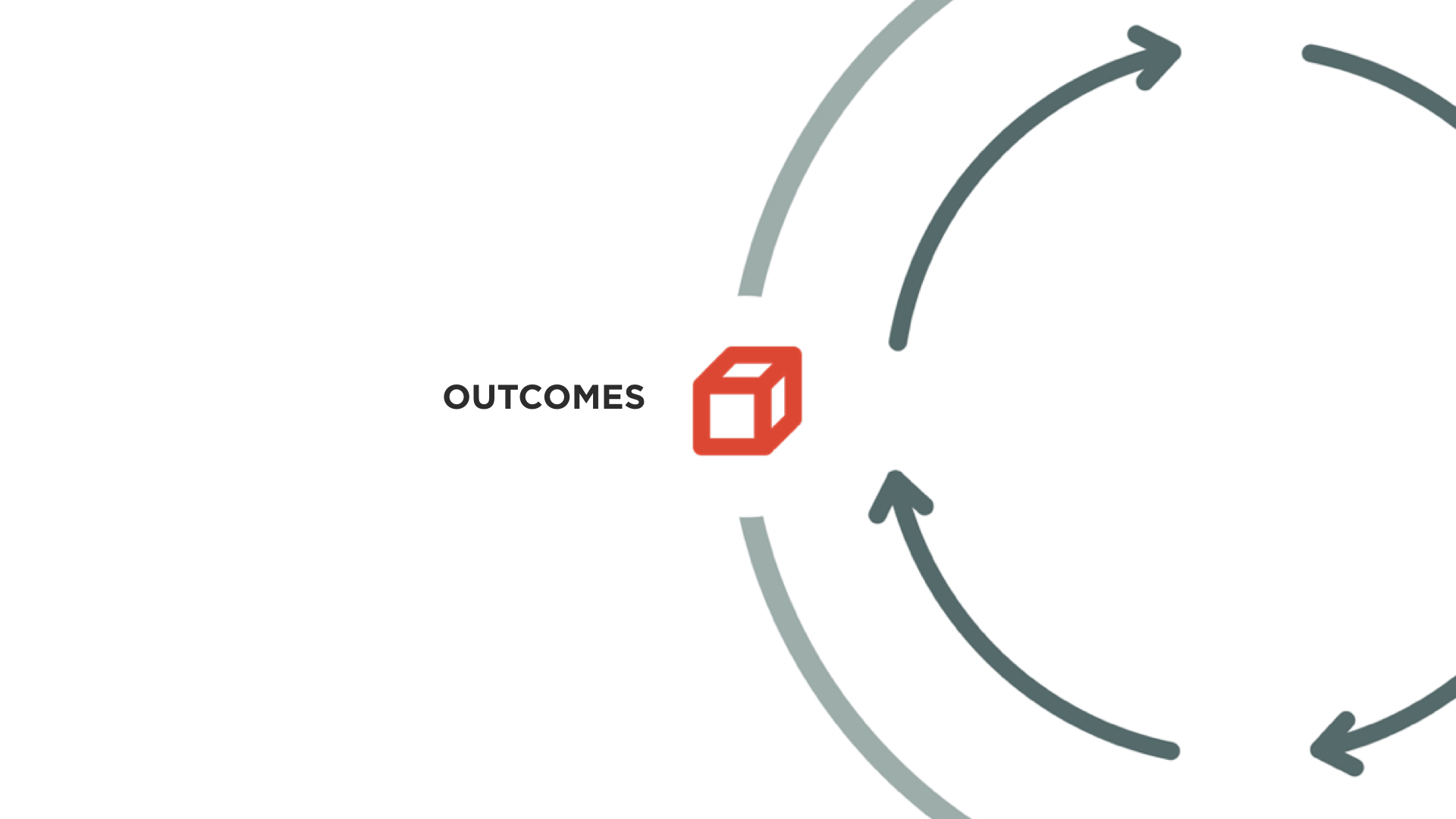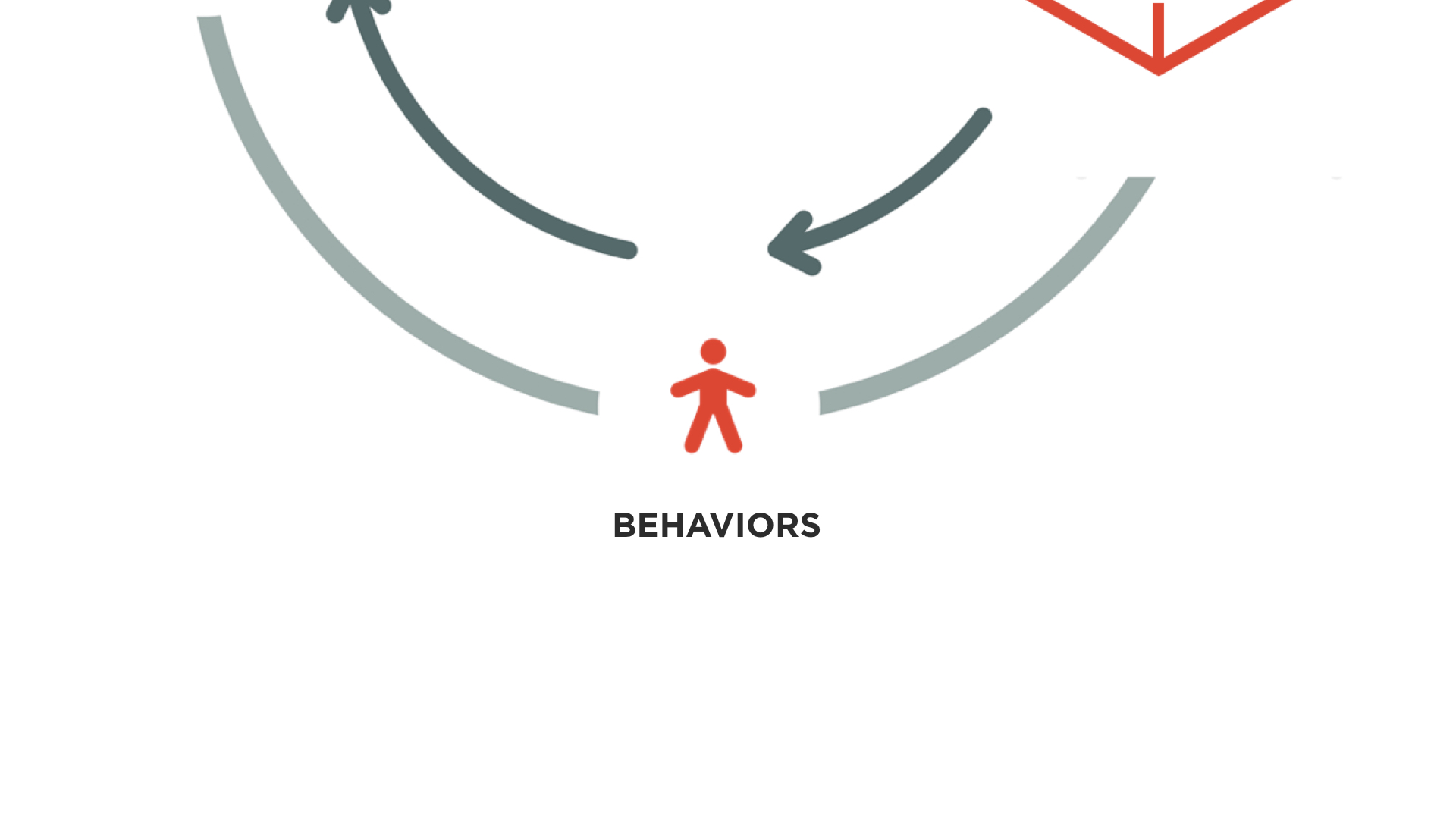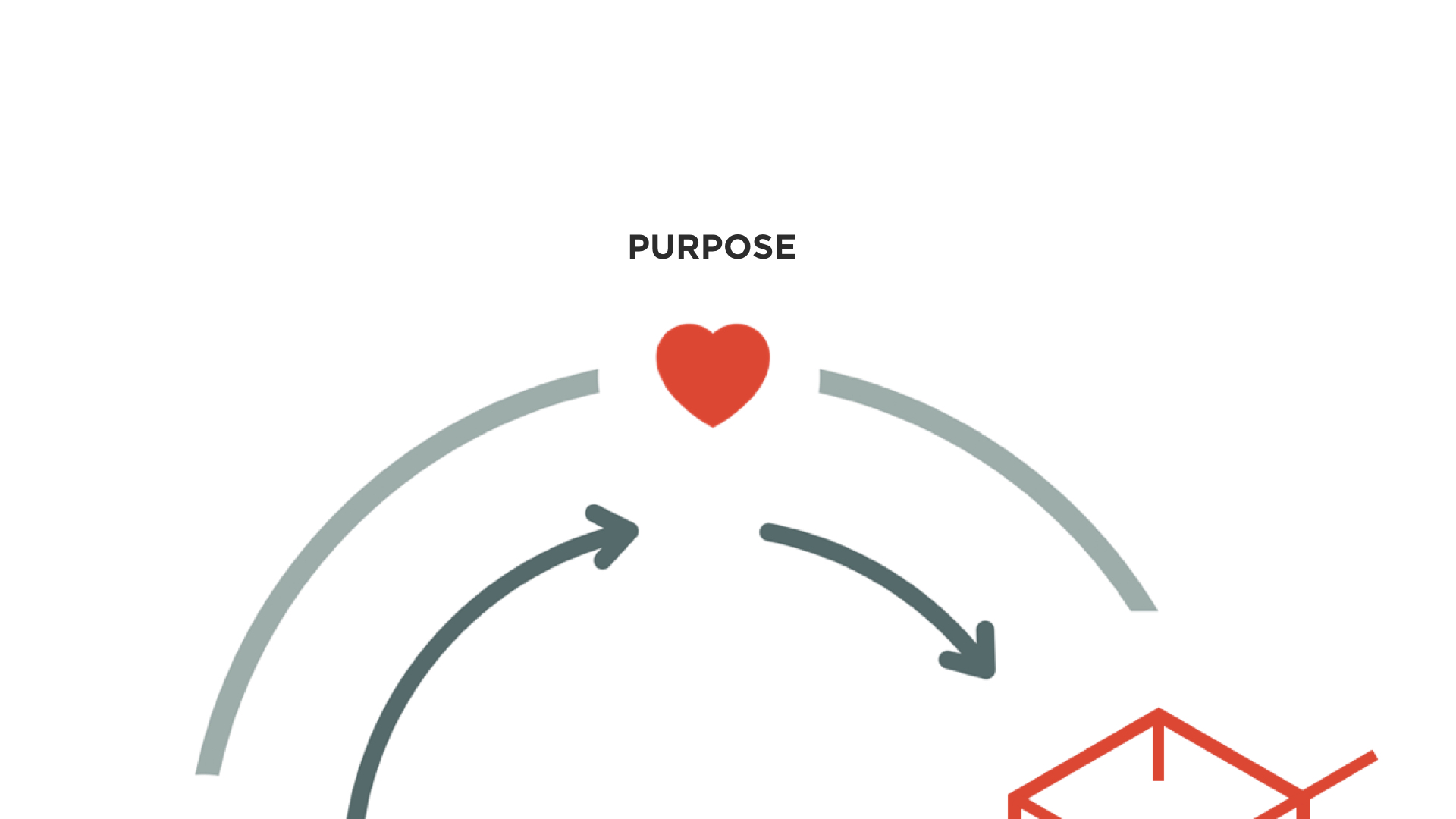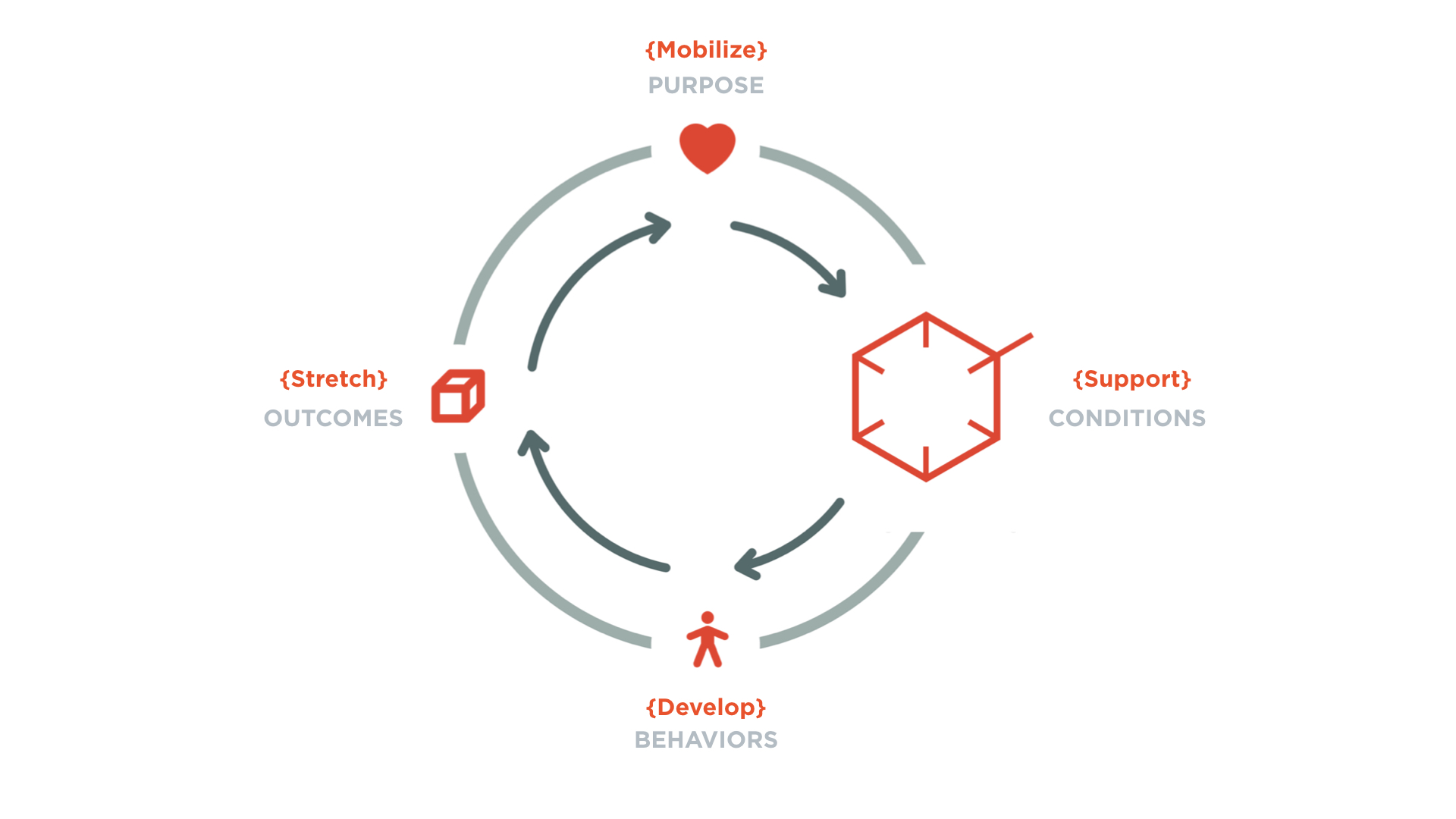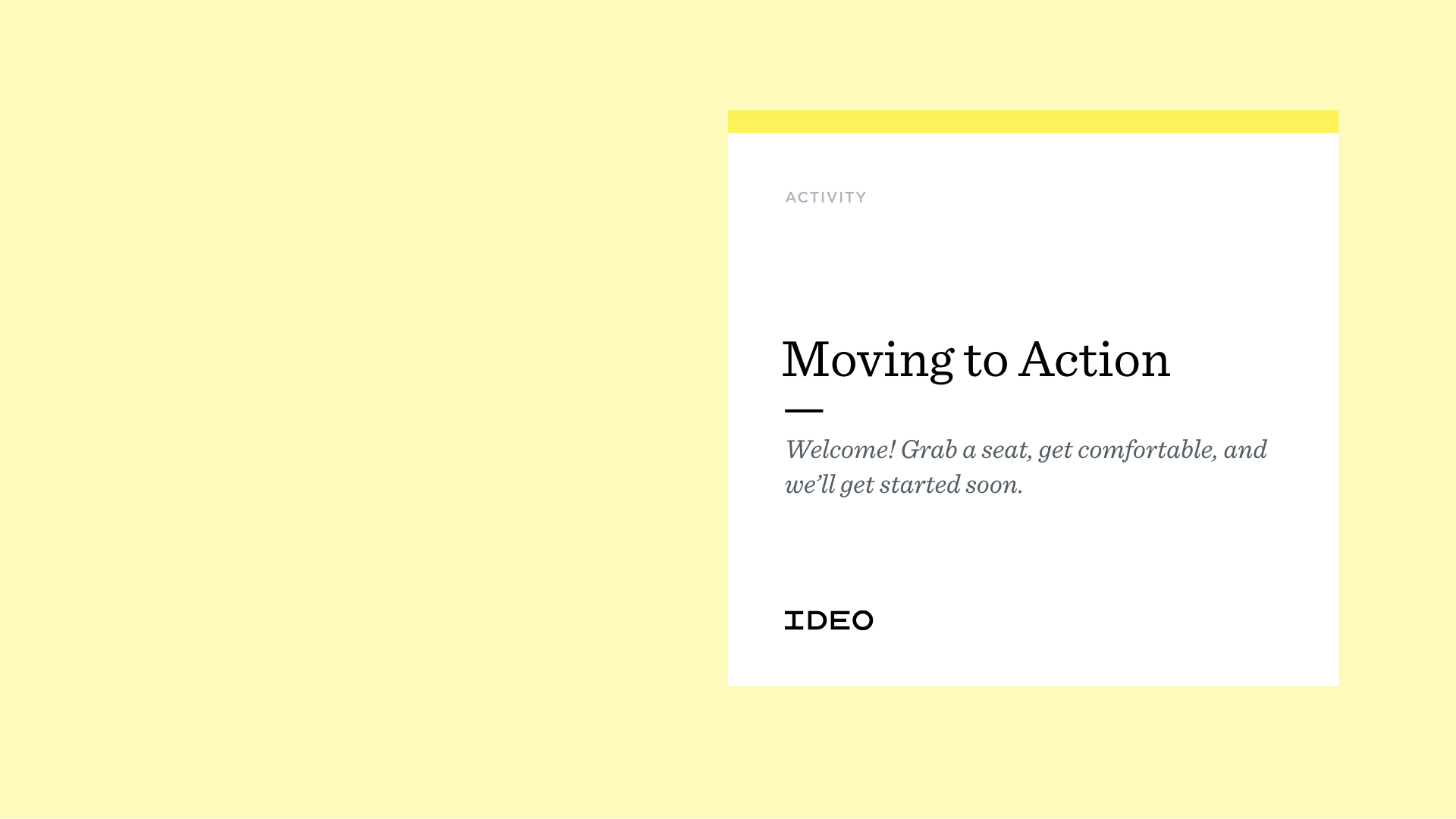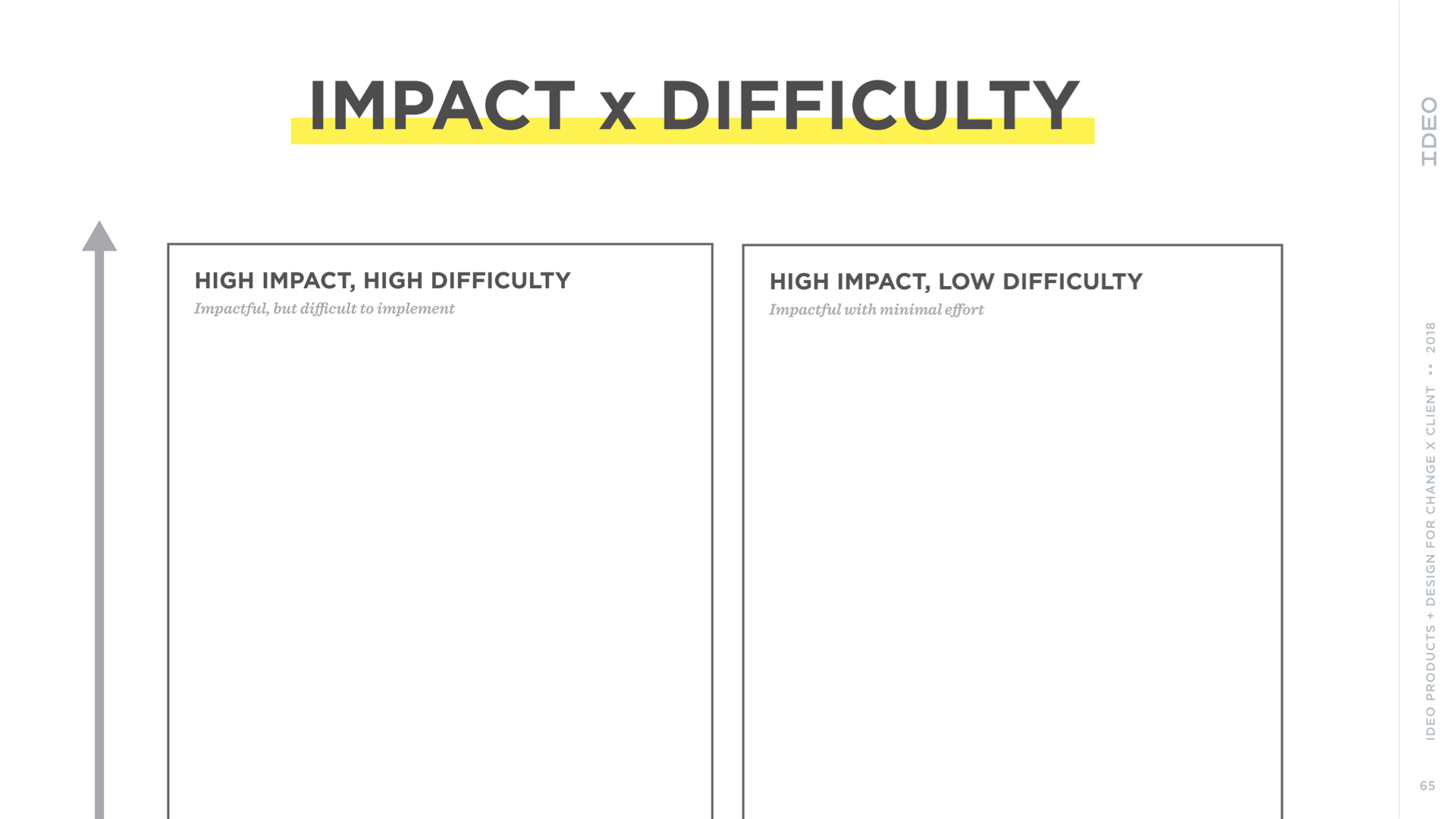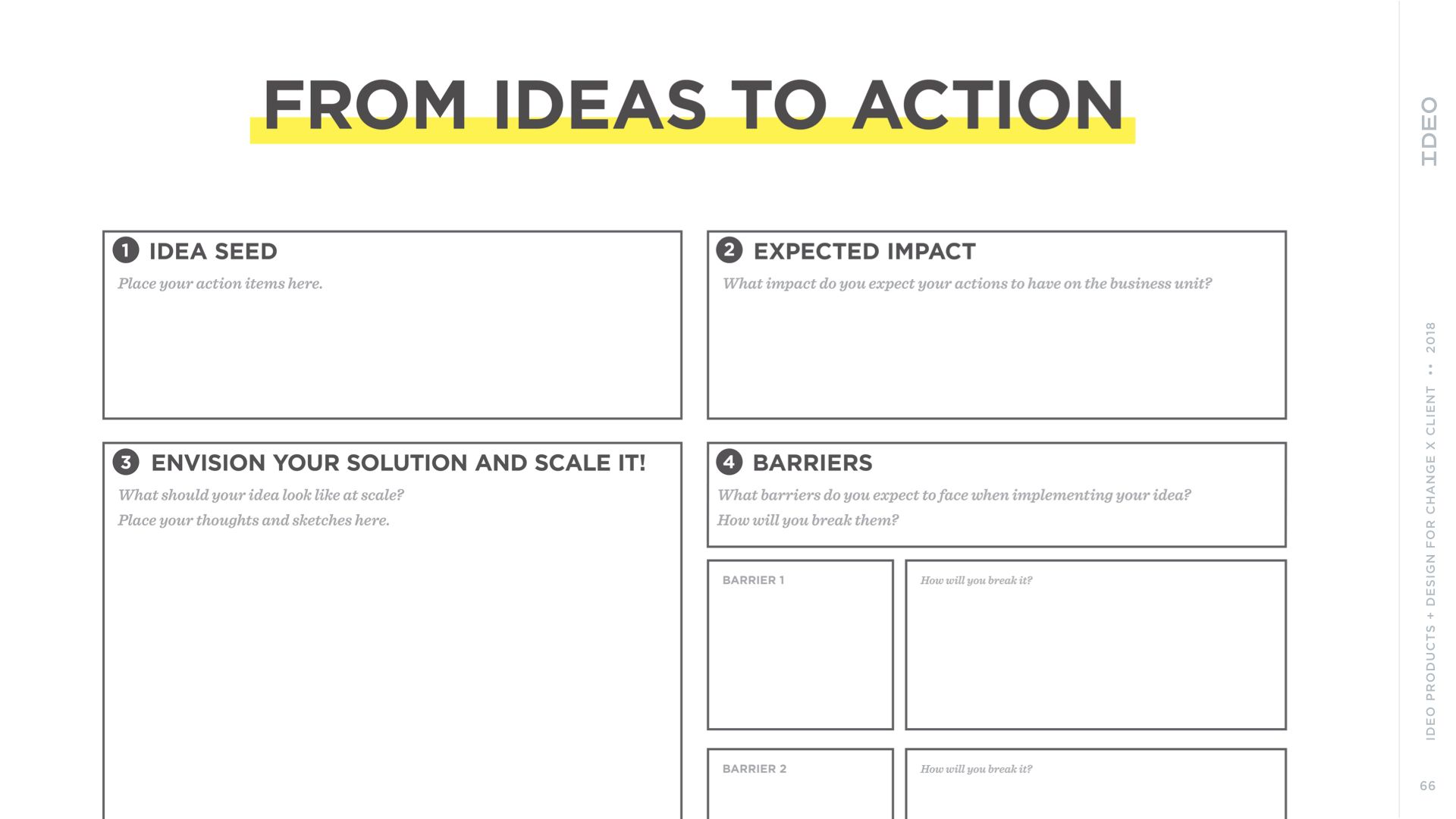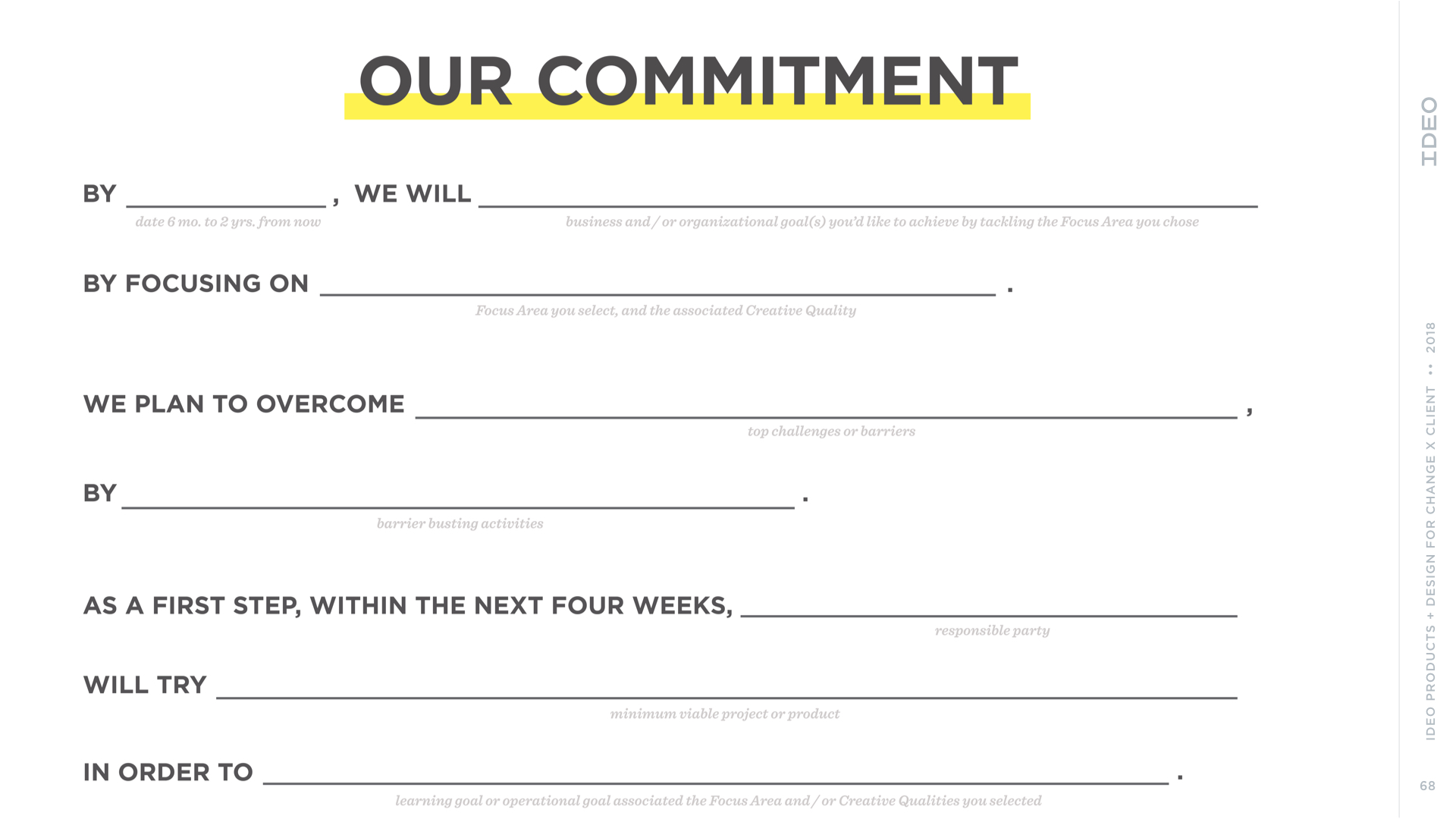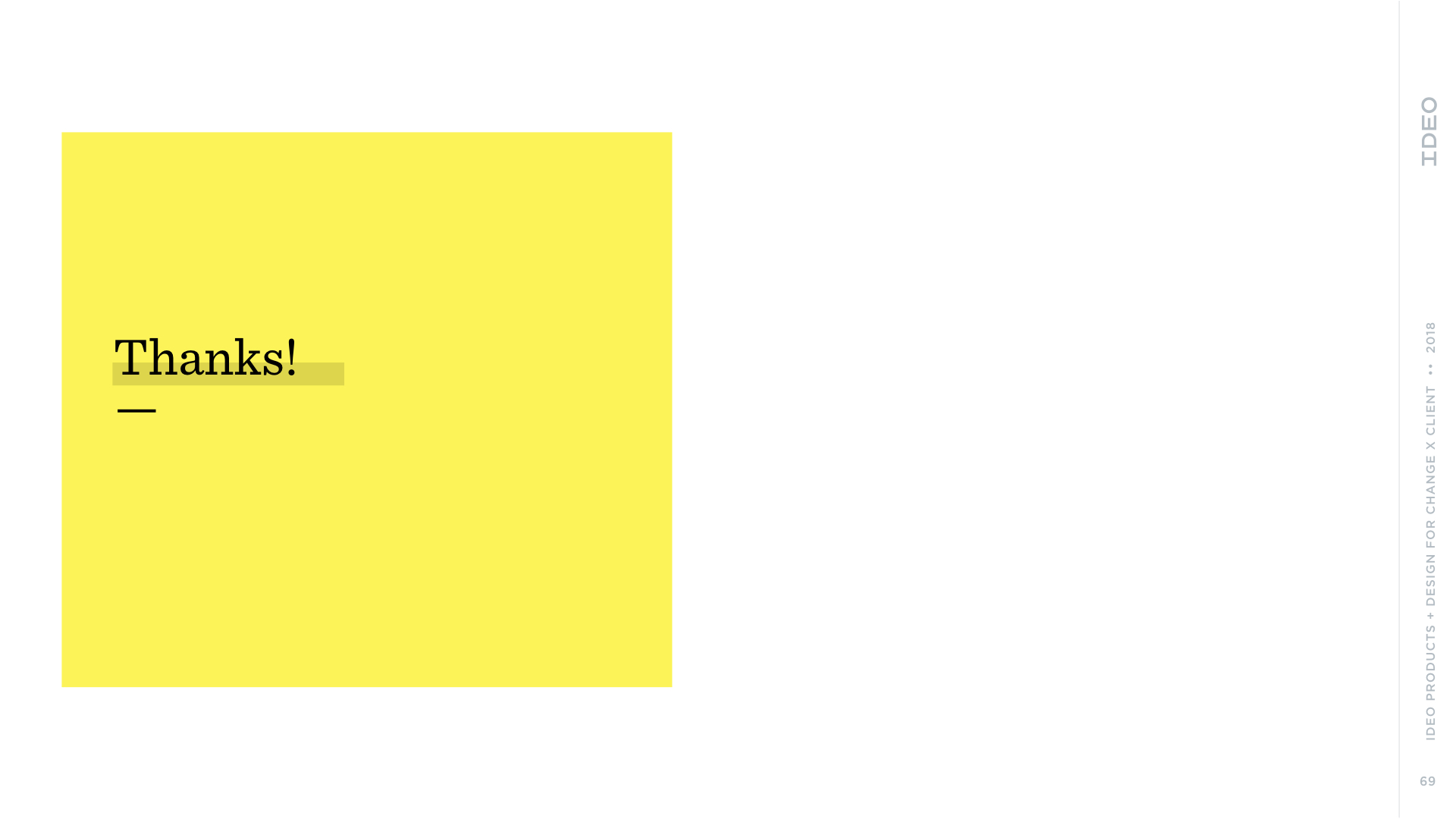 Marketing Deck
for IDEO Creative Difference
I have developed a series of marketing materials for IDEO Creative Difference – an innovation assessment tool for organizations of all sizes. The deck is outlines the key features of the products in a clear, simple manner using mockups of the actual tool and case studies from real clients. This deck acts as one of the main sales tools for the IDEO team.
IDEO Products, in 20 Minutes
for new hire orientation
I also designed and delivered a series of workshops for internal teams, training for new hires, and keynote presentations for global Partners. Many of the keynotes I developed were to create awareness for a series of new business initiatives for IDEO, beyond their traditional consulting model. The keynote below is one I have designed and delivered for incoming IDEO new-hires, approximately 100 every 6 months.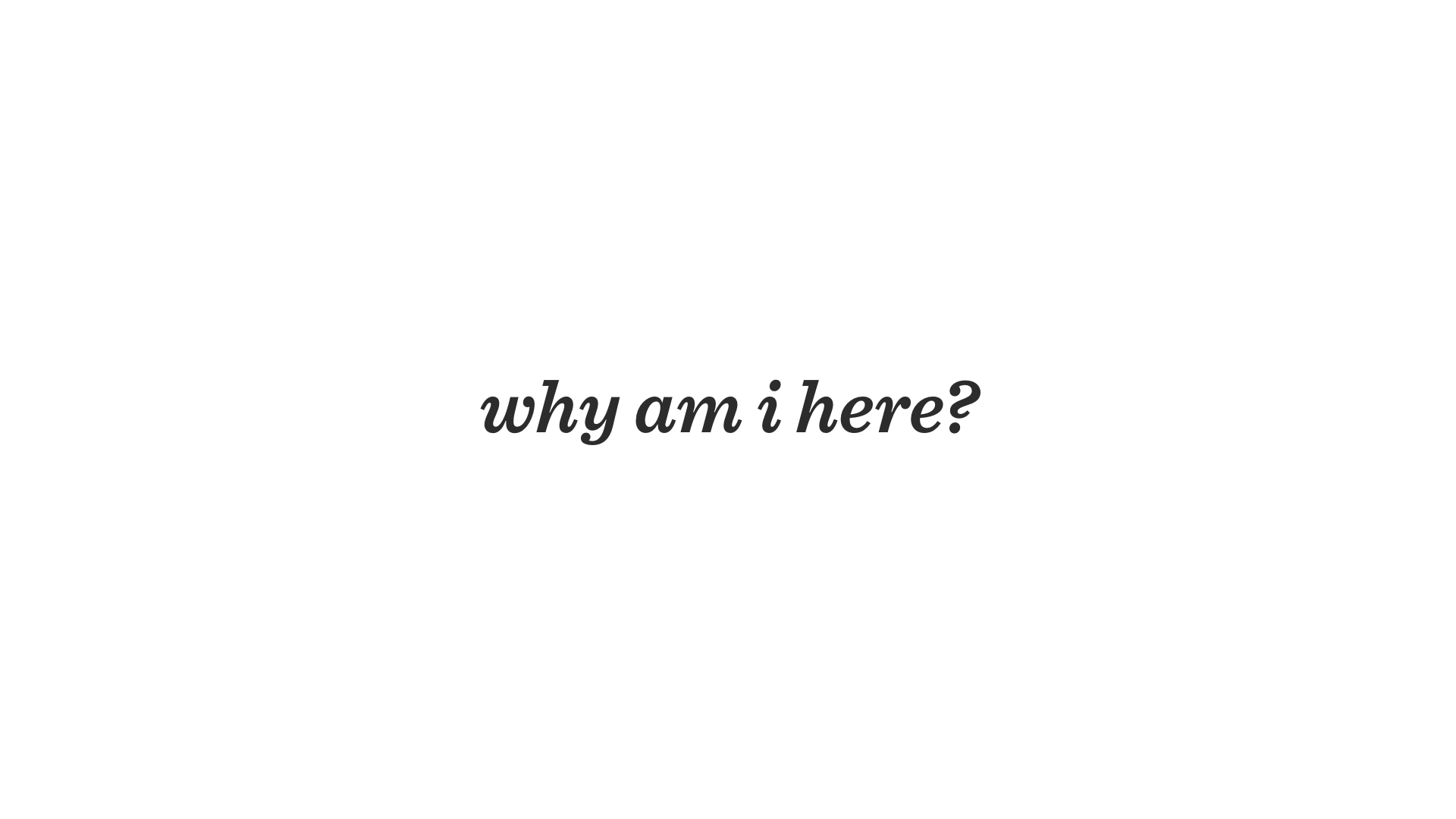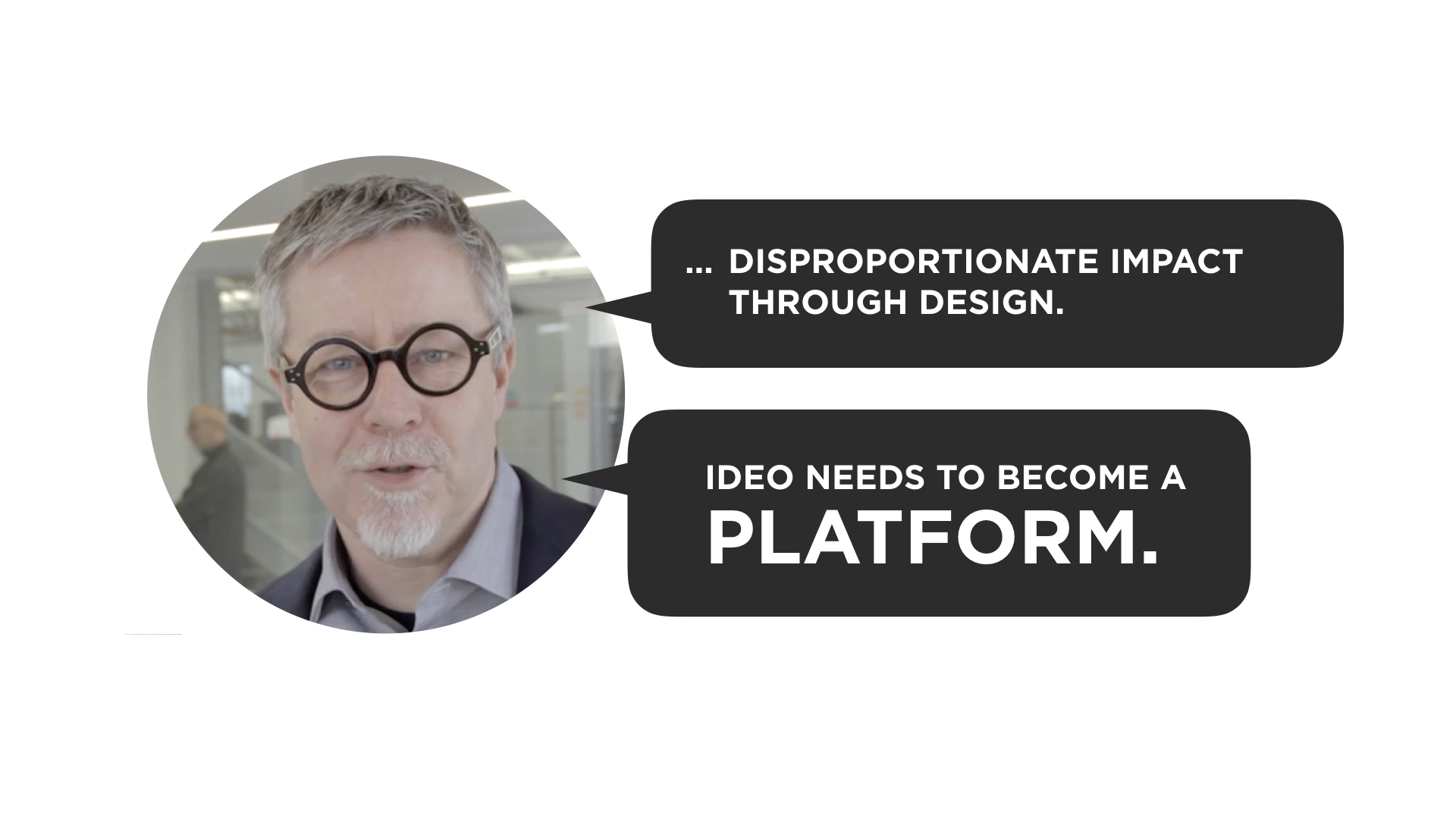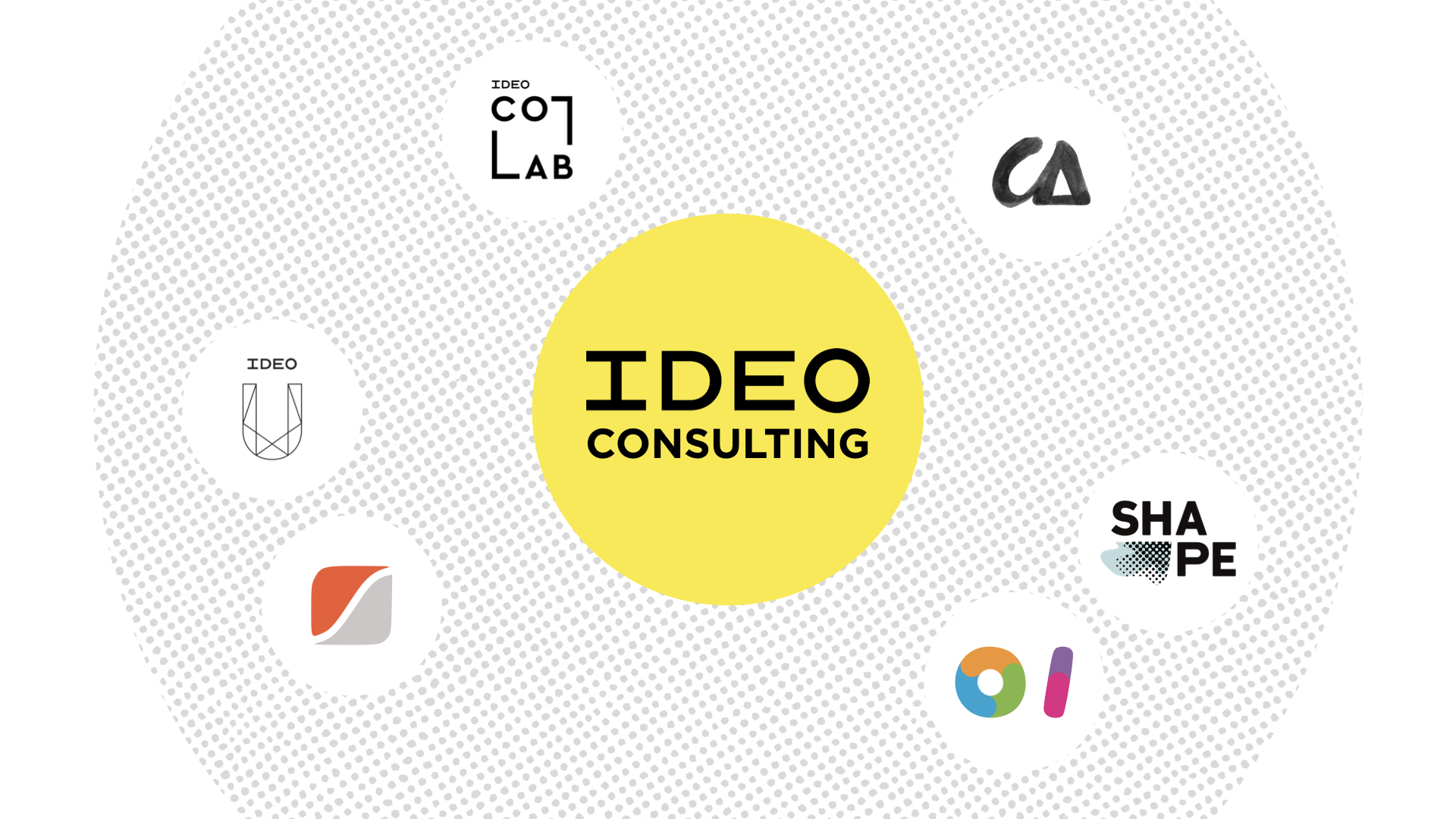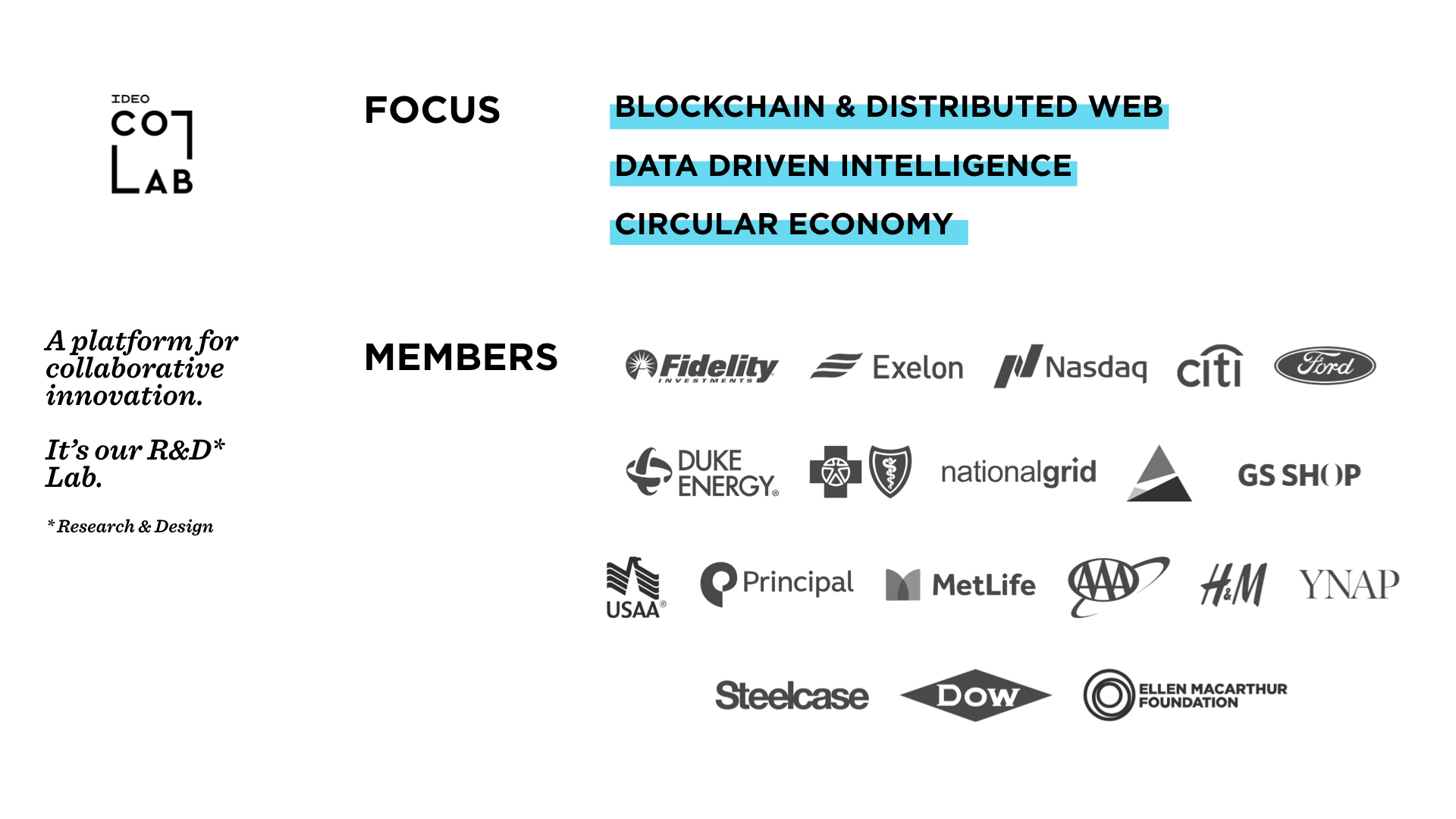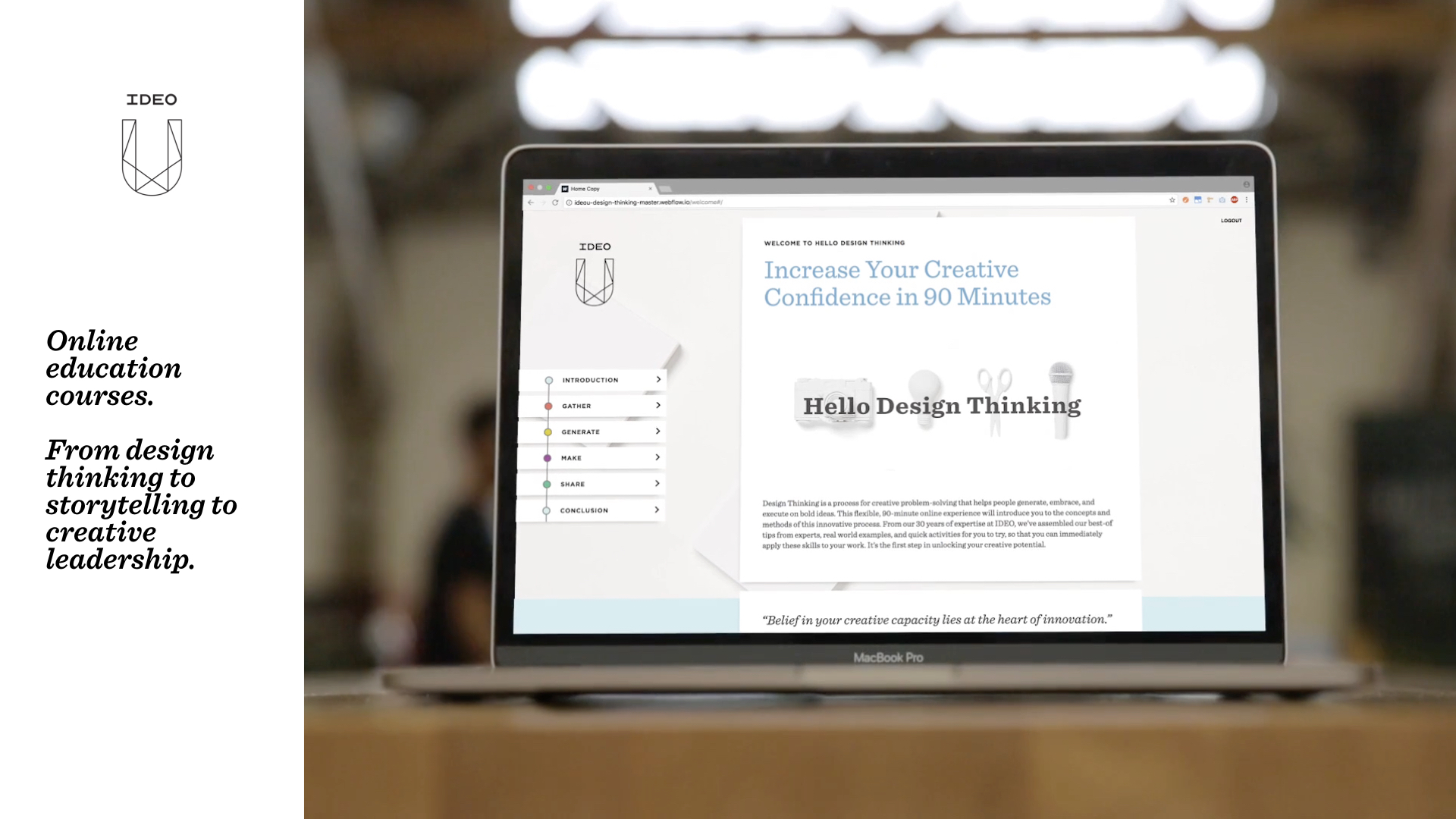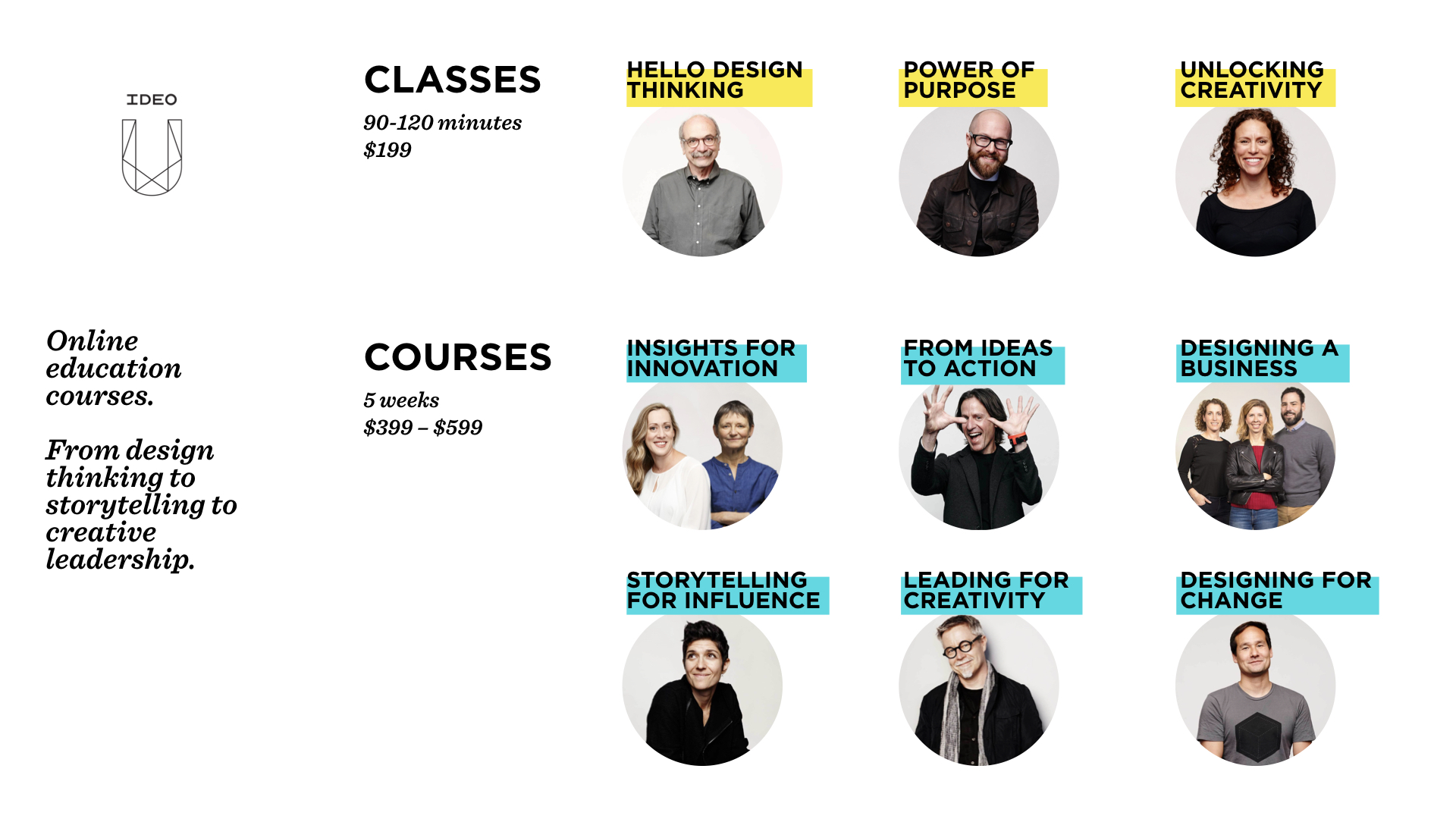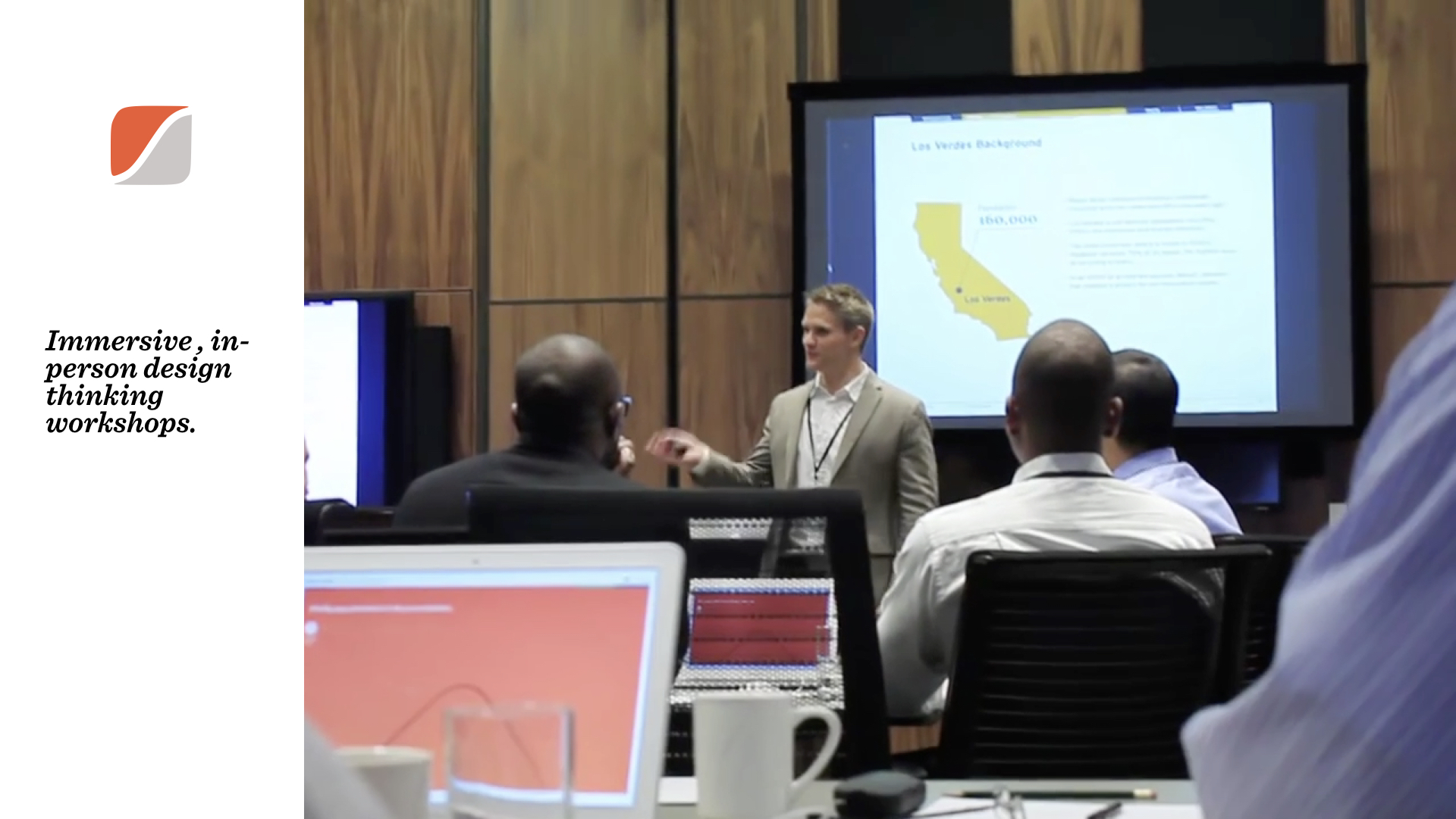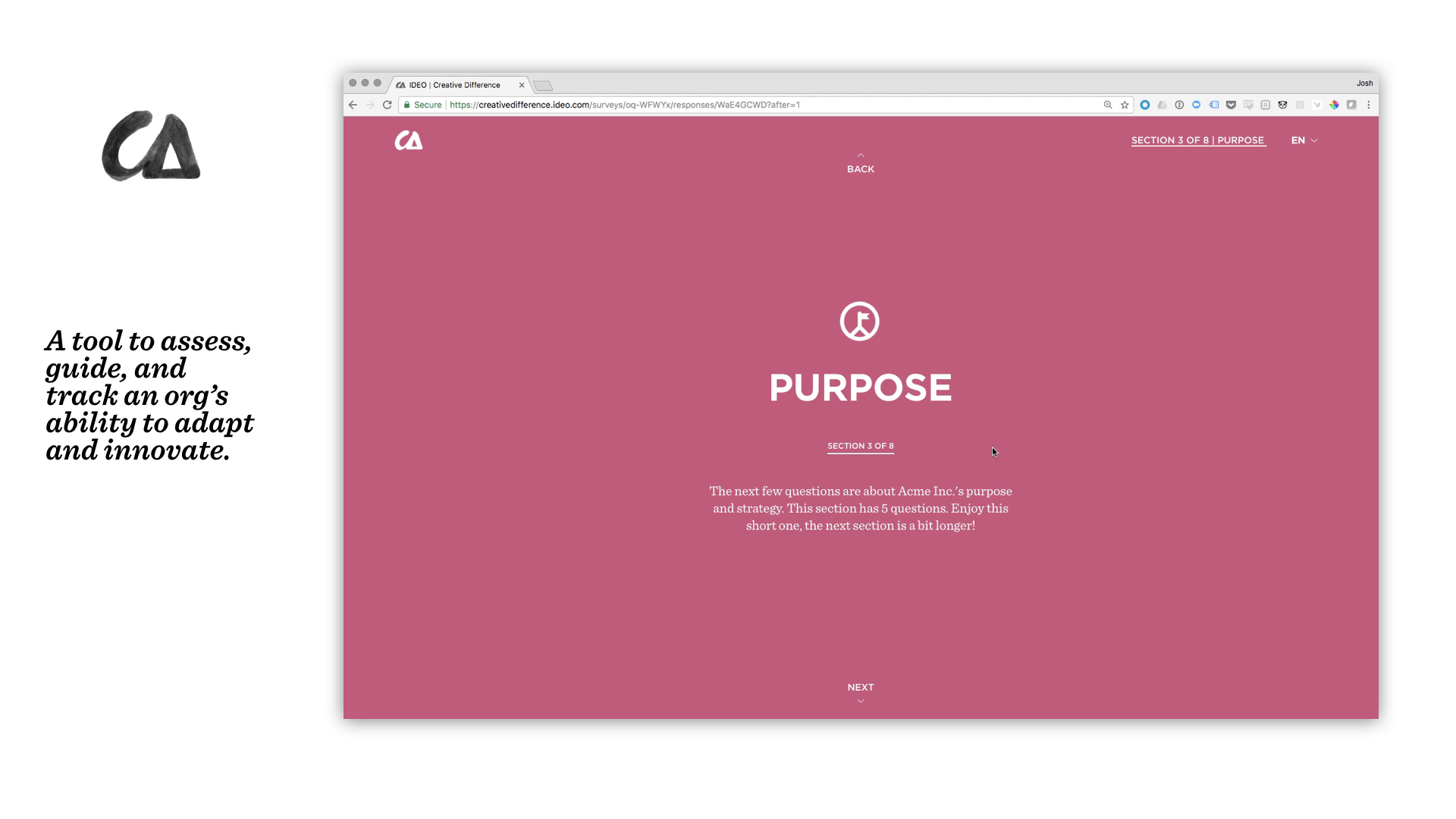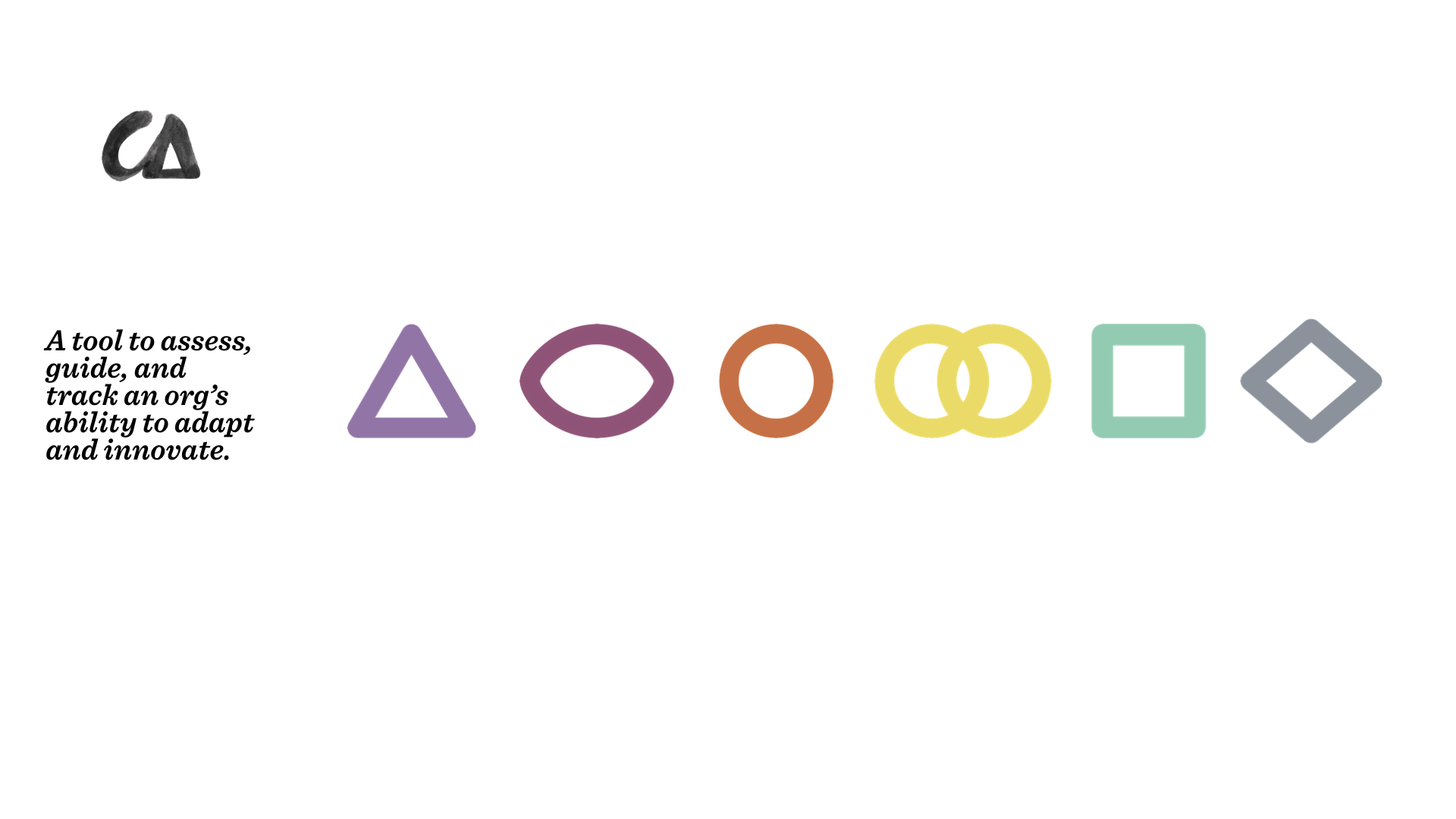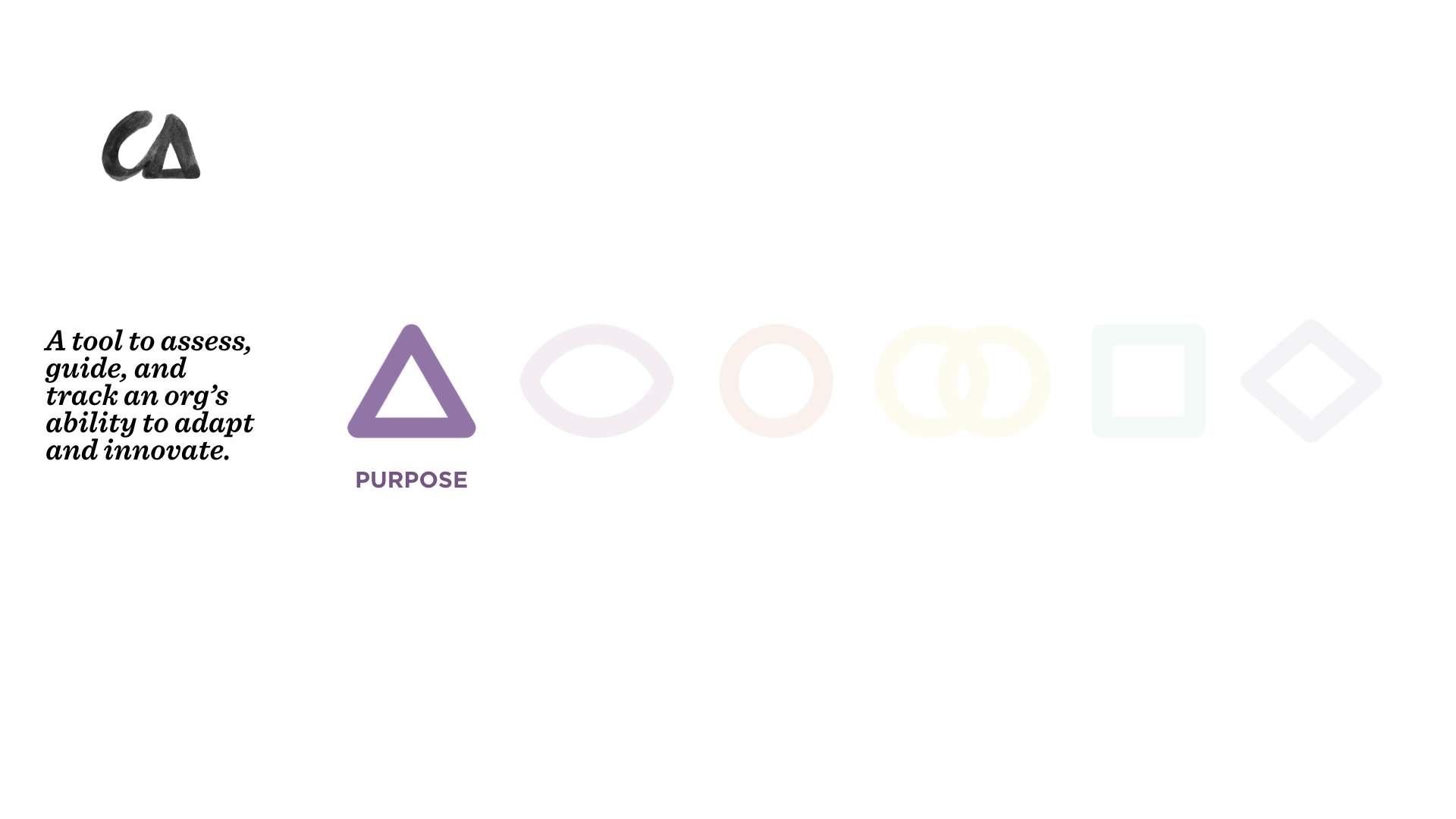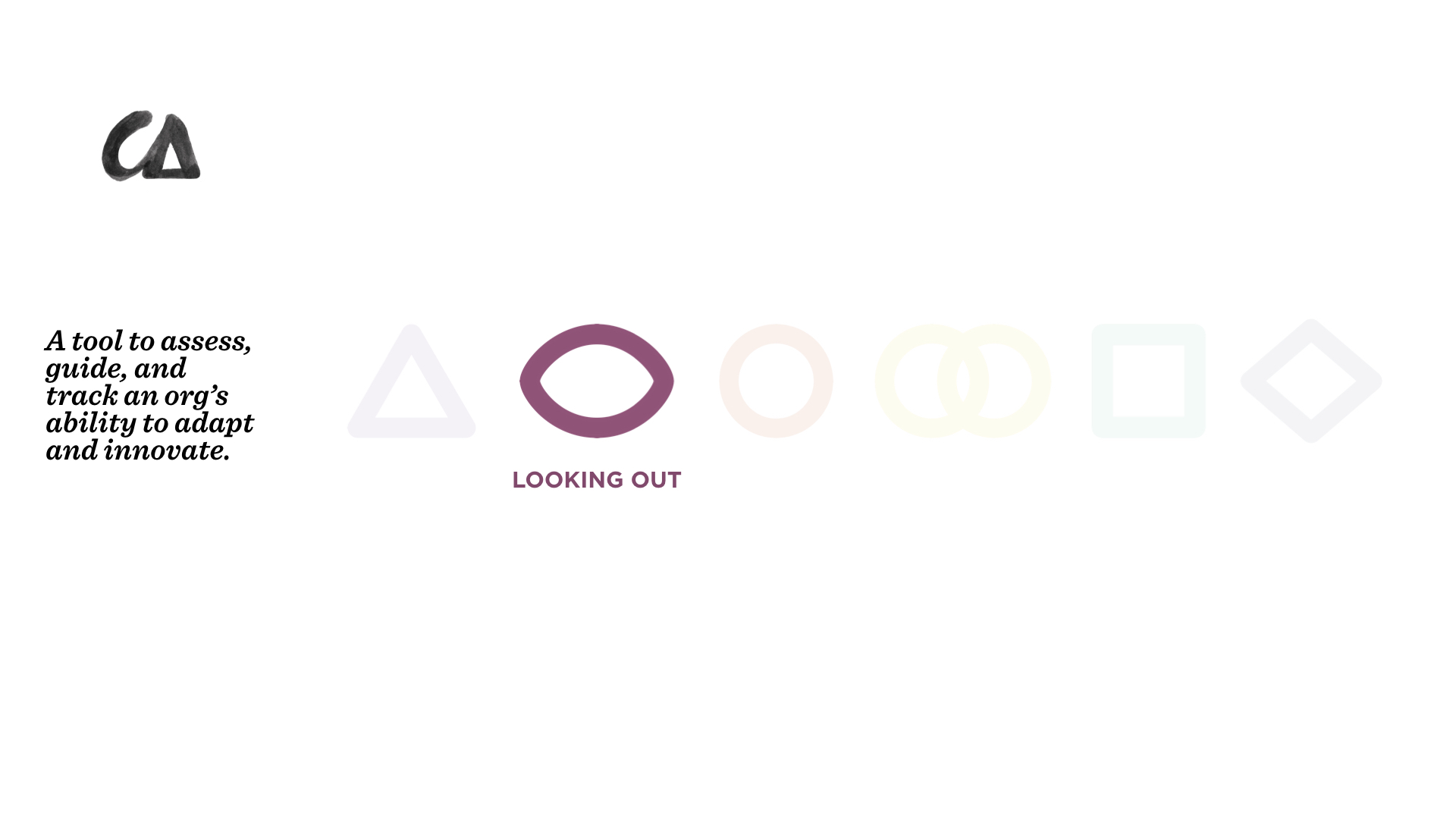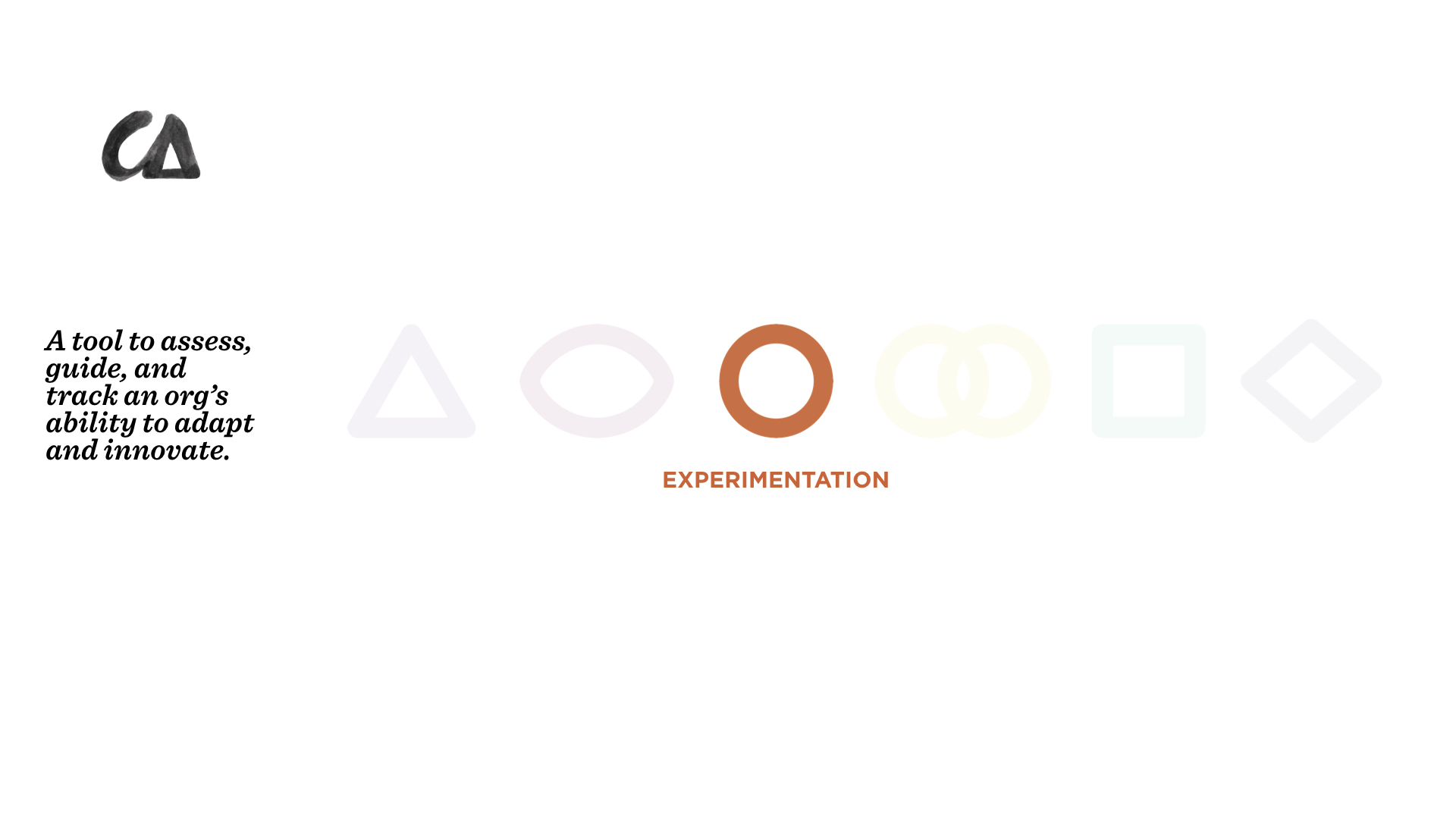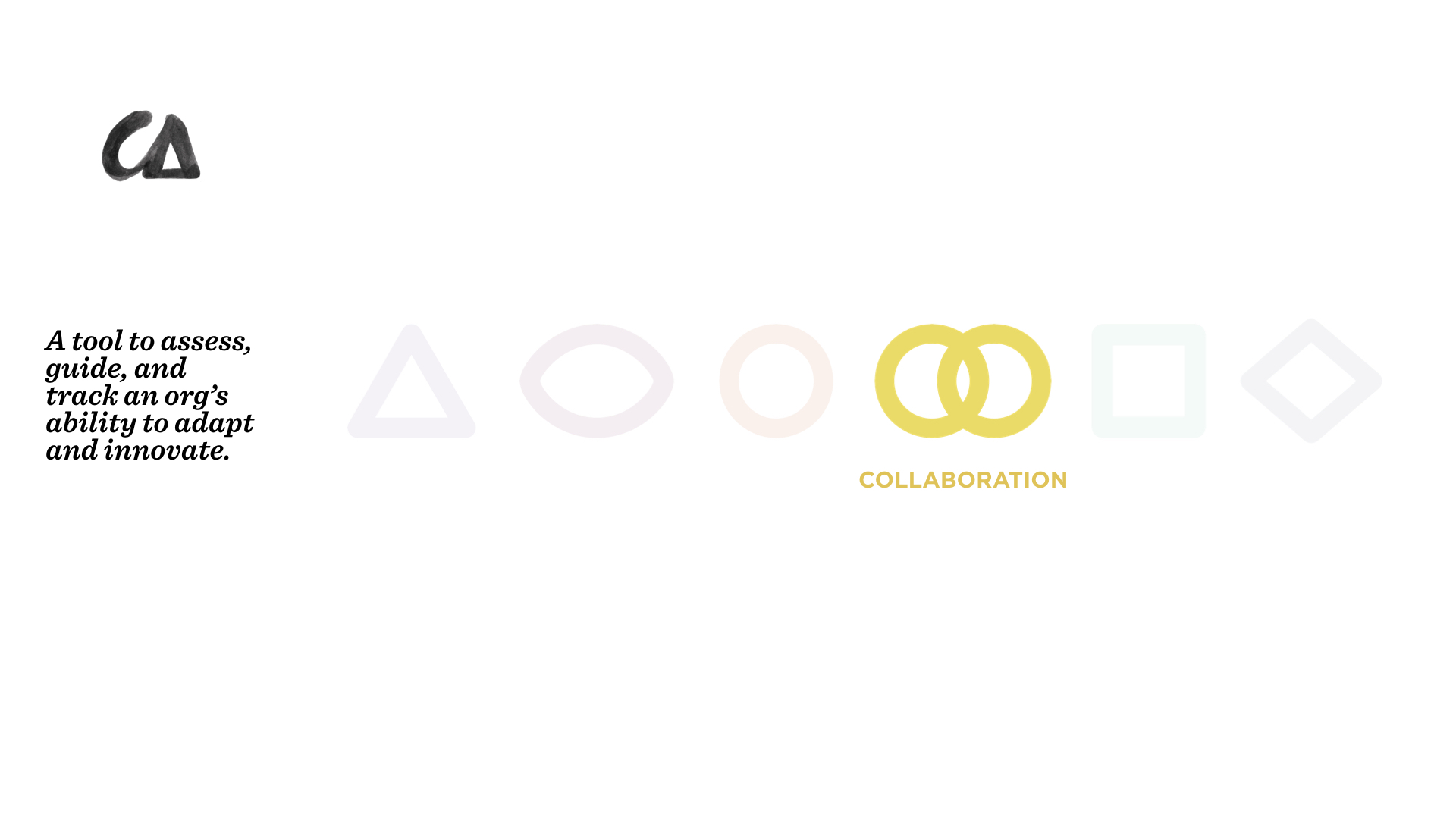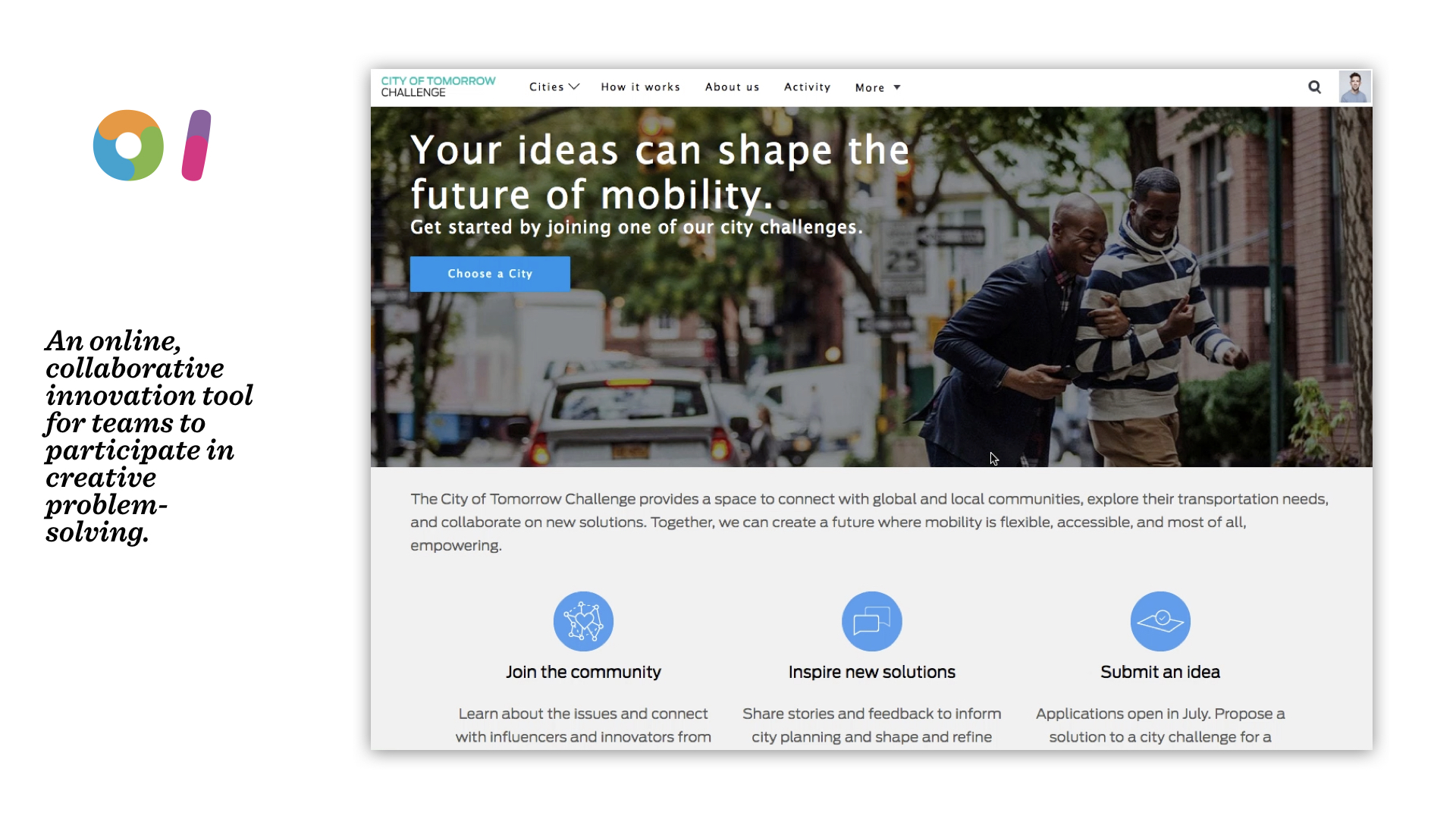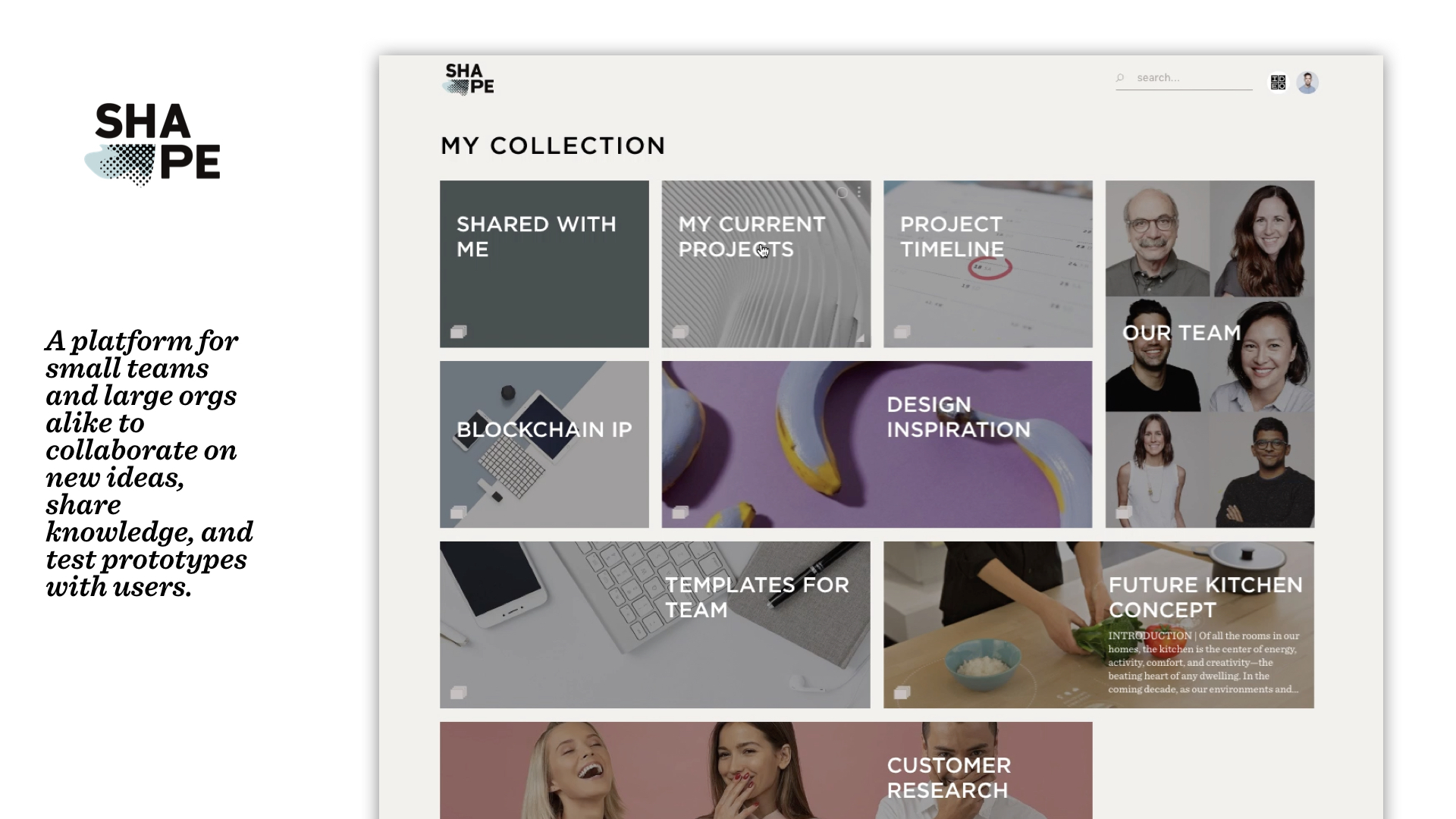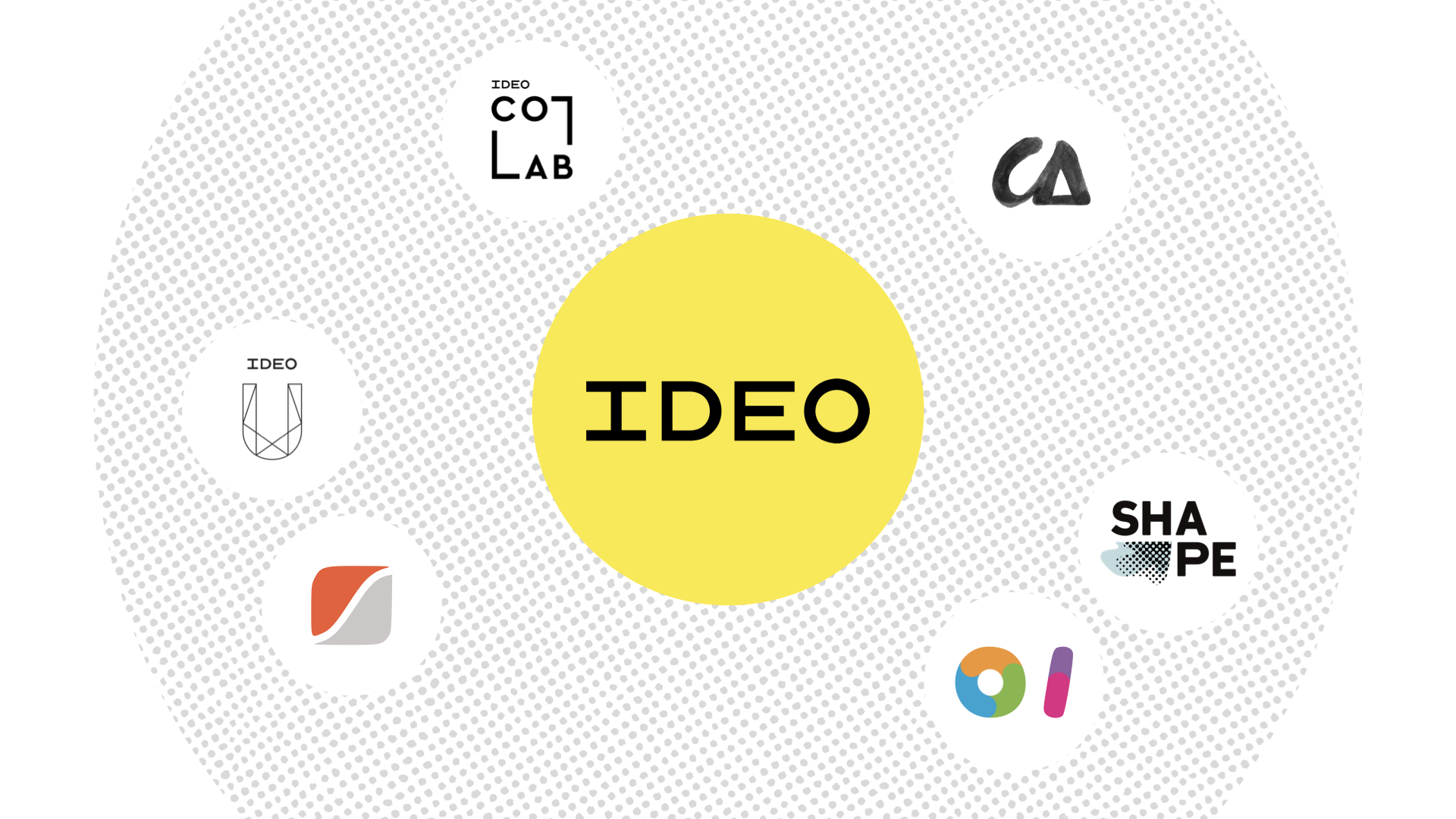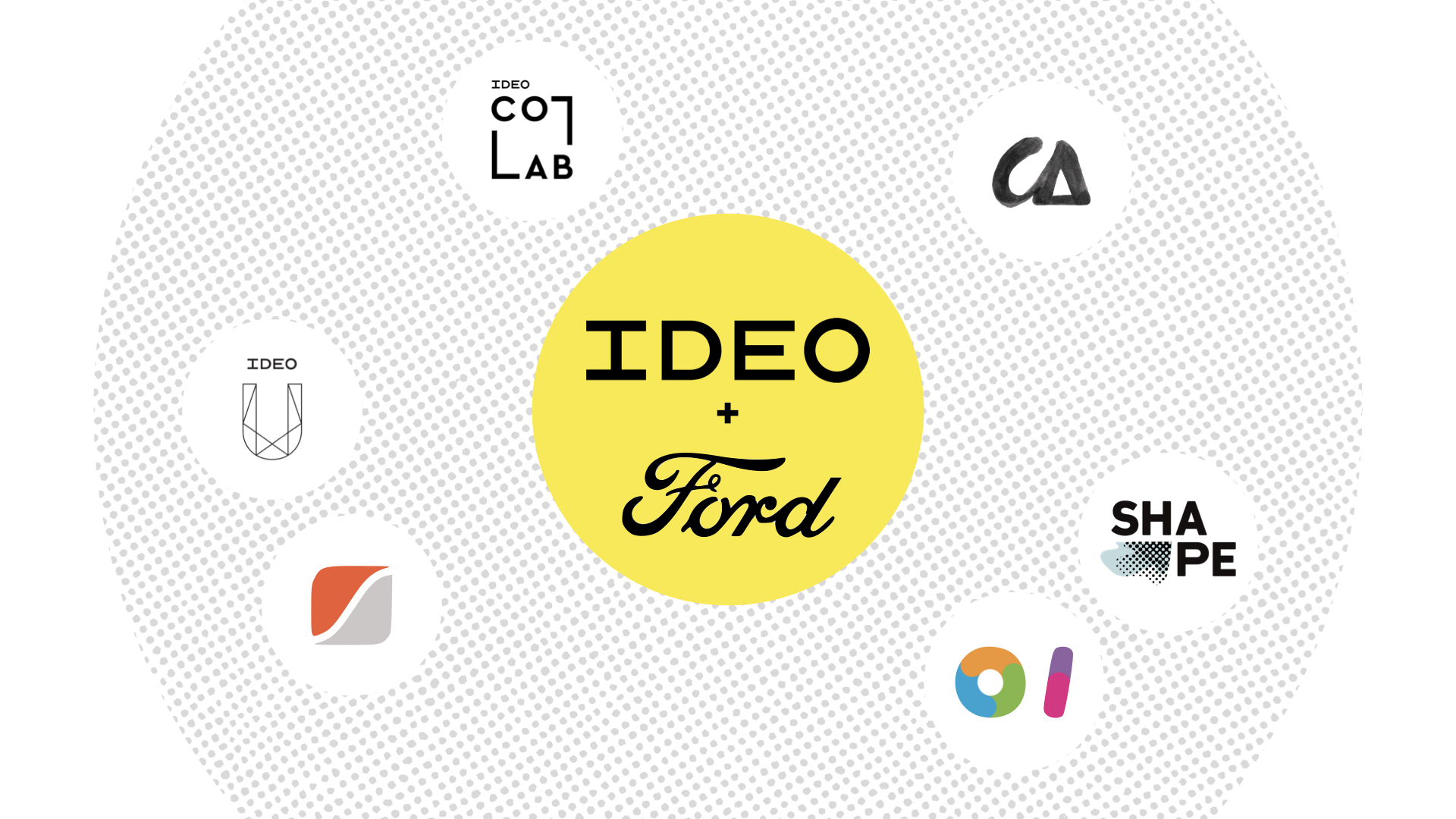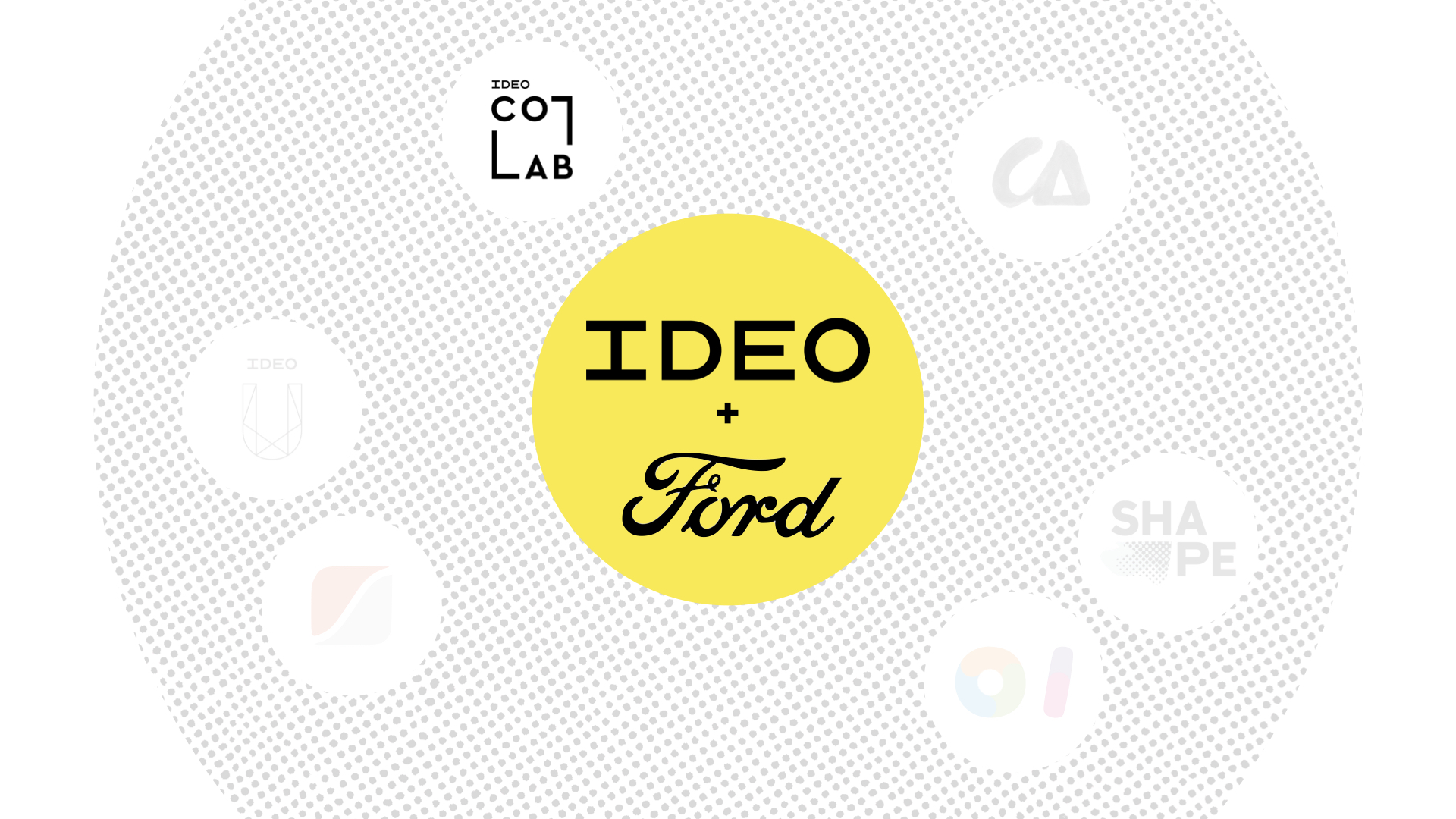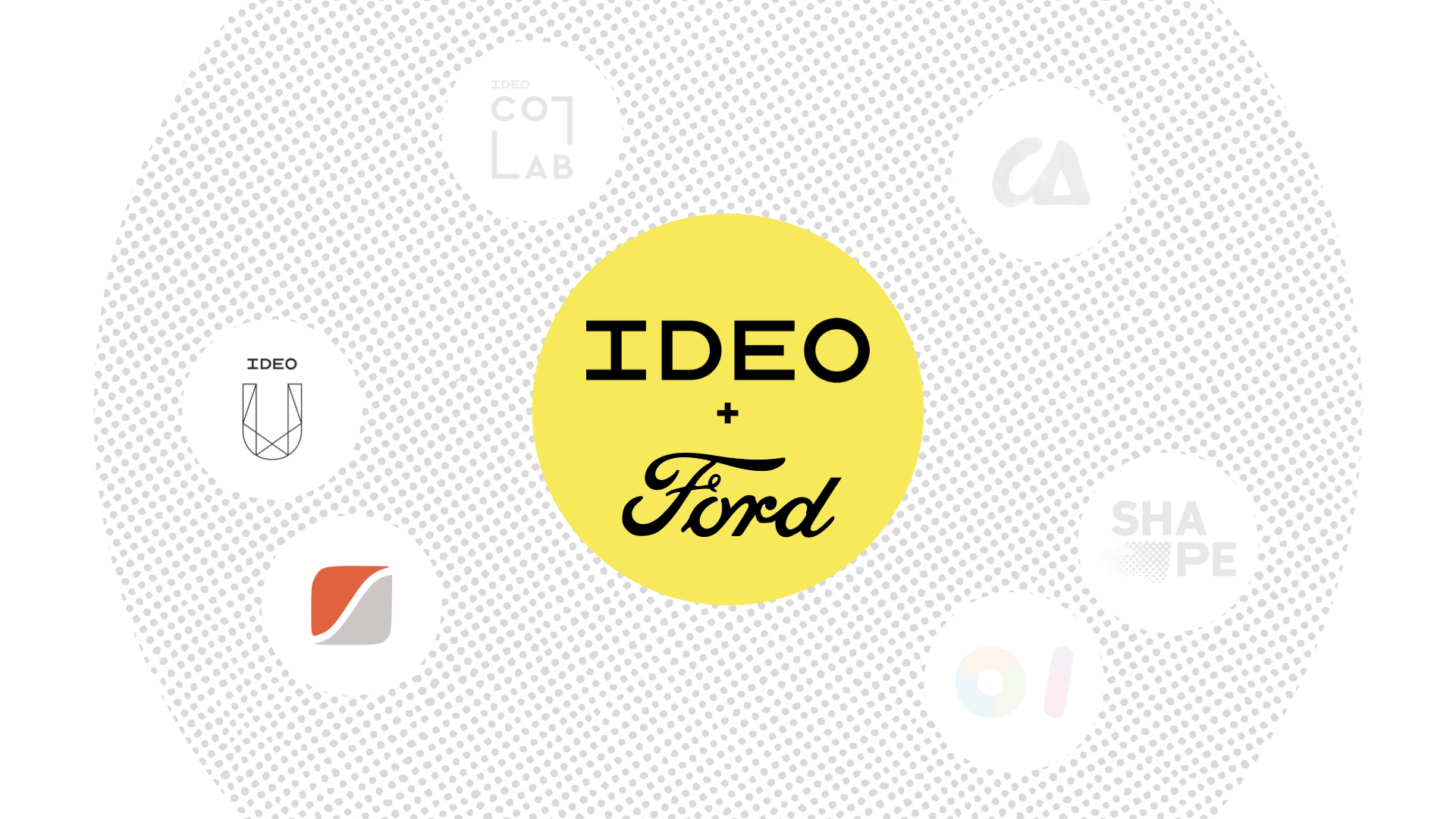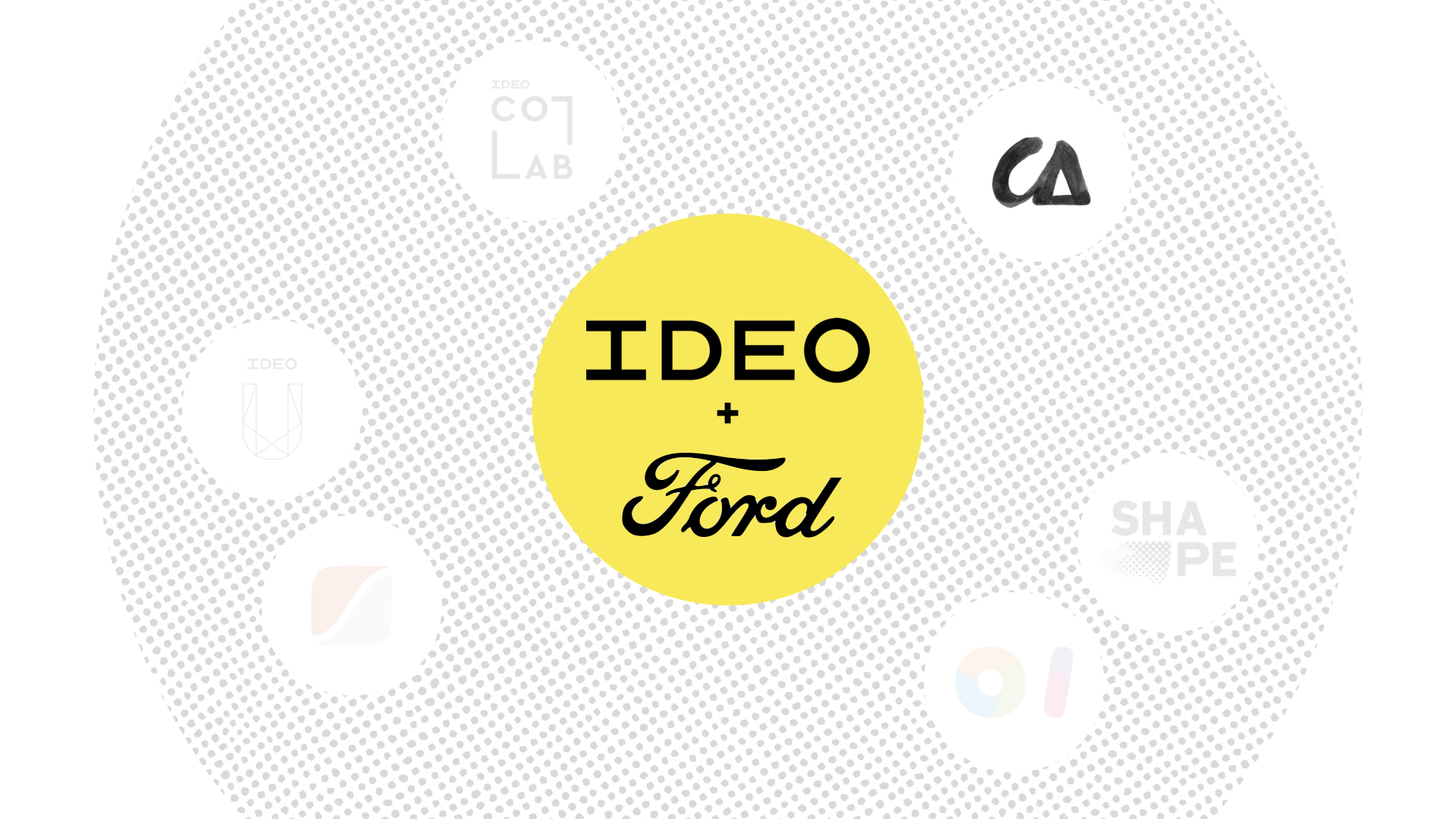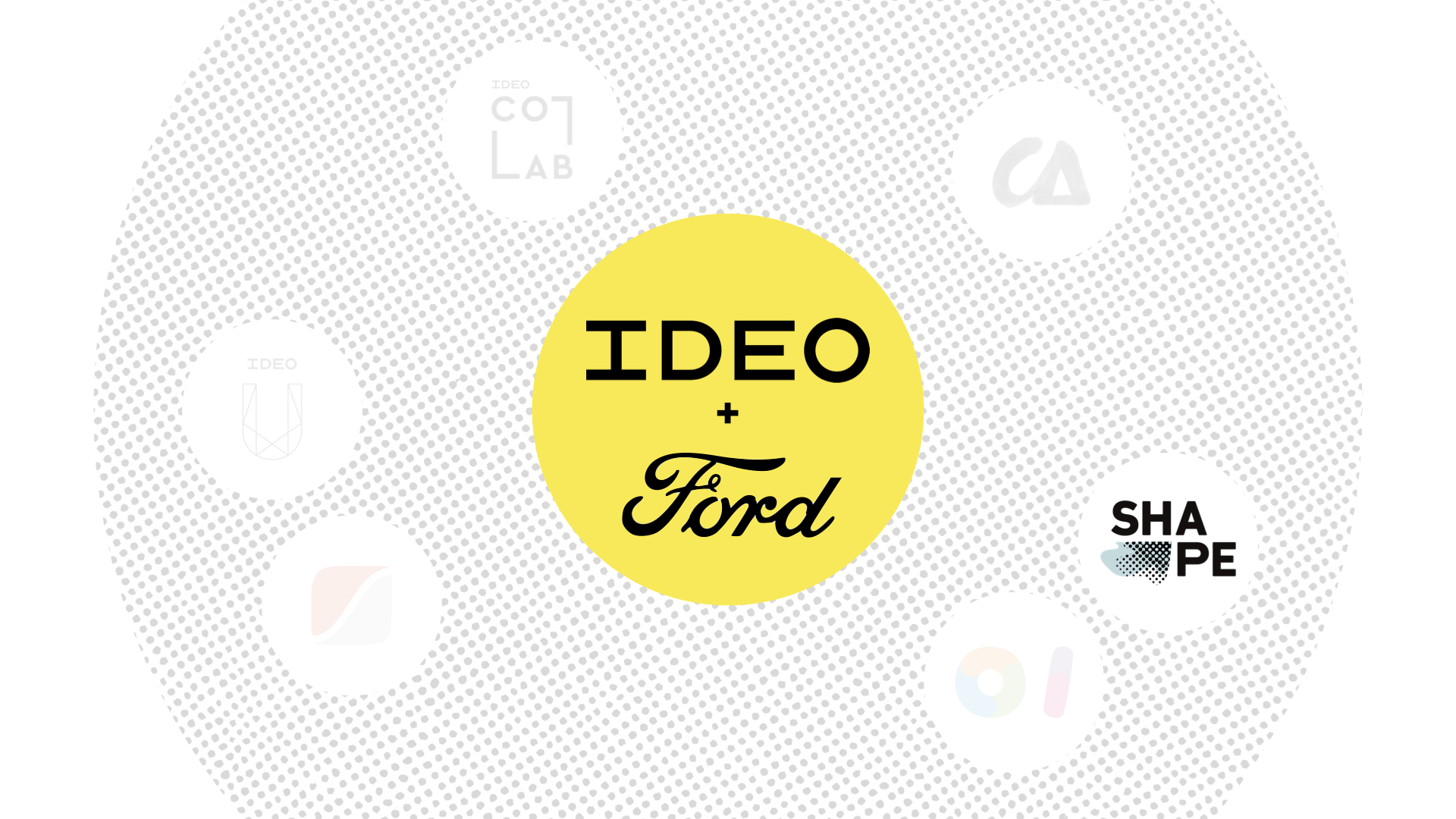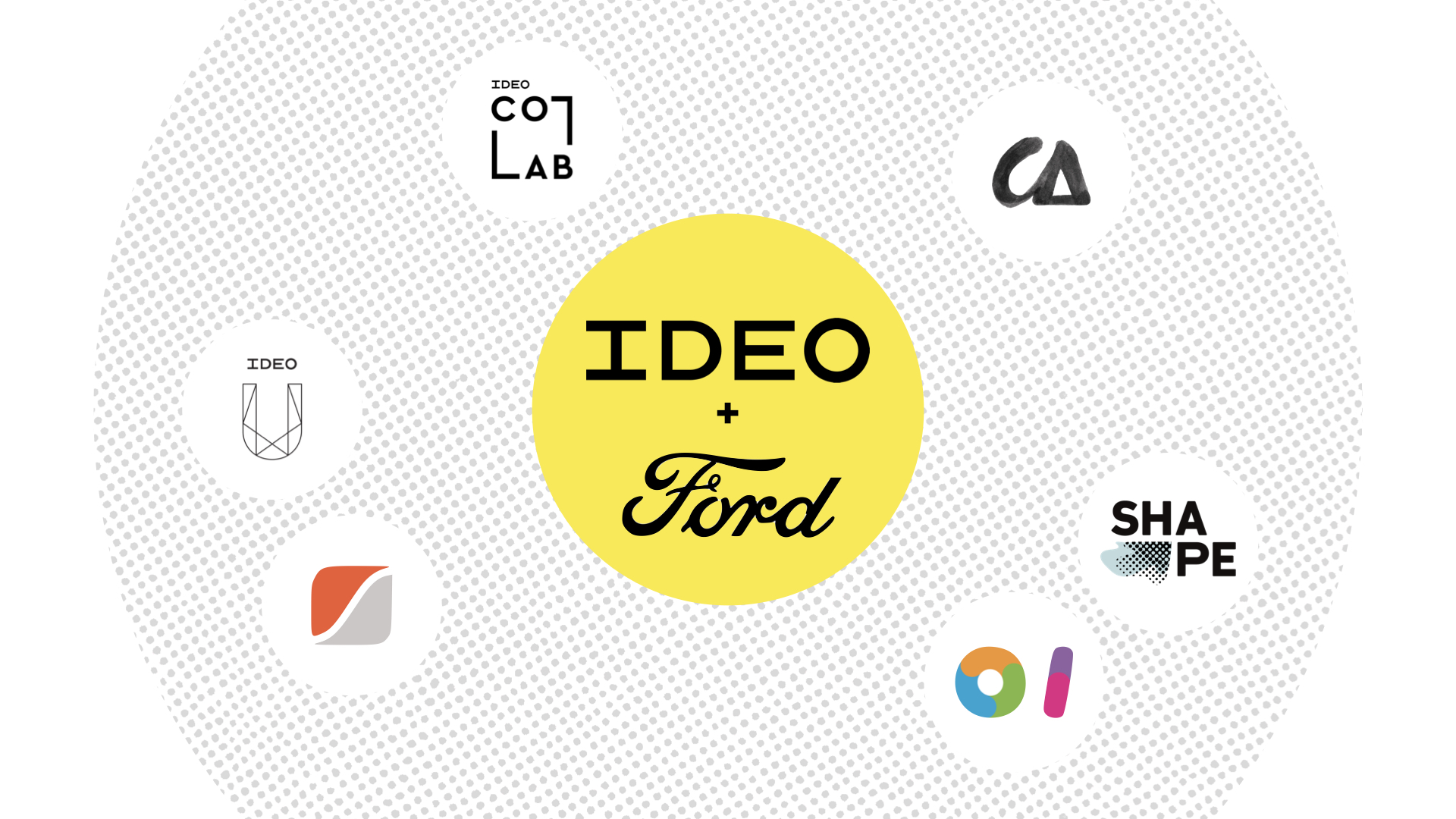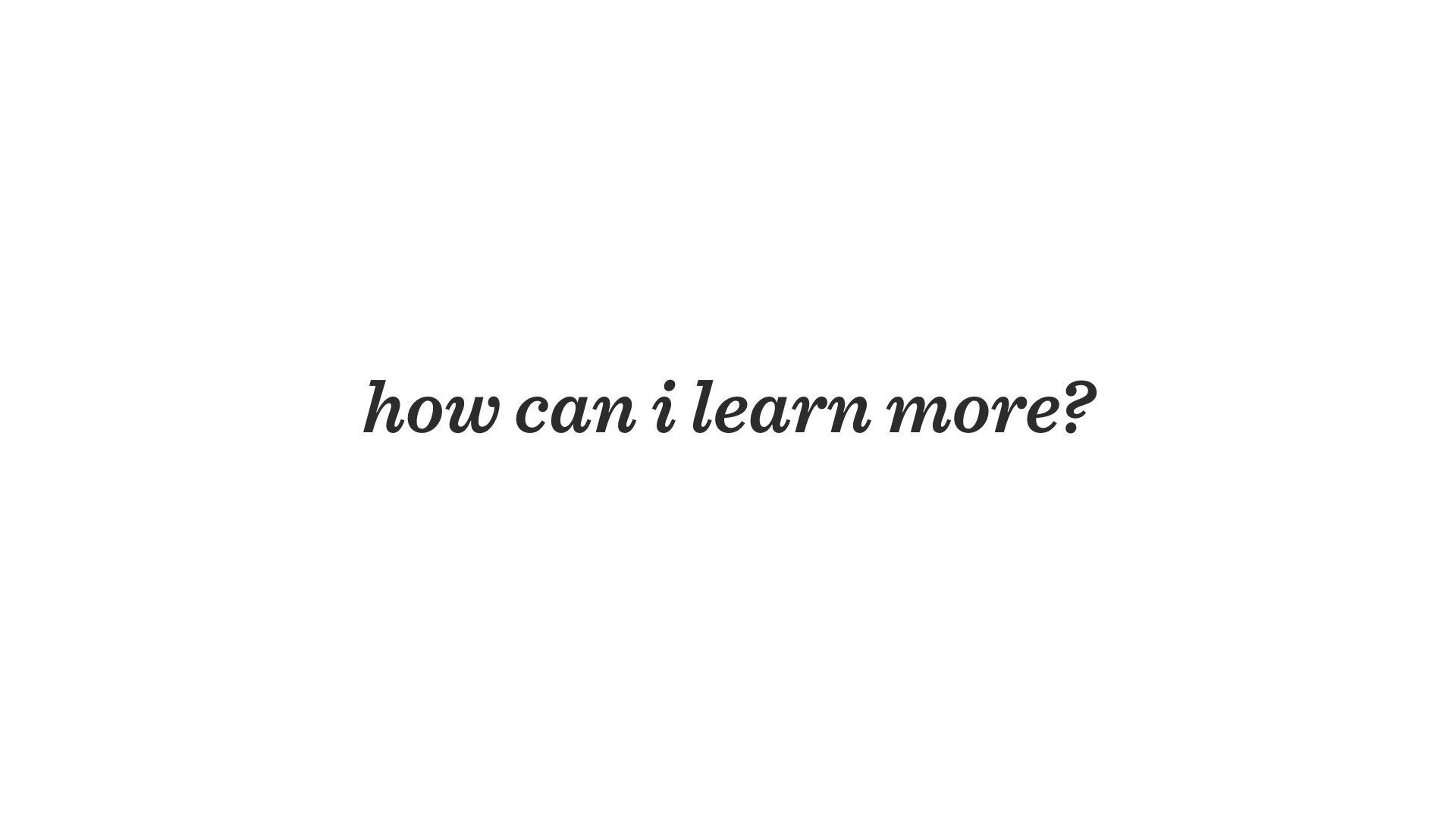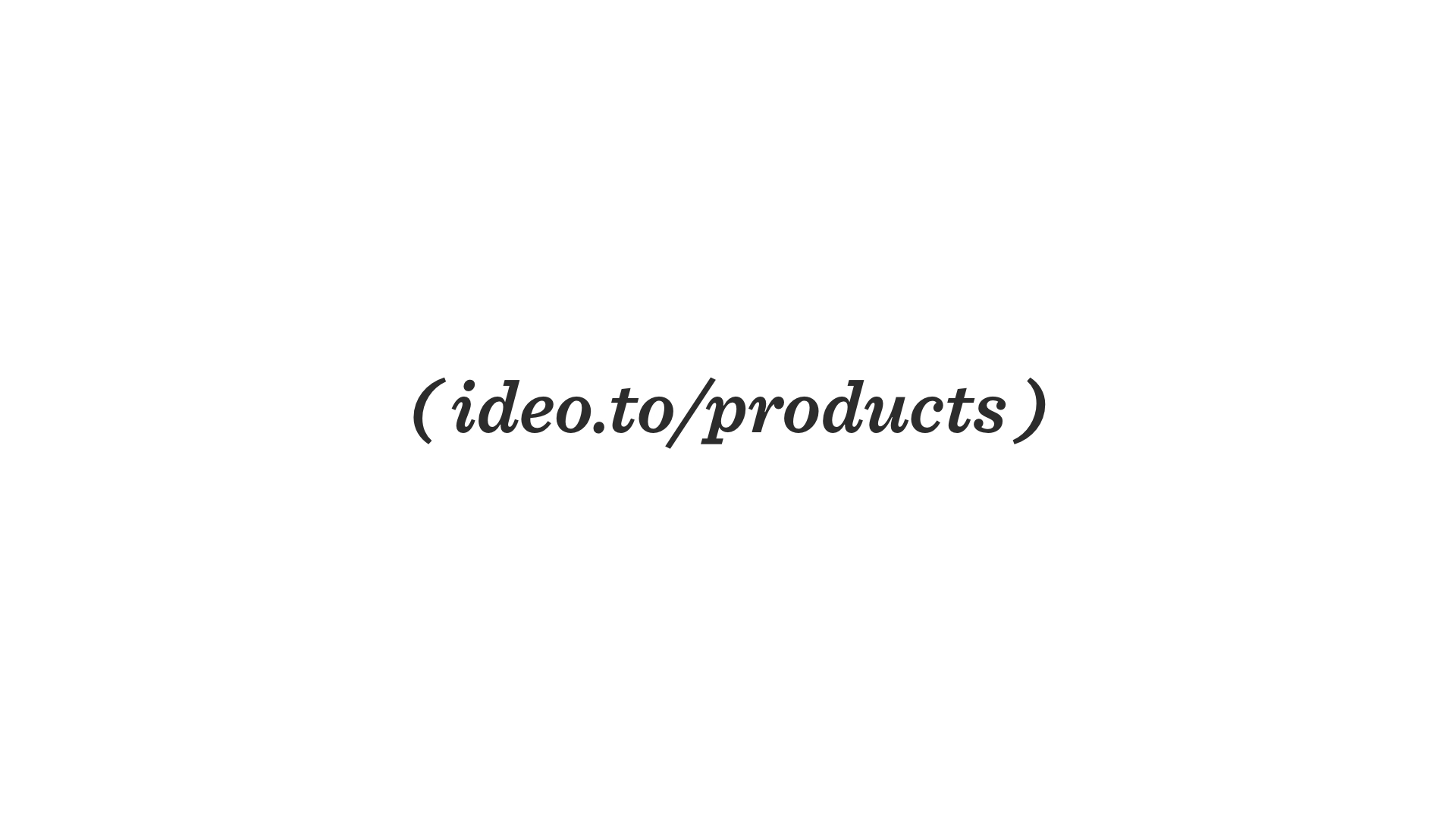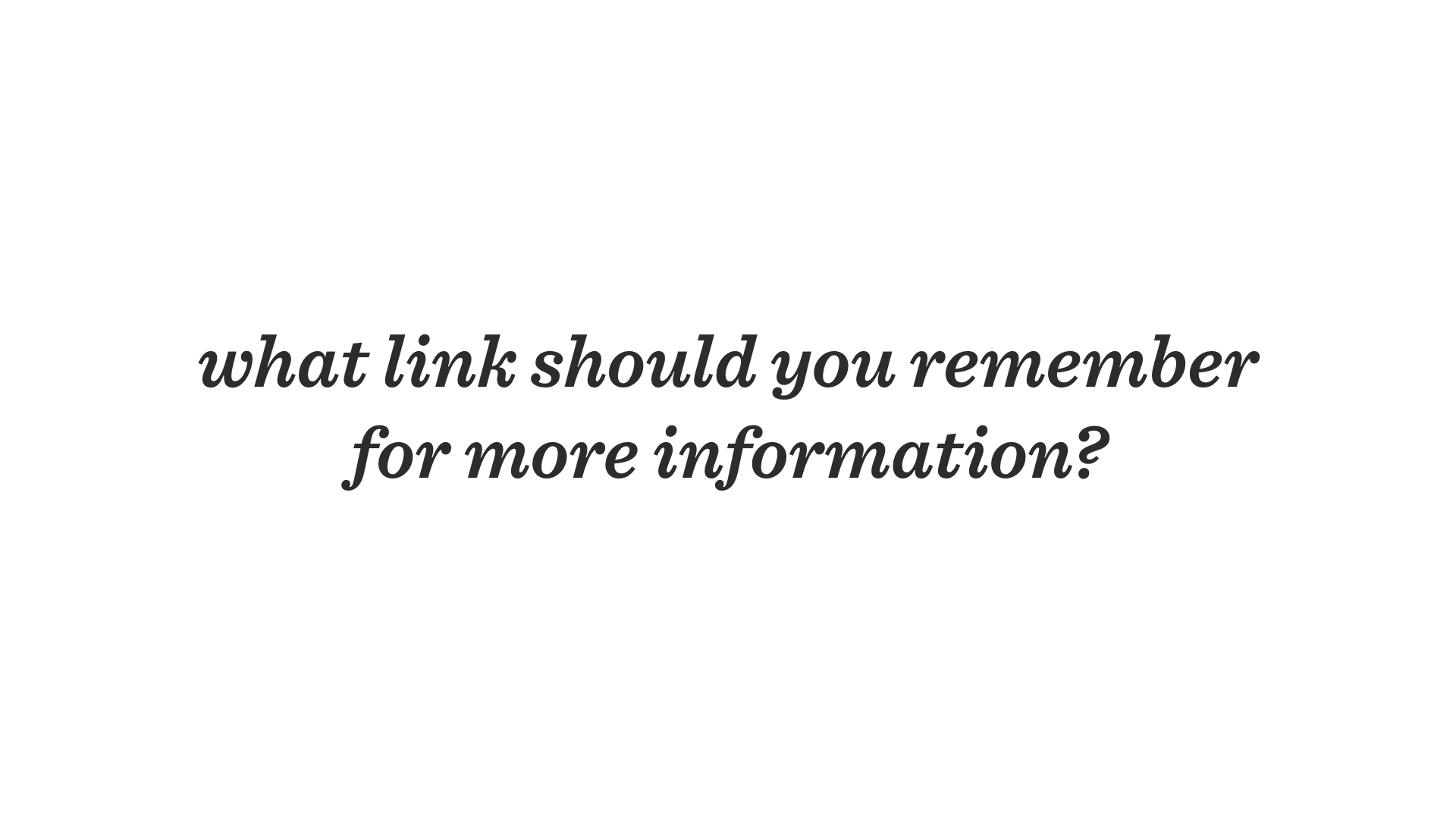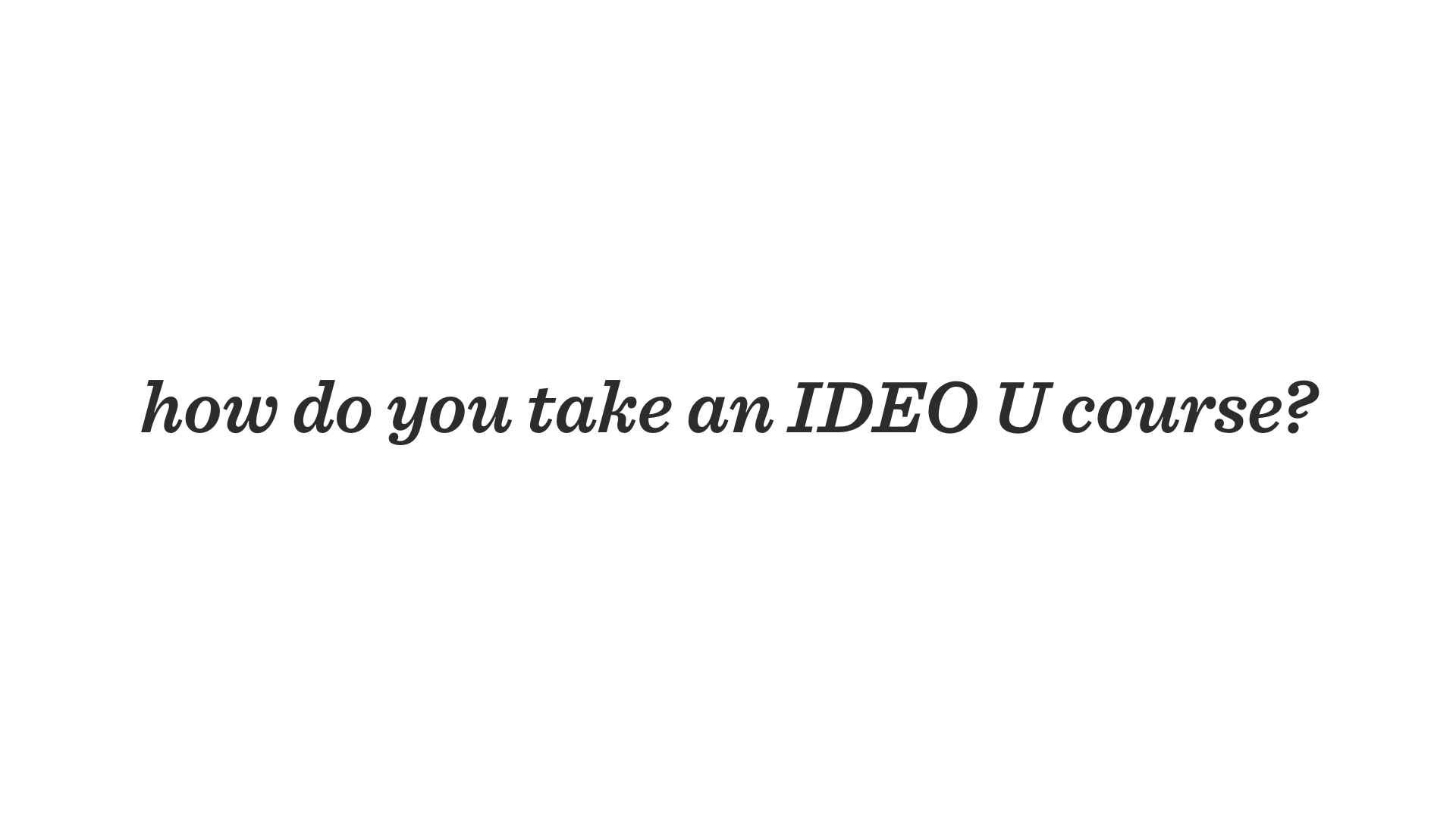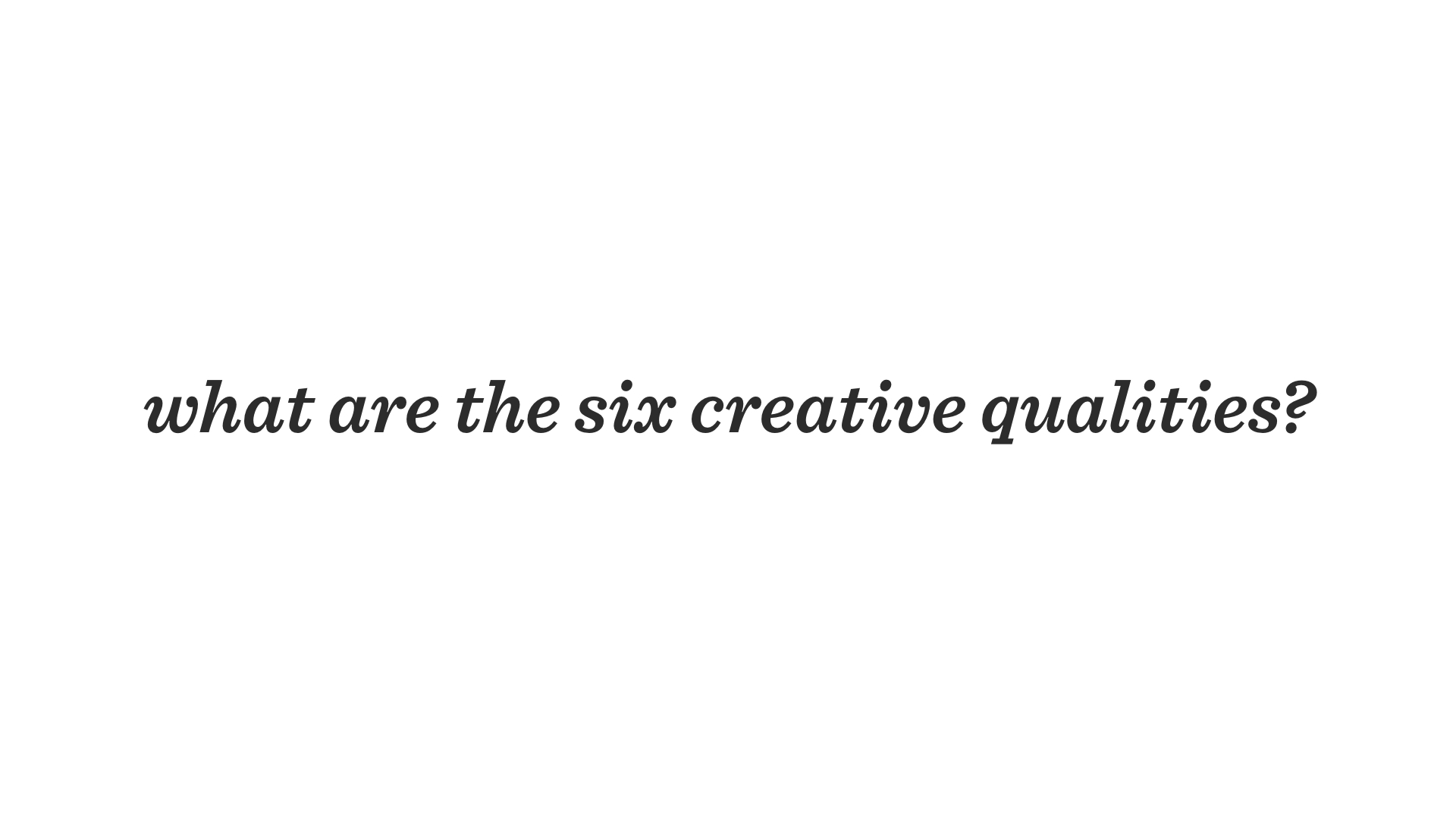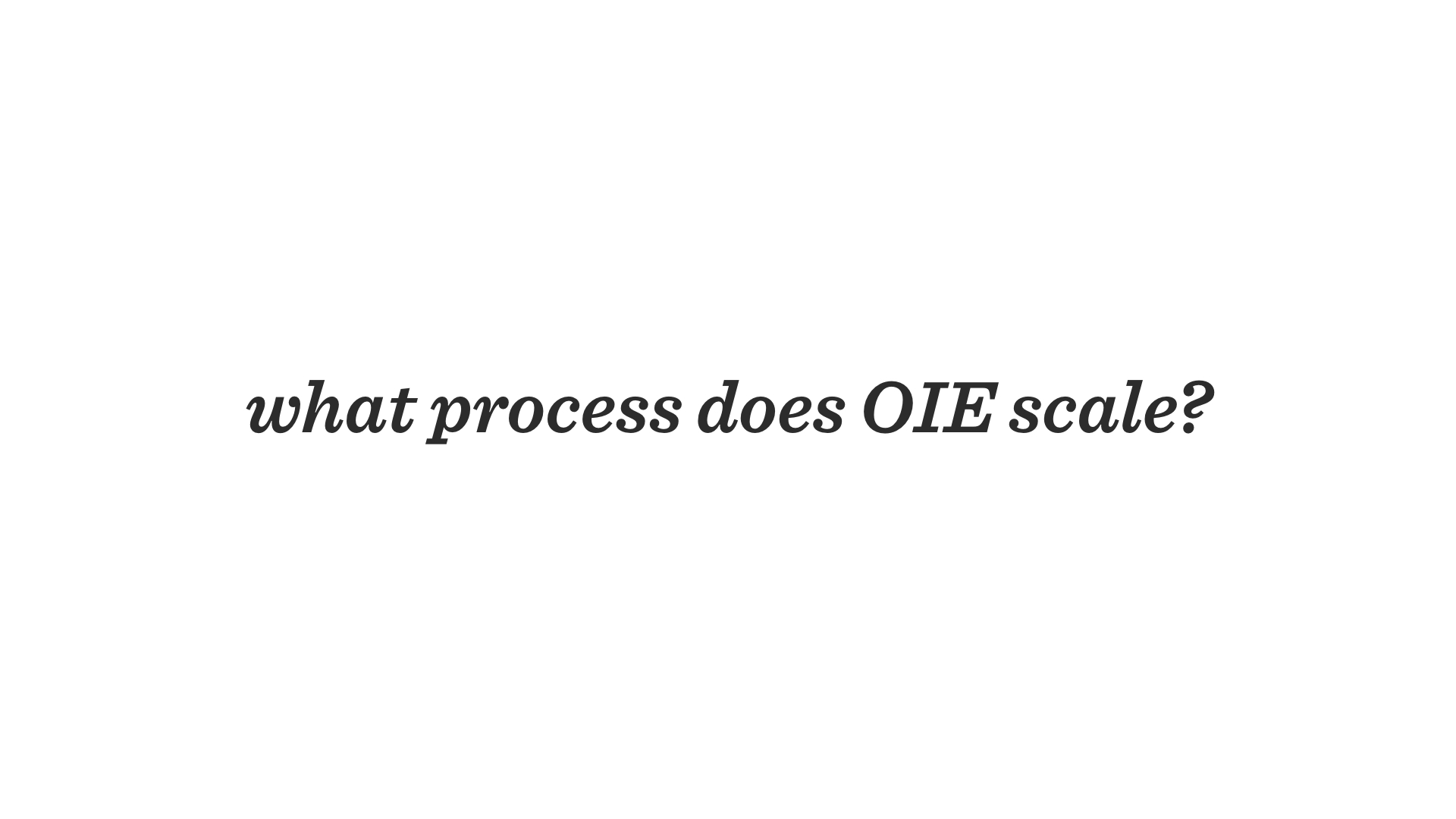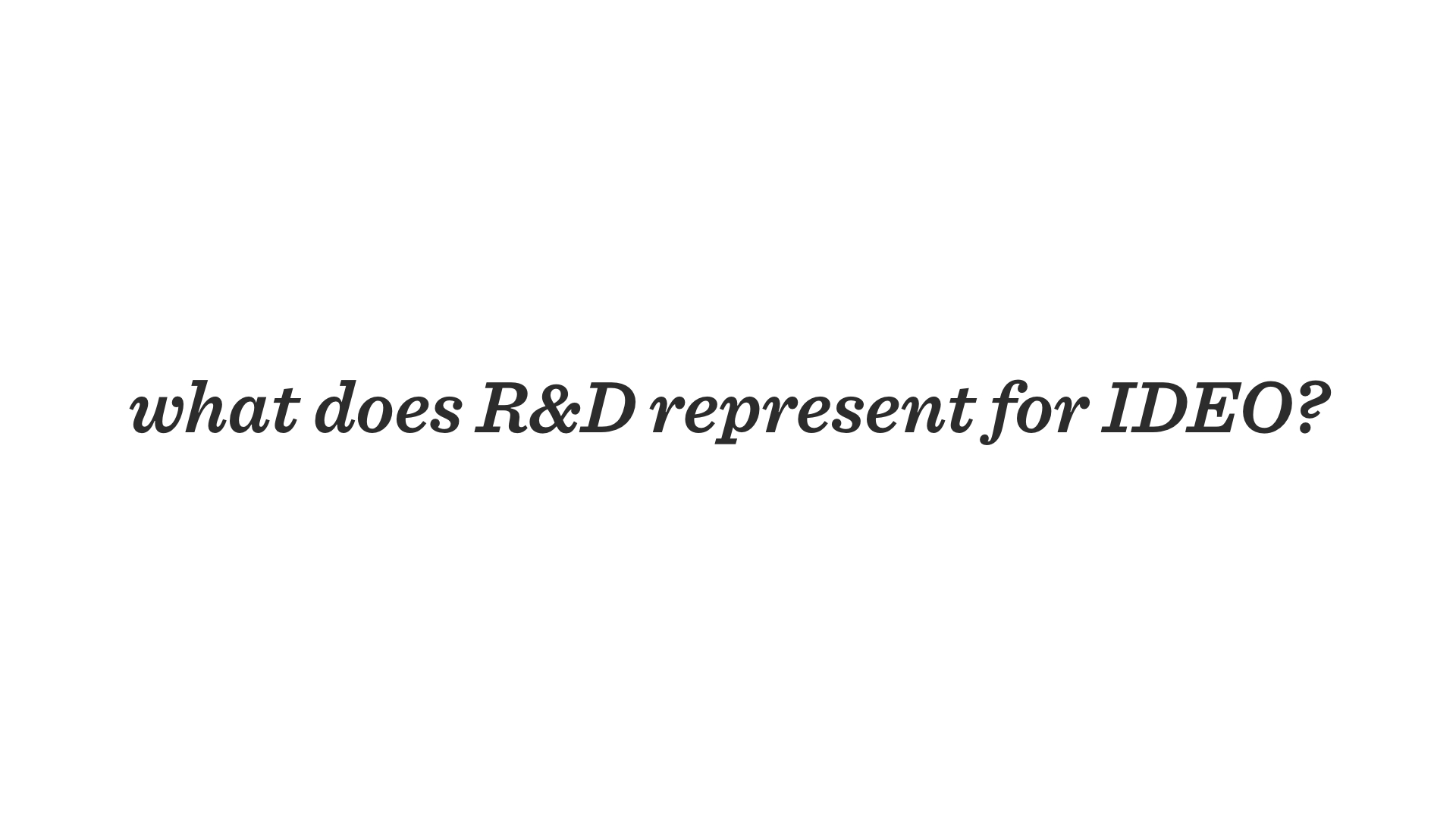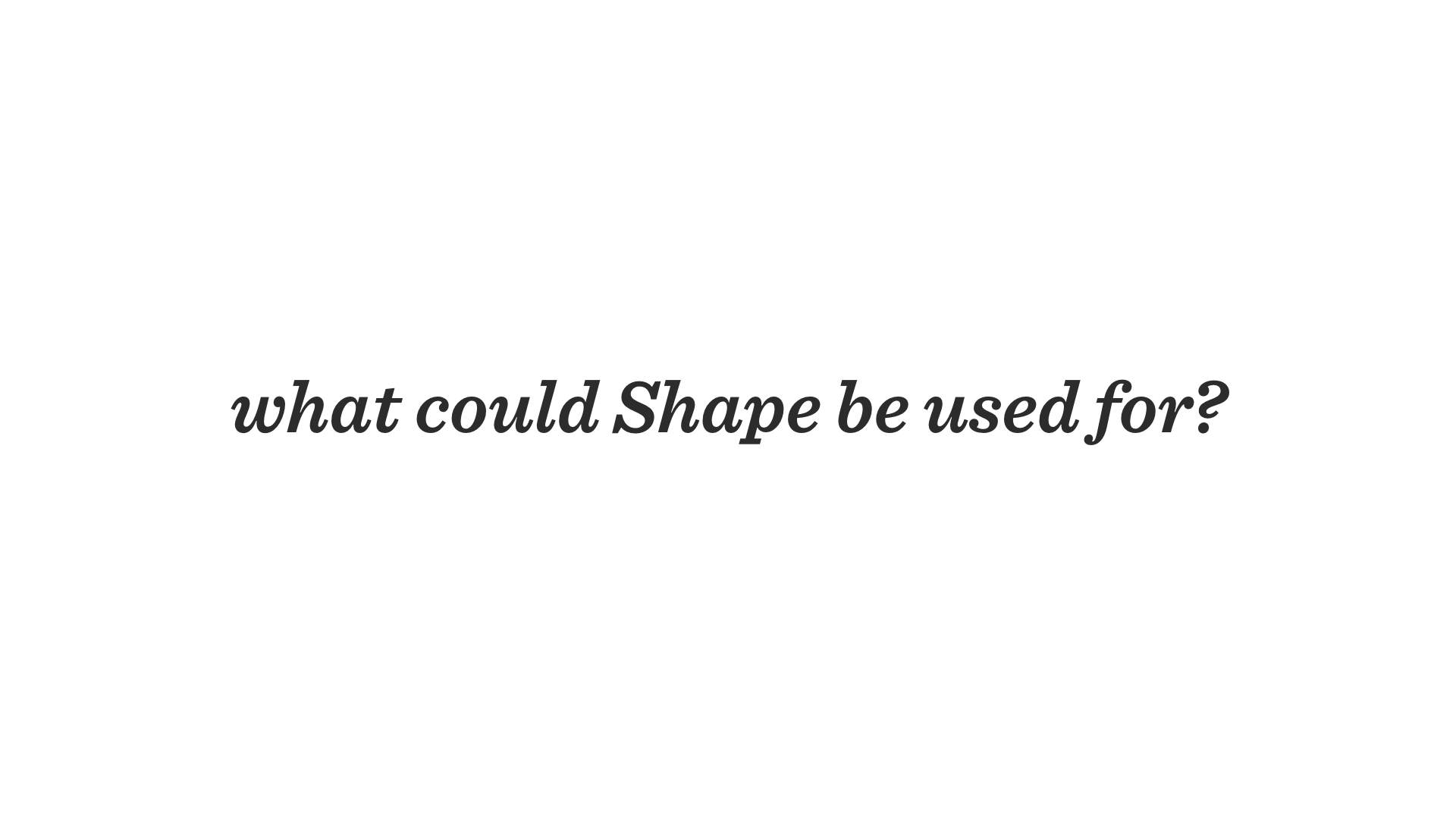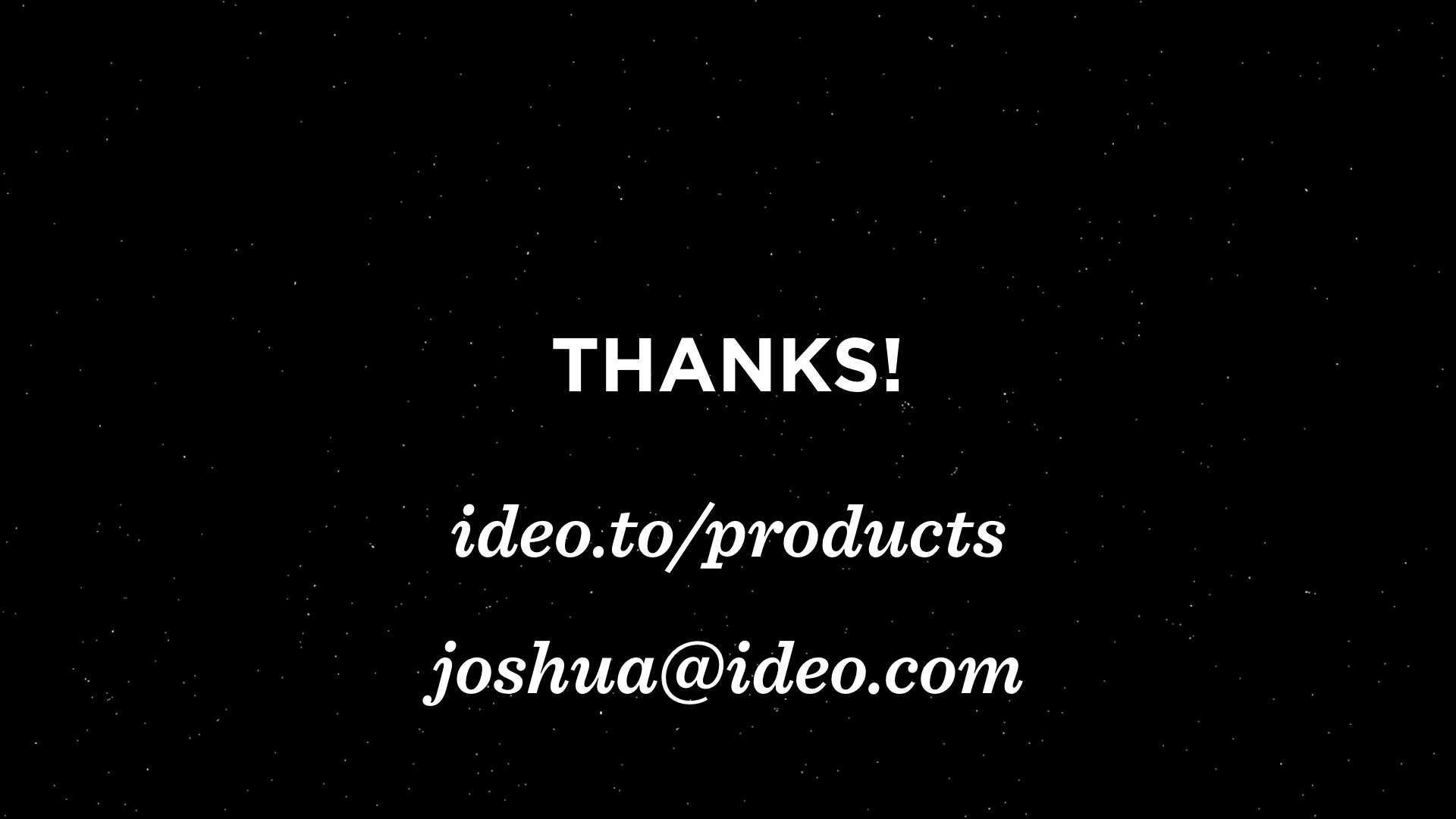 Leading for a Culture of Innovation and Creativity
for SXSW 2018
In 2018, I pitched, developed, and designed a talk for SXSW titled, Leading for a Culture of Innovation and Creativity. This talk was delivered by David Aycan, a long time IDEO designer and leader of the IDEO Products Team. The talk, initially scheduled for a single one hour session, was extended for two encore sessions to accommodate the number of interested participants. By the end of the conference, more than 1,500 people had attended the talk.
Here, the content was focused on the factors that drive creative and innovative teams, and how IDEO has worked with organizations to build the skills necessary to survive in today's world. I focused the design on 6 key takeaways, and used a variety of silent, high-quality videos to emphasize the content.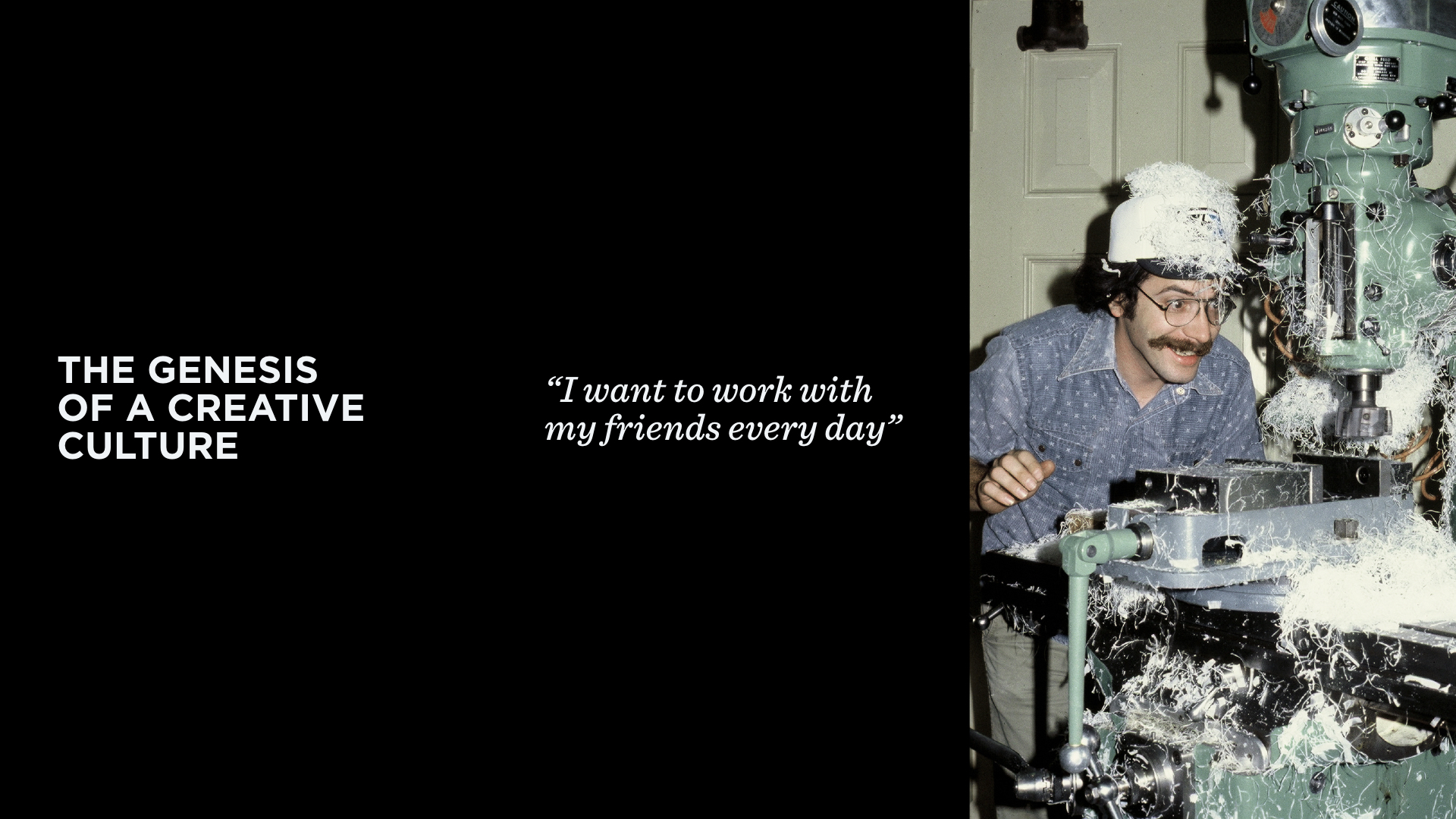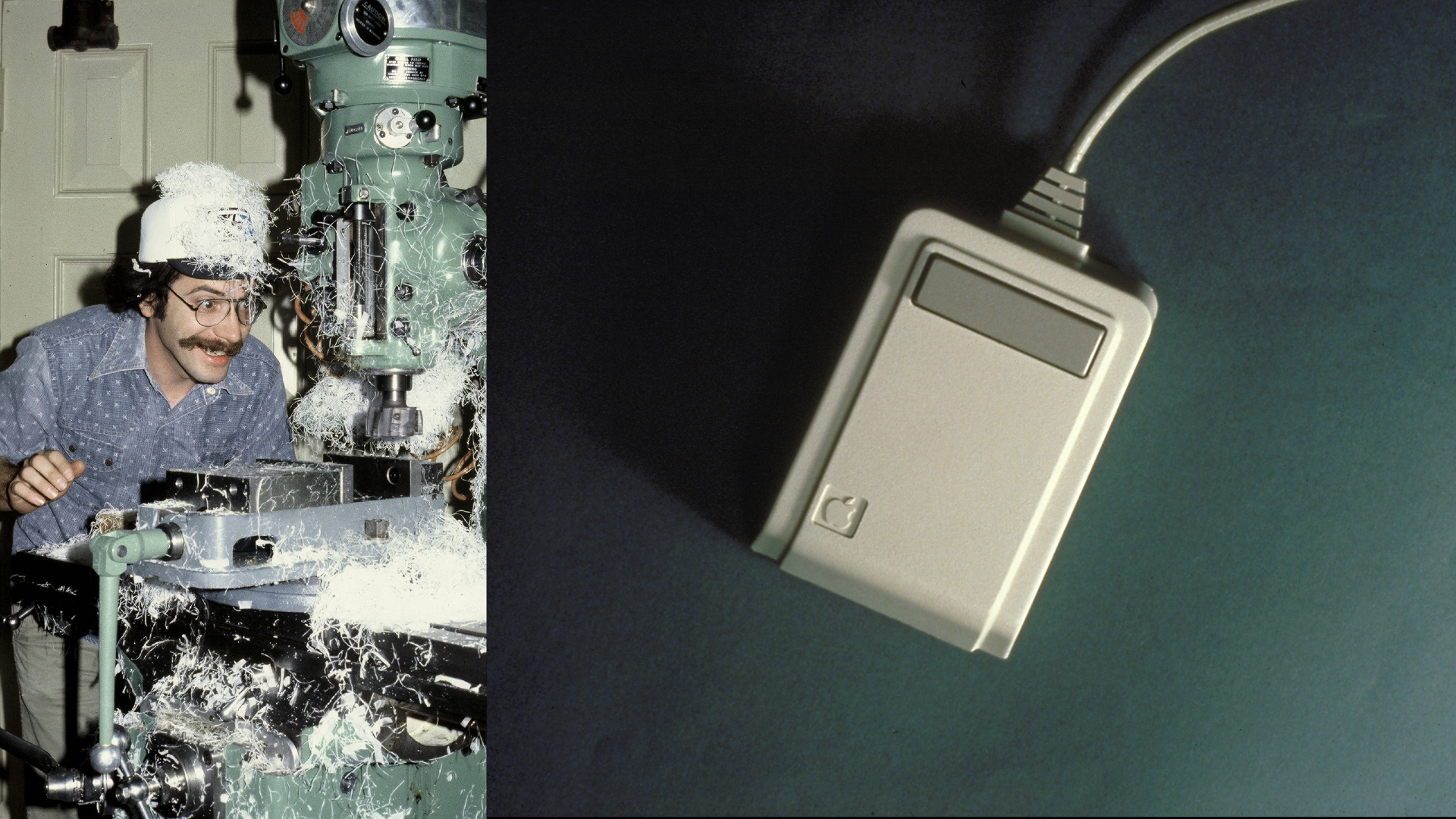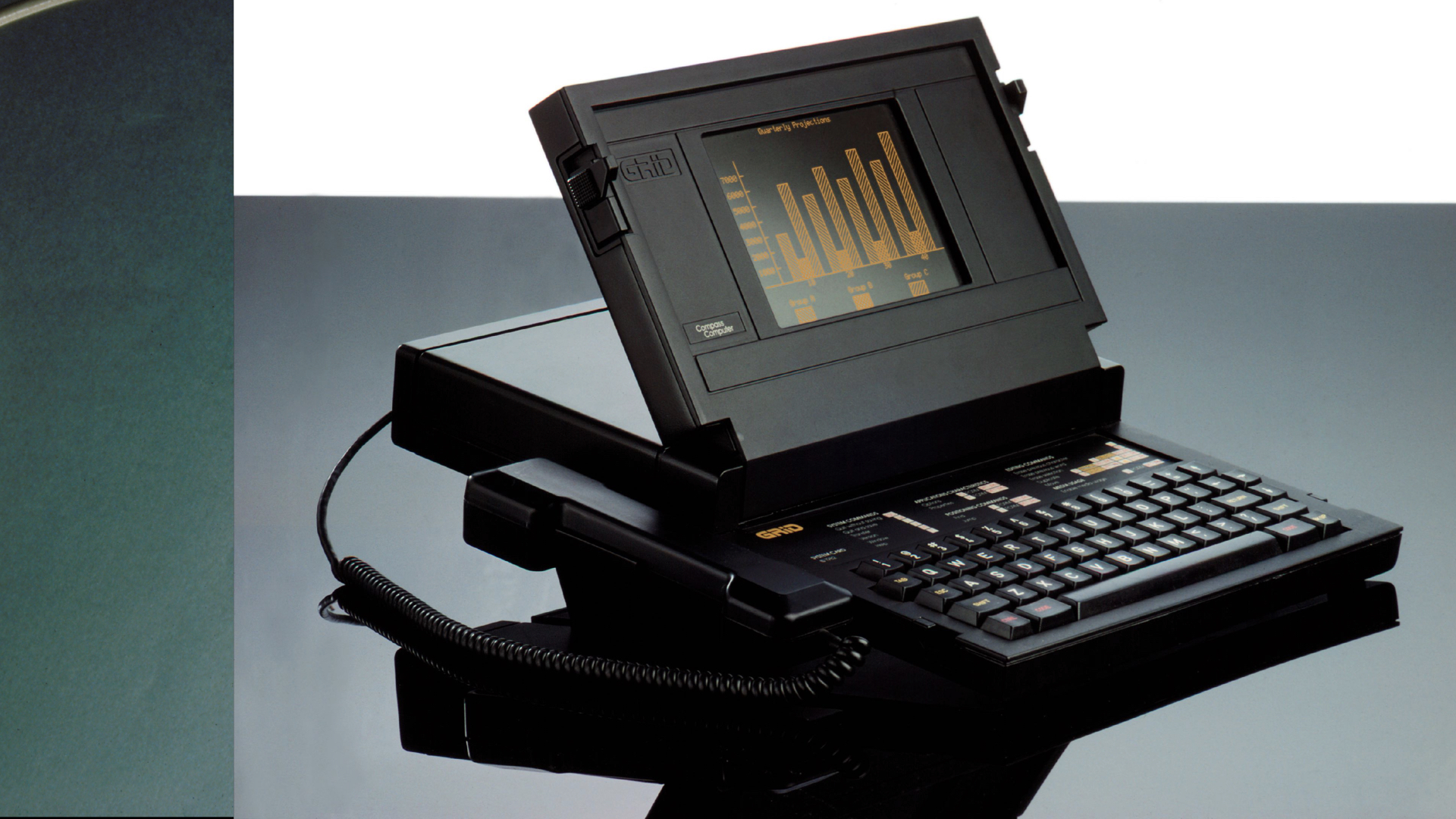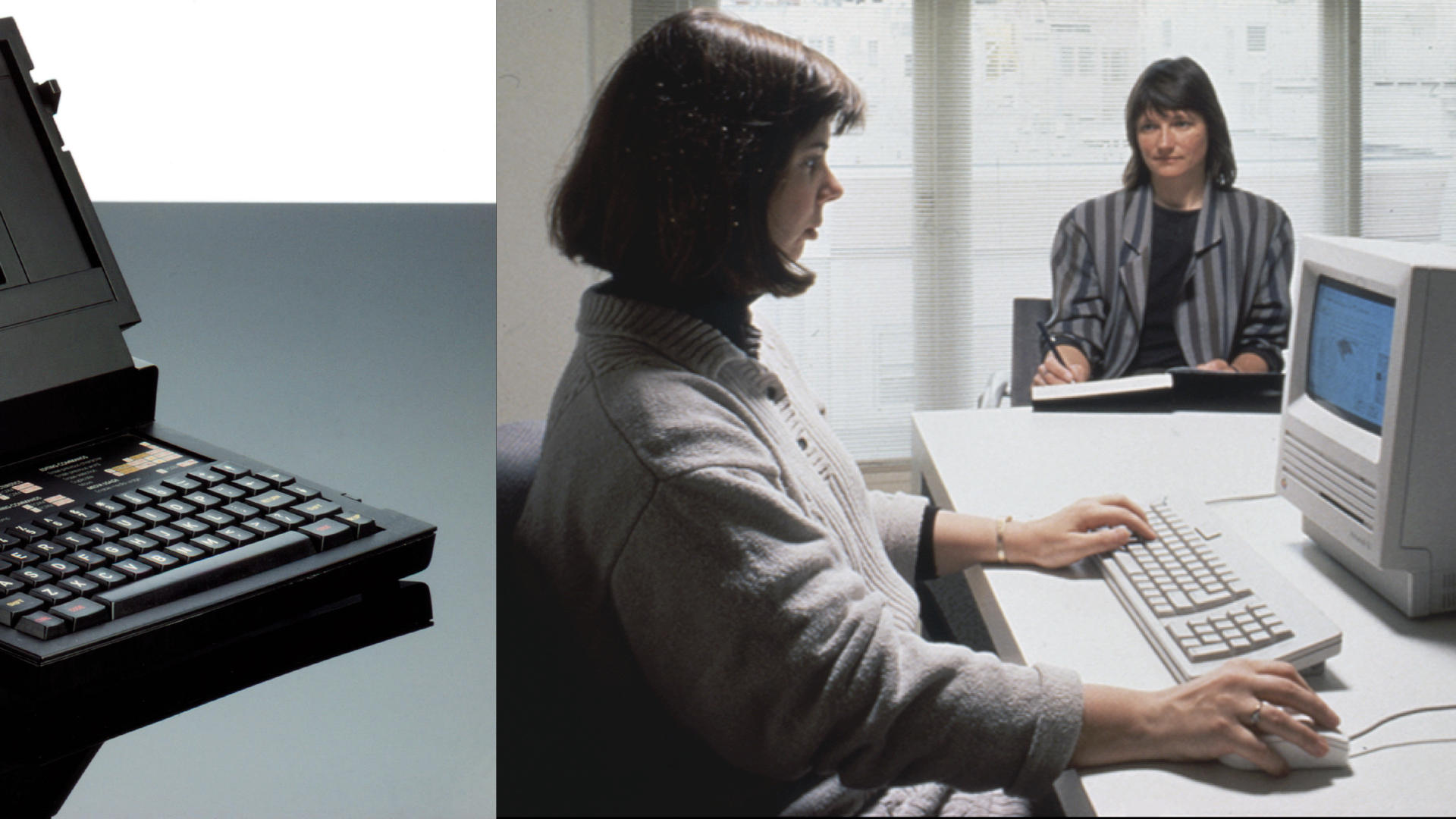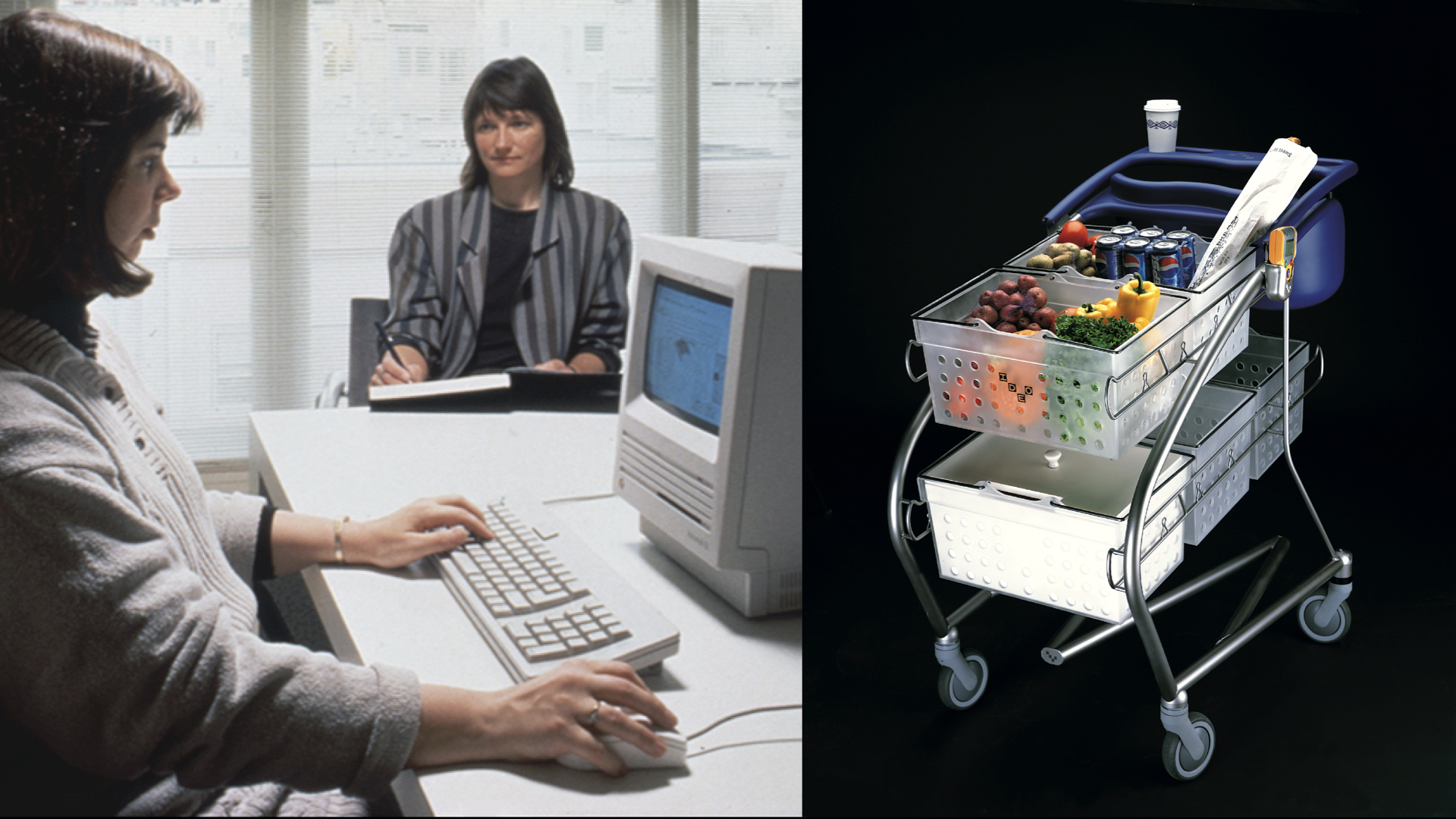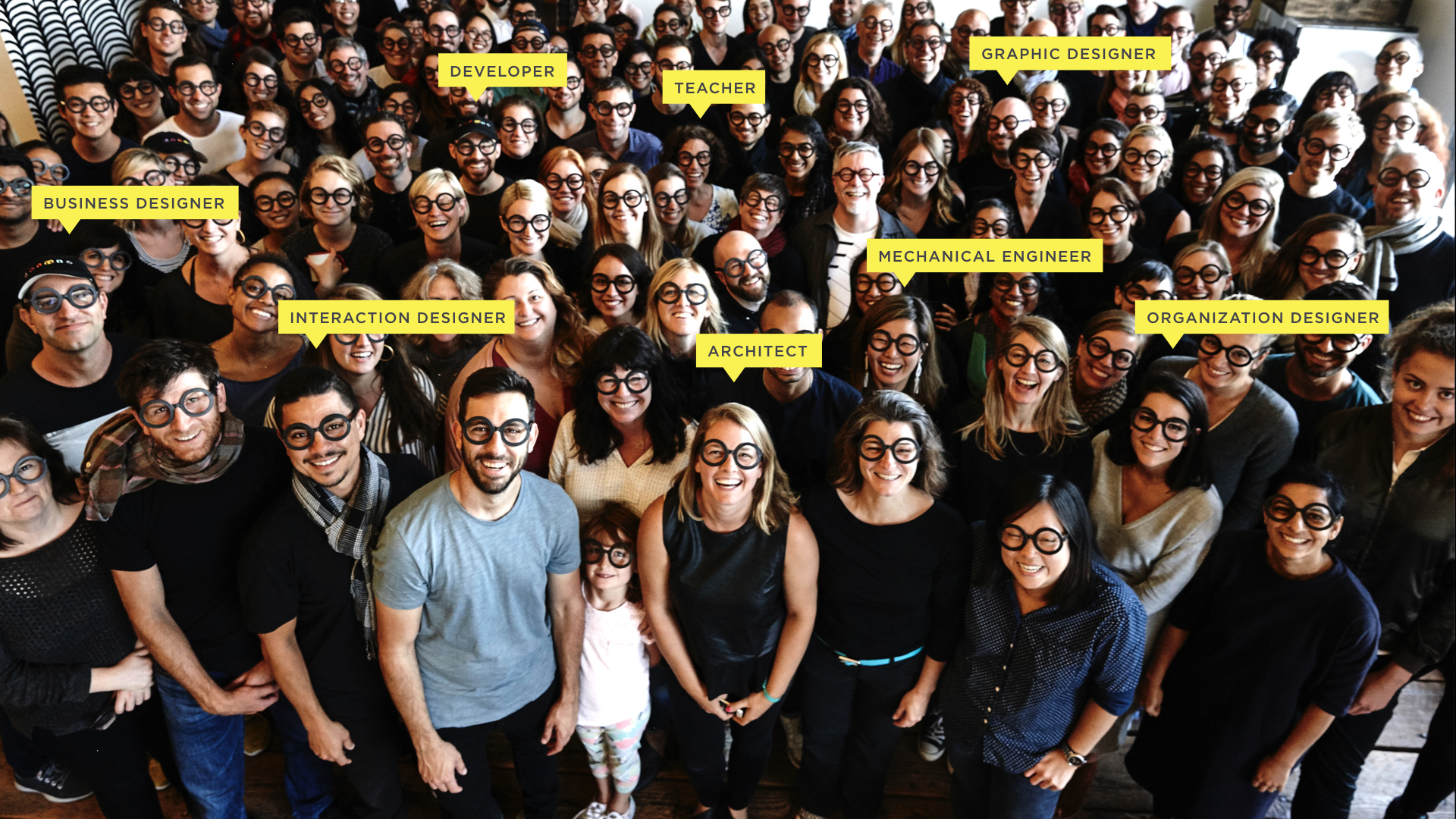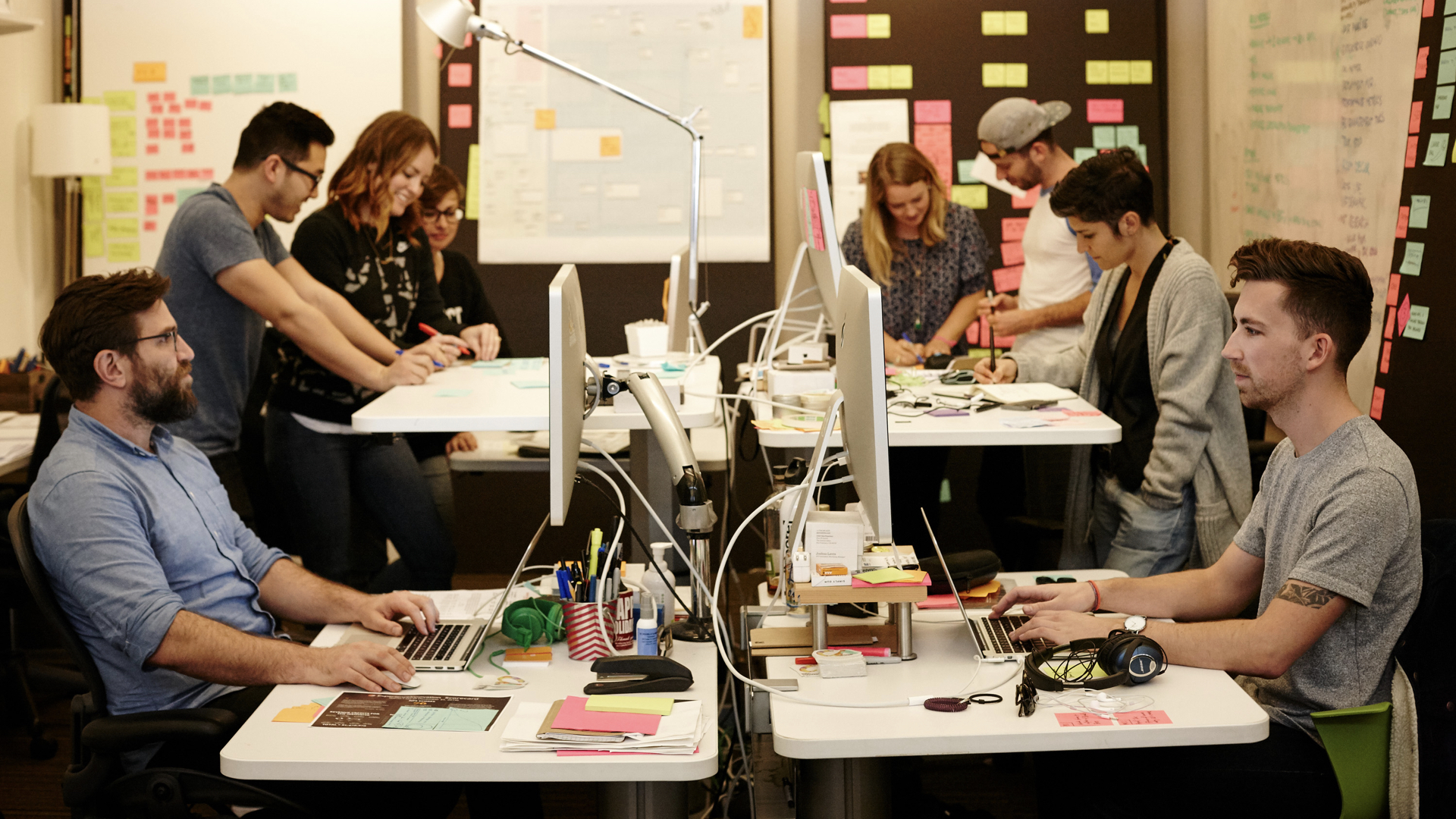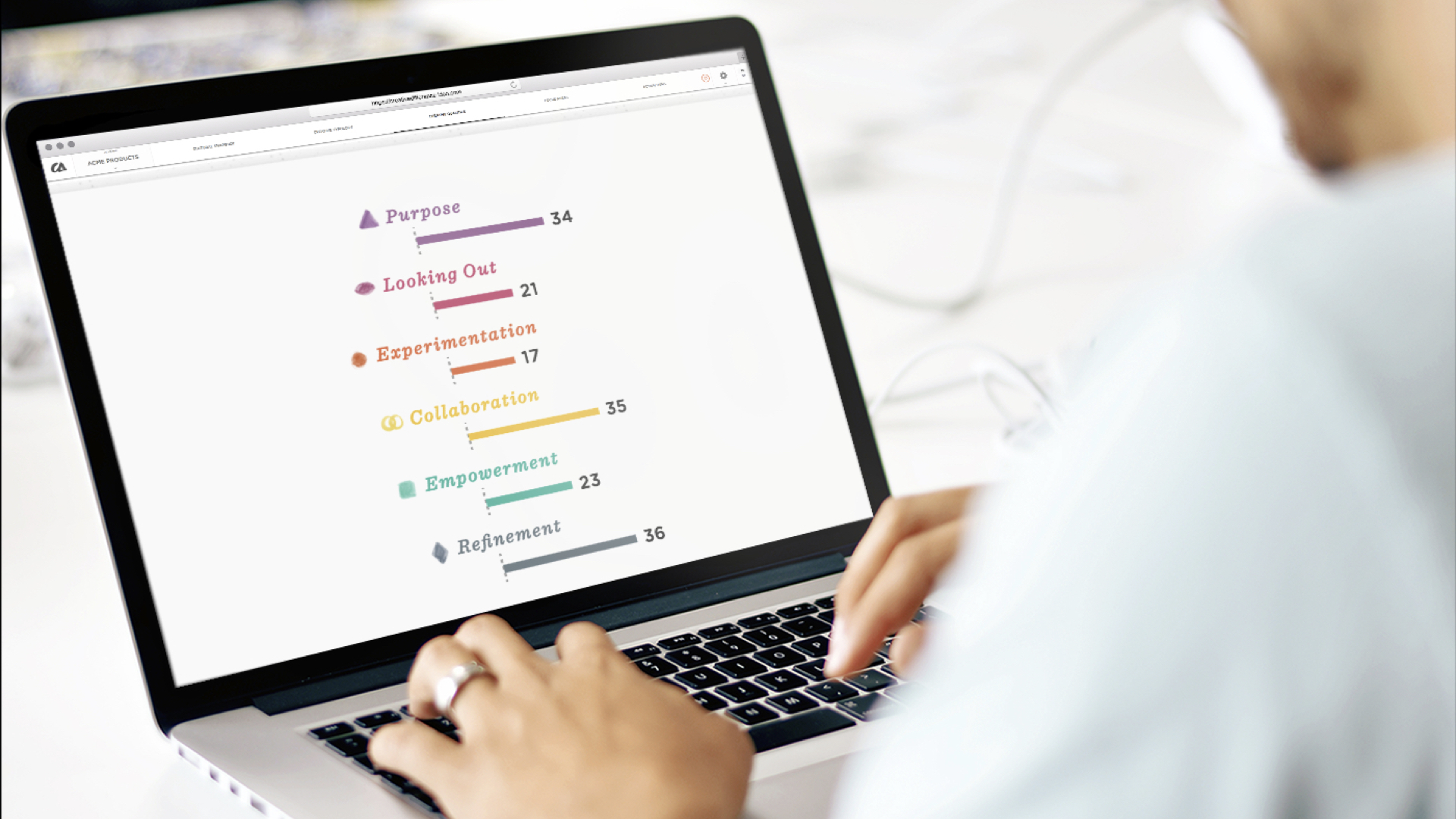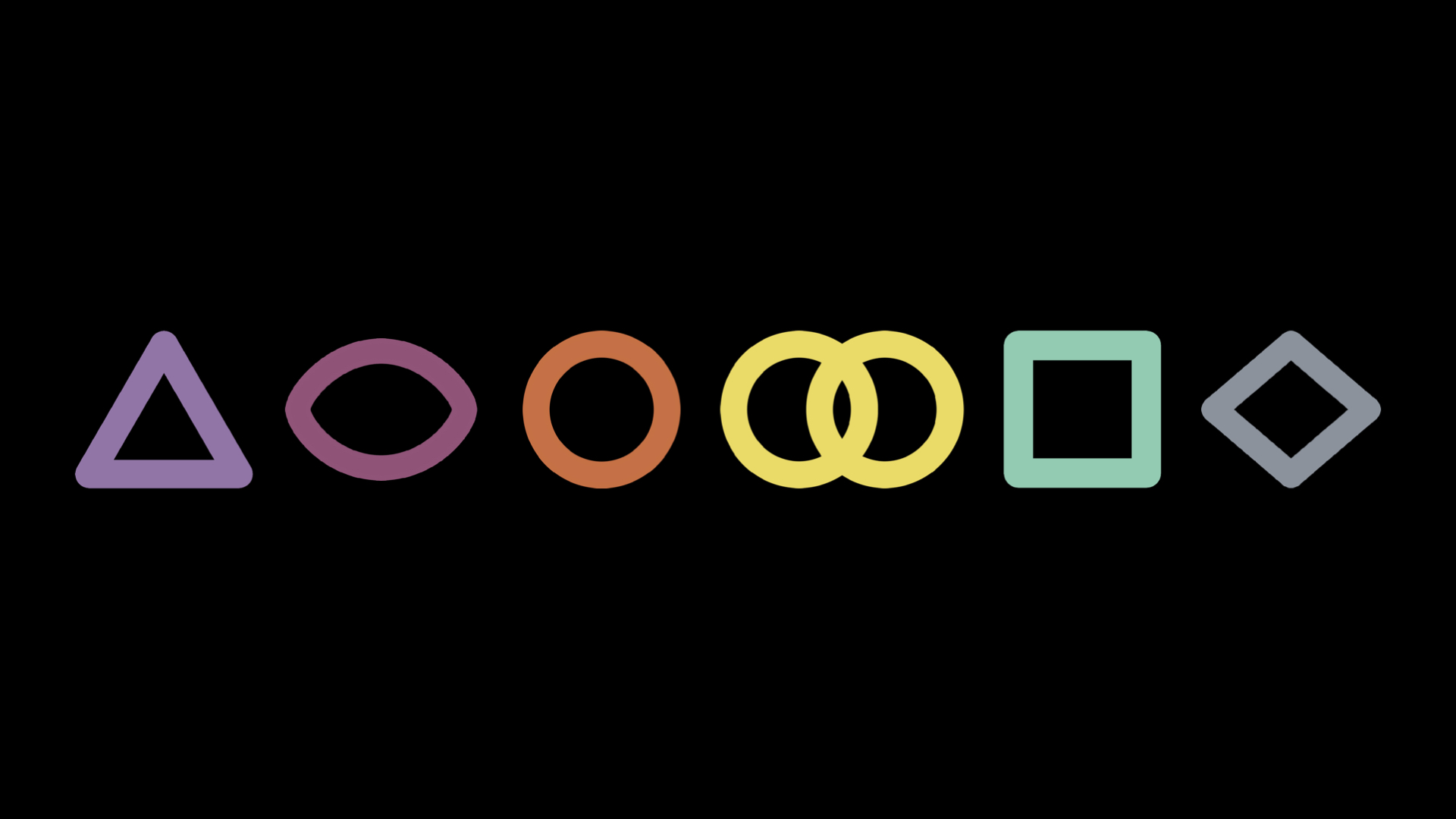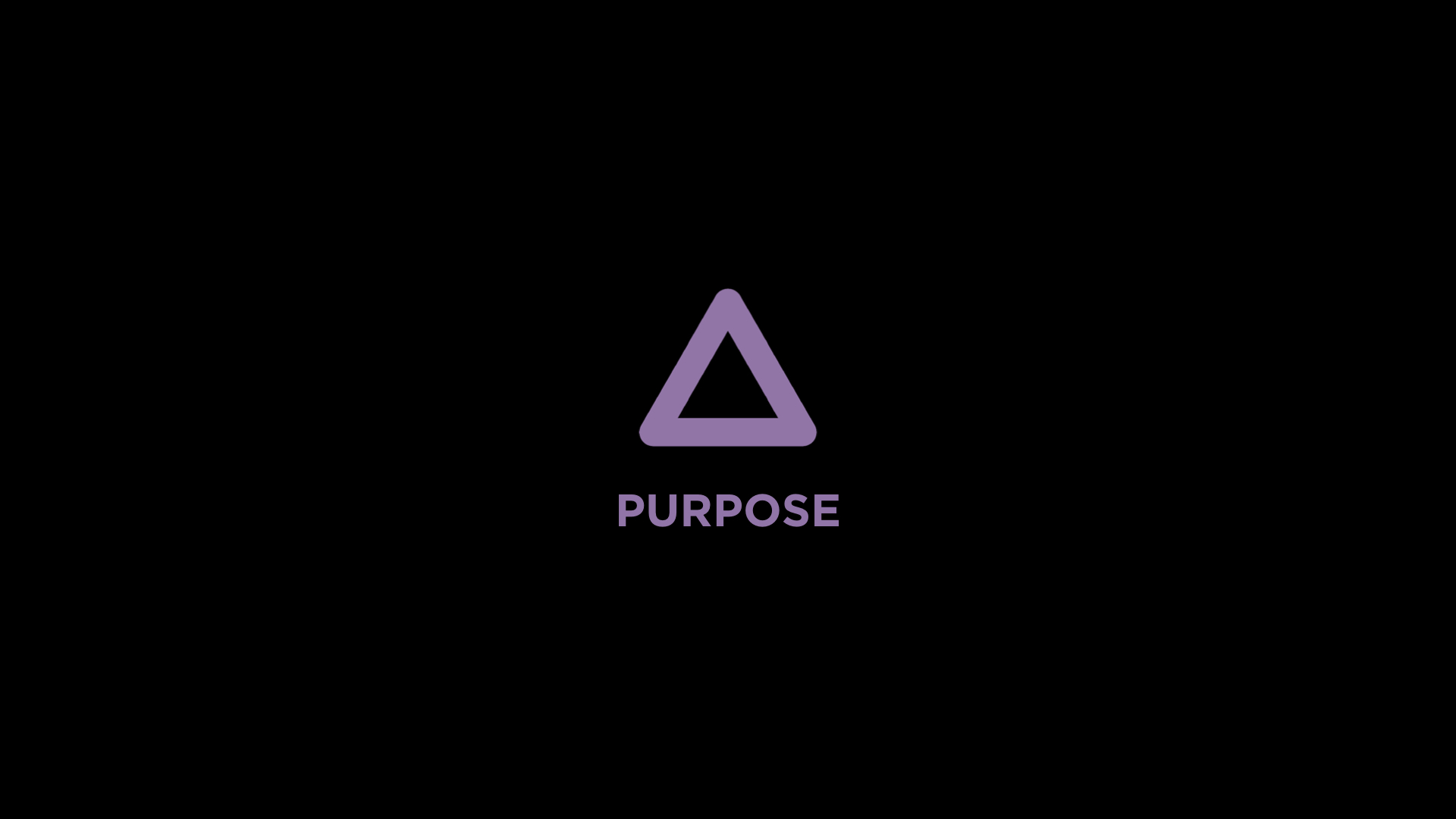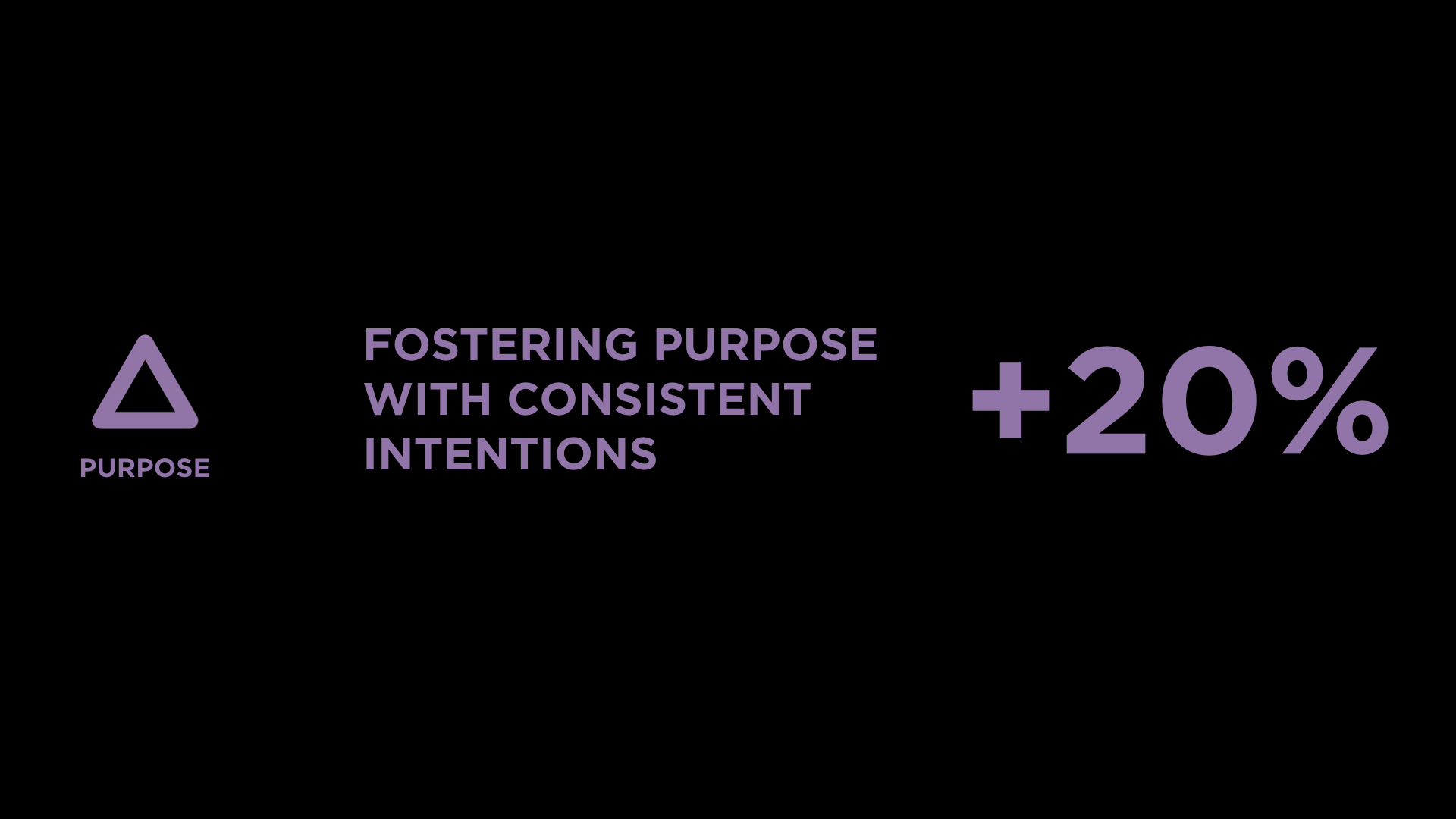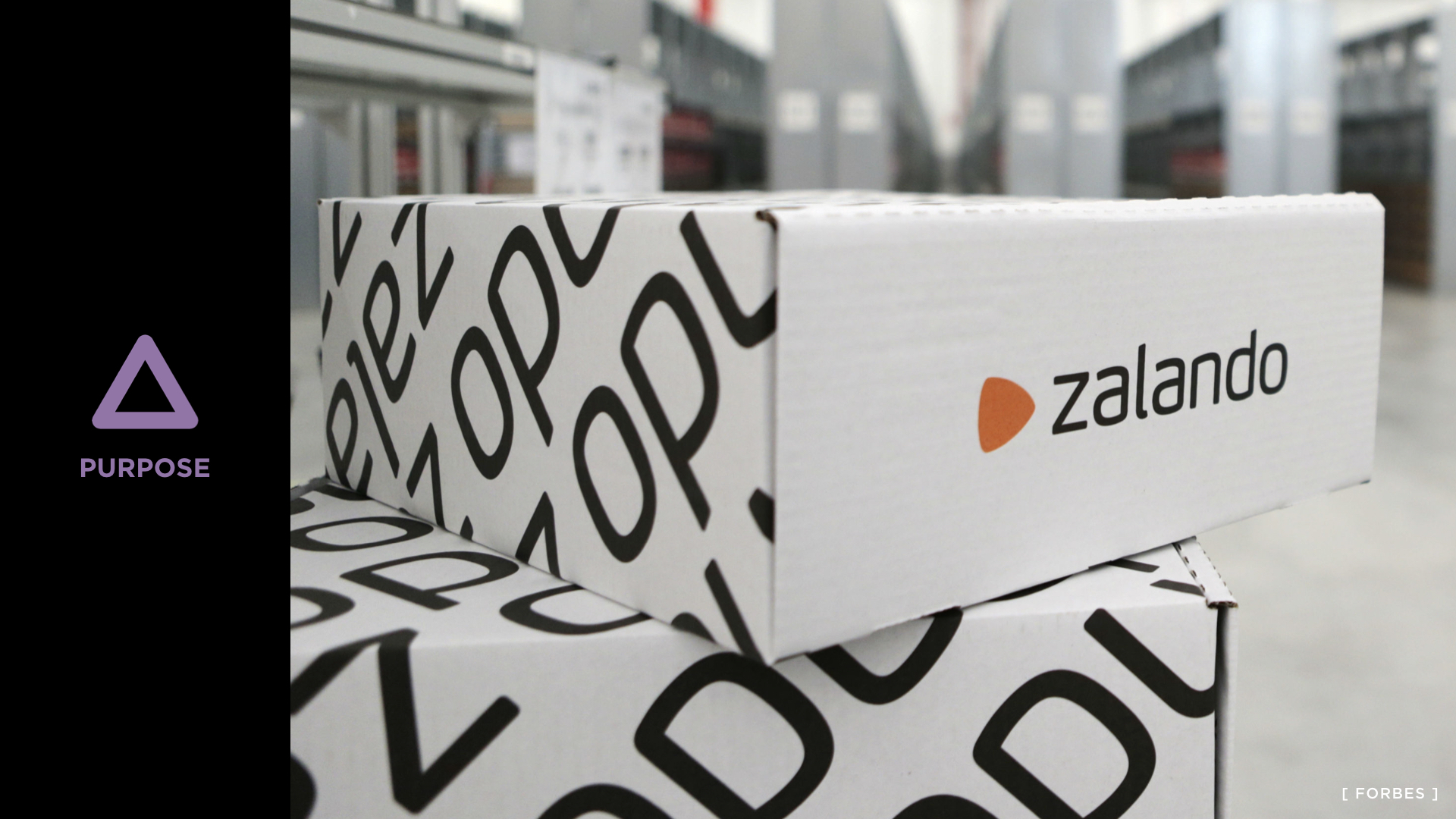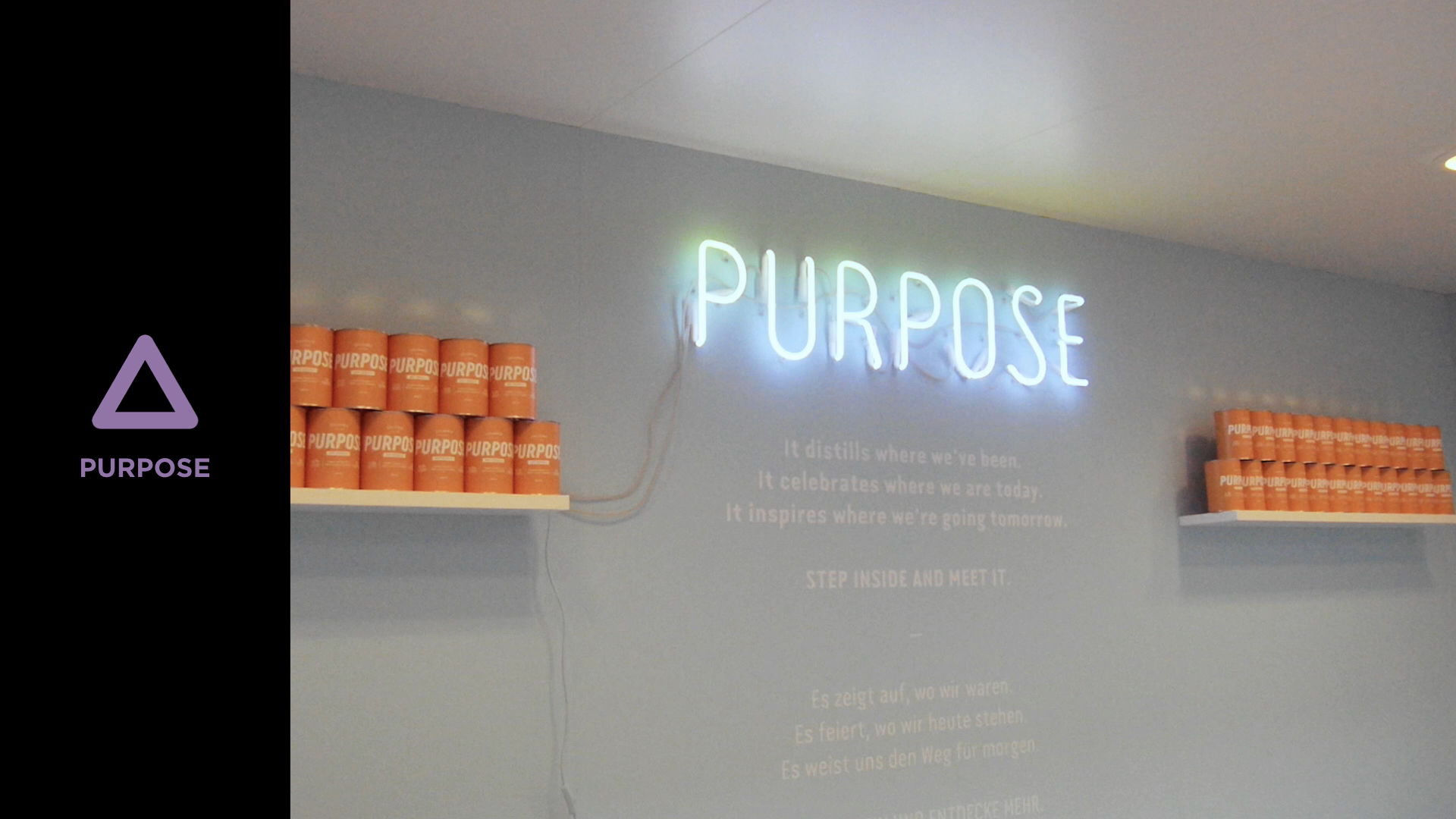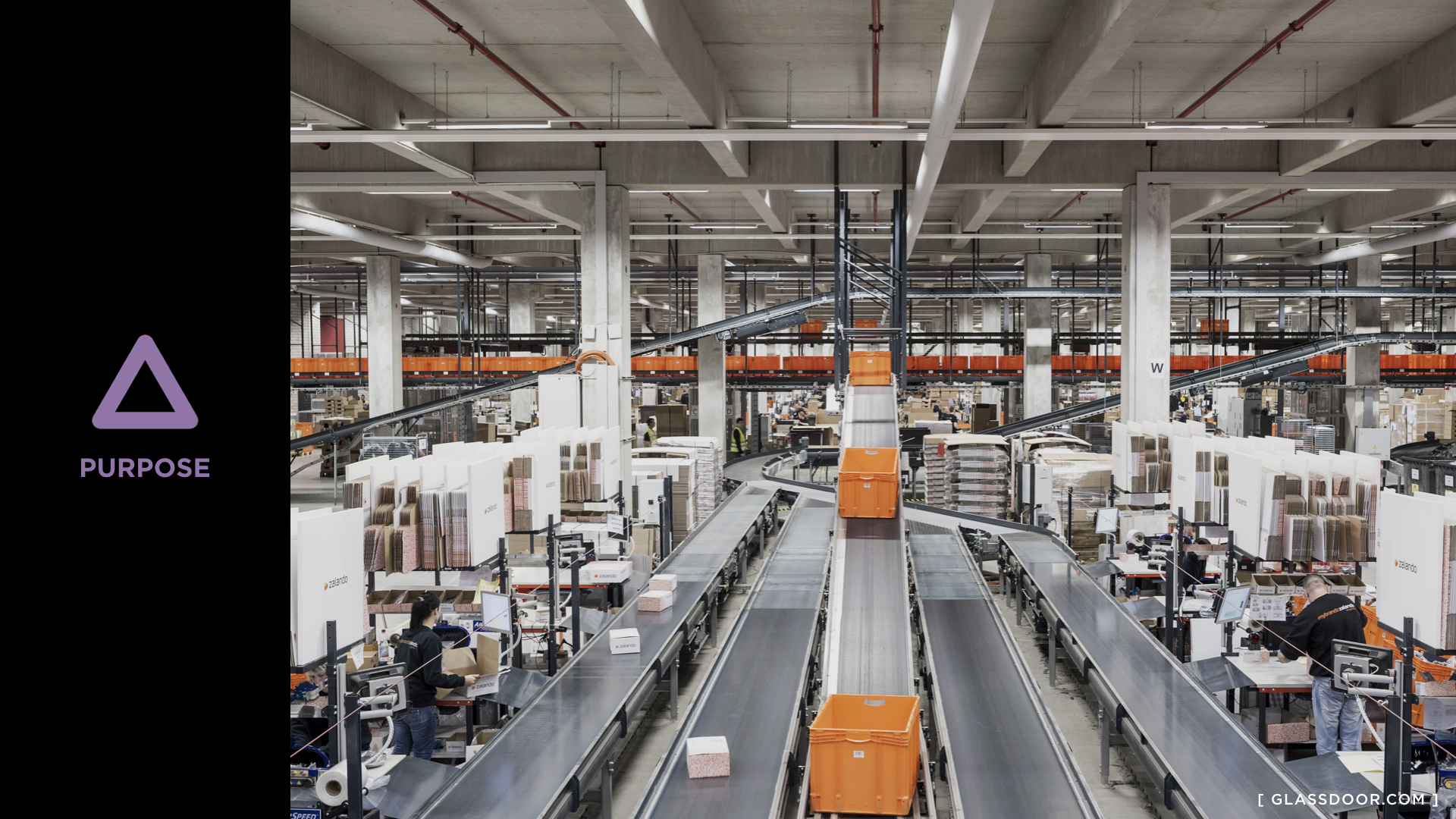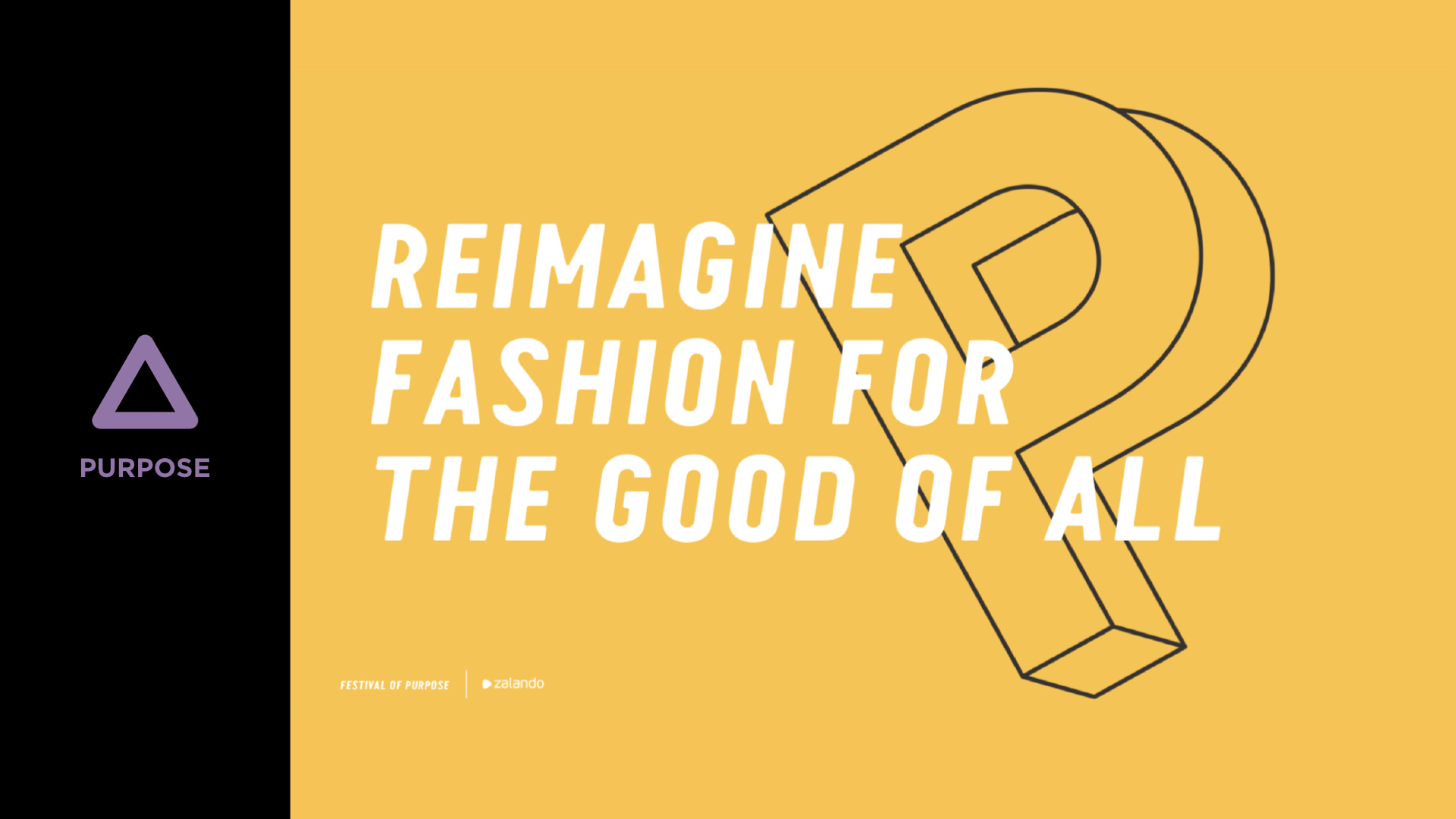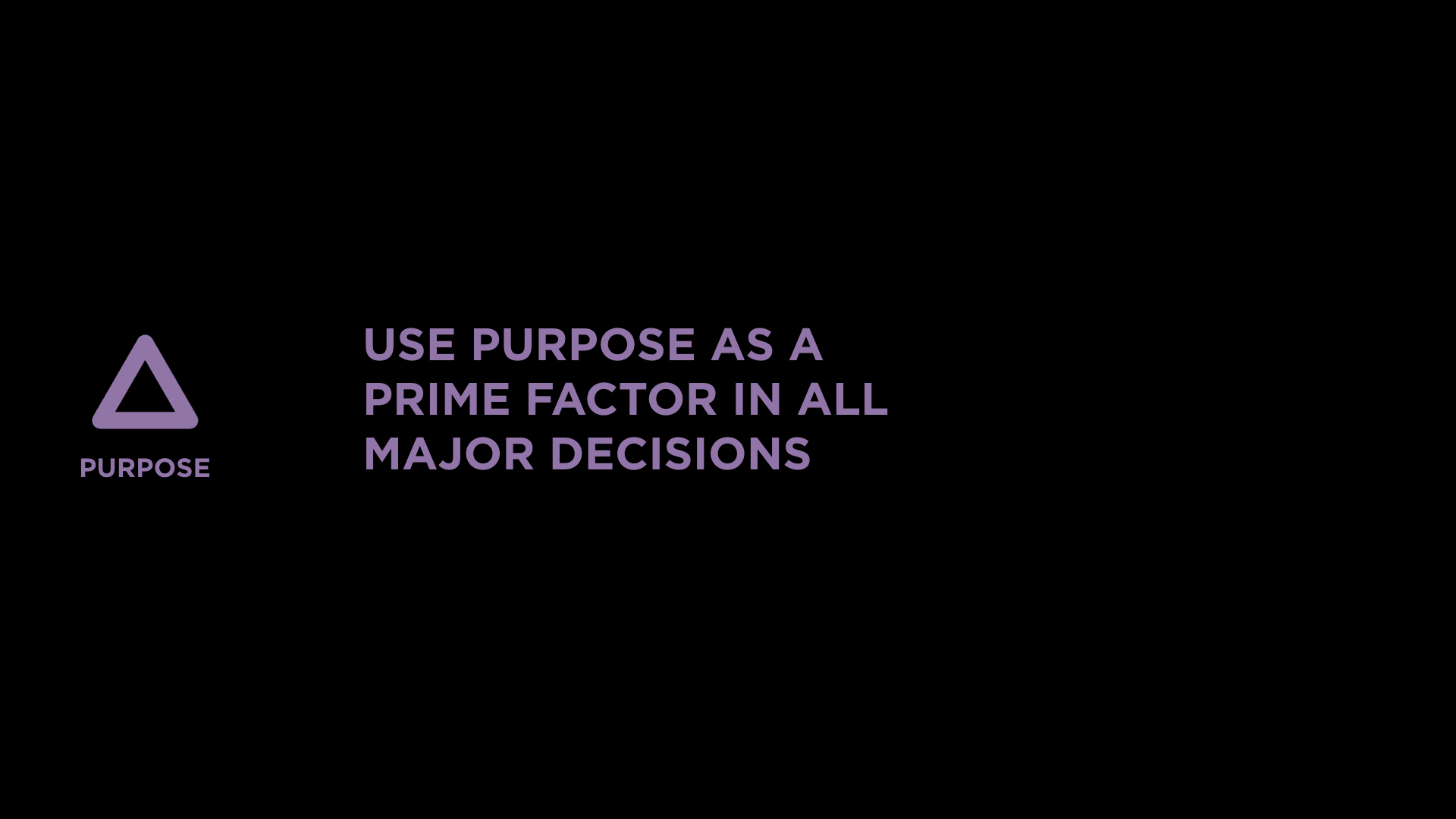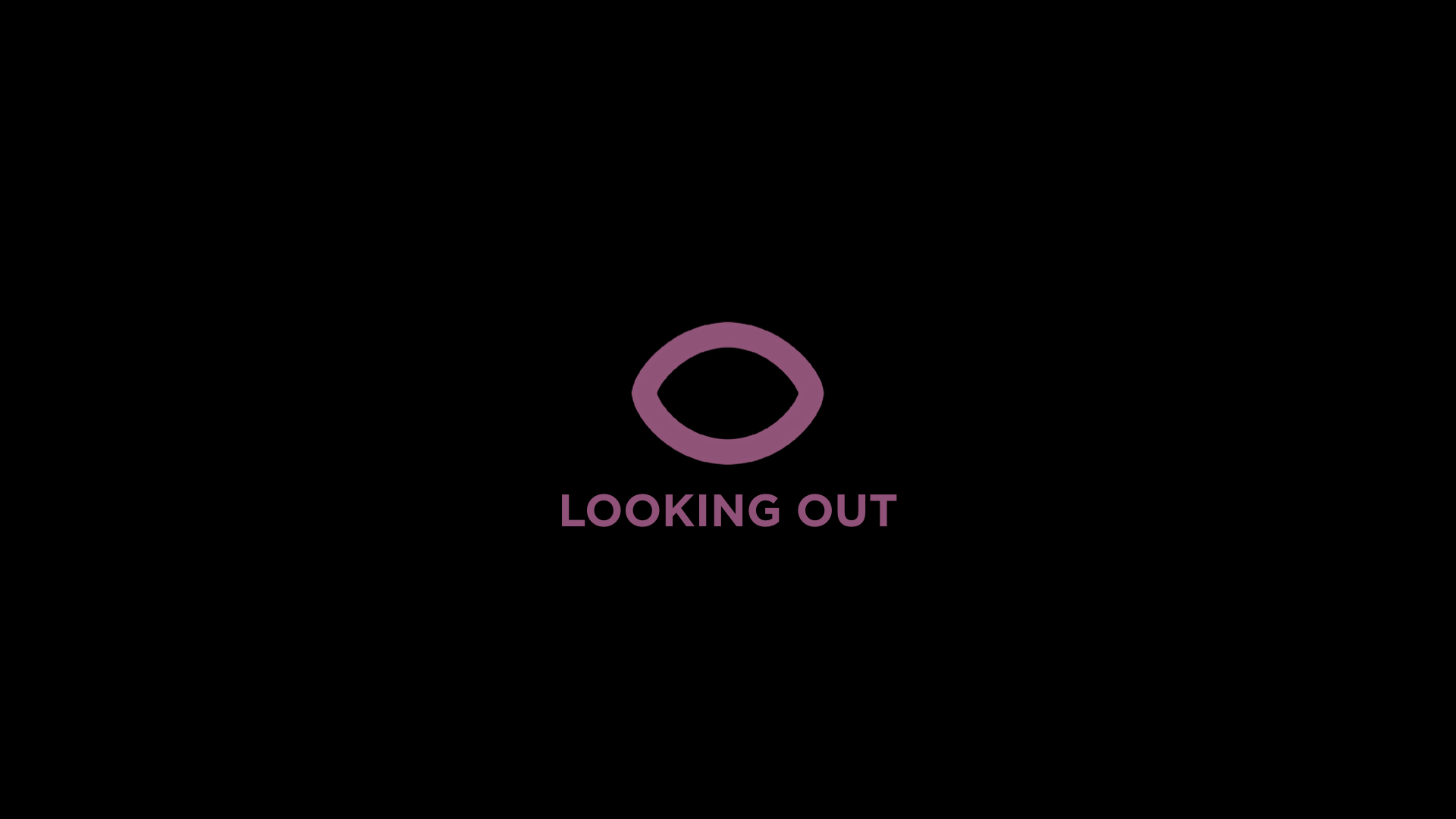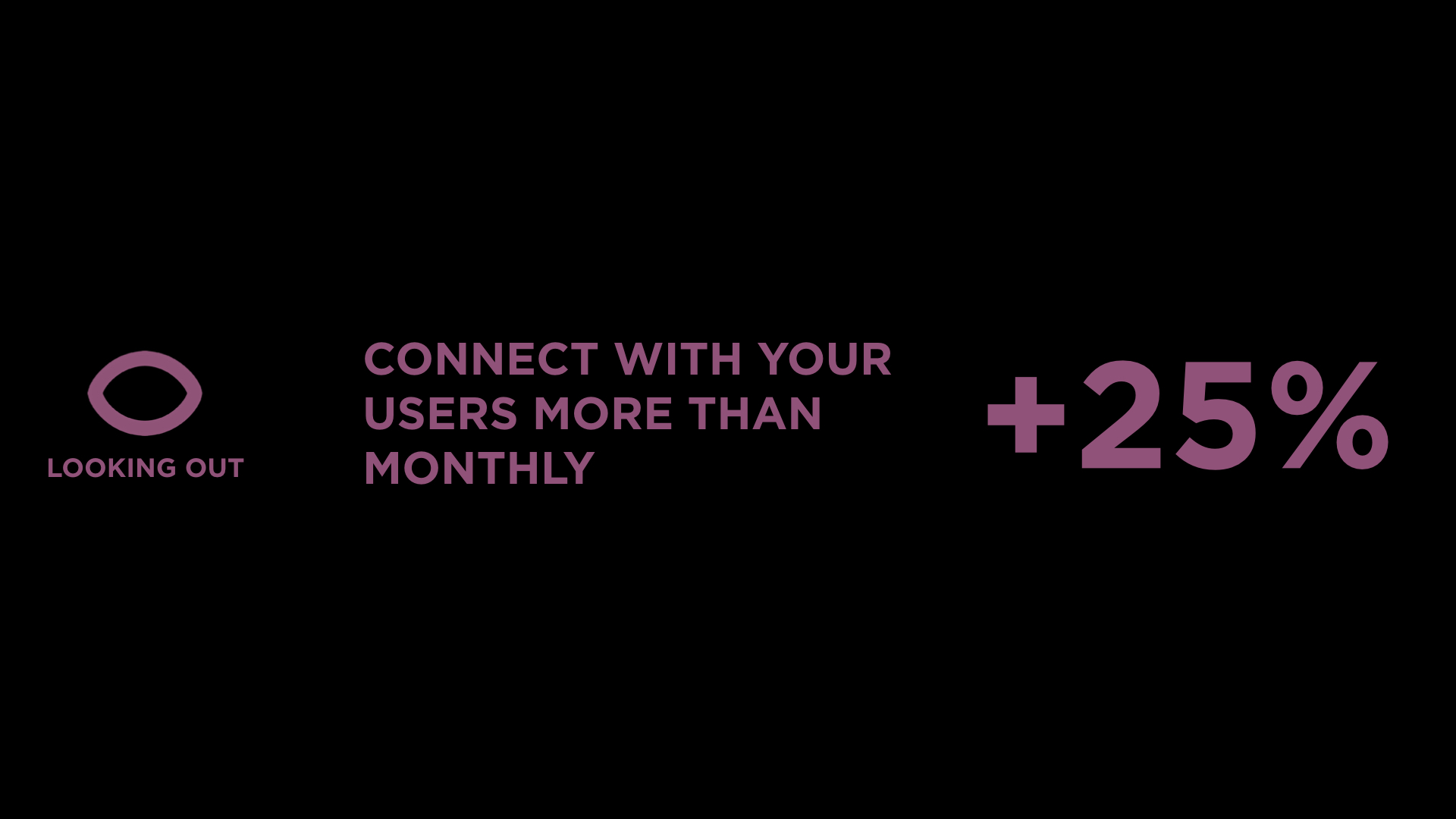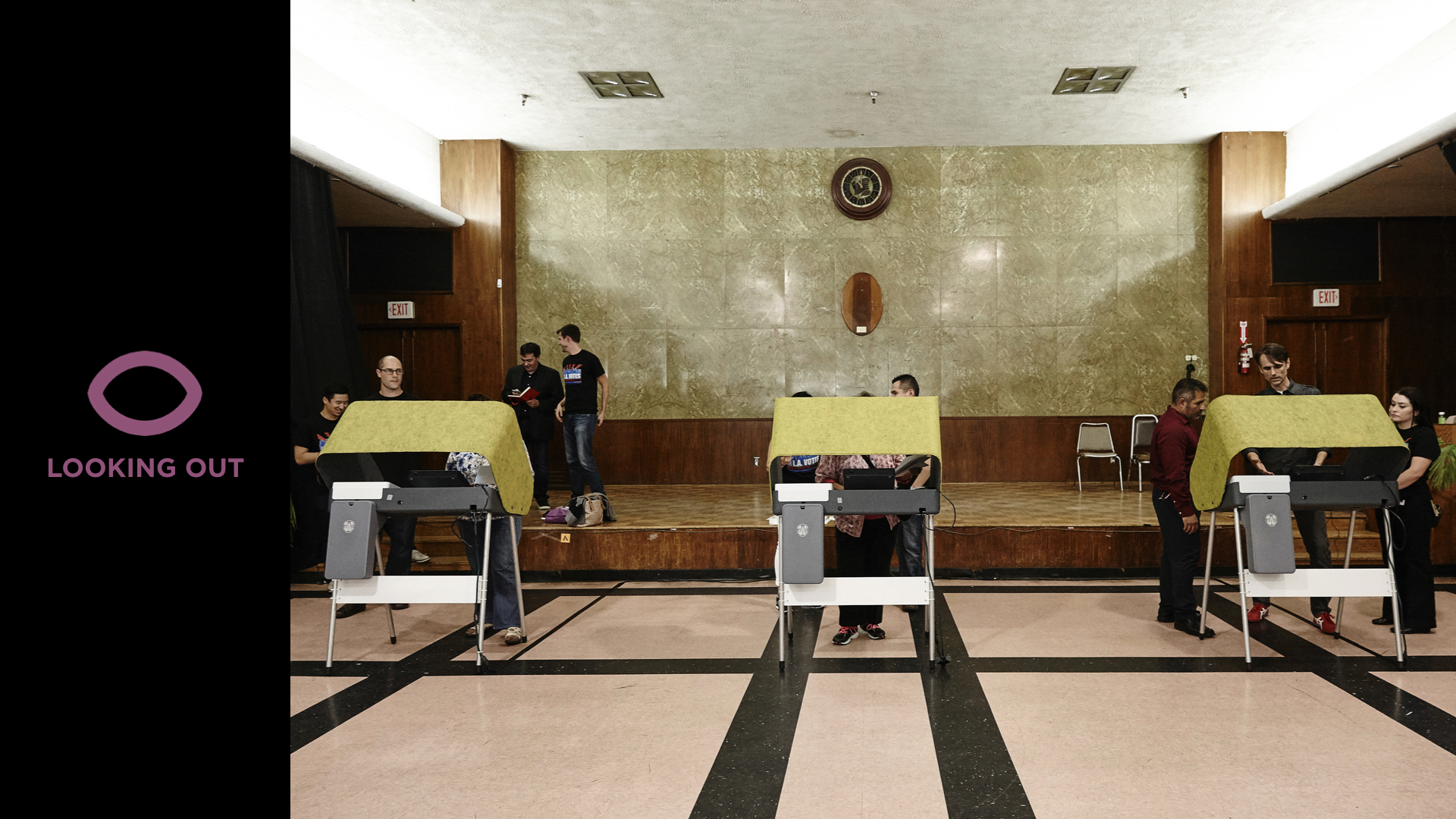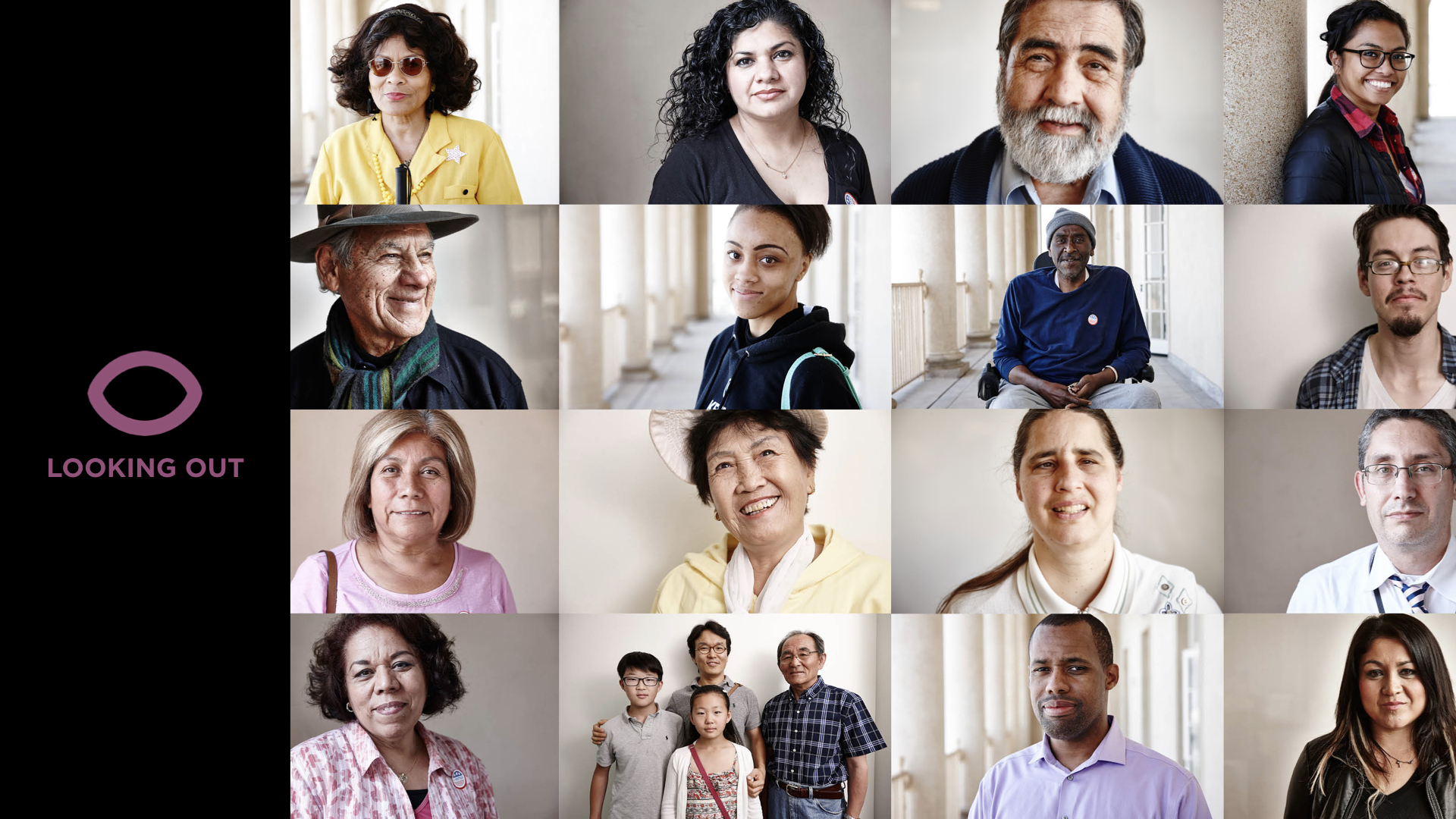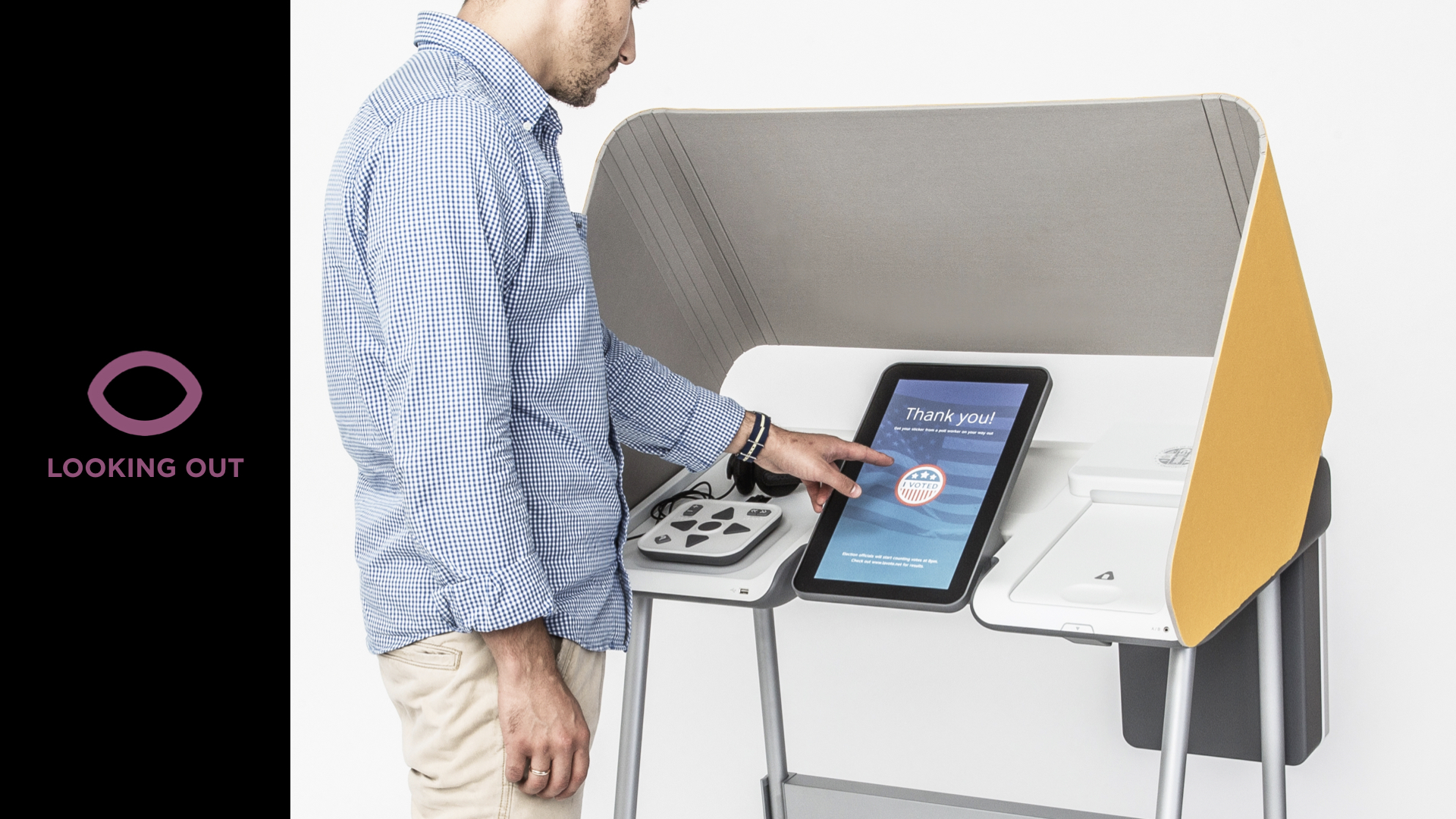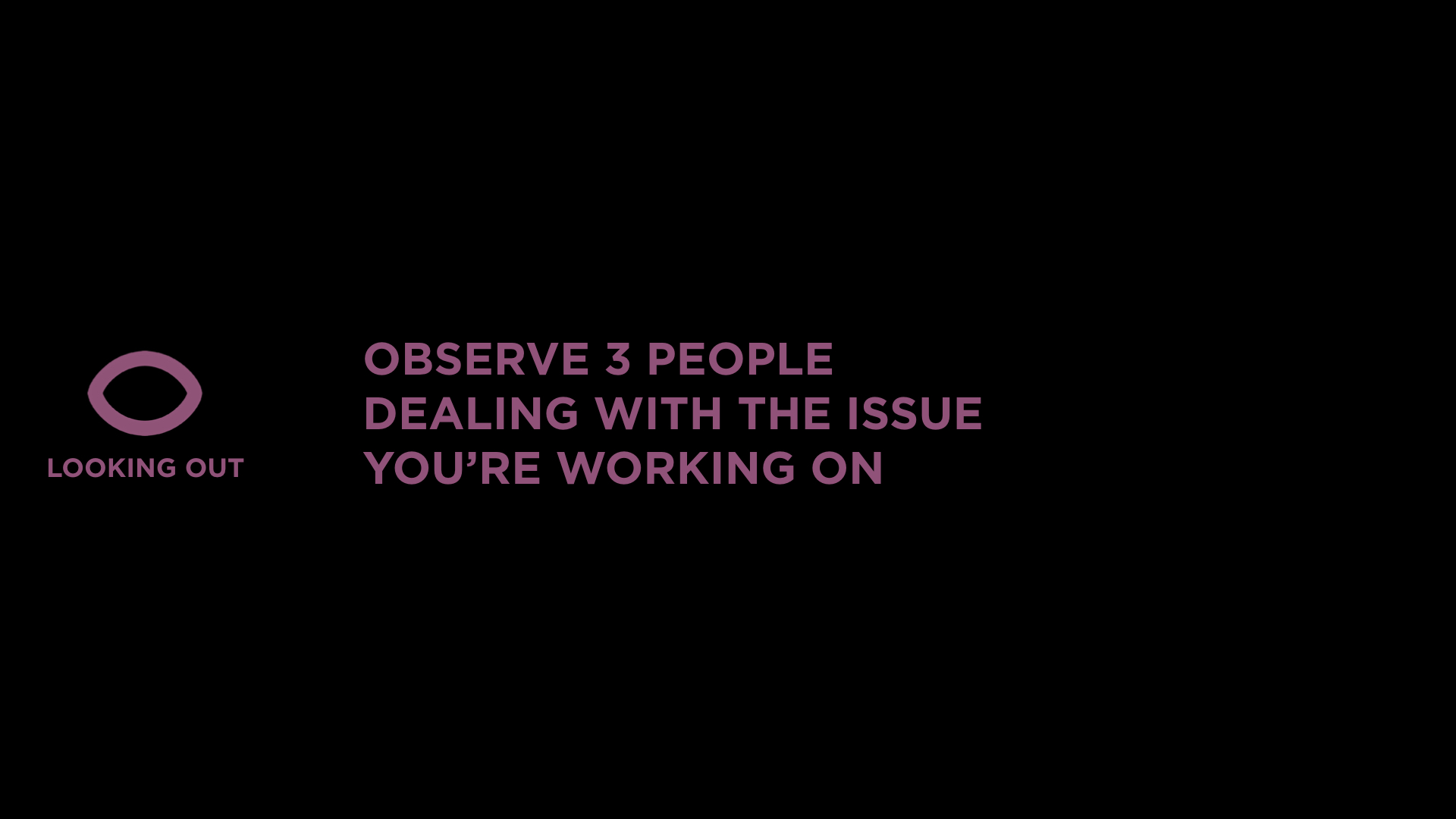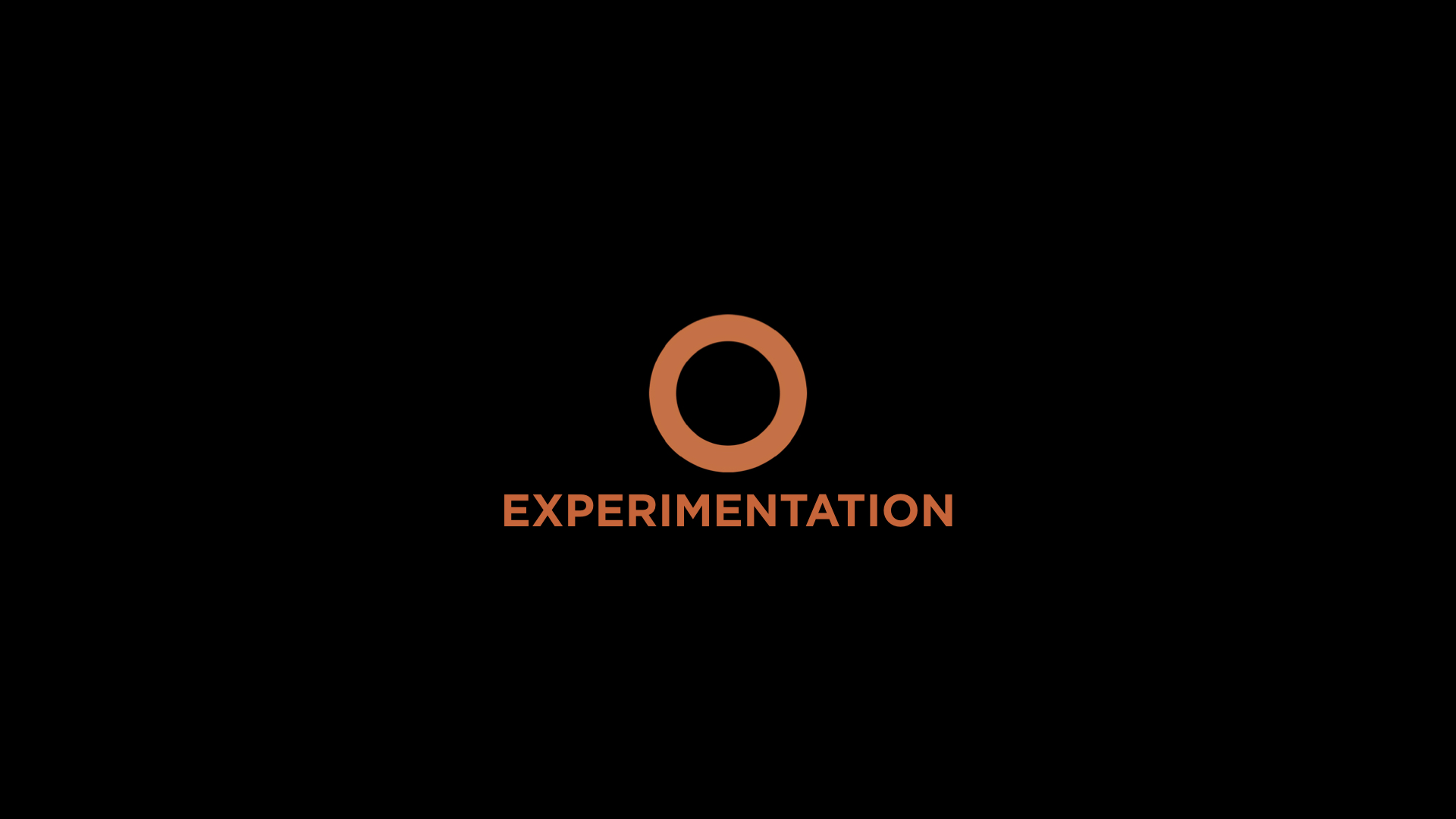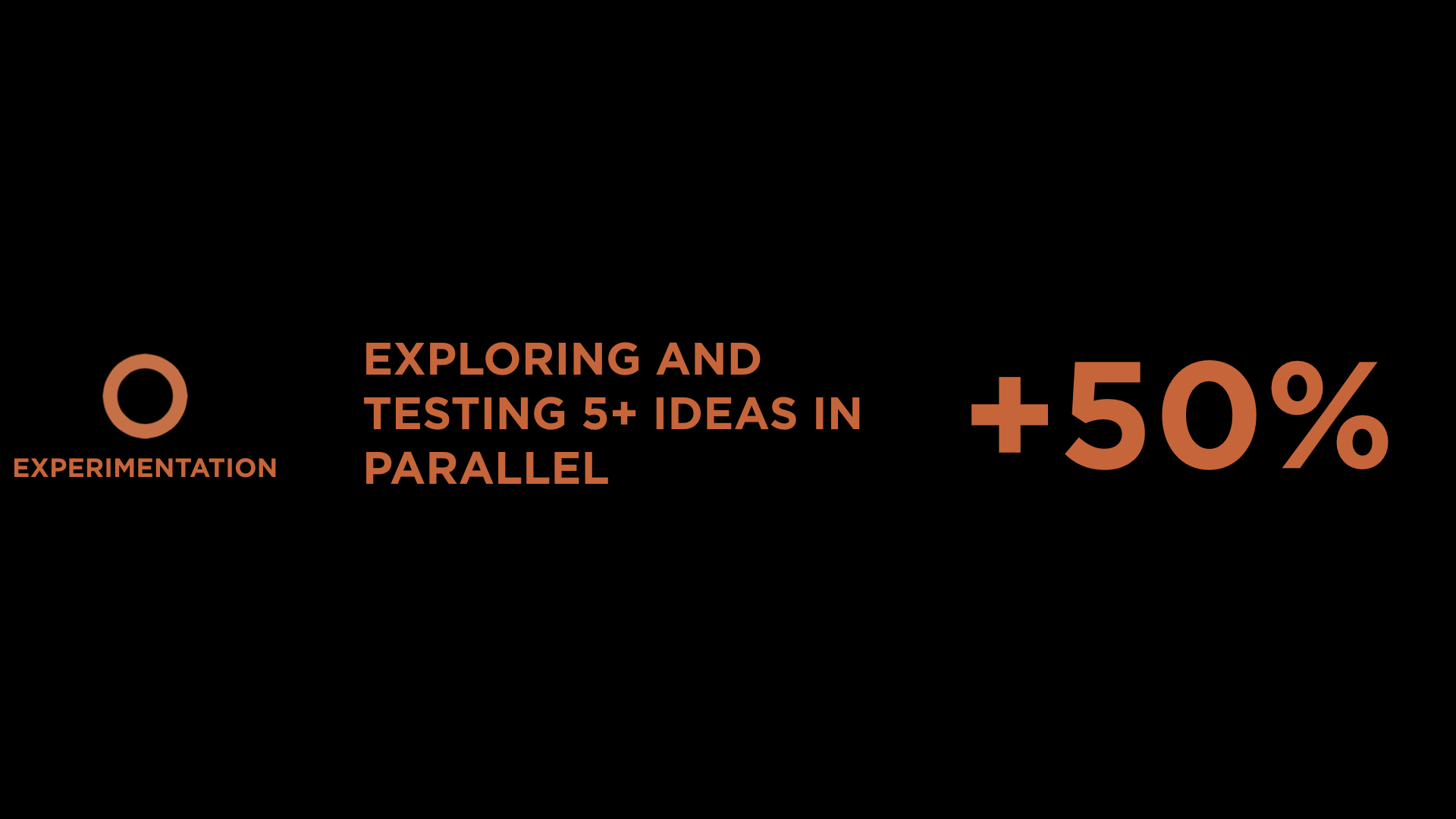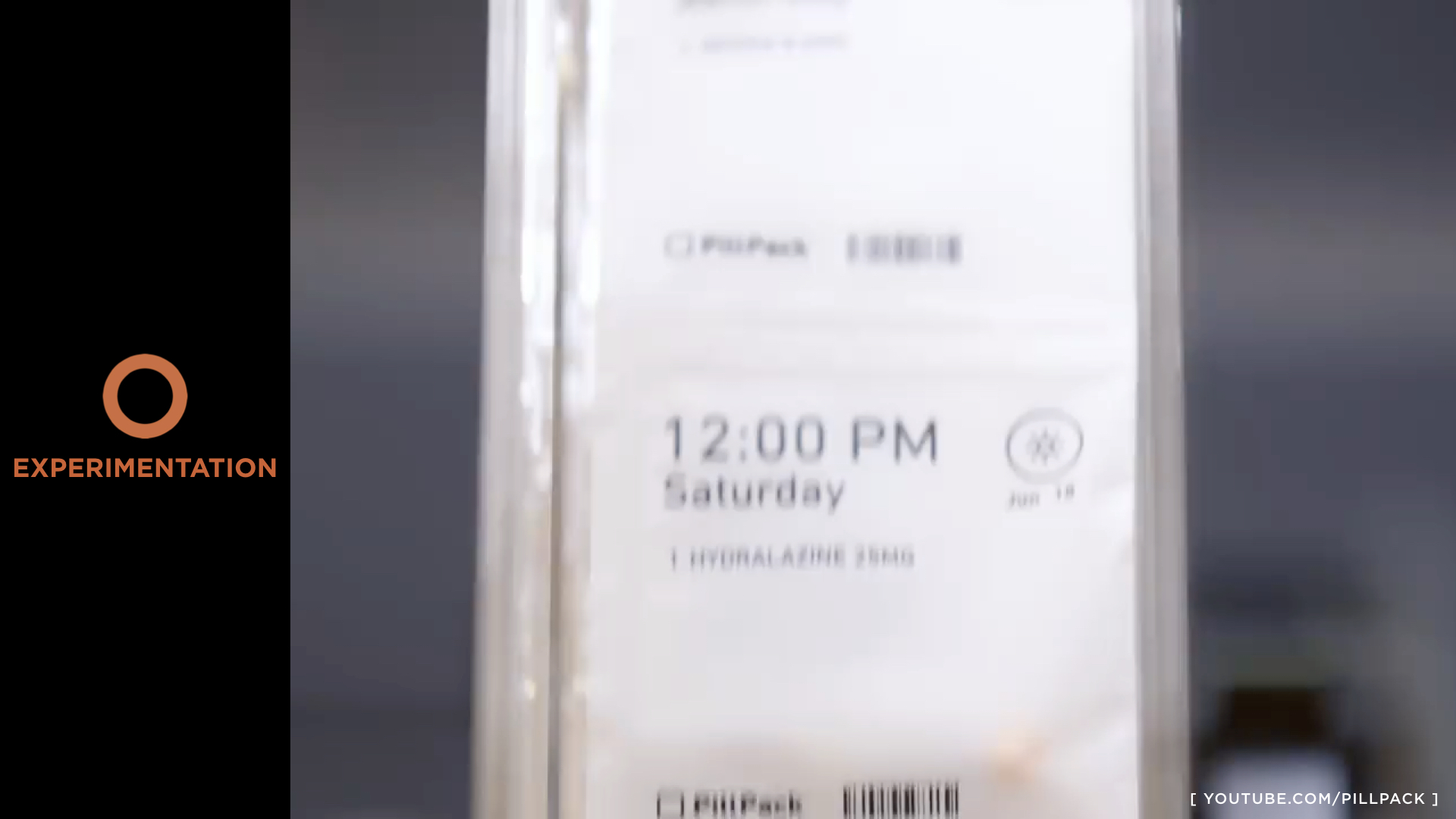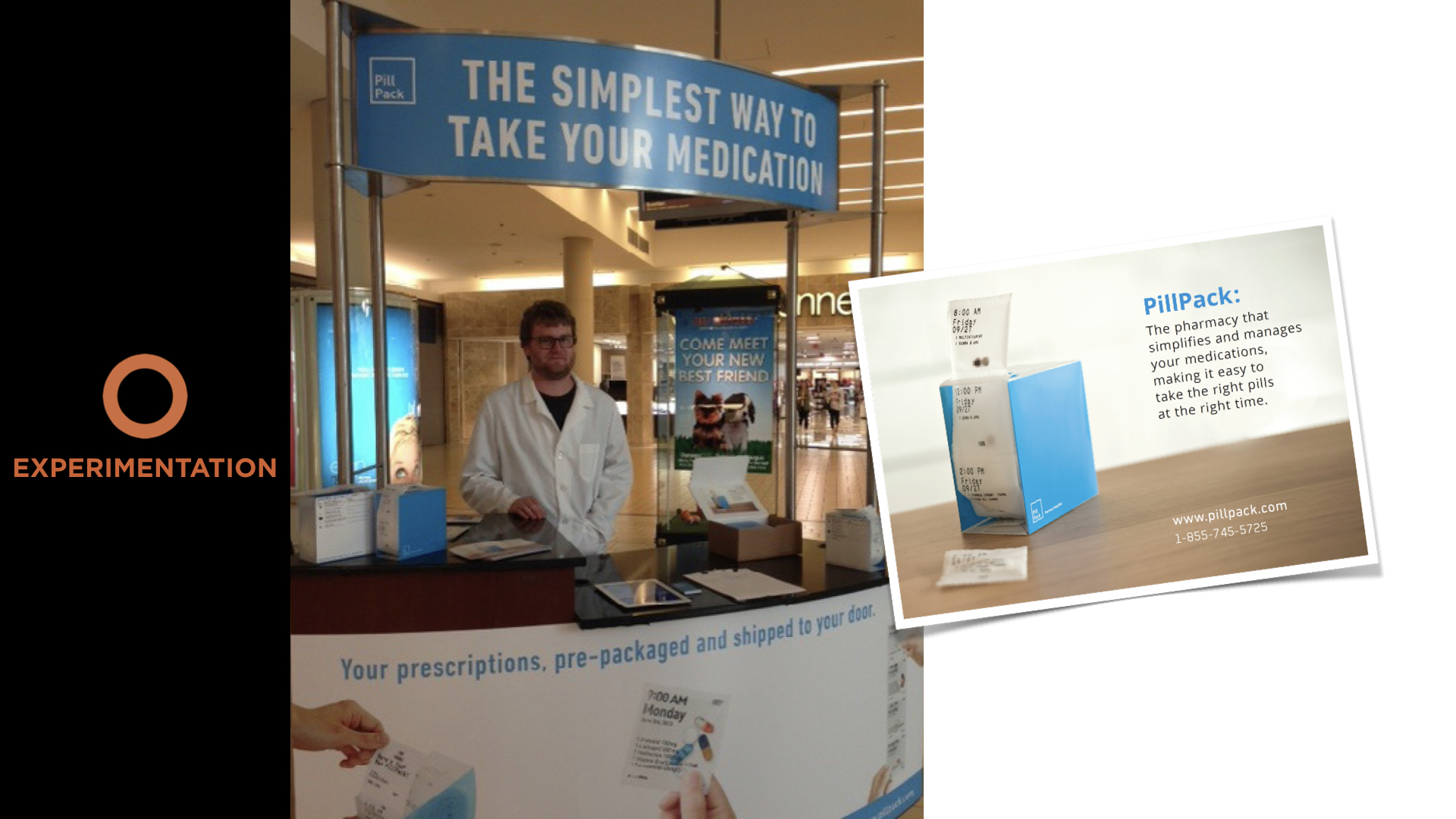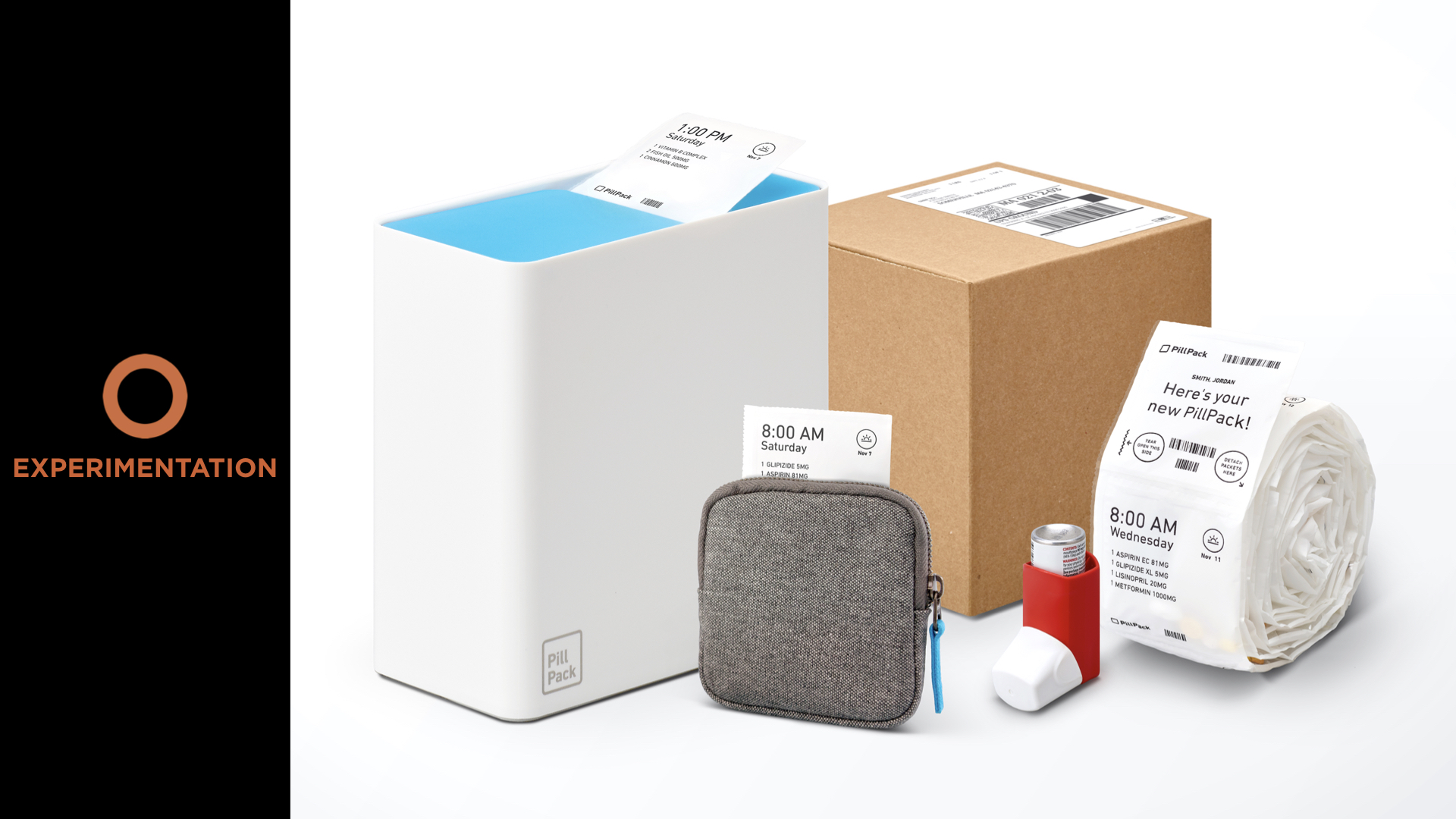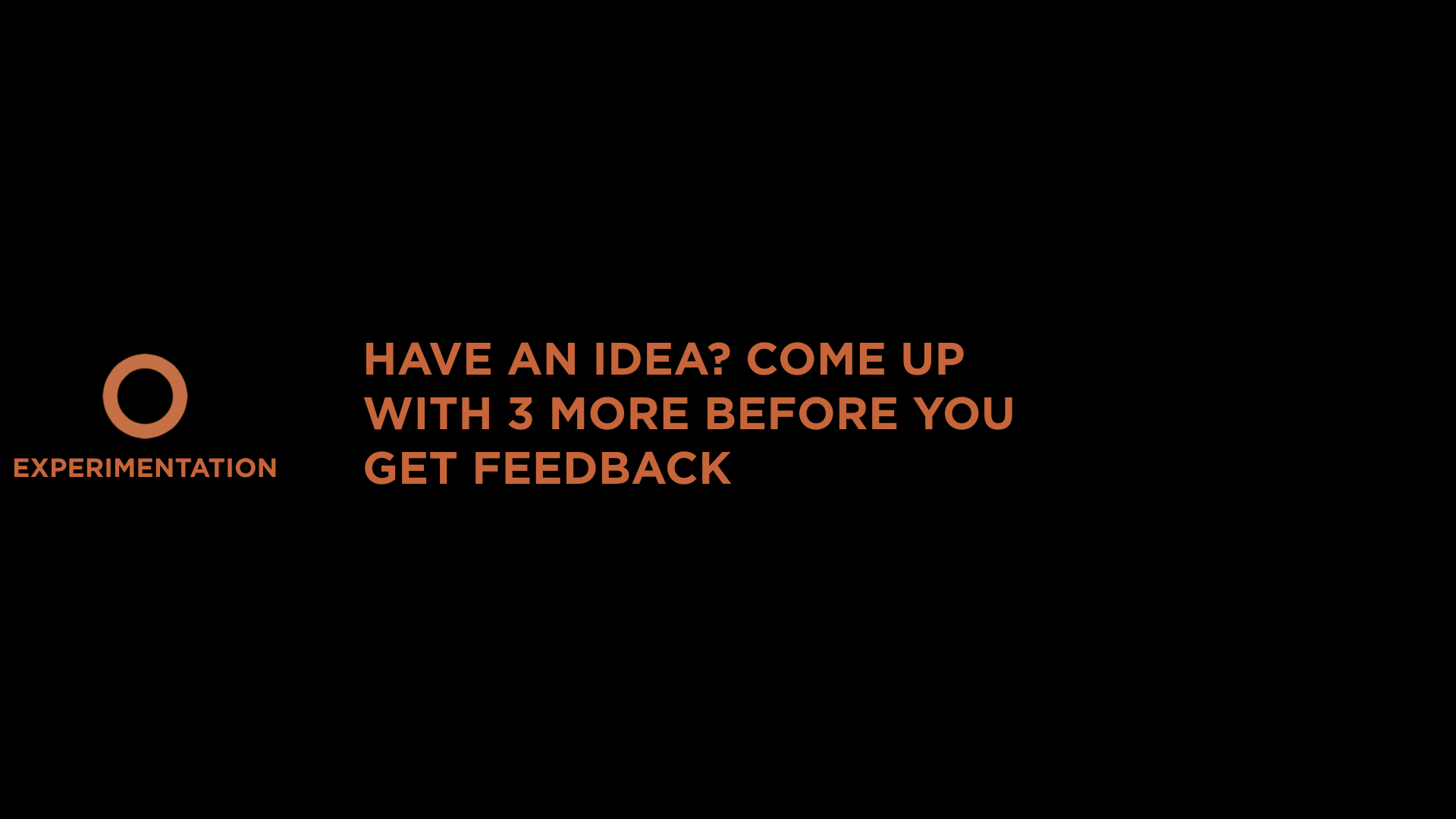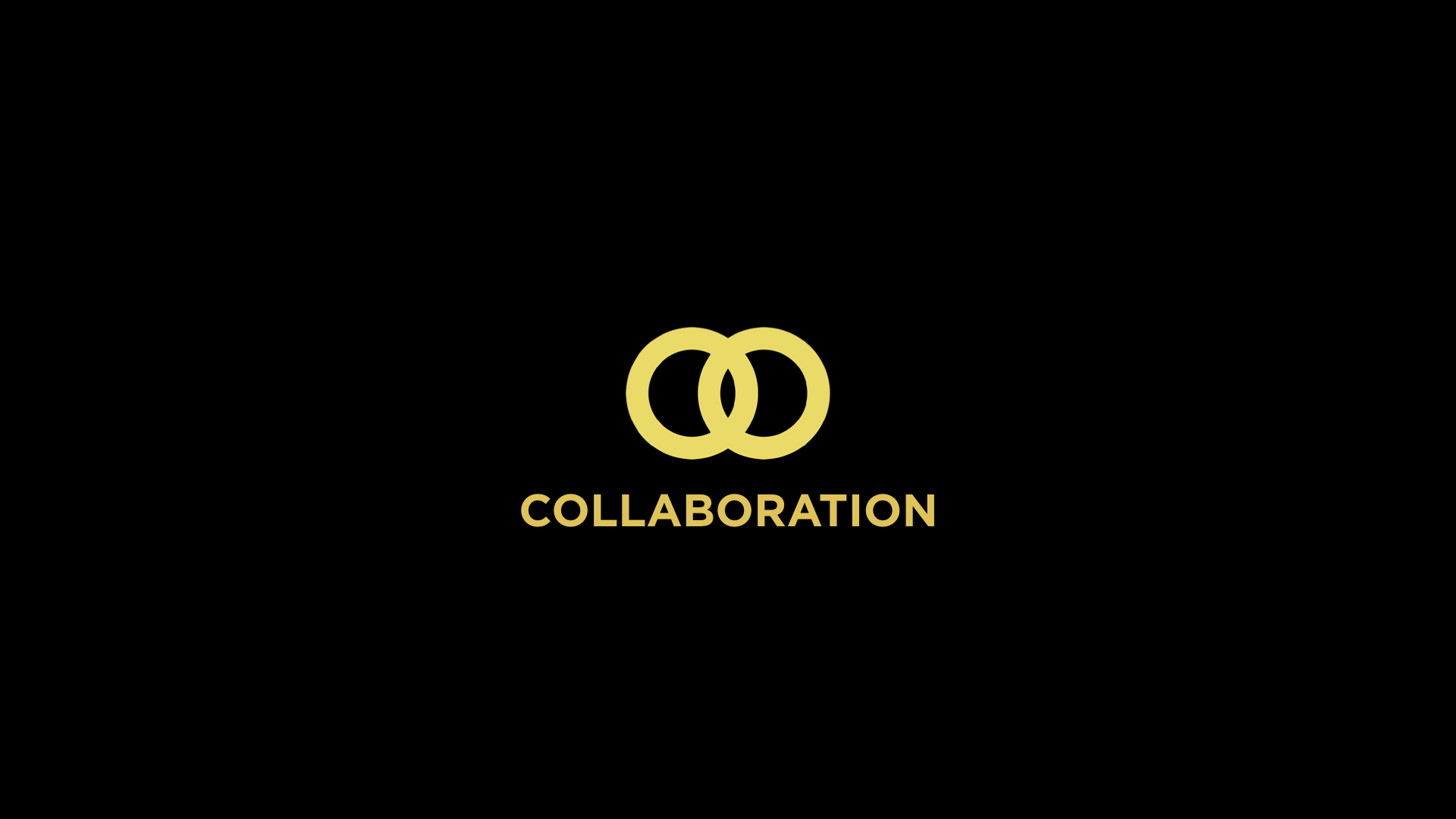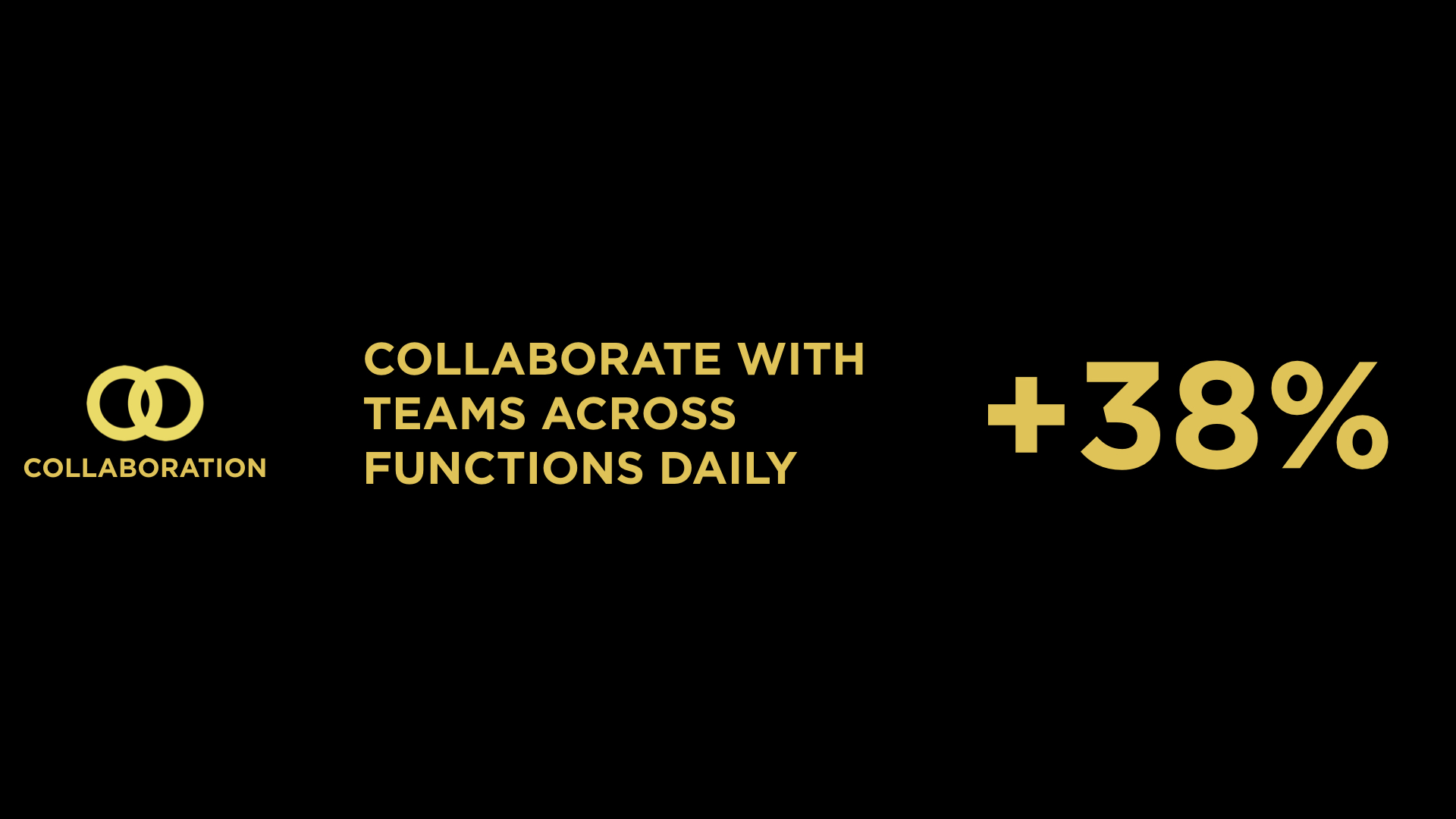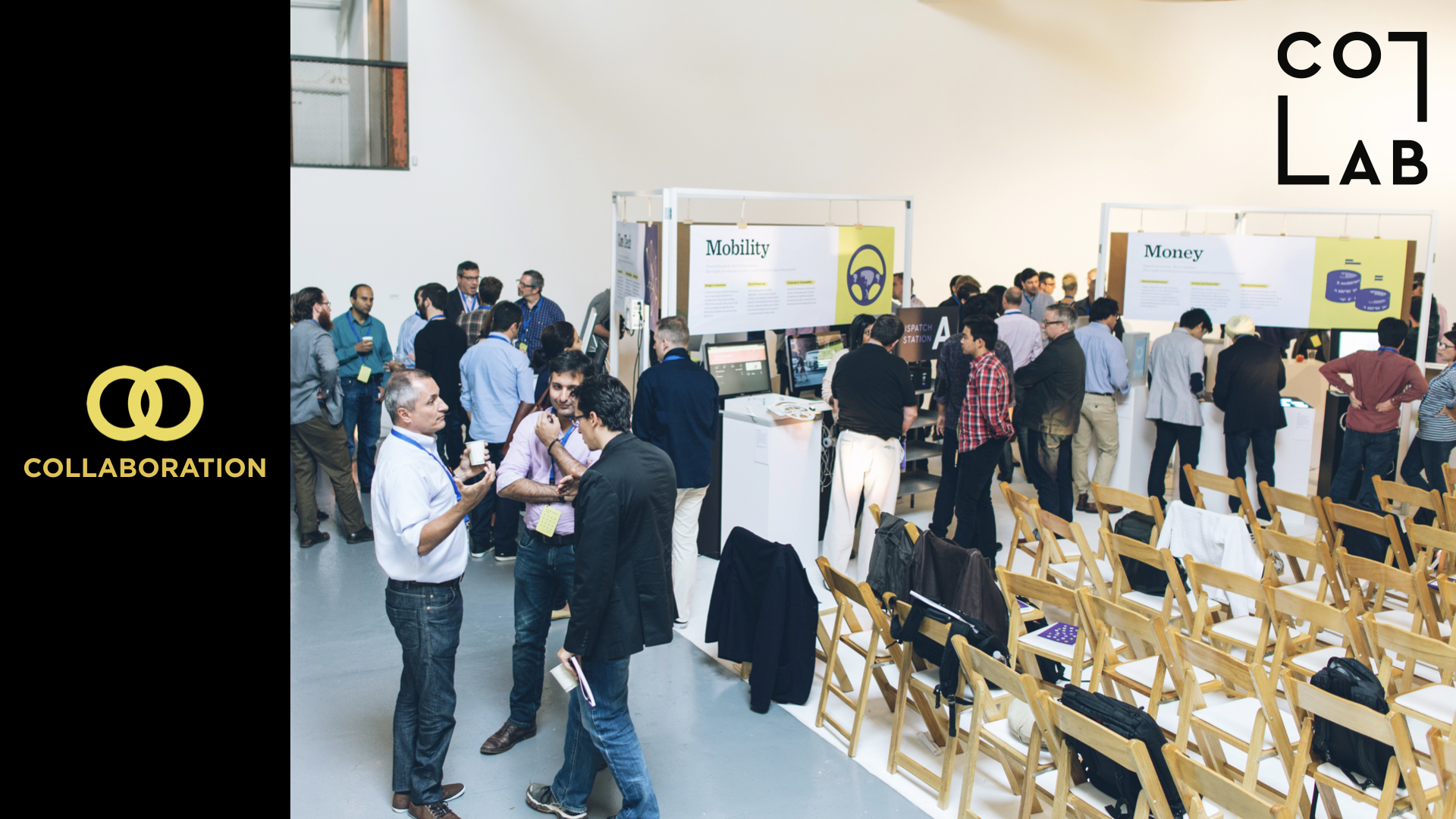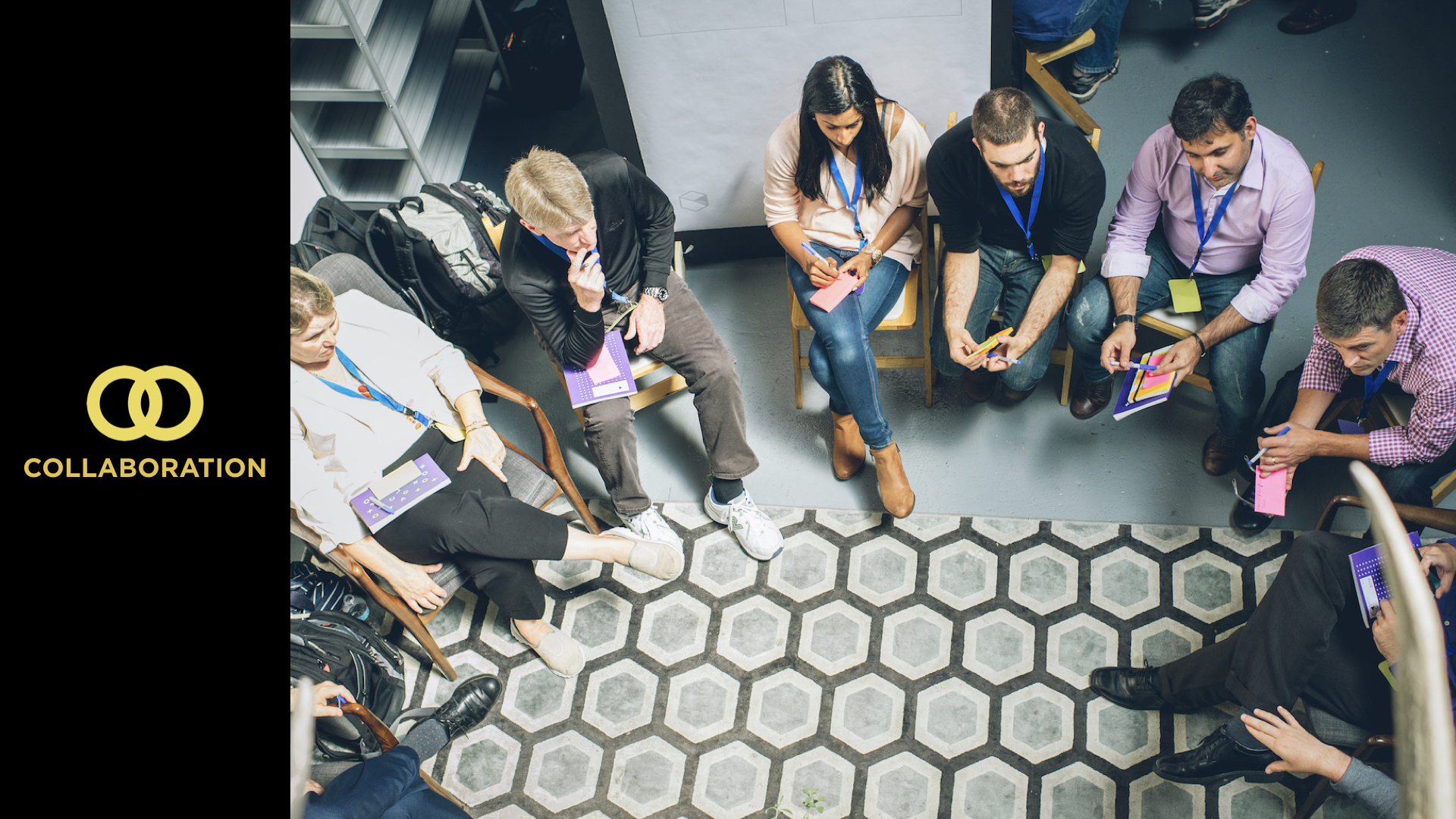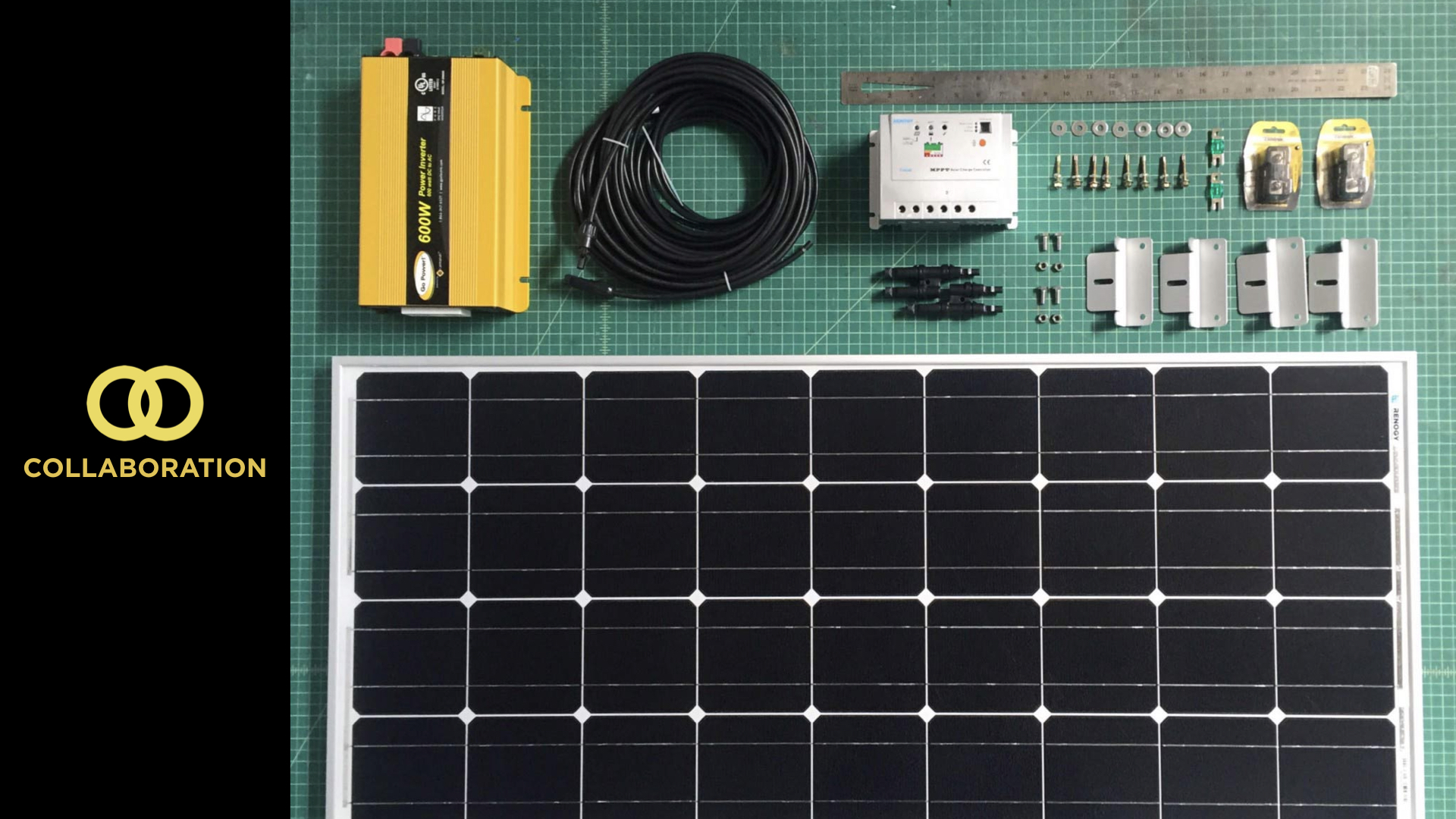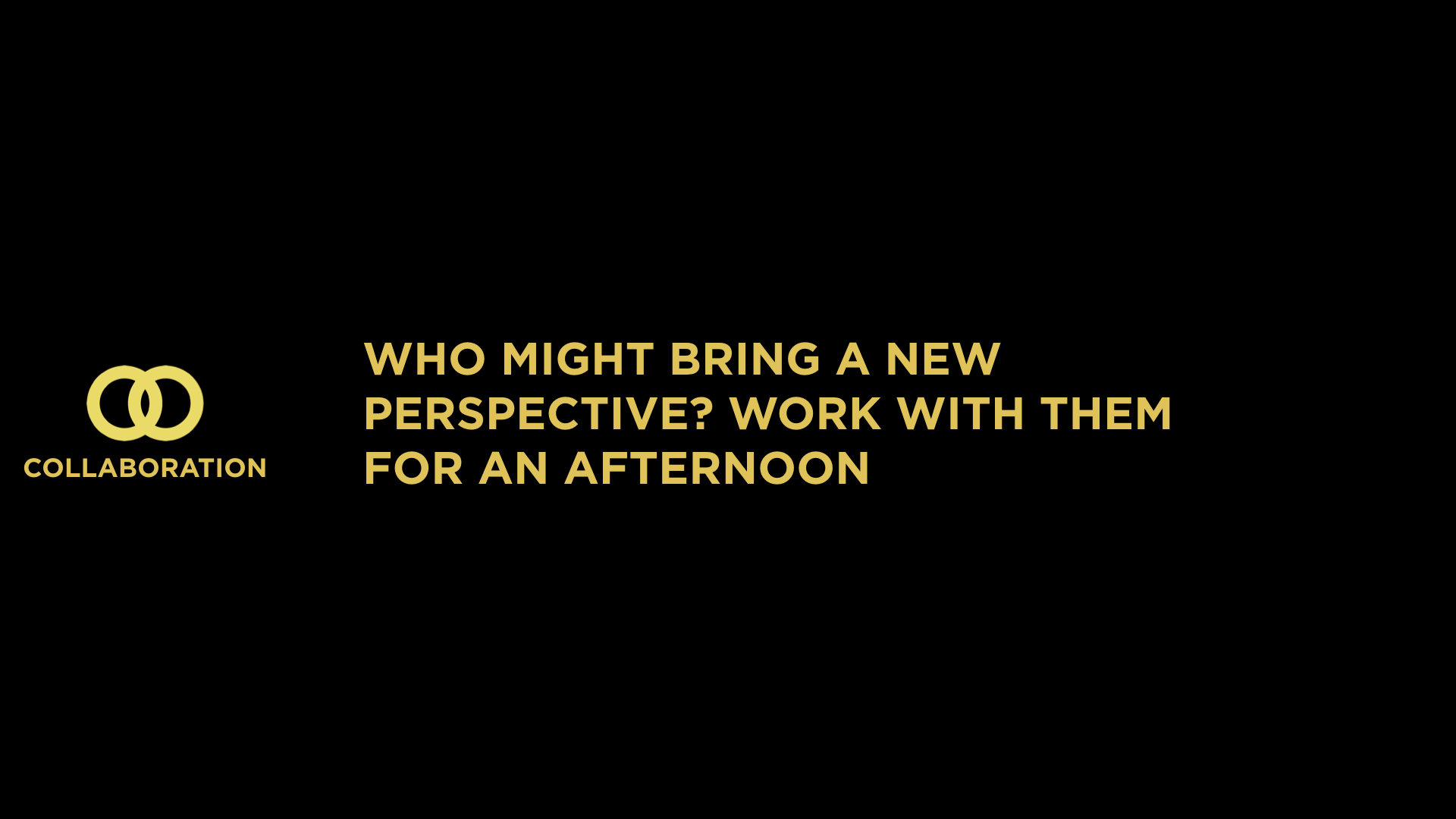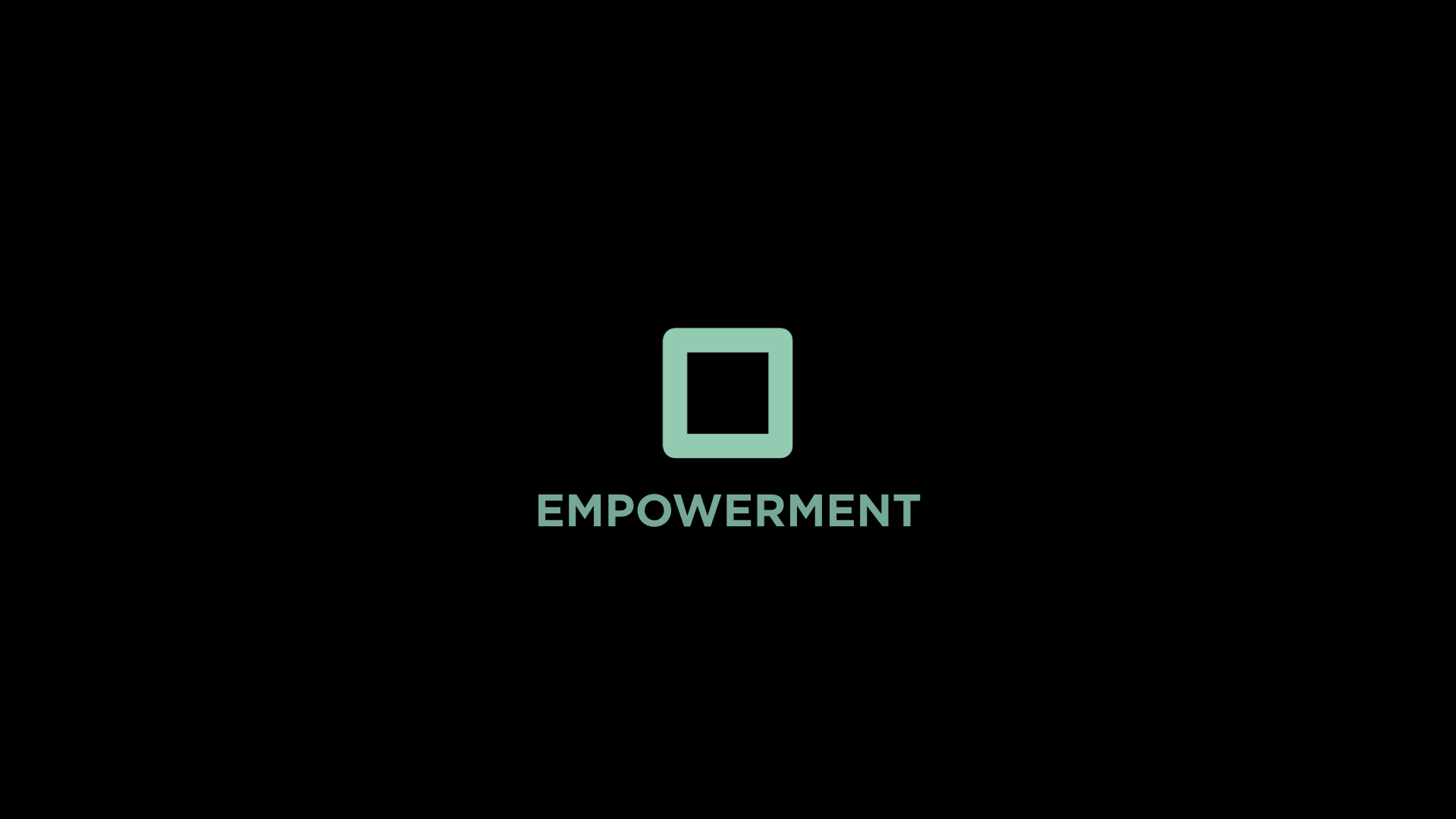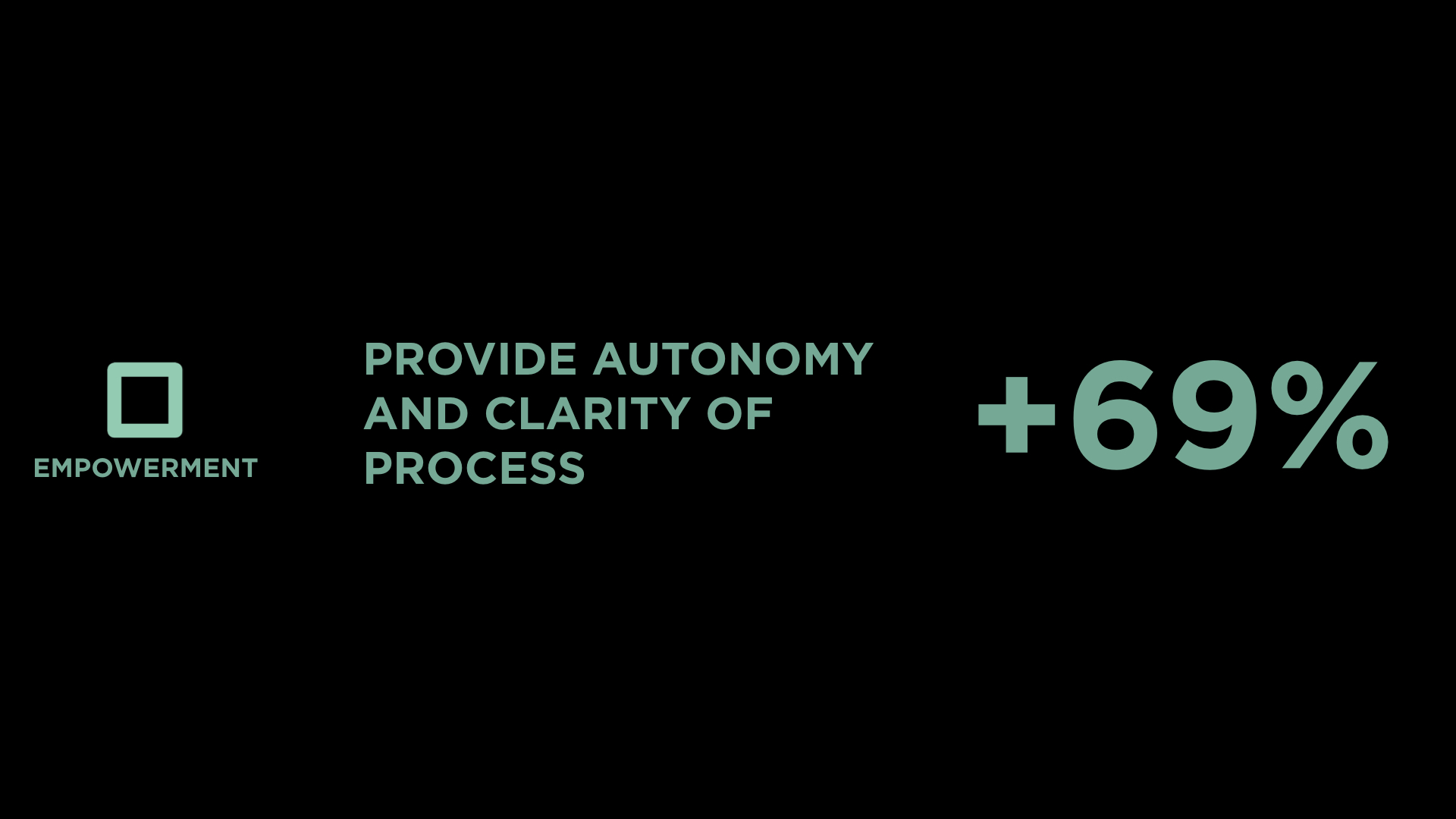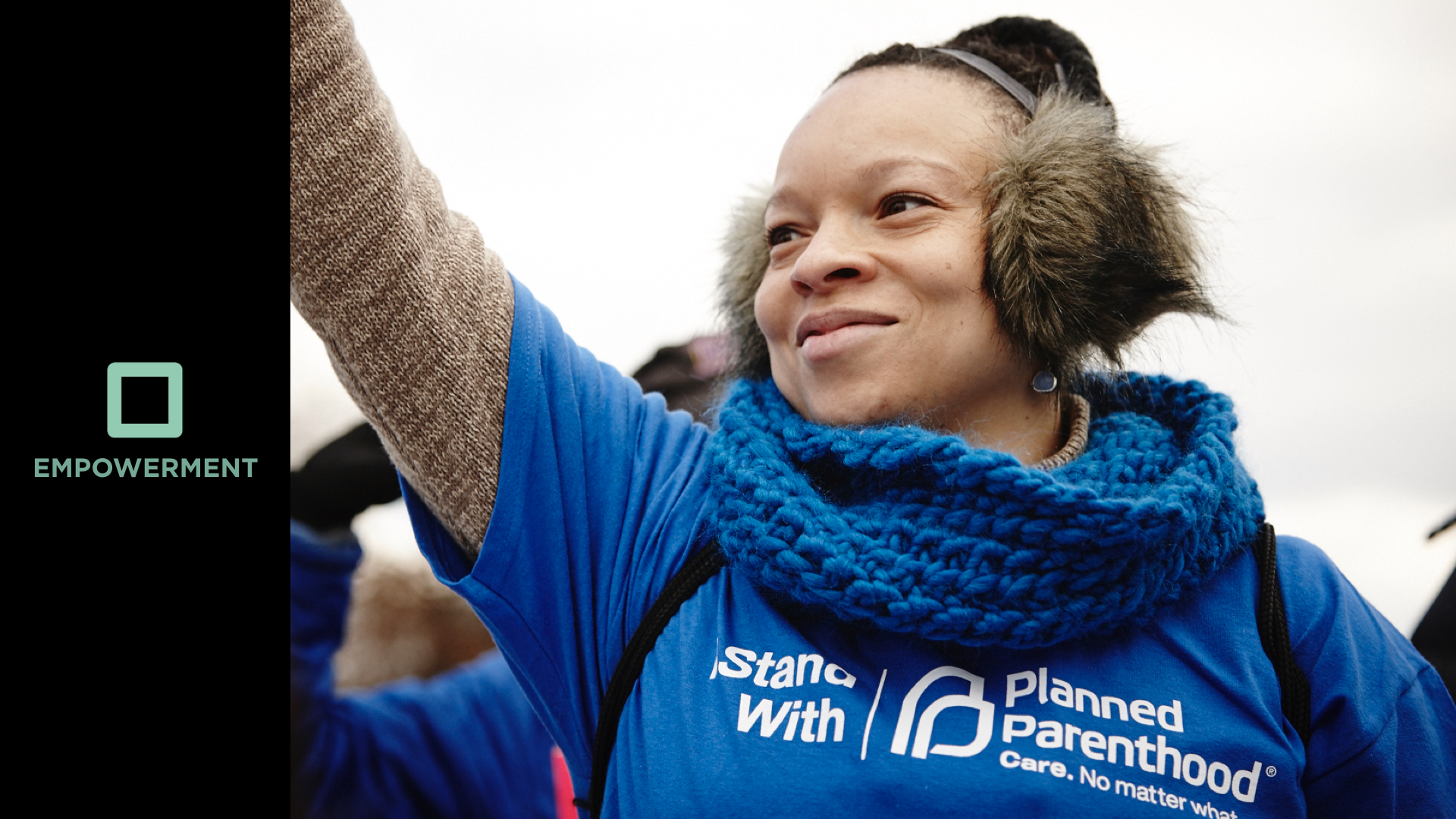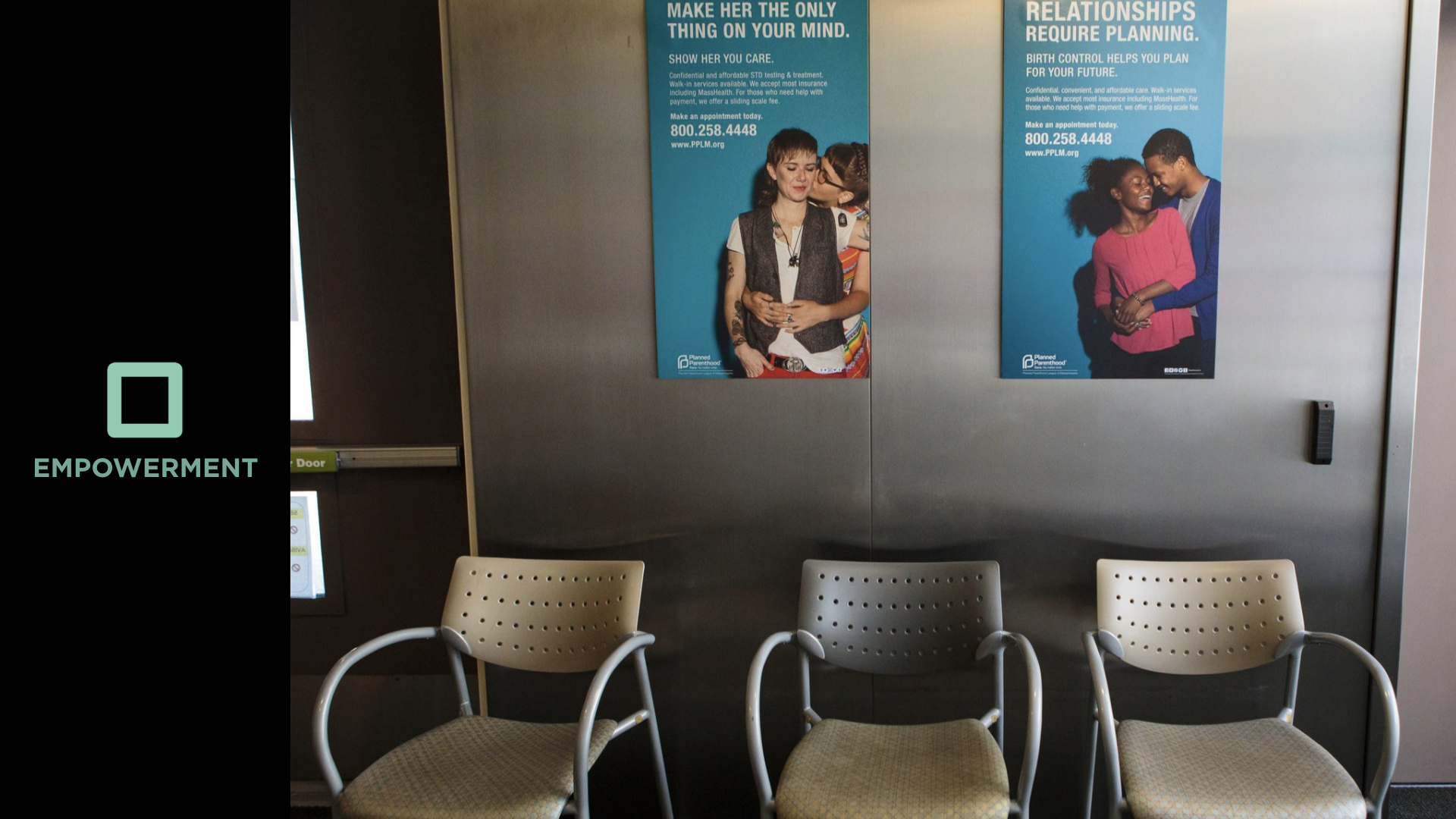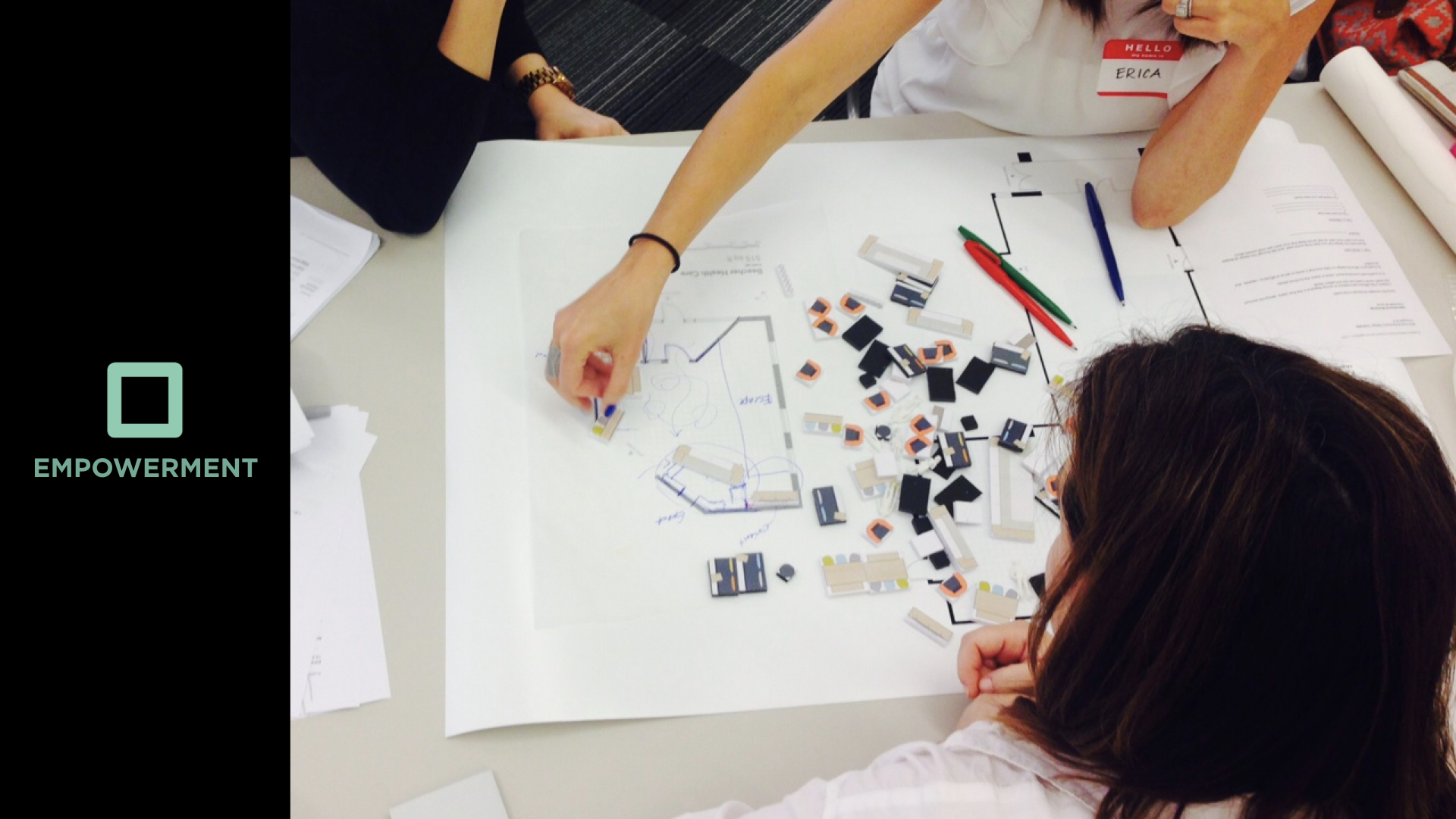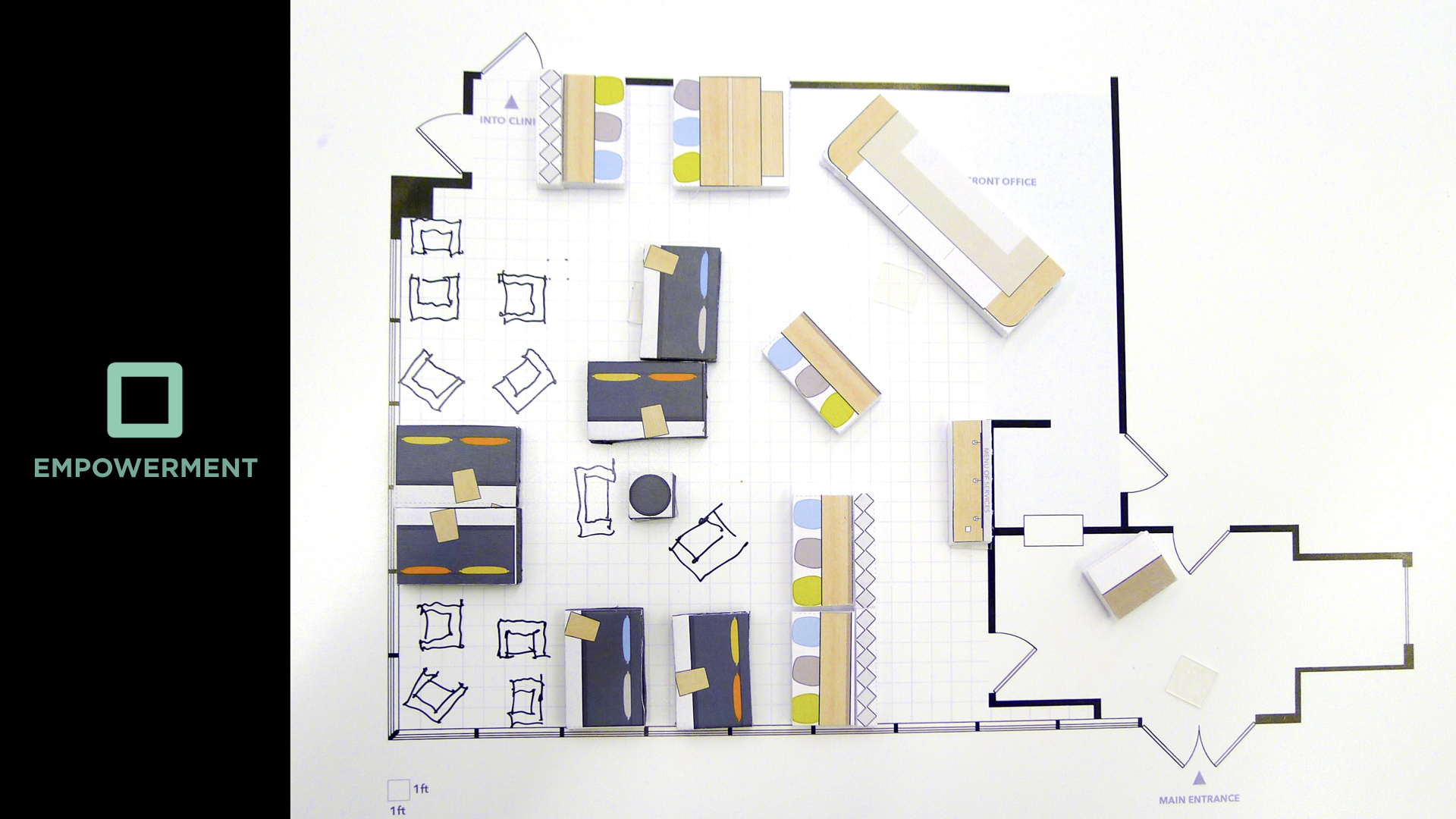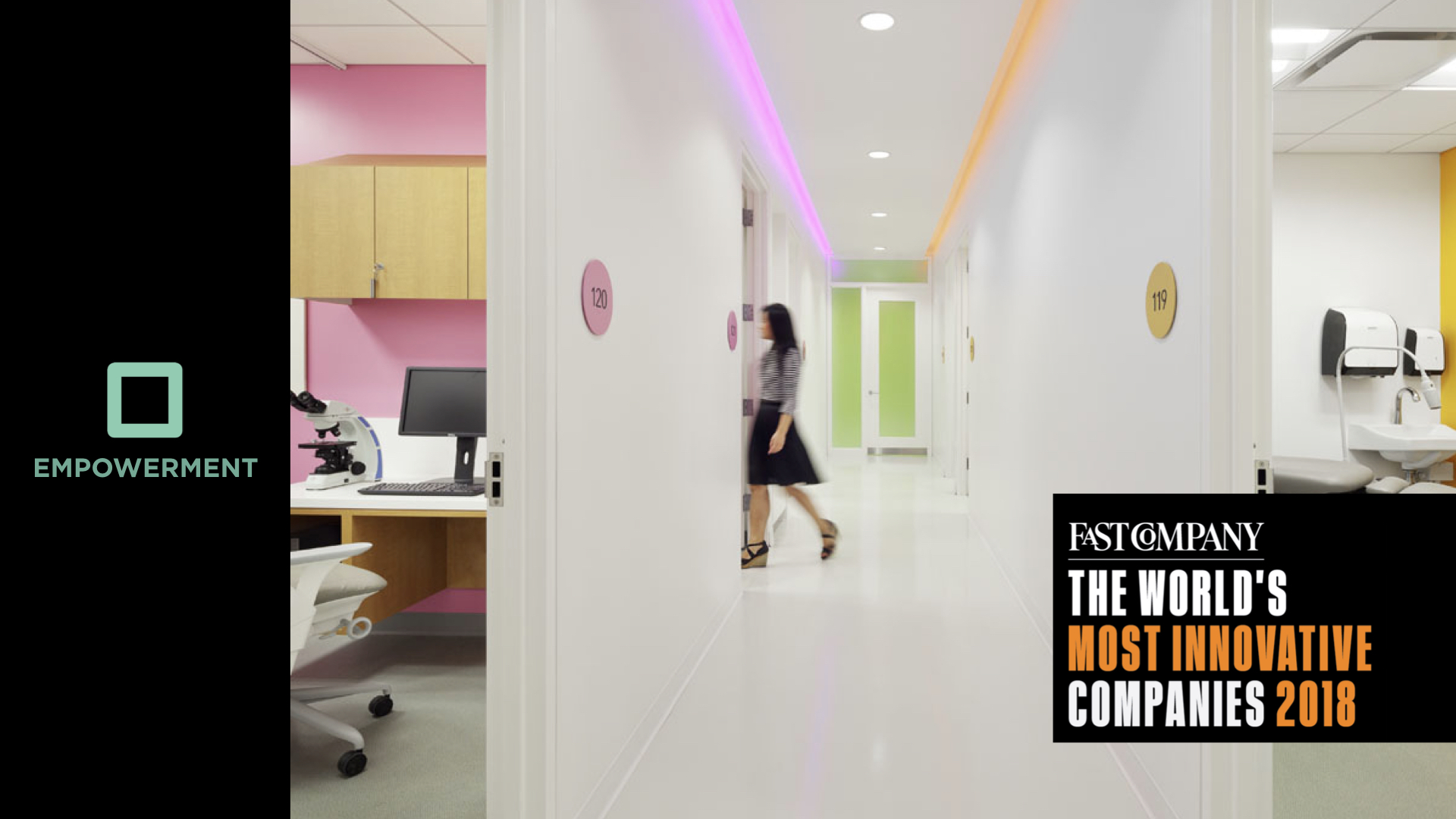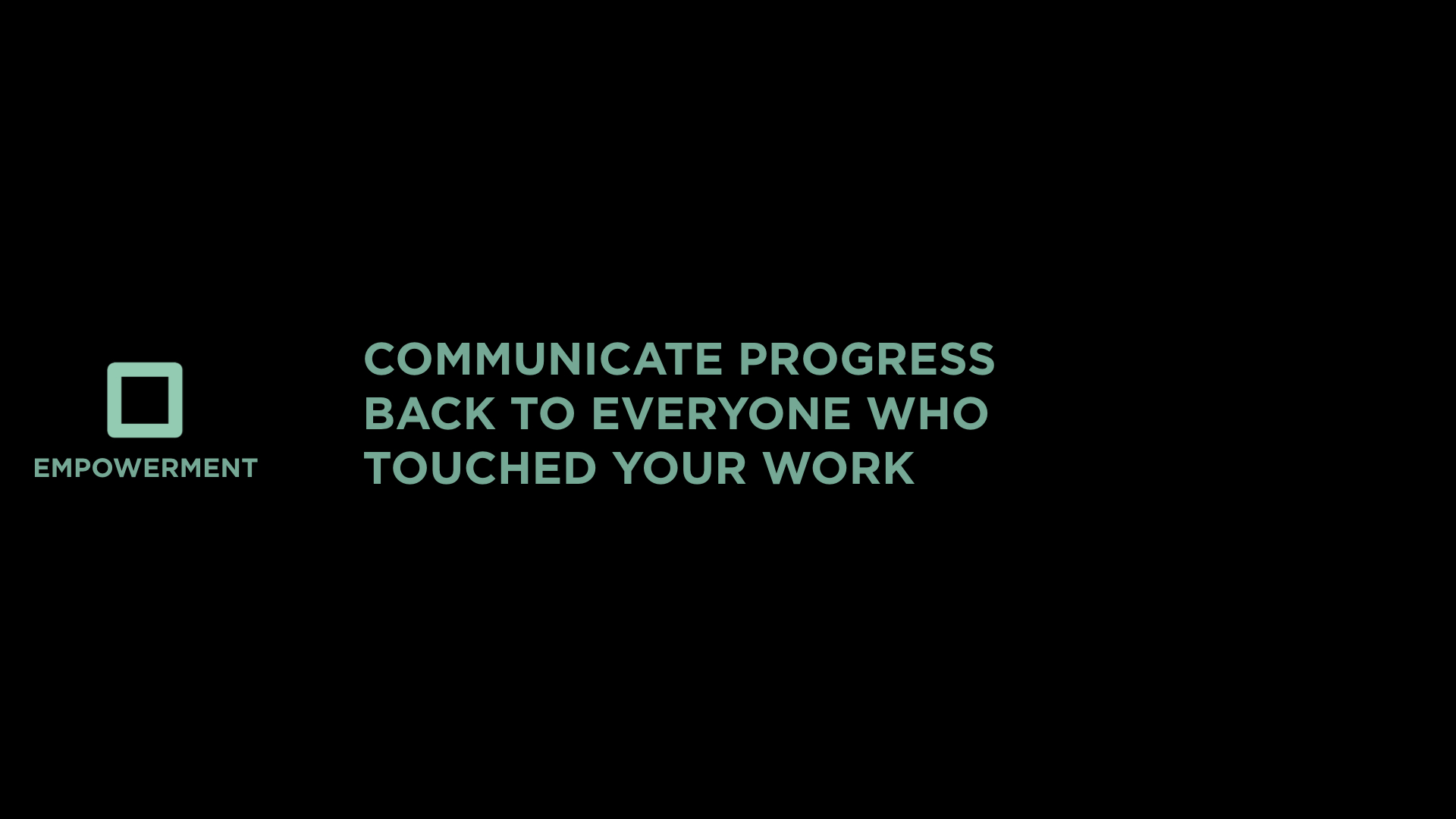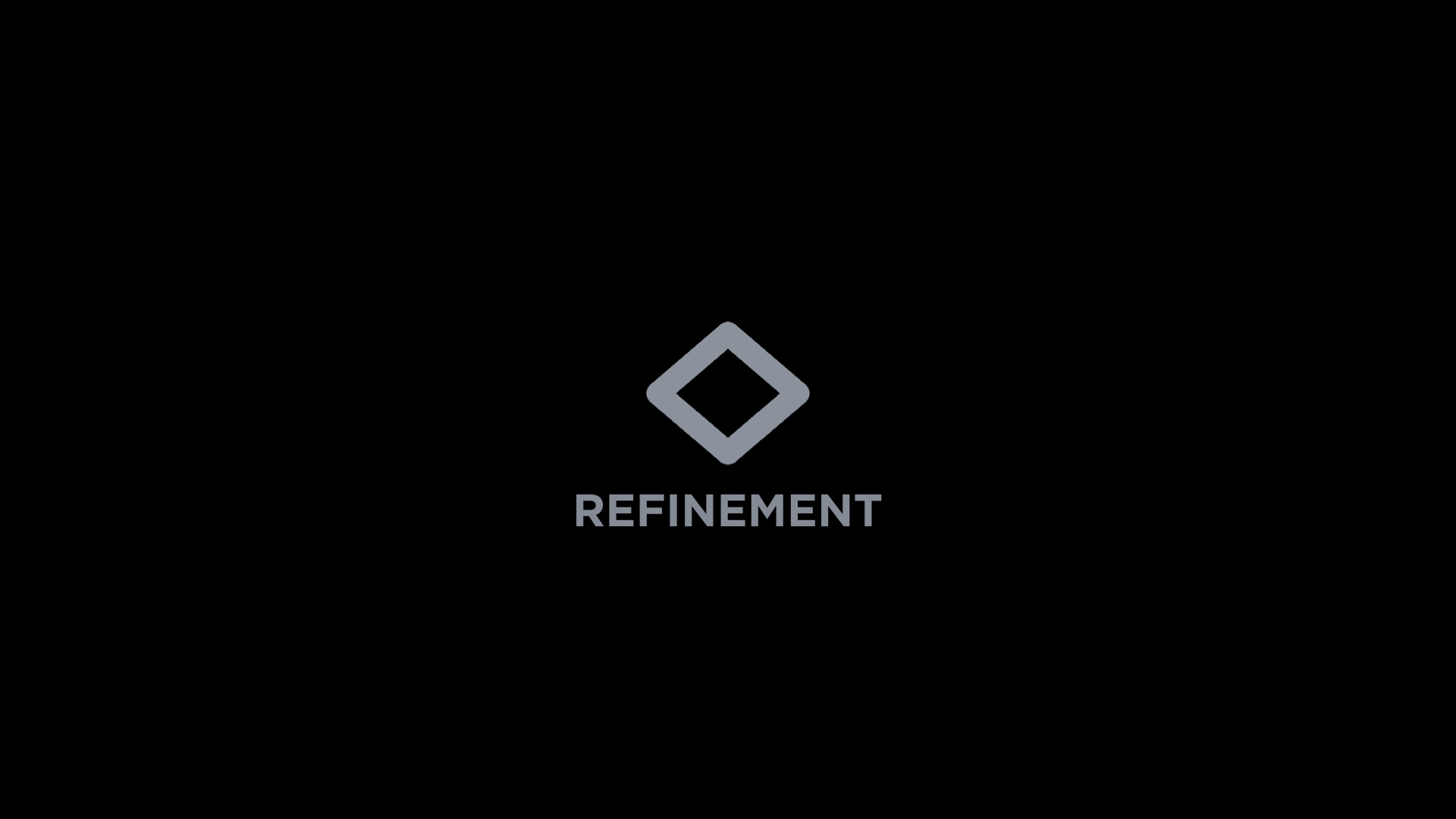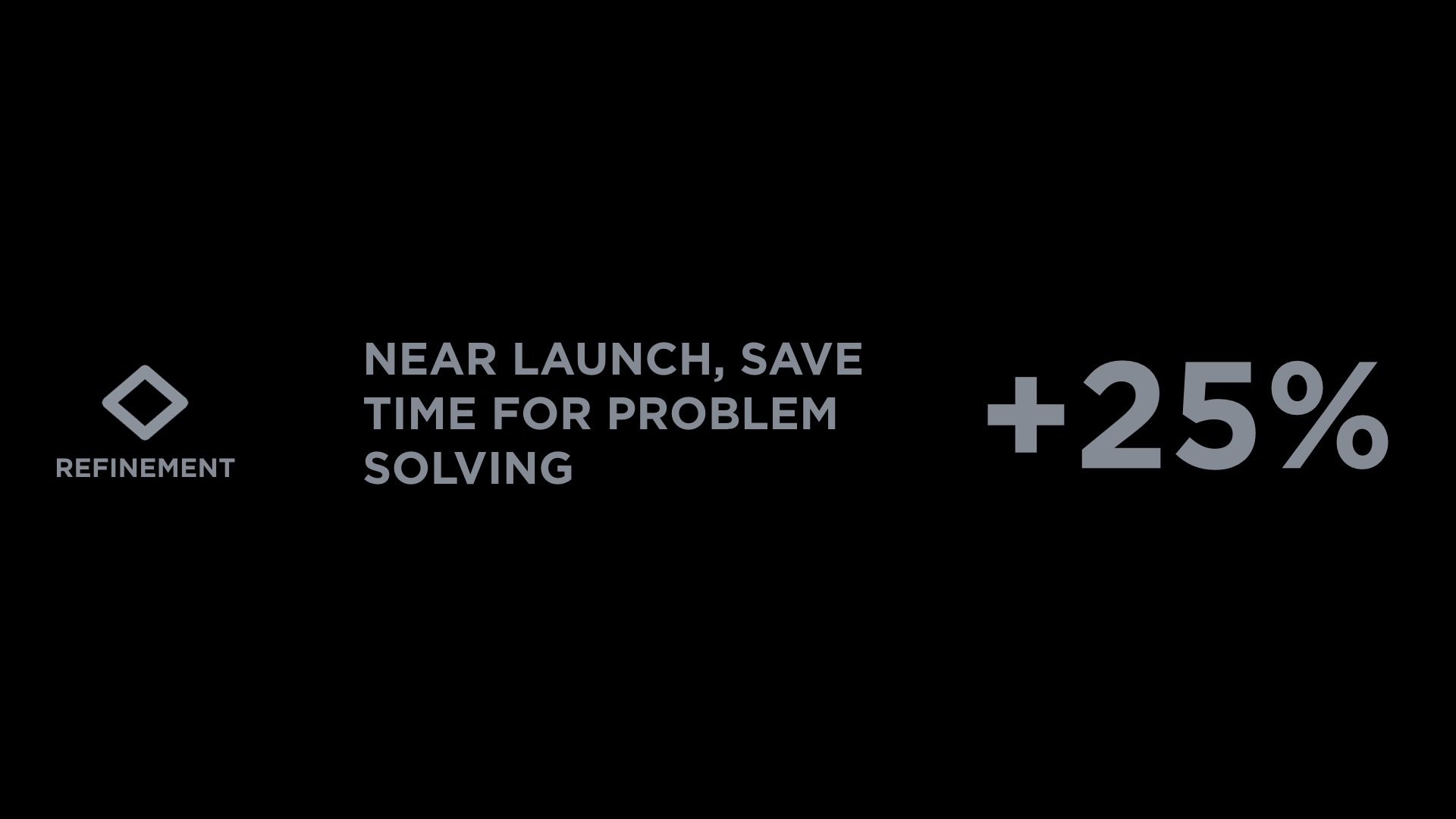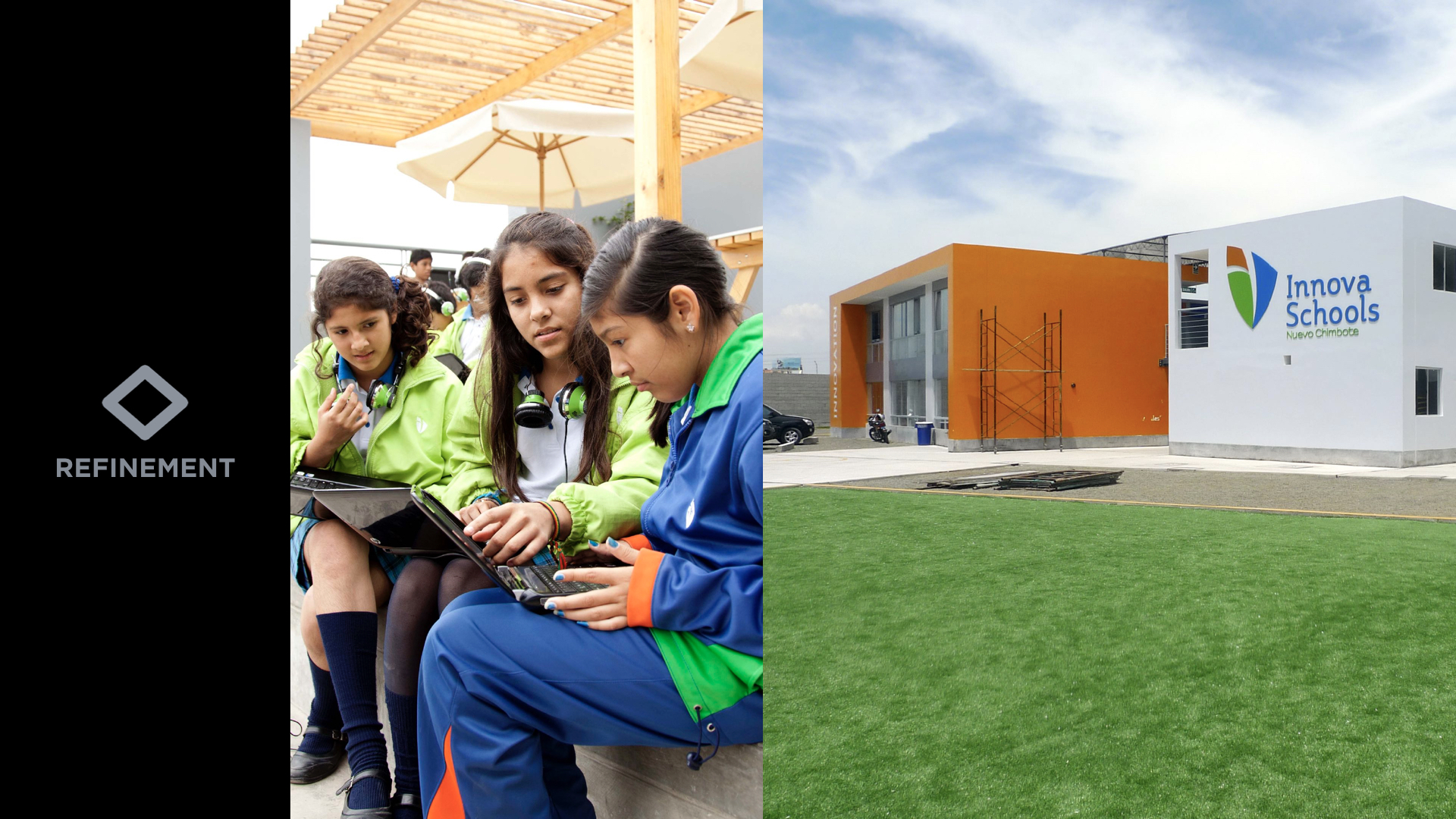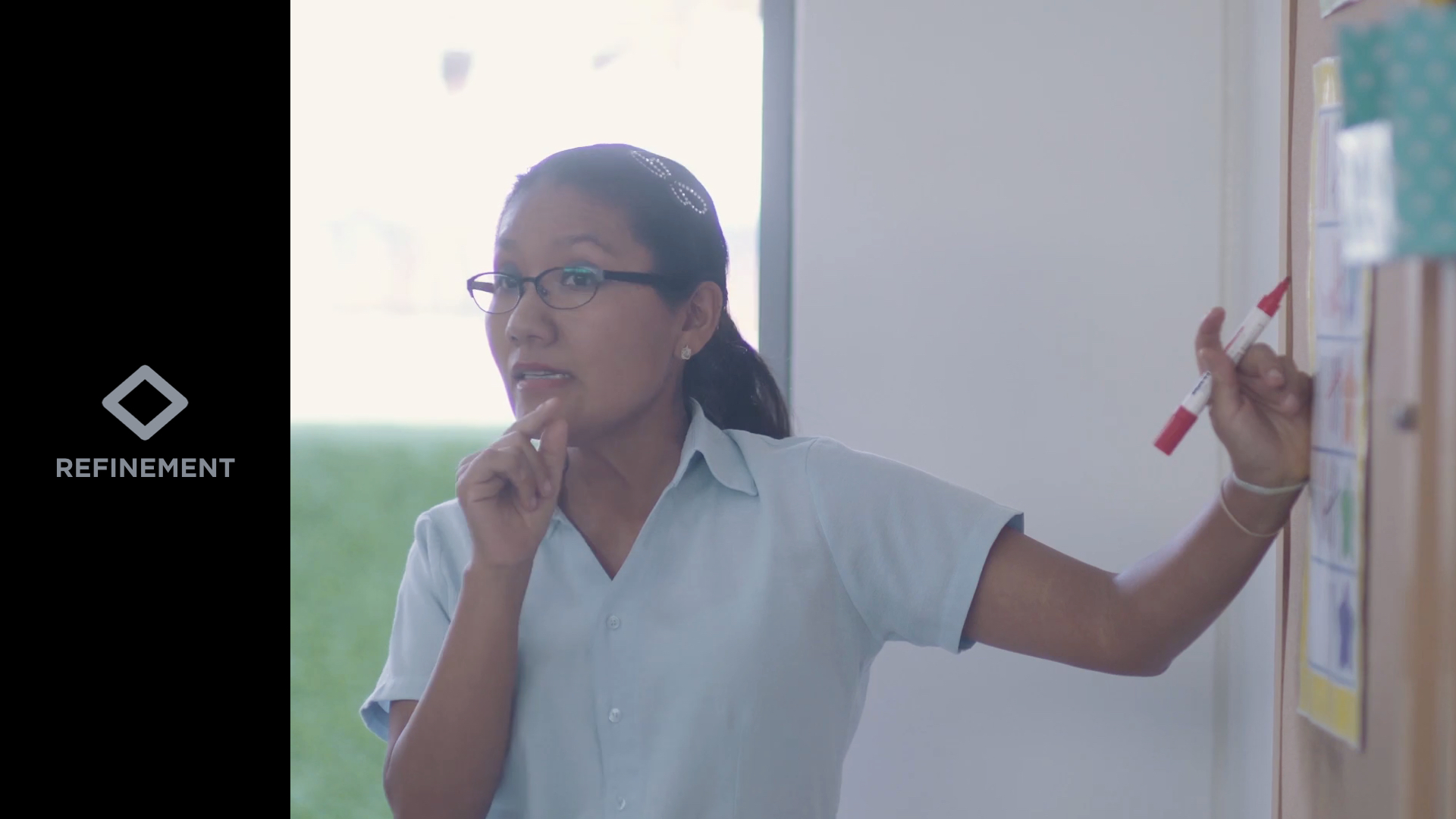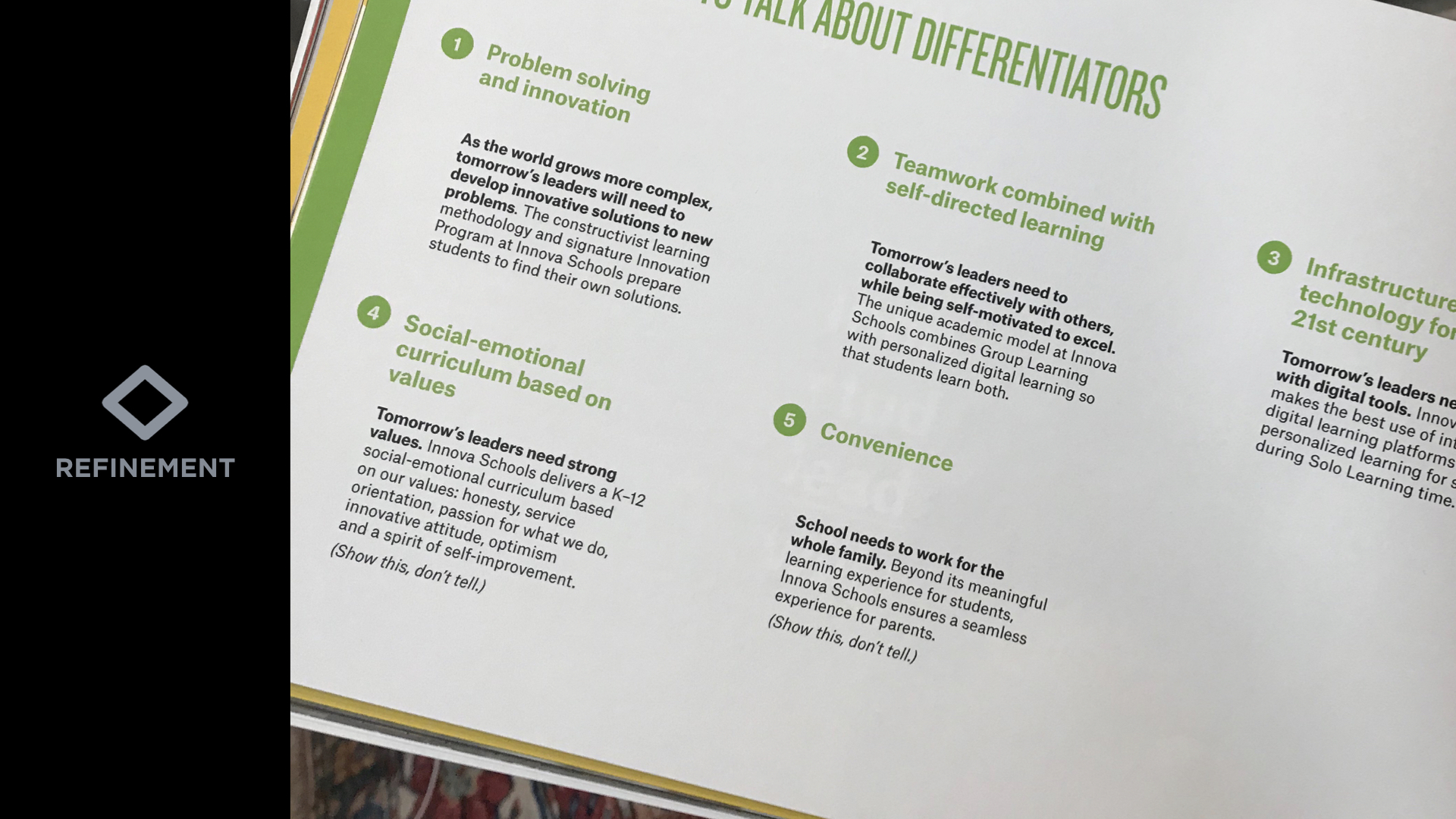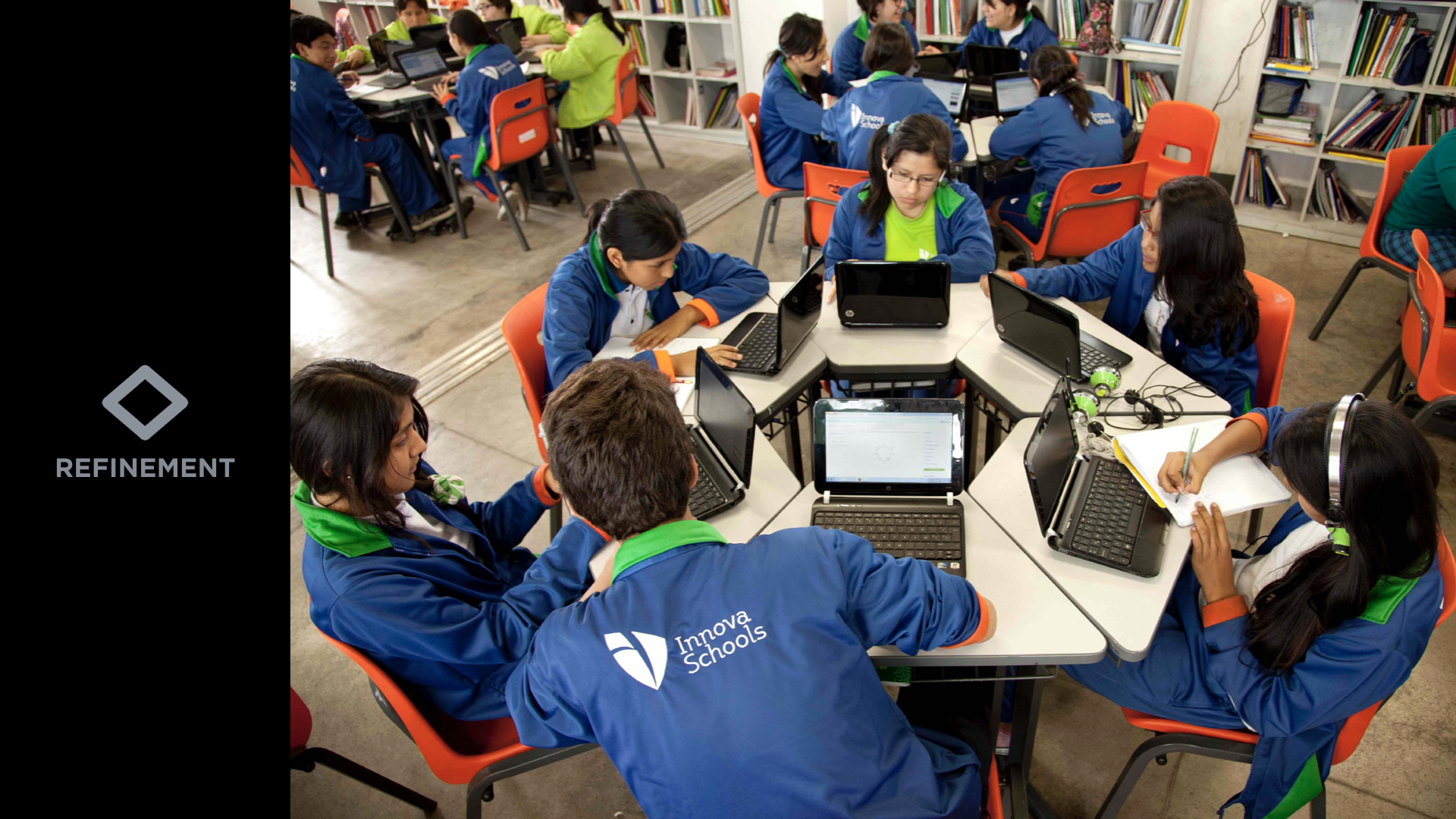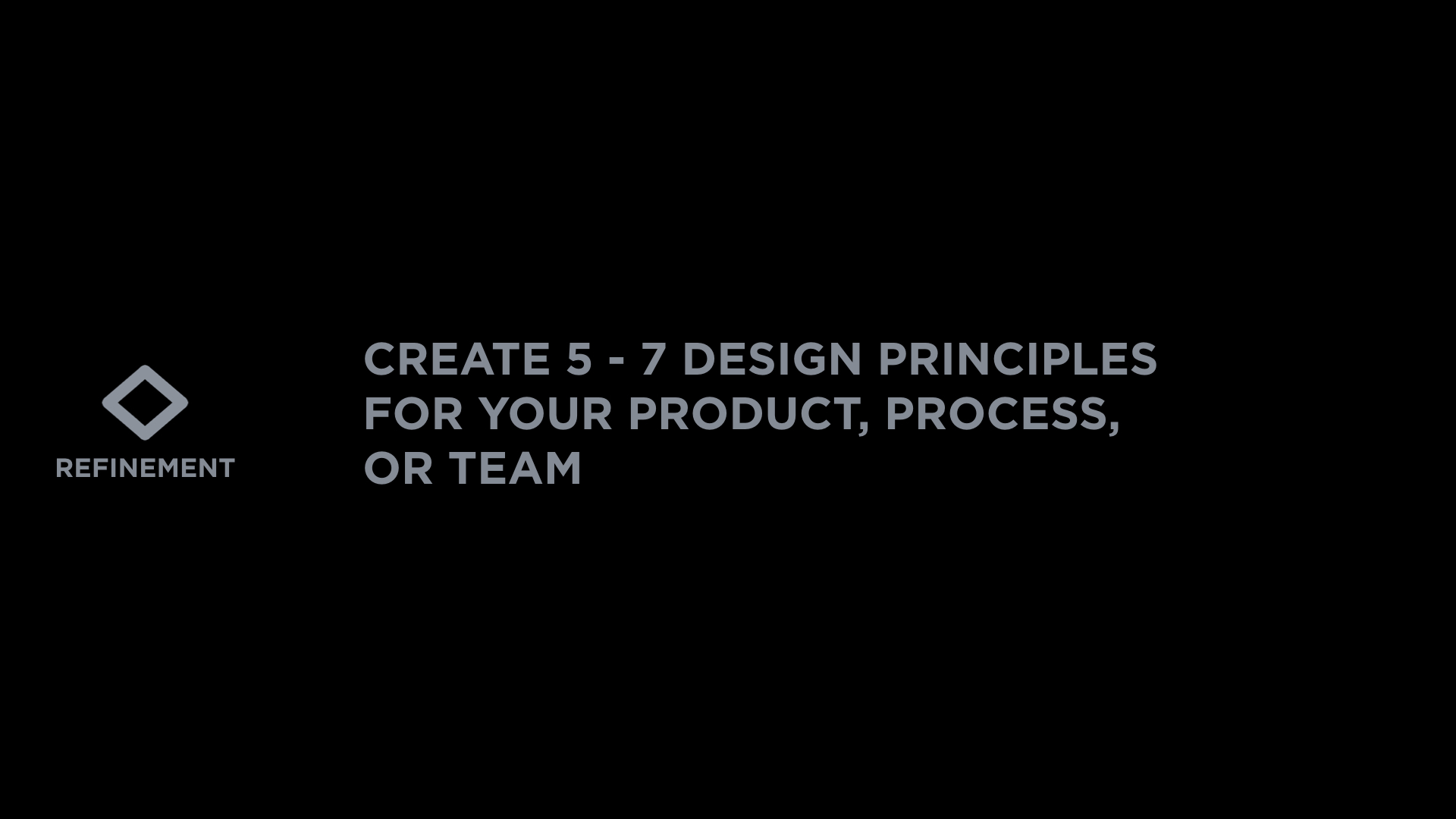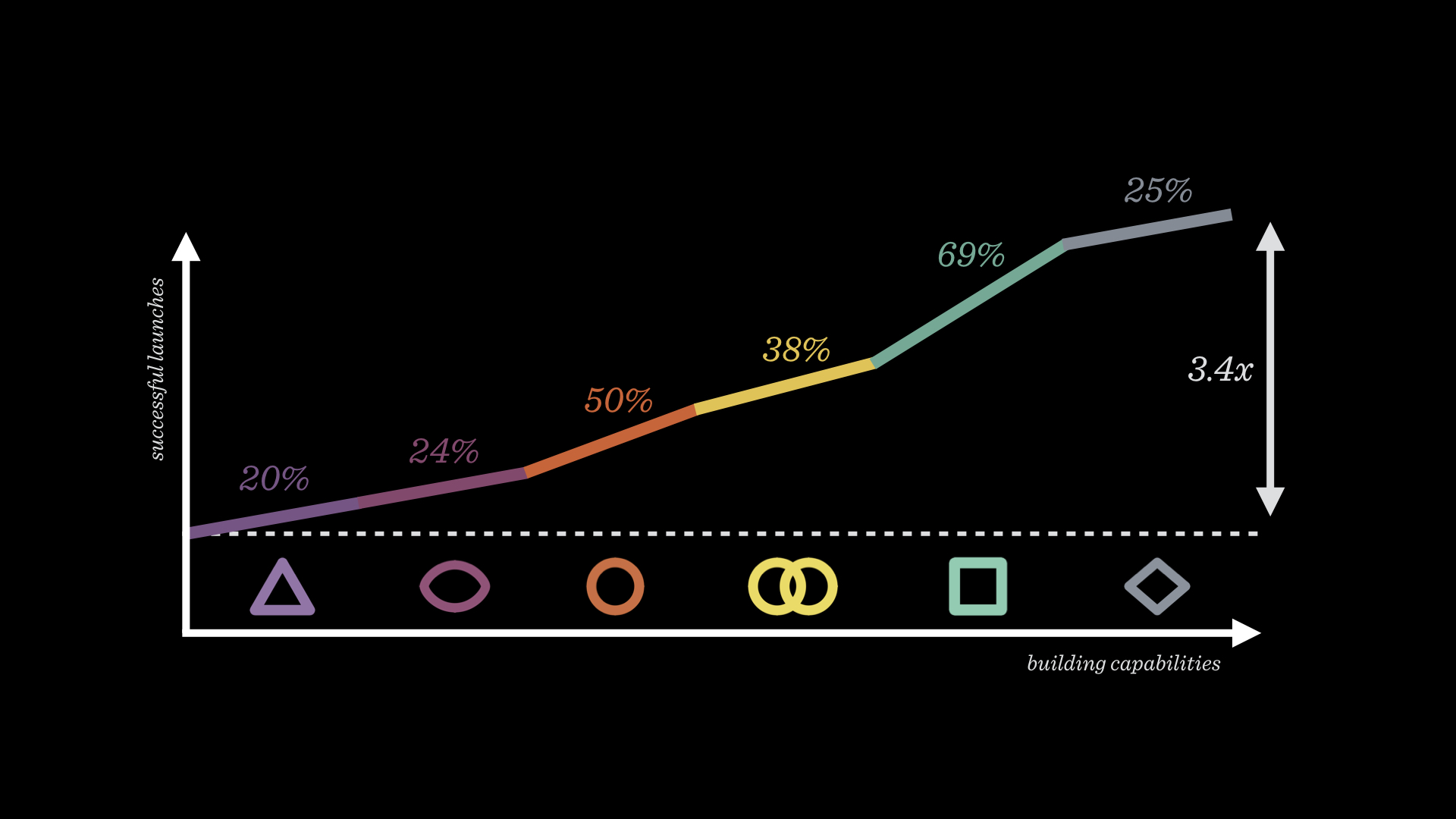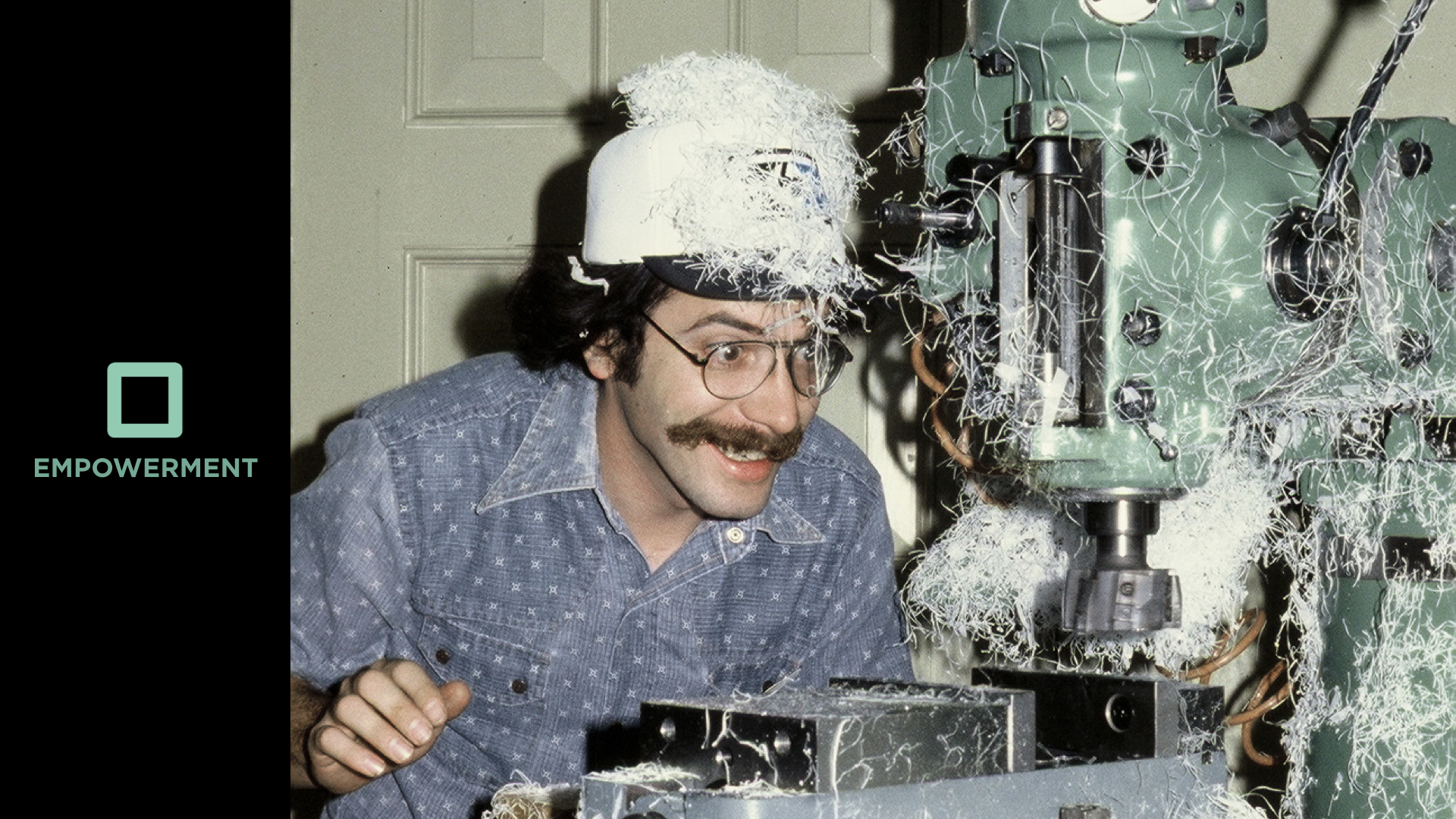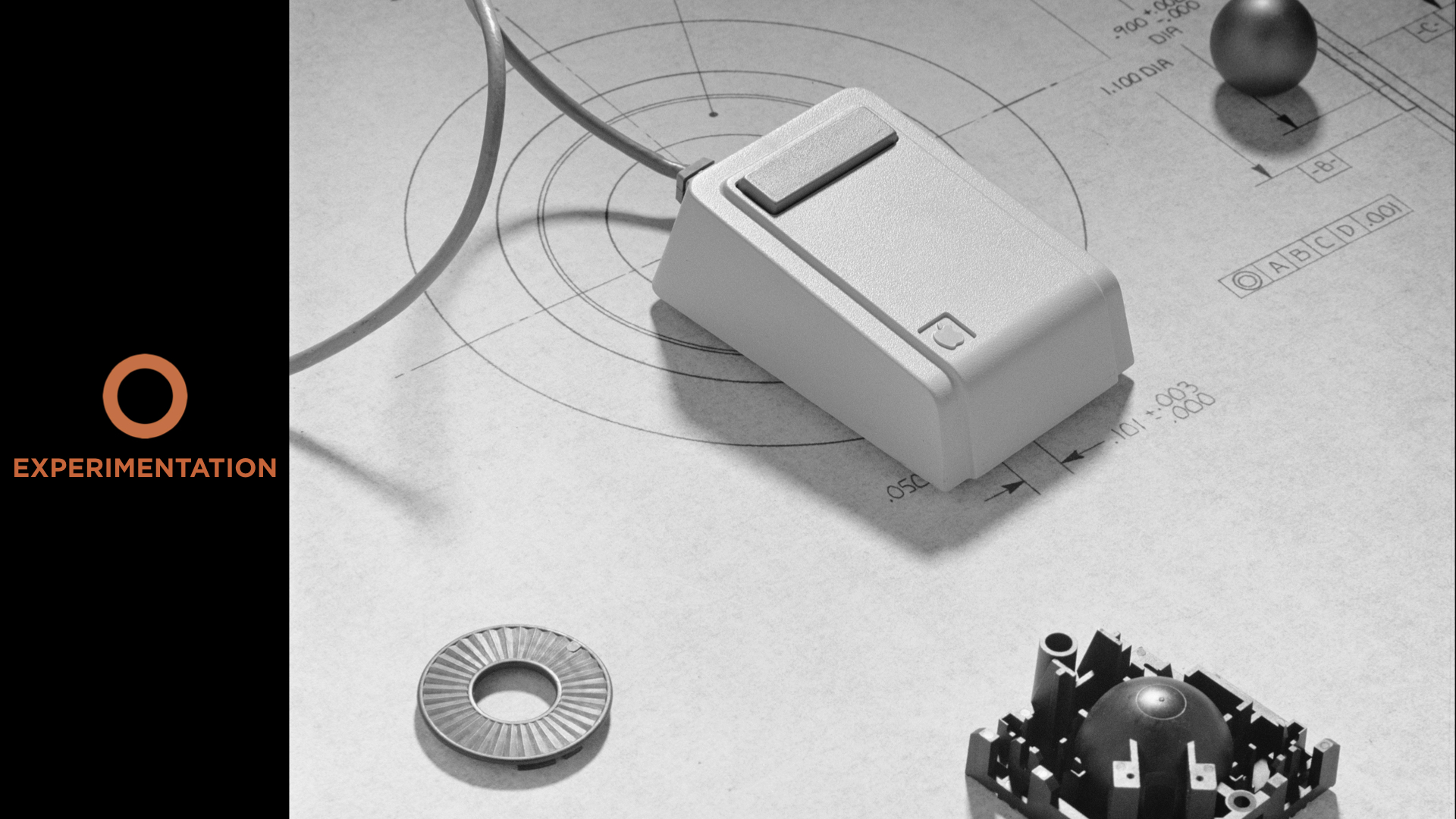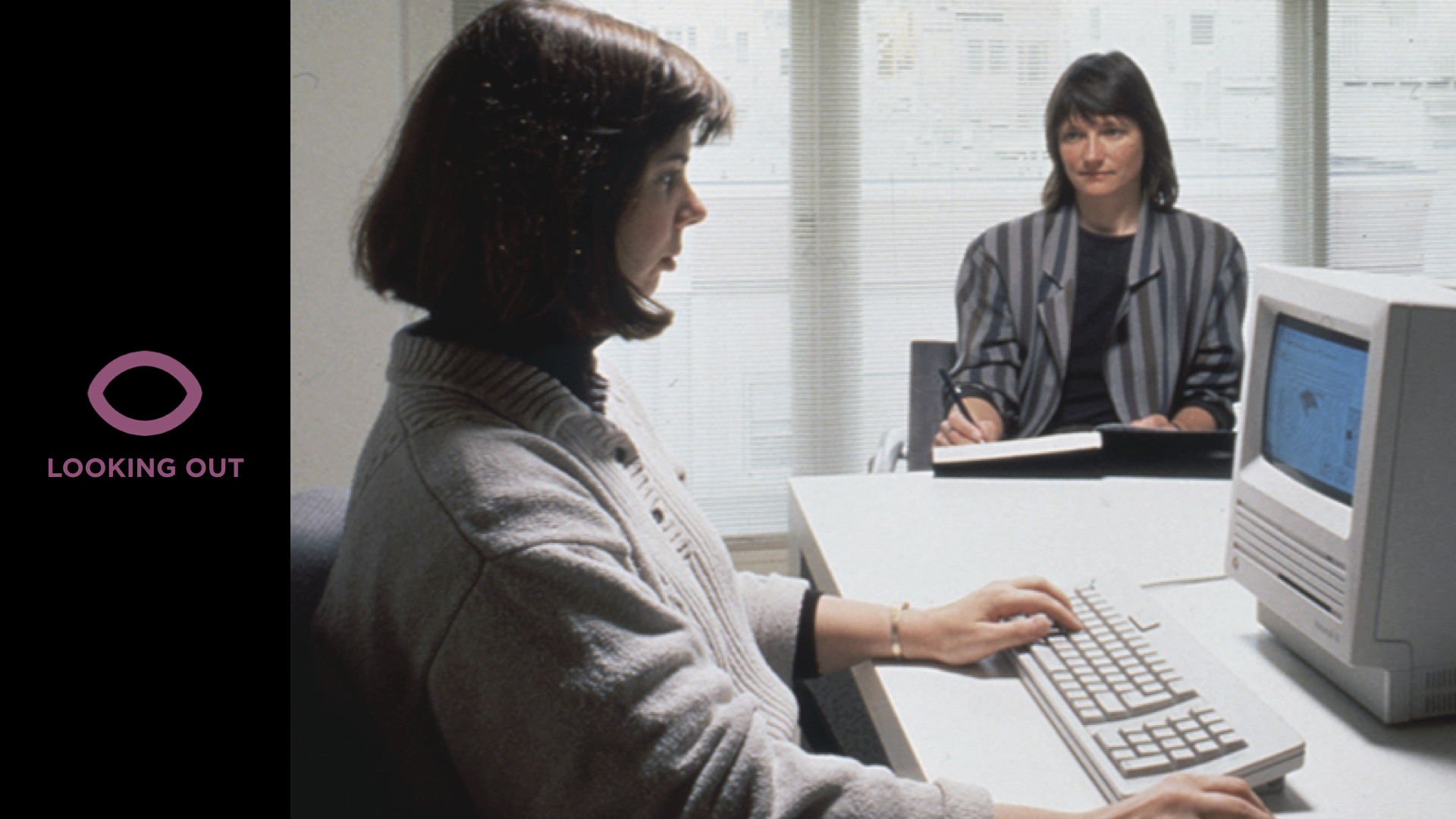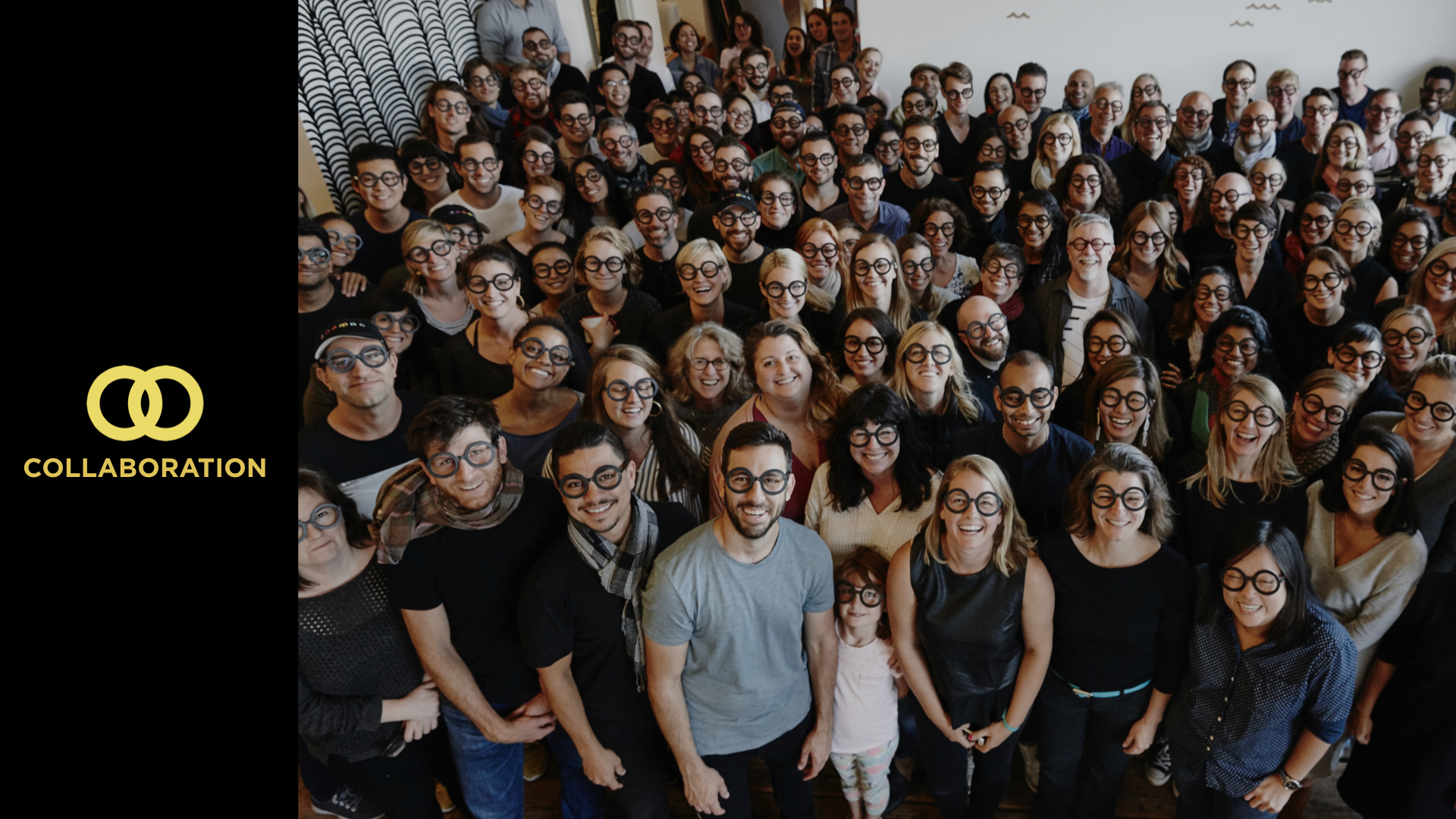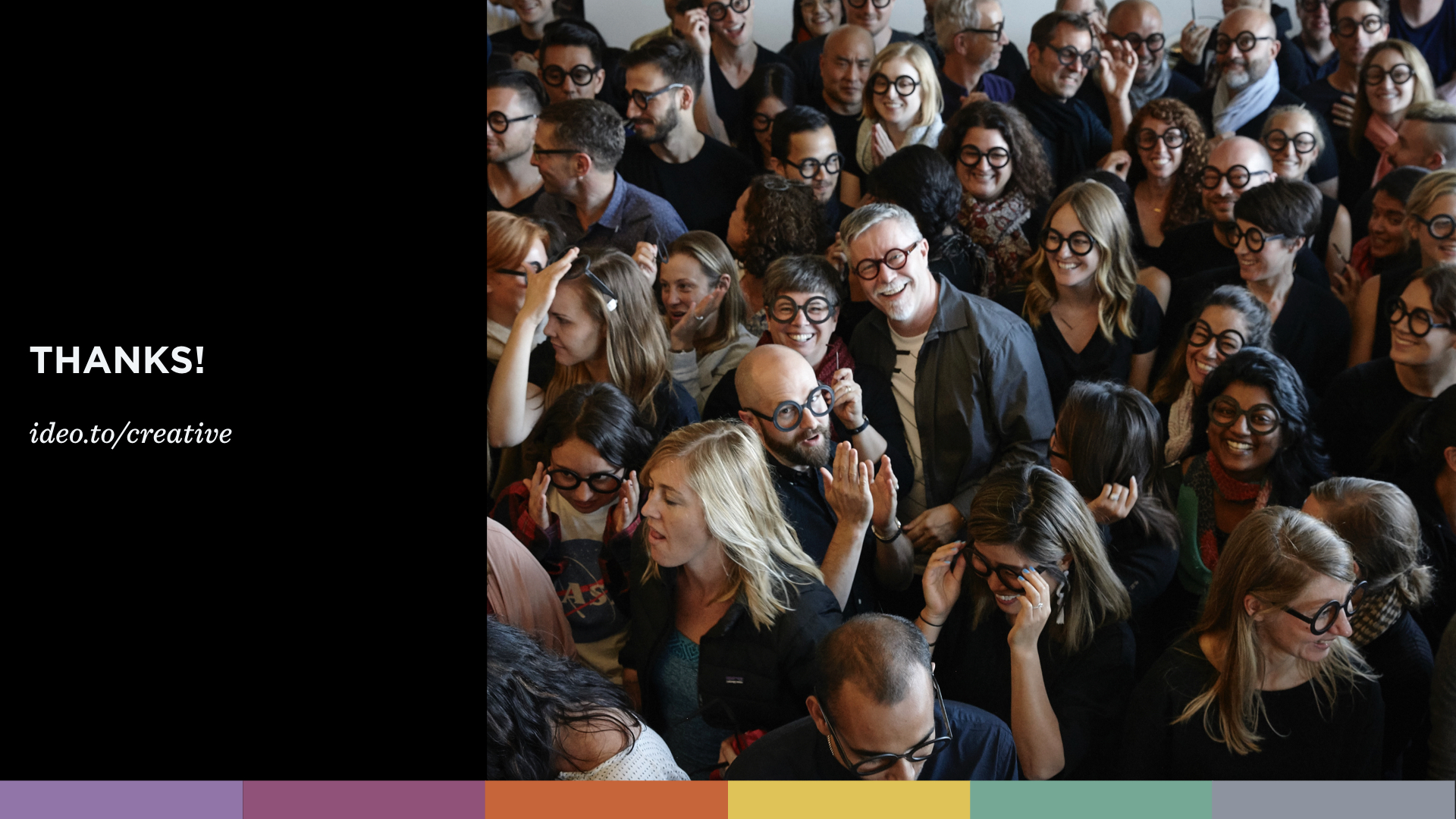 How to Cultivate Creativity in the Workplace
for the Culture Summit in San Francisco
In mid-2018, I designed and delivered a presentation at Culture Summit in San Francisco, titled, How to Cultivate Creativity in the Workplace.
This 30-minute talk focused on the behaviors that support creativity in the workplace, and offered the 500+ attendees recommendations to take back to their own teams.
Can You Innovate in Large Organizations?
for TEDxPSU
In 2016, I was selected to speak at my alma mater, The Pennsylvania State University for TEDx — a locally organized version of the widely known TED talks.
In this talk, I spoke of the concept of 'intrapreneurship' and how individuals could embrace entrepreneurship in everything they do.
The design was mostly hand drawn to align with the scrappy, do-it-yourself mentality of intrapreneurs.
Presentation Design Seminar
for the Engineering Ambassadors Network
Tasked with the need to help those in science and technology fields communicate their ideas effectively, I developed a series of workshops and coursework to support confident presentation delivery from students. This work eventually extended beyond the University to middle and high school students and a variety of higher-education institutions nationally.
The slide deck below is one part of a four part series focused on:
Introduction to Presentation Design

Content Selection and Organization

Visual Aid Design (below)

Delivery and Feedback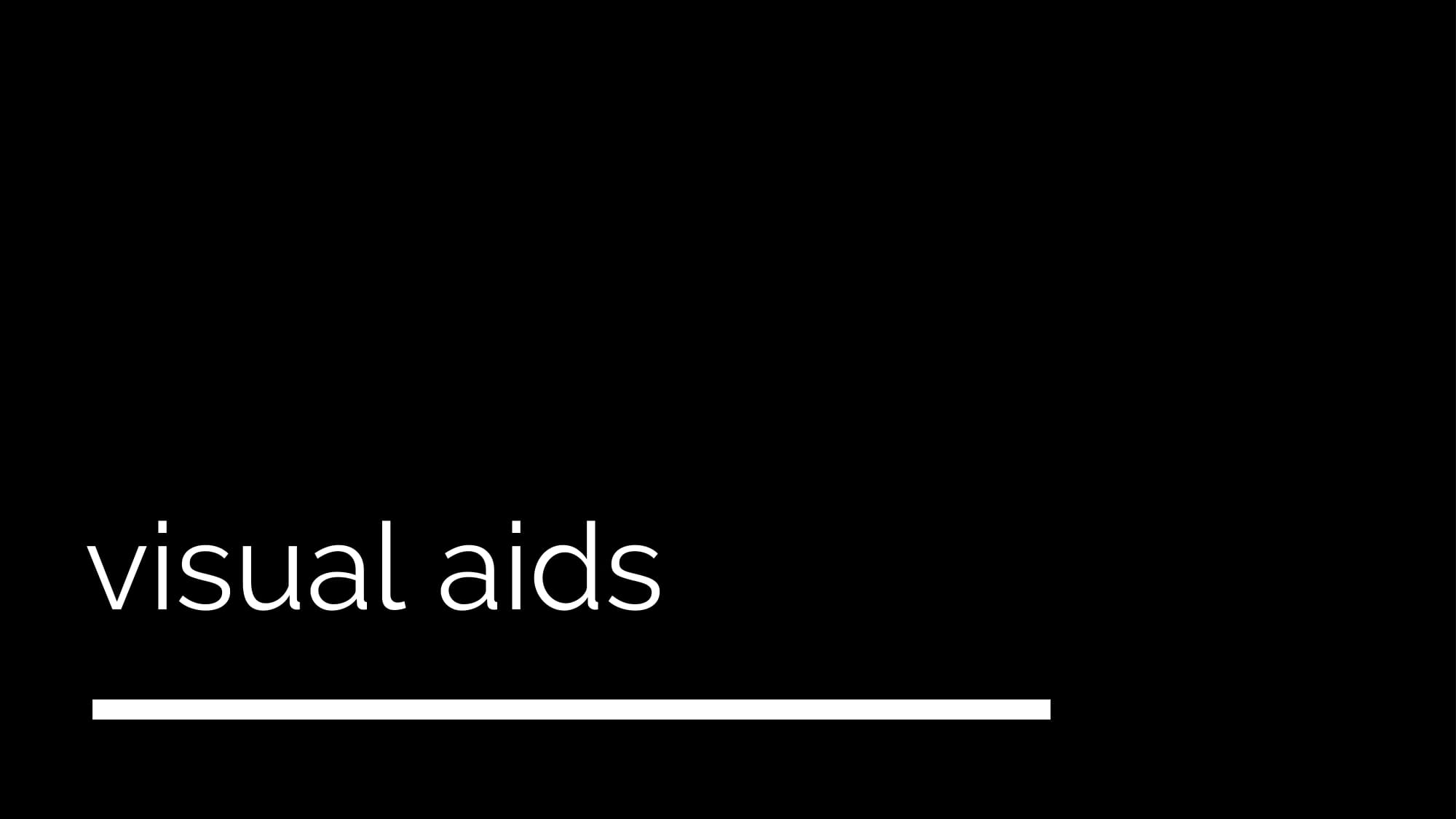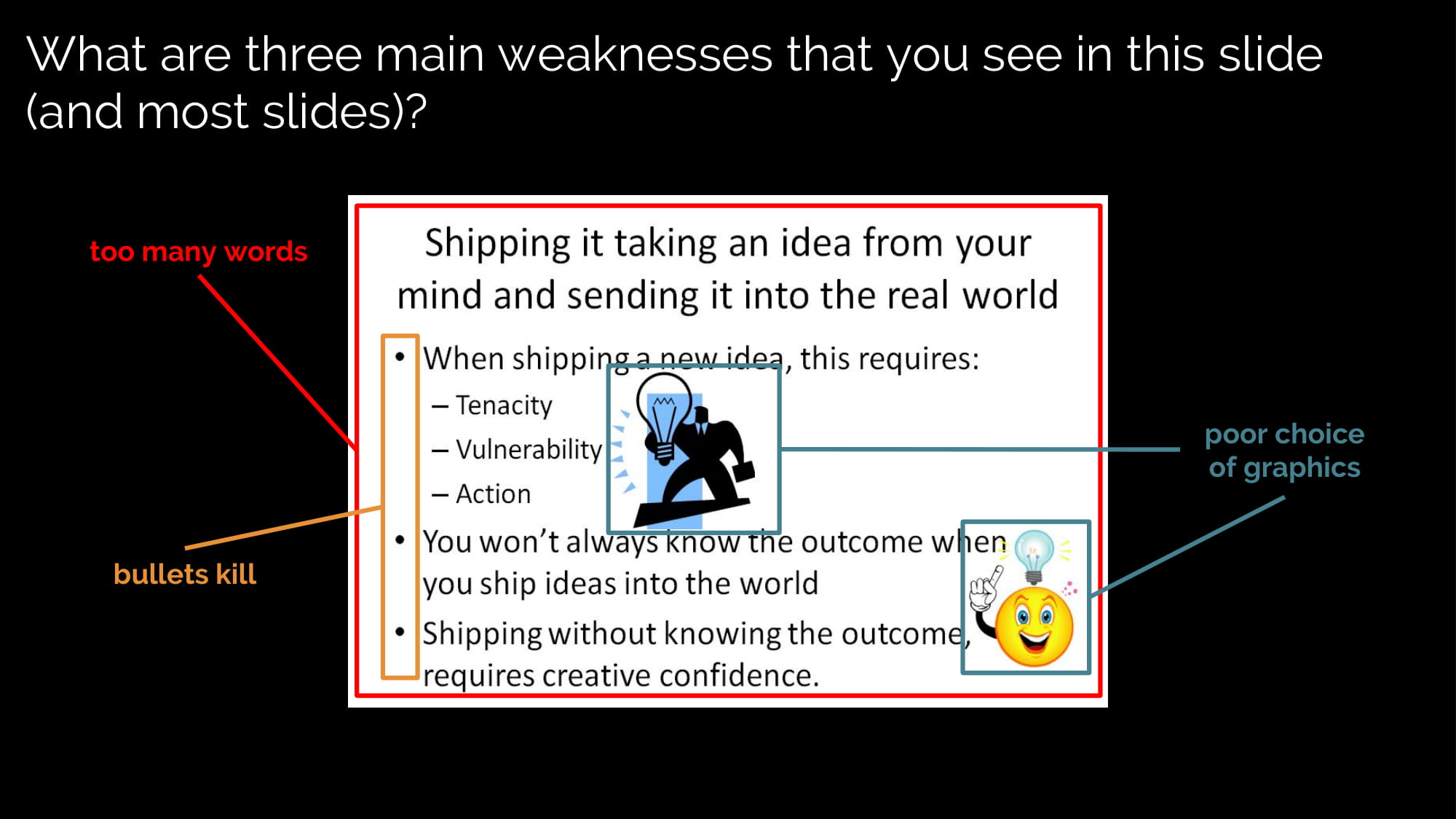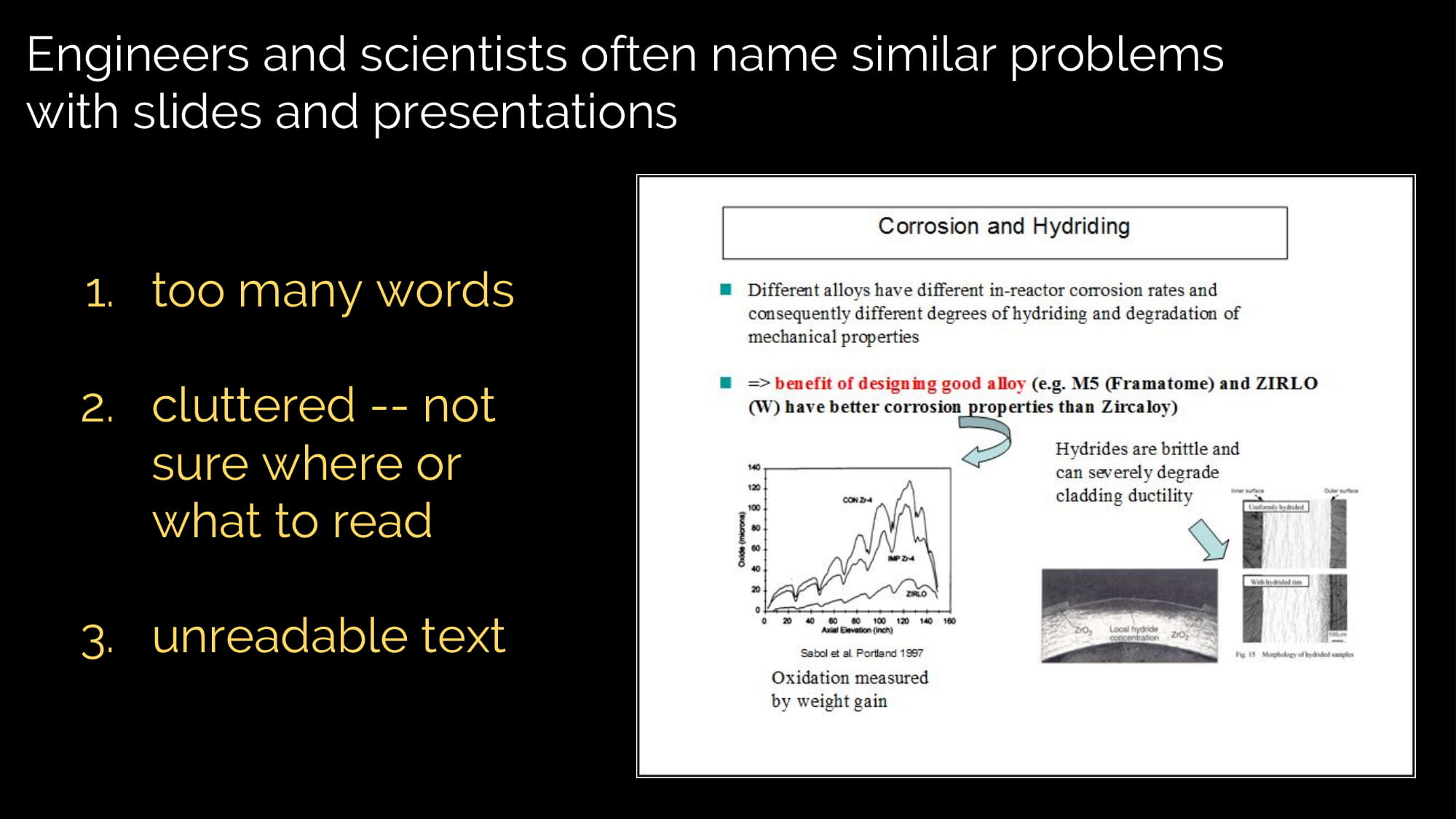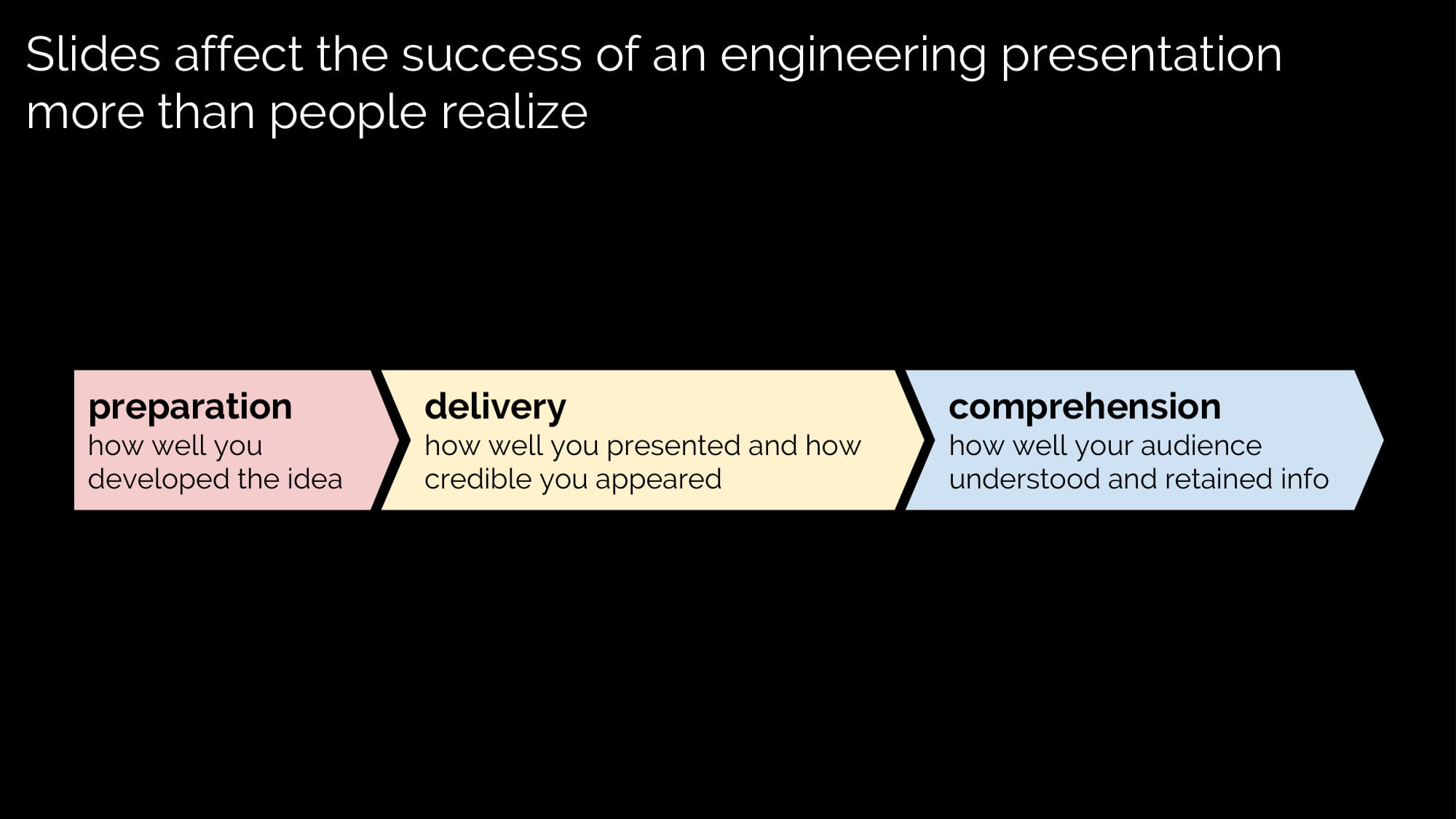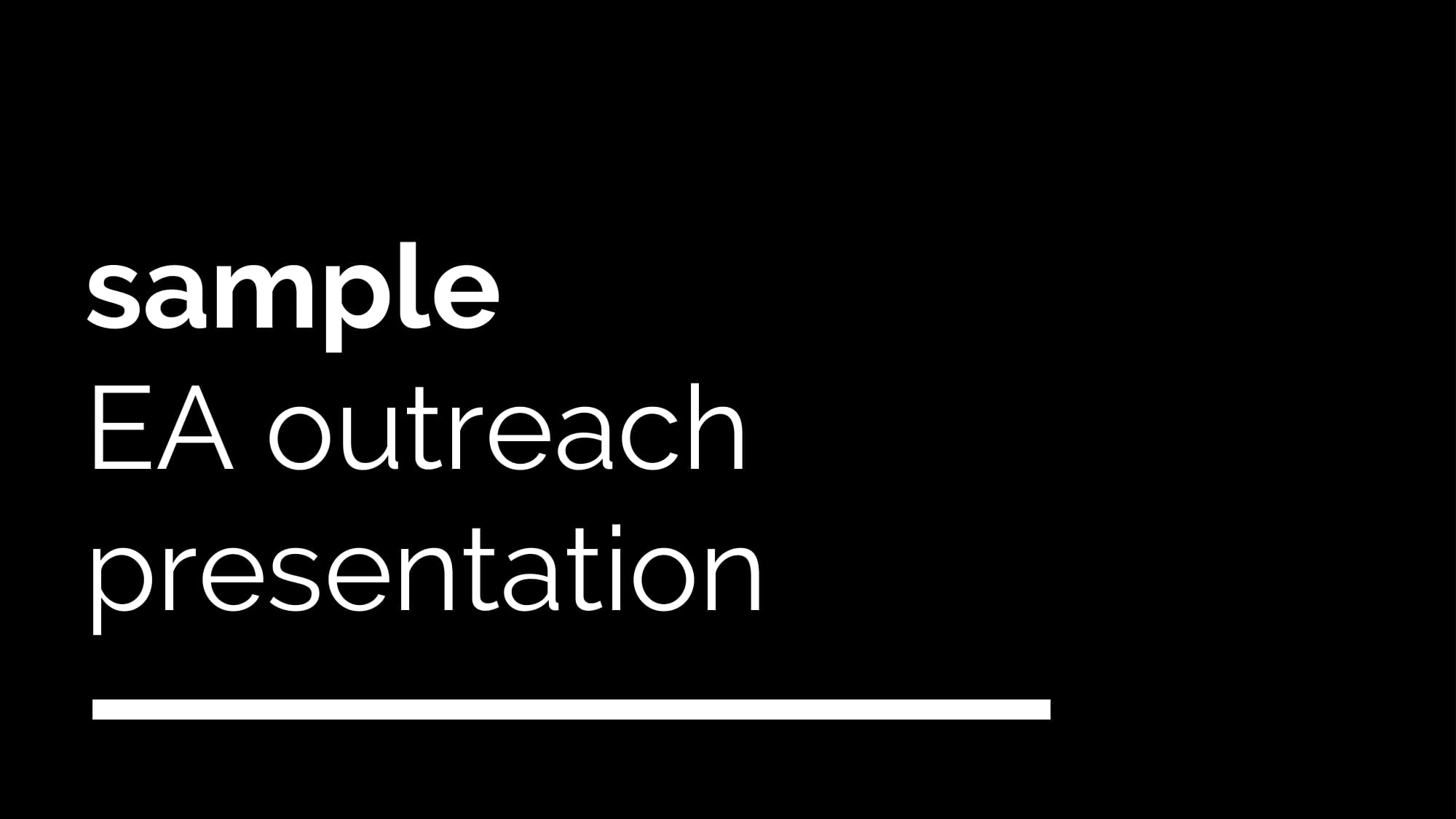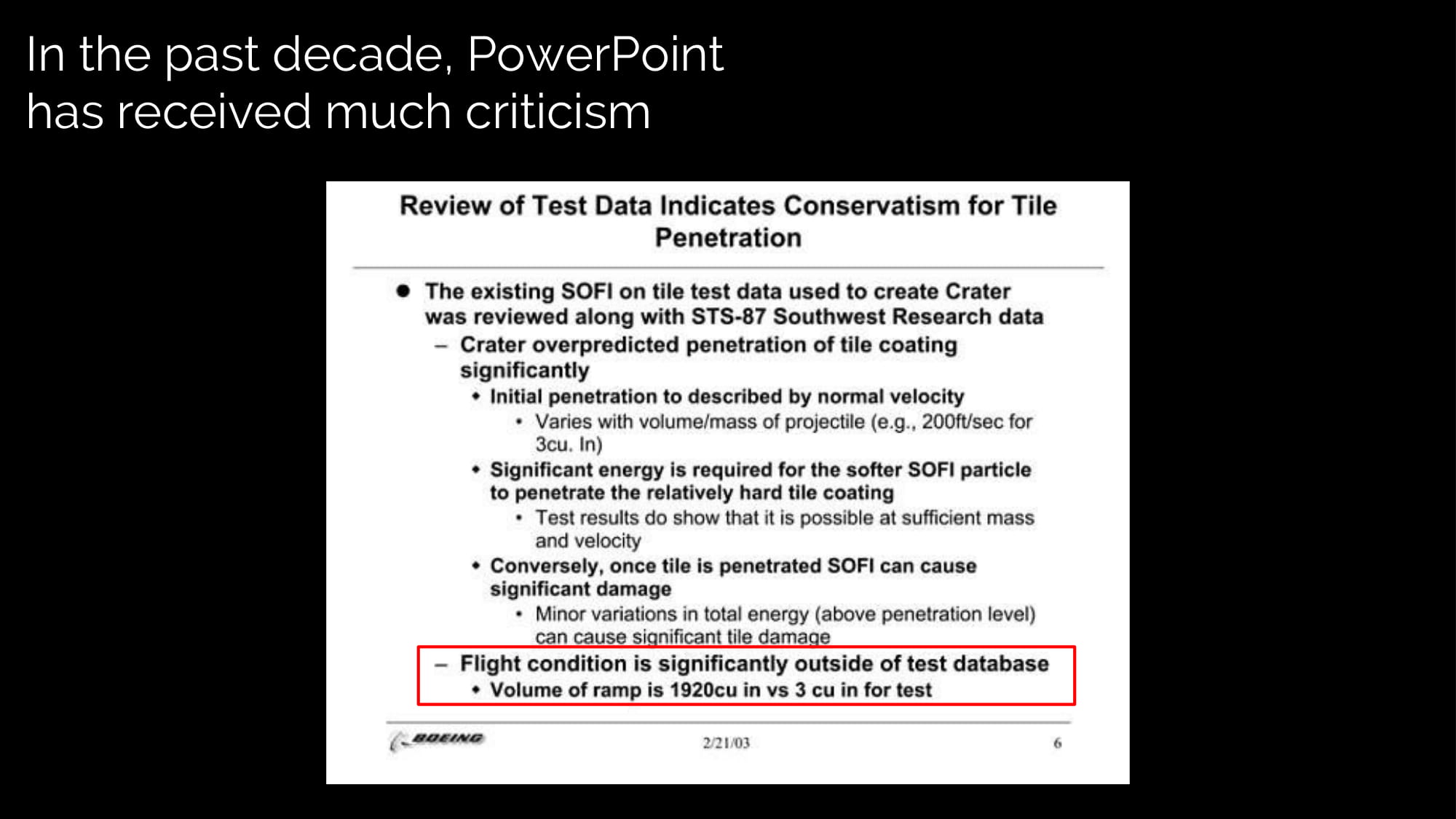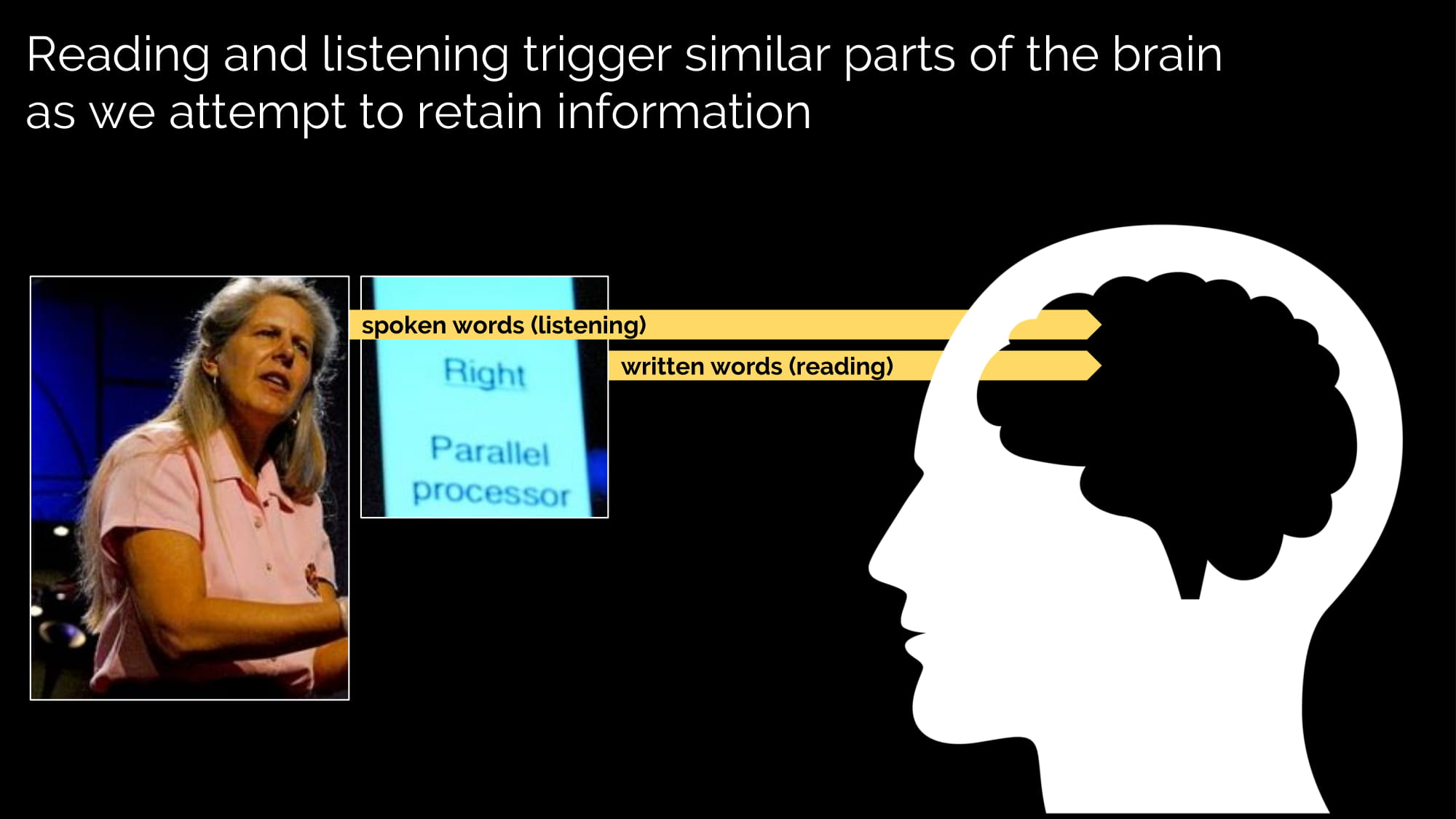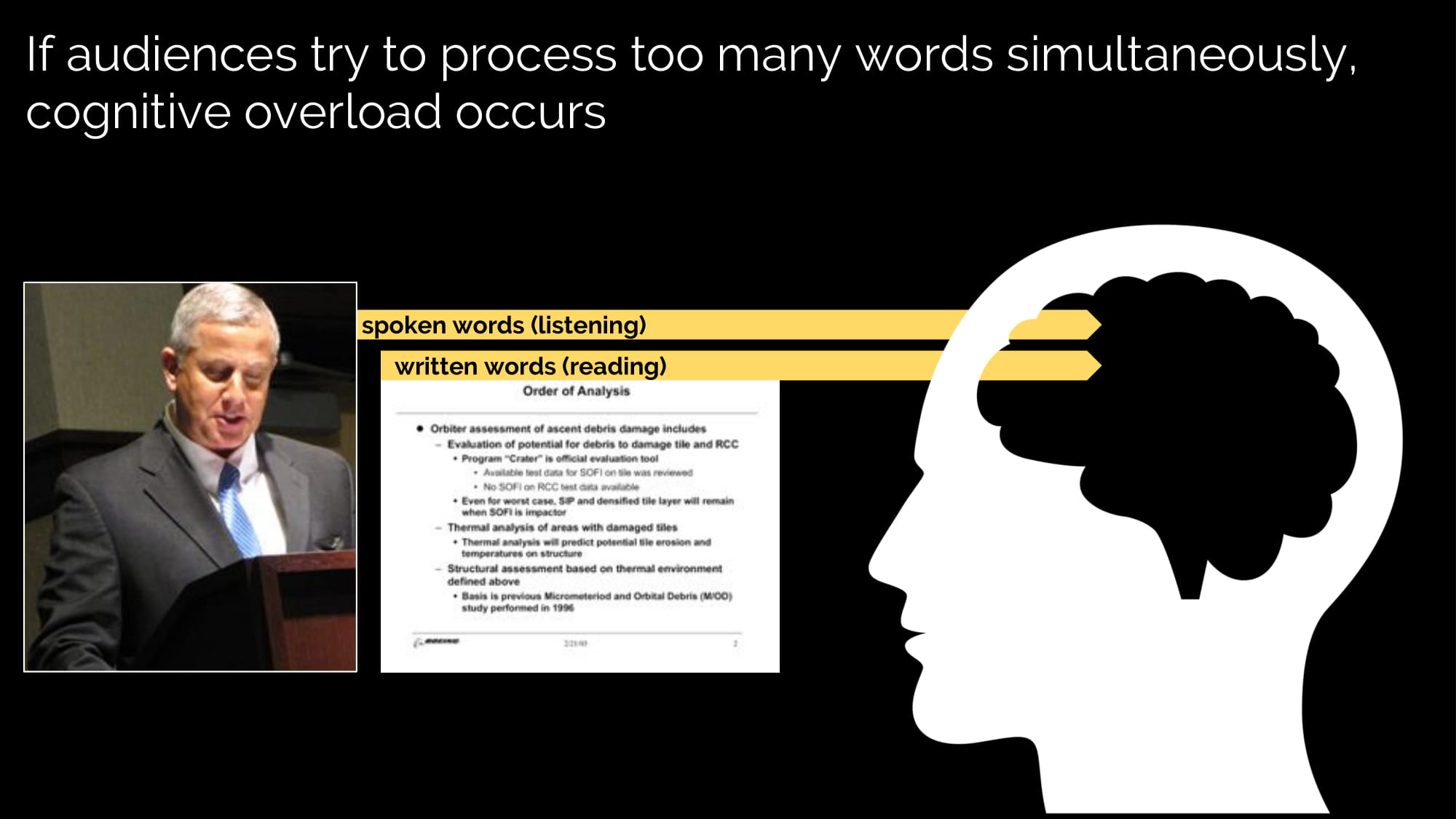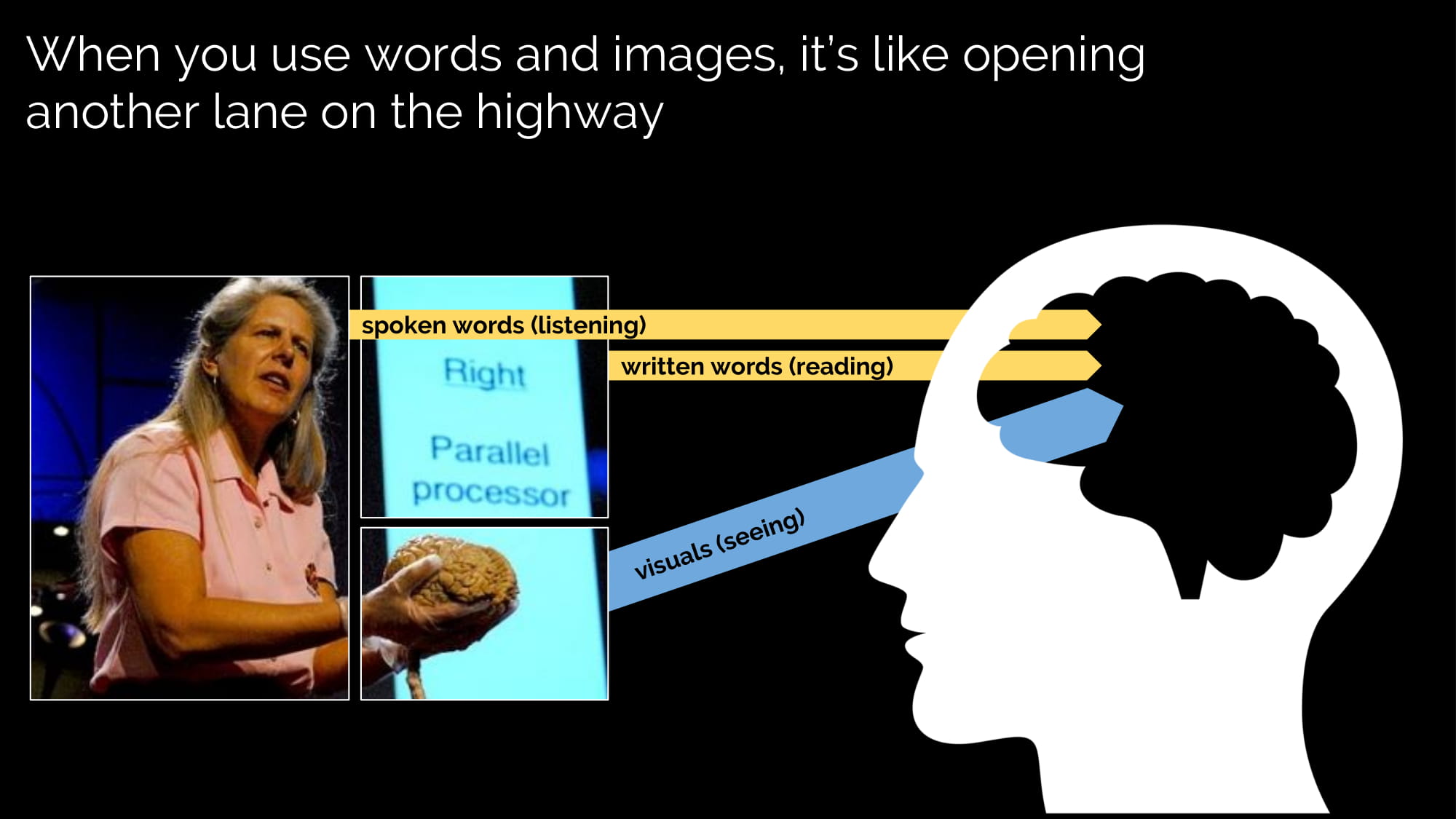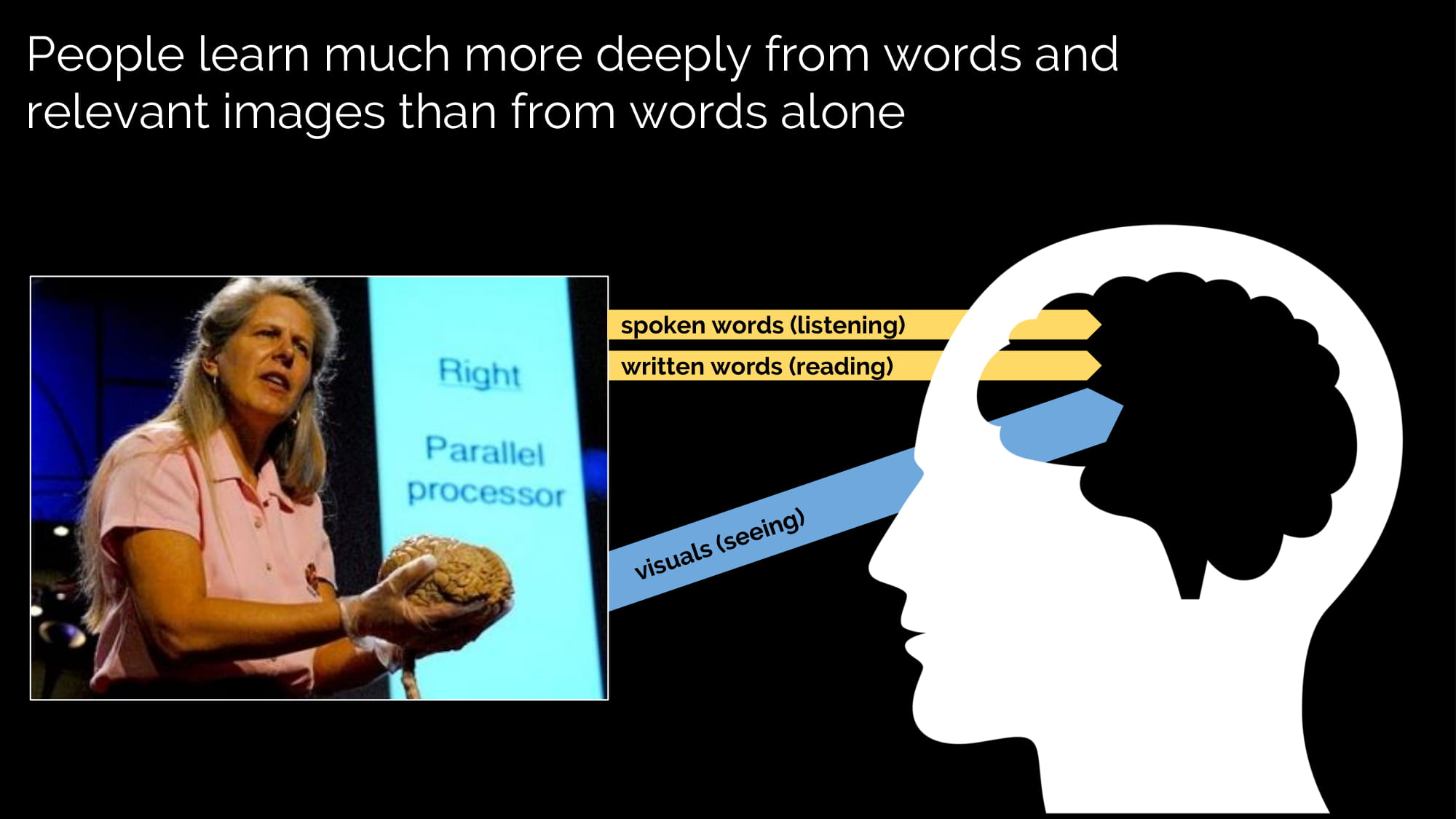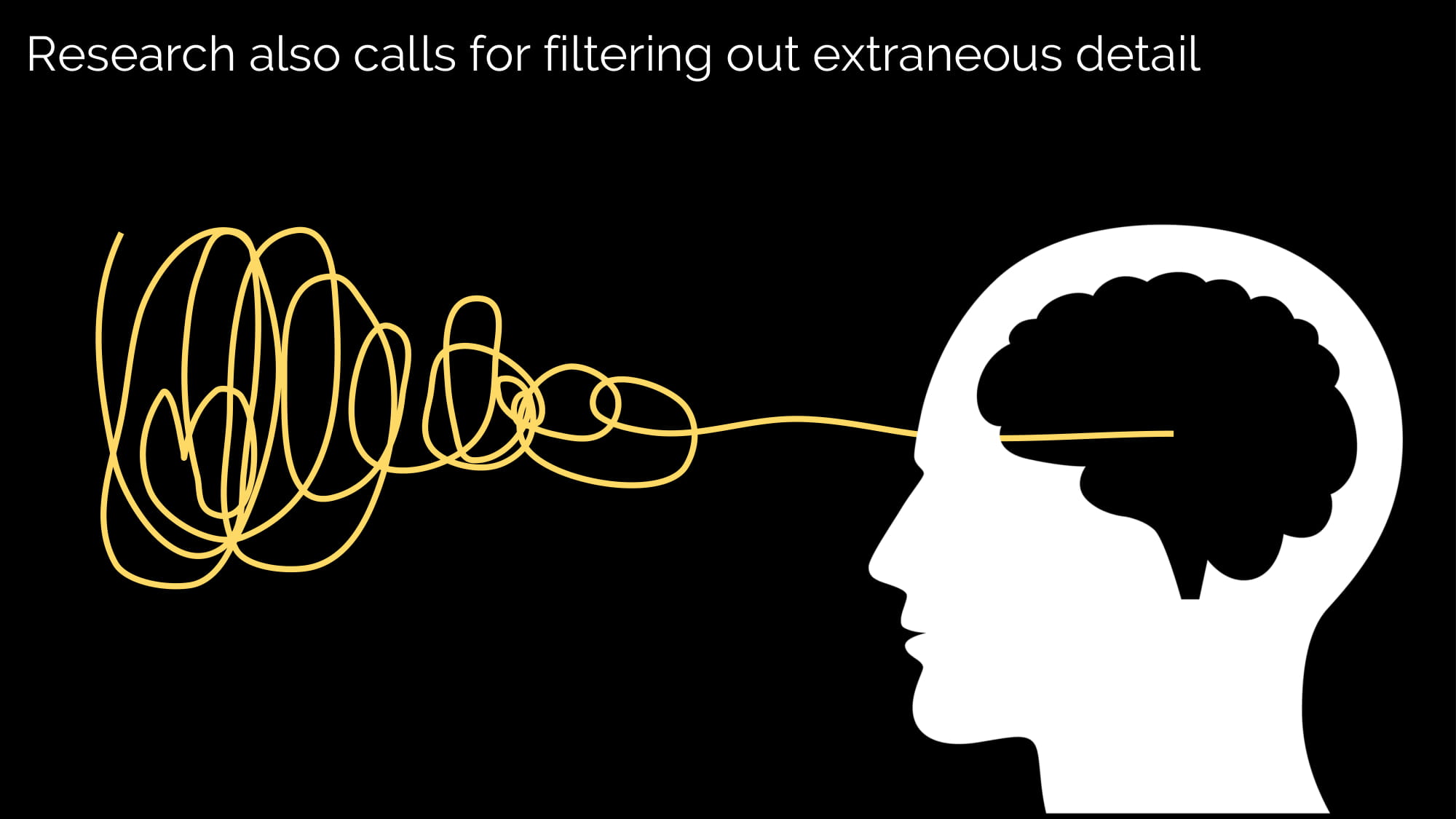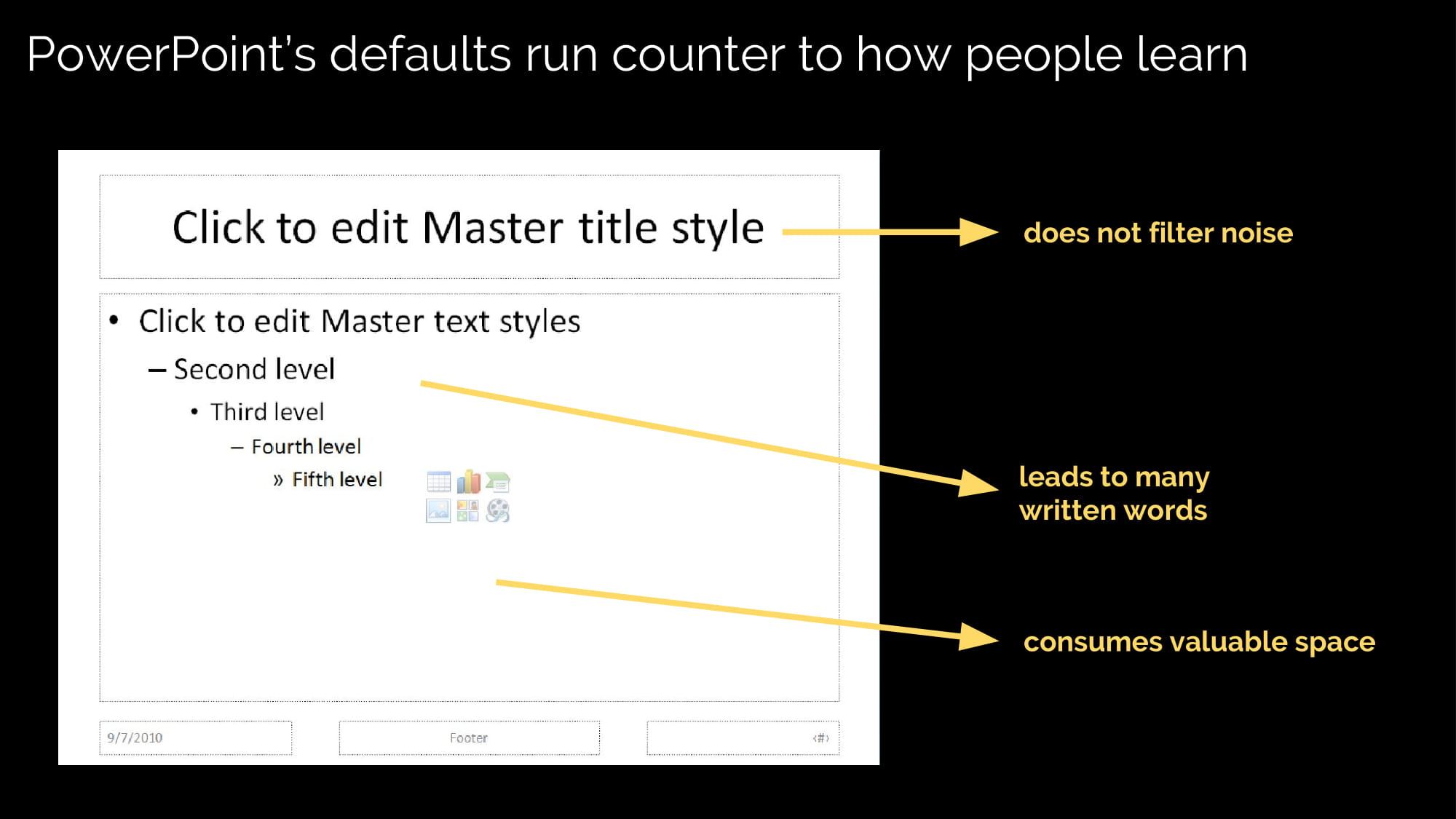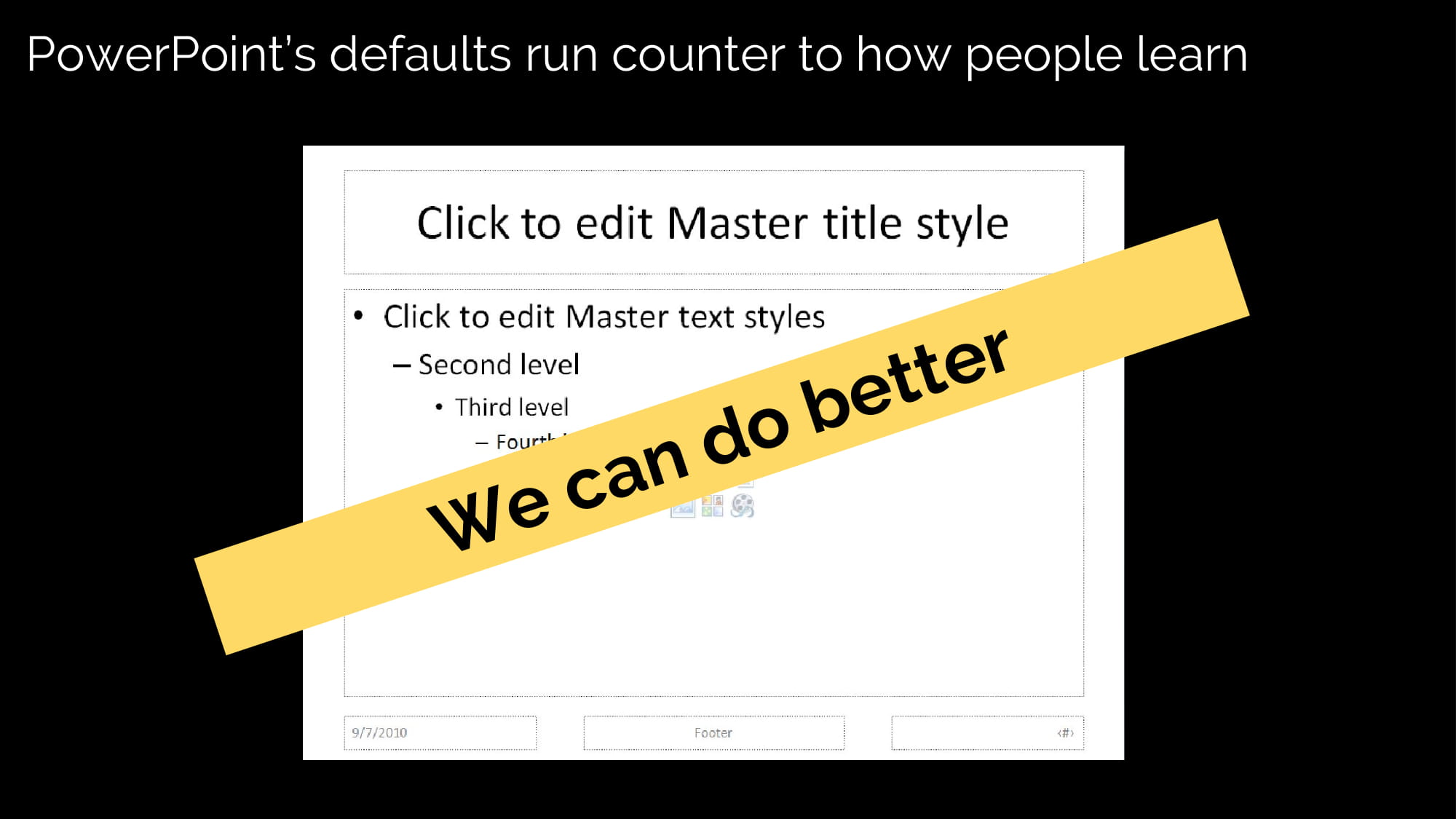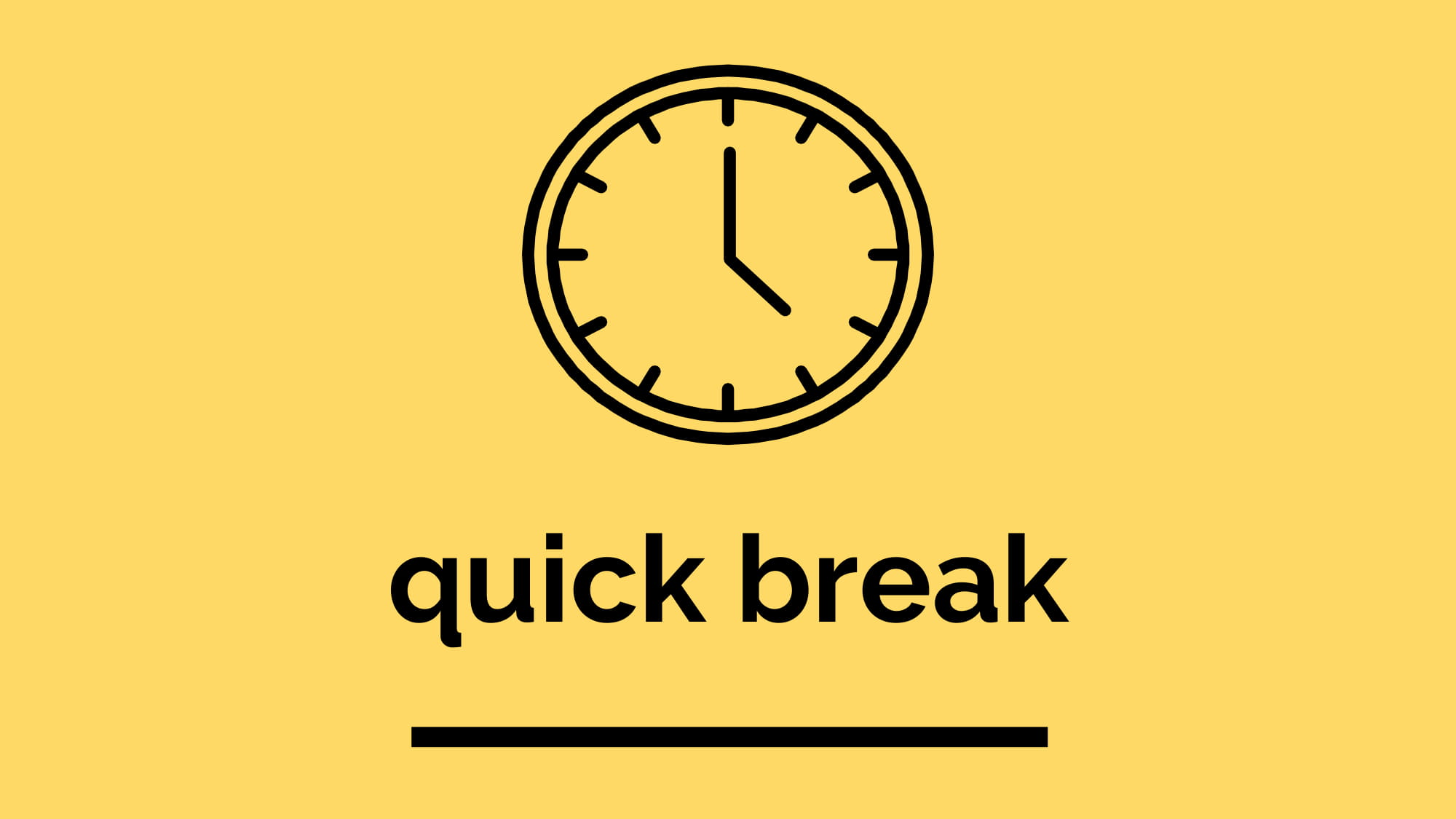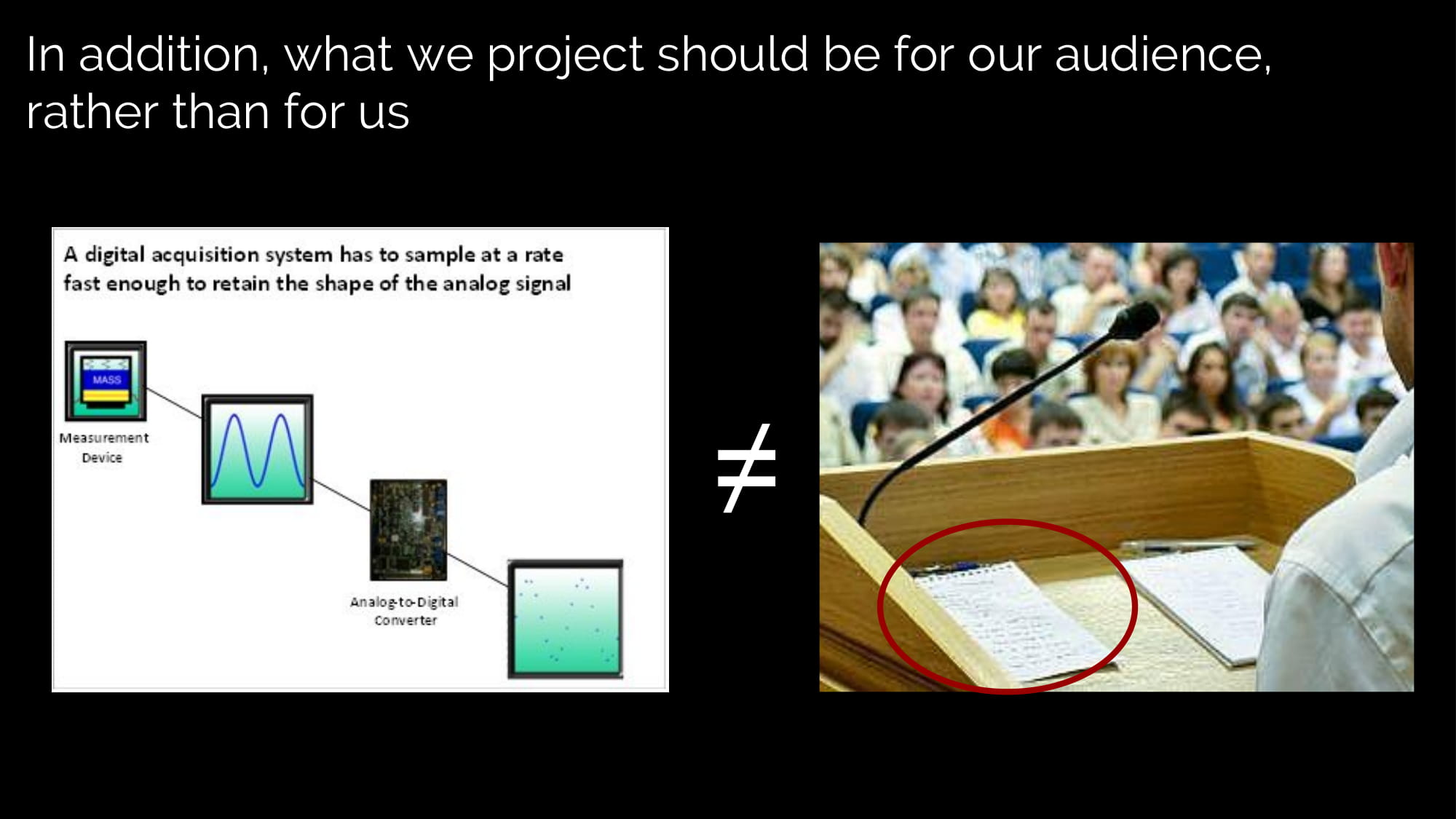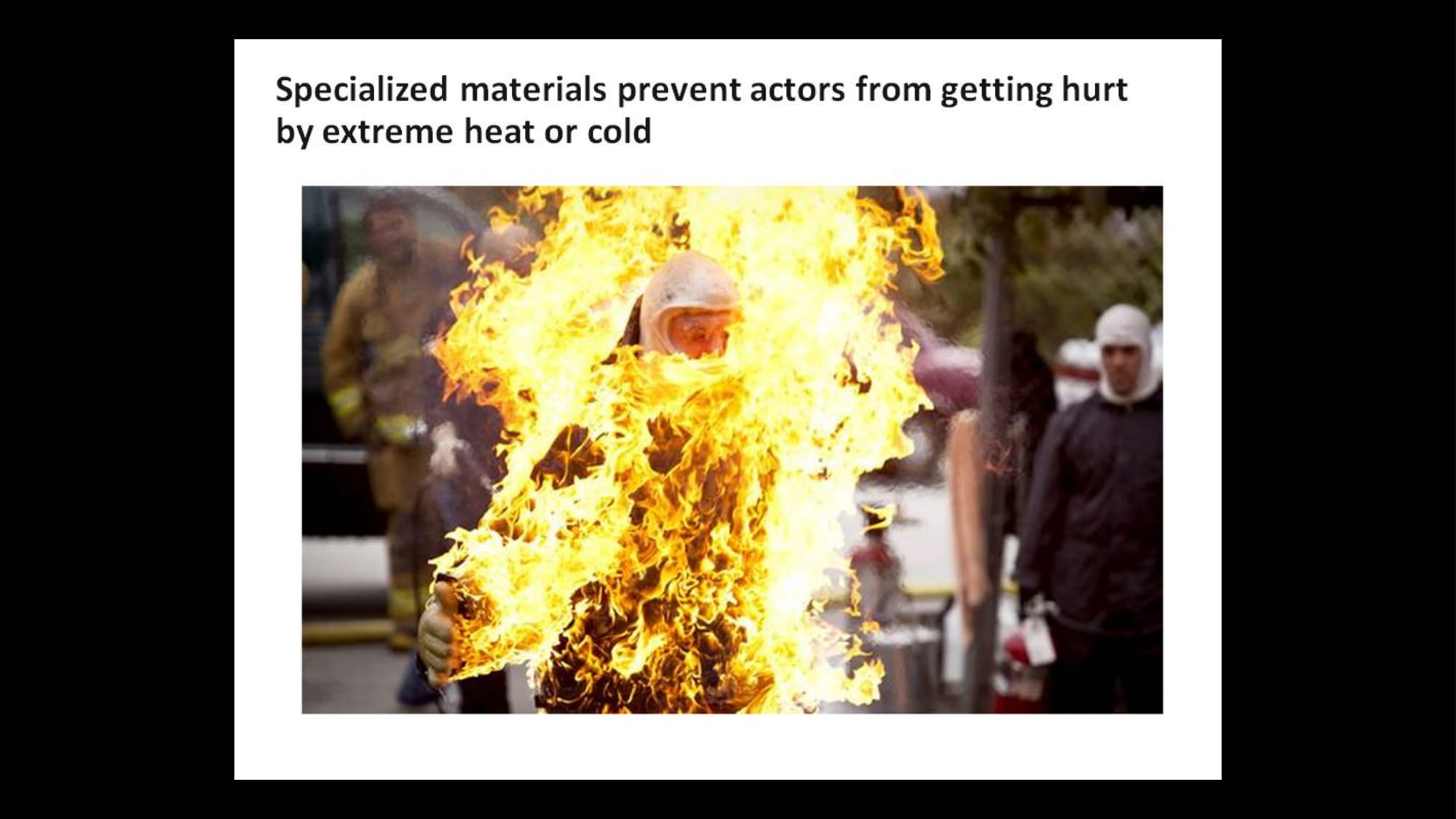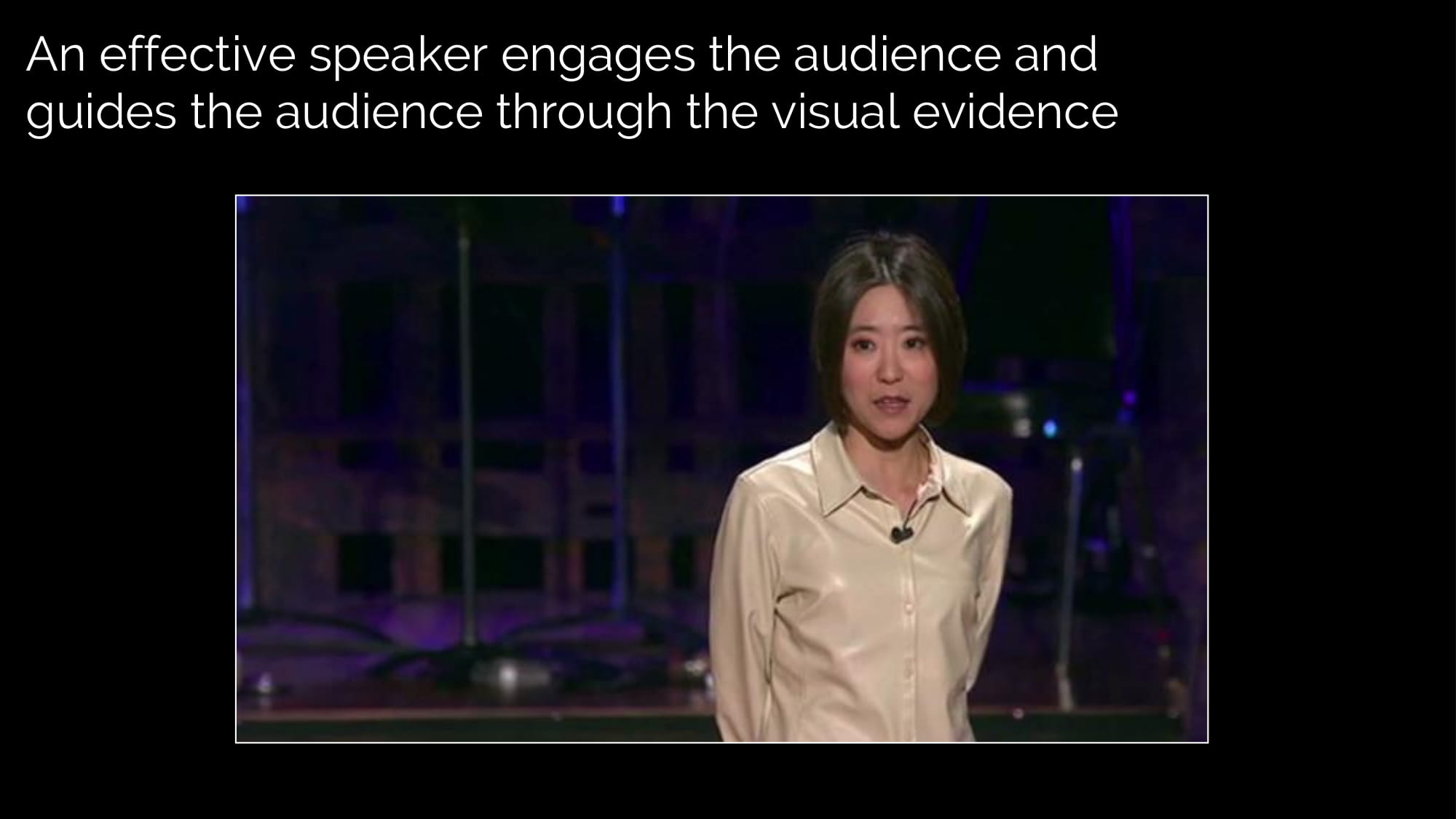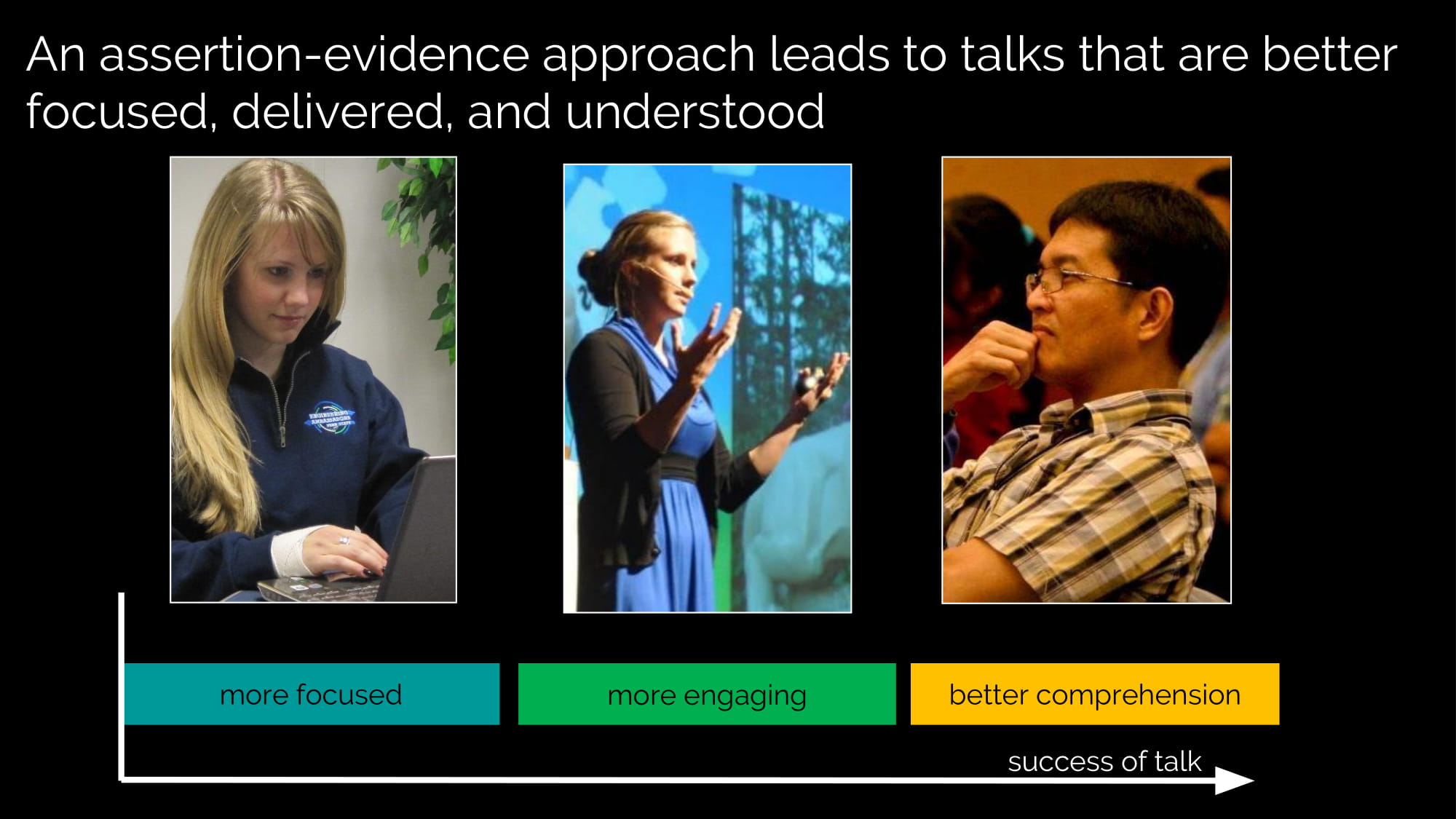 A Simple Guide to Better Presentations
as a freelance project
I developed a simple guide (in PDF and presentation format) to support those interested in developing their presentation skills. The guide walks individuals through the same process I follow to create simple, sticky, and engaging presentations.
The guide has since been downloaded by more then 1,000 people.
Industry Conference Keynote Presentation
for the Air Liquide COO
This keynote was developed for the COO of Air Liquide as part of a conference for the International Oxygen Manufacturers Association in Paris, France. The keynote was developed in PowerPoint with a focus on maintaining the branding guidelines for the organization while showcasing the innovation capabilities of the team.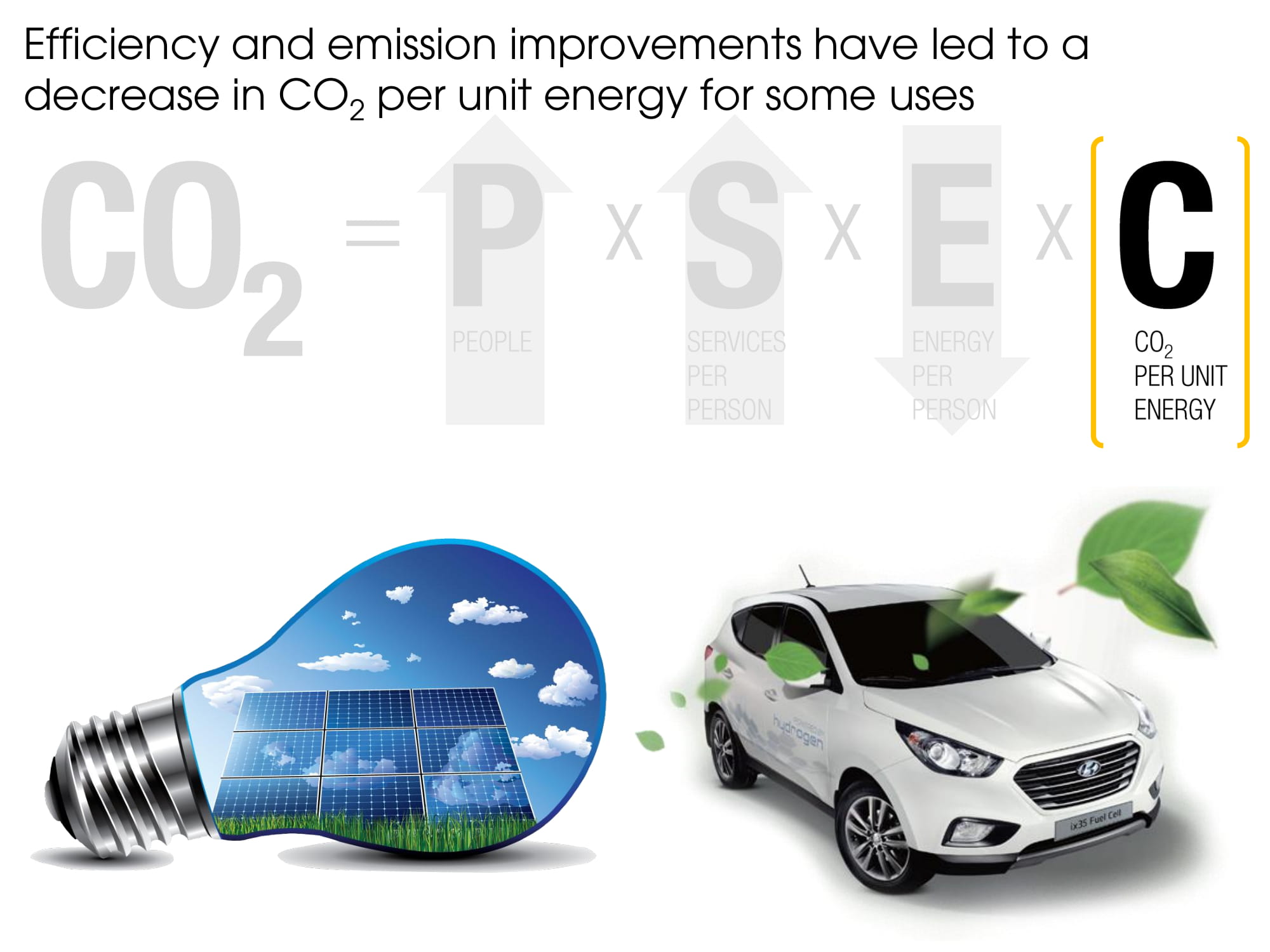 Business Proposal Presentation
for ALbee Professional by Air Liquide
This keynote was developed for the top leadership (COMEX) of Air Liquide — the world's largest industrial gas supplier. The purpose was to inform them of the status of a high visibility project to launch a self-serve vending machine.